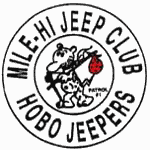 September 2002

Hobo articles
represent the previous month's activities, and are published in MHJC's "Jeepers In The New's"
September-is here already! Another quick summer has gone by. As he days get shorter, the mountain Aspens change to their Fall colors, and we scramble to get the high mountain trails in before the snow flies. This year's drought may put a damper on the Aspen's colors, but there are still many great fall drives this month to do. The HoboJeepers had a fun Jul/August, and have plans for 3 weekend trips this month. In August, was the end of All-4-Fun 2002, Red Cone to Georgia Pass, & Georgia Pass over to St. John's. The time is now---"Jeep,Jeep"!! On Thursday August 8th, we had our August Hobo Meeting at Jed 'Clampett McClelland's house. He let us park on his lawn for a photo shoot of our rigs. We talked about MHJC and Hobo business, and plans for upcoming trips.
The following Trip Storyline was written by Scott 'MadMax' Maxwell:
On Saturday July 20th, the crew started out on a sunny day, Hobos Paul & Brett Weisz (WeiszGuy), Jed McClelland (Clampett), and Scott & Peter Maxwell (MadMax), and guests: Troy and his brother Don Antill, Matt & Lori Carson, guests and Tom Cypher and his girlfriend headed for the hills. On through Minturn we trekked picking up Jed's brother Jim and his wife Susan. With the crew fully assembled, we headed out to wheel. The trail started getting rough, the mighty Jeeps (and a Bronco) were bounced, but we didn't get lost. While navigating the lower section of the trail we made radio contact with some of the other MHJC patrols farther up the mountain. We stopped at a great place by the creek and had a nice lunch.
With that behind us, we headed on up the trail. Holy Cross is a great trail with fantastic scenery and a nice series for obstacles and boulders from bottom to top. The upper half definitely has the more challenging obstacles. The first proved a good test of the vehicles with some impressive climbing demos put on over a large ledge. This section of the trail is noticeably wider than what it was last year. The next stop, quite literally, was at French Creek. There we joined the line and waited for a hapless Jeeper to extricate himself from the stream and off the boulders. Not quite sure what line he was attempting, but it obviously wasn't a good one. A little high lift action and plenty of tow straps, and he was pulled out of the way.
After letting a couple vehicles go on ahead of us, the Hobos lined up for the run. Most chose to tackle a tougher line through the creek. A recent brief rain shower erased the little traction available on the big granite boulders. After several valiant attempts, most of the gang opted for the easier route to the left. Paul and Troy, both sporting 35 and 36s were able to walk up the more difficult line with ease. On up to the Holy Cross we went after saying hi to the MHJC patrols that were waiting patiently to come back down through the Creek area.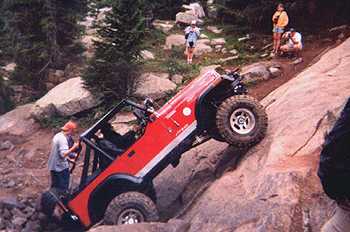 Paul 'Weiszguy' Weisz tries the 'hard way'
Once up at the city, we opted for the left-hand road, as we hadn't explored the year before. While a nice drive, the road doesn't go too far before dead-ending at the wilderness border. So we turned around and headed back toward the obstacle above Holy Cross. Last year, the off - camber boulder before the obstacle had us thinking we wouldn't try this one again. However, someone has piled enough rocks on the down slope-side to make this a cakewalk. On up to the staircase we went.
This is a great obstacle. On first appearances it looks pretty doable. The key is getting just the right line up the first big step. Once up on the first step, if you've taken the correct line without getting bounced to the right you stand a good chance of making it up the next steps and over. However, if you get a little right on the first step, you're on top, but hung up in some big rocks on the right. This happened to a couple of the crew. After some strategic rock placement we were able to get up an over. And then came Paul…. Opting for the sheer slick face on the left. While the line looked possible, the steep angle and really slippery rock we're to be so easily breached. Paul did put on a good show and assumed the vertical position. A little winching was able to get him up and over.
On the way back down we had to stop at the Creek and wait for a big F-250 to beat it's way across the boulders. While waiting, we noticed the Matt had sheered the front shackle mount off the frame. Several wraps of bailing wire later he was almost as good as new. Amazingly, the wire held up all the way back down. I'm sure Matt and Lori was glad they flat towed the Jeep for the trip home. Once down we all headed back to town. It was a great day of Hobo wheelin', and we're glad we had some great guests along for the ride. Madmax and Pete

All-4-Fun,spelled backwards is Fun-4-All!! That's what the week is all about, fun for the whole family, and fun for jeepers of all skill and rig levels. For 2002, it is the town of Silverton. What a week!!! From high altitude (9,318') sun to afternoon showers some days, cool nights (frost one morning), the cool weather was a nice break from the heat!! This year, the 36th Annual MHJC's All-4-Fun 2002 Silverton played host to about 200 registered wheelers from Sat. July 27th to Sat. Aug 3rd.
Along with some 85-100 MHJC members, were registered participants from all over the country. Silverton played host in 94', 98', and 4 years later-2002. Well over 1000 people attended the weeklong event. Each All-4-Fun every year would not be as successful as the last without the long hours of support and help of each committee member doing their part.
Thanks to all who helped, and especially Chair TOM ALLEN, who can now sit back and accept this congratulations. It takes a lot of people to put an event like this together and make it work. Thanks to everyone for making this a fun and successful week. Including Gary Moul and his team for keeping things running and organized. Everyone was so upbeat and in a great mood all week. Was it the beer? Nope, just friendly people, all with the same hobby-----jeepin'. After a long day on the trail, it was great to hang and swap trail stories in camp and under the big top. There was a ban on fires this year, so the campfire stories were told by makeshift BBQ's/flames instead.
Rob of 4x4 Used Parts Inc. was on hand once again to help out anyone in need of repairs. Discount Tire, Clemson 4Wheel Center, & 4x4 Xtreme, provided refreshments. Thanks to Steve and Tracy Schuster (Trail Bosses) of Patrol 10 for organizing trips everyday, and making the Trail Leader's job easier. It takes a lot to please over 200 Jeepers with fun trails for all skills and wants-great job!
Jeepers from all over the country (farthest this year was from Hawaii-again) come to enjoy a week of jeepin' (5 days), and the social functions held every night under the big top year after year. This year in Silverton was no exception, Sat. night: Orientation Night, Sun. night: Silverton Appreciation Night, Tue. night: Bestop Ice Cream & entertainment, Wed. night: BBQ/Show-N-Shine/Kids Games/Awards, Thur. night: DOOR PRIZE NIGHT, and finally, Fri. night: Warn Night/BBQ/Live Band til quiet hours? (ok-11:30pm).
So, as every night was planned, all you had to do was figure out from the 13 or so trips run each day (except Wed.) which one you wanted to do! Trips meet up at staging areas and leave on ½ hour intervals from 8-10am. I was a trip leader all week, and lead 5 trips (2 unofficial) to some great trails covering the whole area around Silverton: (Saturday: Kendall Mountain Trail, Sunday: POWER GULCHES TOUR-Picayne Gulch/Placer Gulch/California Gulch/Poughkeepsie Gulch/Engineer Pass Trails, Monday: Cinnamon Pass/Carson Townsite Trails, Tuesday: Brown's Gulch/Corkscrew Gulch/Ross Basin/Colorado Basin Trails, Thursday: Black Bear Pass/Imogene Pass Trails and Friday: Stony Pass/Kite Lake Trails.
Along with myself and my jeepin-sidekick Molly were Hobos Jed 'Clampett' McClelland-CJ7 (as a Trip Leader) & family Michael and Andrew, Ken 'Toolman' Kordes-CJ5 and wife Nancy Shelby, Associate Hobo Members Scott & Justine Marshall and daughters Cory and McCayla from Vancouver Washington, and Bobbette 'Smiley' Mathews & sons Thomas and Micheal up from Stinnett Texas. We all camped on the north side of camp next to the pleasant sounds of the Animas River.
Wednesday was a 'relax' day off from jeepin', and included a full day of FUN. One could enjoy the San Juan's or stay in camp for a full day of activities. From the morning parade thru Silverton, the Show-N-Shine, Kid's Games, Manufactures under the big top, food and refreshments for lunch and dinner, and the awards ceremony at night, a great day!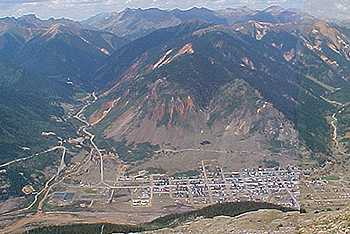 Silverton, Colorado-The heart of the San Juan's!
On Thursday night at 7pm sharp, the popular Door Prize night was run by Troy & Melody Mesmer's committee (great job!). Everyone was ready to receive over 300 "NICE" door prizes to registered jeepers who were present (some even took home 2!). How long does that take? Well, (at 11:45pmish?) we had the raffle. I got my $20 worth of Children's Hospital raffle tickets, and not a one even came close. Who cares, it's all for the kids. A big 'Thanks' to Fred Perry of Clemson 4Wheel Center who bid the highest ($750!) for the "JEEP"-Toughest 4 letters plaque for 2002, with the money going to Children's Hospital. Tom Allen proclaimed that this year's participants raised over $9,000 (most ever in one year) for a smaller group, and pushed the running total over $100,000 for Children's Hospital!! Another fun night under the big top!
The week of FUN finished up on Friday night with the MHJC BBQ, free beer/soda, and the band (which has played in previous years) started up at 6pm as part of Warn Night, sponsored by Warn Industries. During intermission, Harold Ogden of Warn handed out some Warn products. Everyone's attention and the excitement boiled as the final prize, an XD9000i winch would be given away. Harold looks over at me and calls my name! Wahooo! I was a 'bit' excited to say the least, and just had to high-5 everyone I could, then give Harold a 'big' thank you hug! It's on my Jeep as you read this, a big THANKS to WARN for their great support of All-4-Fun, and my new winch! The rain started back up, but the band played on til 11:30pm! By early Sat. August 5th, the camping sites were almost empty, as happy and content jeepers would make their own treks back home out of the Silverton valley. Everyday of the week, either on the trail or in camp, was a blast! This was my best All-4-fun! A toast to the hosts and the guests for another successful All-4-Fun this year in SILVERTON!

MHJC and the 4 wheeling community lost a great wheeler and a well-respected man in Jim Provence on August 9th. Jim's willingness to help never stopped even at MHJC's All-4-Fun in Silverton just a week before, as many of you had personally seen. His contributions from supervising the tent raising to Manufacture's Day Promotions, to MCing the Children's Hospital Raffle, and more helped greatly to the success of the event. Jim was the spirit of what the Mile-Hi Jeep Club stood for. I hope it lives on in others. We will all have many special memories of Jim, and of all he did for us as a group and individually. I will never forget how he introduced me to club wheelin', and the many 'Tugs' on Pritchett Canyon in May of 95'. His contributions to MHJC over the years were endless and without 'thanks'. He was the 1st to stand up and motivate a crowd, or to clear the air of an issue. His animated smile will also be sadly missed. We will miss you Tug, Rest in Peace. I wanted to honor a man who meant so much to MHJC, and what the sport of 4Wheelin' is all about. What better way to do all that Jim Provence loved........but having us getting together and wheel in his memory. The TUG Memorial Run is on Saturday, September 7th , to do just that. Details are on the MHJC message board. Hope to see you there.
The TUG MEMORIAL RUN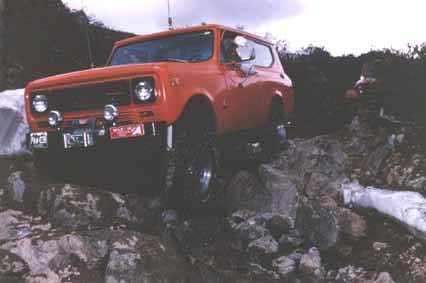 September 7th, 2002
See Ya on the trails..."Jeep,Jeep"
Bill Hallinan HoboJeepers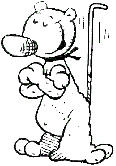 (c) Copyright 1999/2000/2001/2002 MHJC Patrol One
Jeep is a registered trademark of Daimler Chrysler Corporation