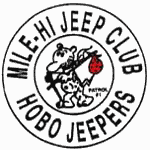 April 2000

Hobo articles
represent the previous month's activities, and are published in MHJC's "Jeepers In The New's"
April, Hummmmm…………Springtime means Summer is coming soon! We can't wait to run our list of trails this year, as long as all the snow melts. But until then, a Hobo can only spend money on cool upgrades, and run the "foothills" trails to try them out. Hobos Ken, Paul, Scott, ChrisV,and ChrisP, all have install stories to tell. Funny thing, seems I'm the only one who hasn't added anything, but hey I still keep my full coverage! Let's hope we get enough snow for the water people, but not too much for the trails. A good bit of snow this time of year can turn any "easy" road into "impassable", but these warm spells seem to melt away the foothills trails enough to run.
On March 9th, we had our monthly Hobo meeting. Hummmmmm......well it was a snowy March....Not much to tell!! Eugene says get ready to "Jeep, Jeep", spring has sprung!
Bill Hallinan HoboJeepers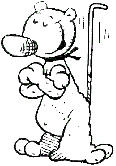 (c) Copyright 1999/2000 MHJC Patrol One
Jeep is a registered trademark of DaimlerChrysler Corporation