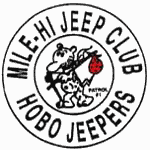 DECEMBER 1999



Hobo articles
represent the previous month's activities, and are published in MHJC's "Jeepers In The New's"
Well here we are, the end of 1999, and the beginning of a new millennium!! This 99' year has been a fun-filled year of jeeping for us (as our "outings" web page will attest), and the Hobos look forward to many more jeep trips in 2000!! Before we put our party hats on, I'd like to share with you our latest Hobo activities near the end of 1999. I hope you enjoyed last month's, and I'll try to keep the last article of 99' short and concise. Thanks to Paula "editor 2000?" Provence of the "where the Fugowie?" clan, for a great year of newsletters!! Thanks also to Bob Goble and the MHJC board for your wonderful services in 99', great job everyone! Welcome and congratulations to our new commander Mary Hilligoss, and the other Board members and new Patrol Leaders for 2000!
Since the "Jeepers in the News" November article was due the Monday after our trip to Slaughterhouse/Crow Gulches, it's included in this months article. We had a great turn out of wheelers for the trip over to Slaughterhouse and Crow Gulches on October 24th! We all met at the Bugling Bull for breakfast and promptly at 9am, paraded out Hwy 285 to the last light before heading down Crow Hill and Bailey. In the parade, were Hobos Chris and Debi Vieth, Paul Weisz (and his son Bret), and myself (with my sidekick Molly). Guests included Dennis Ervin, Pete Ramirez, Steve & Tracy Schuster and TJ Shelly, Joe Wrona, Al & Carol Stine, Donett Kagarise (and son Braden), Jon Brule, Lynn Story, and Scooter Geram.
We all aired down at the trailhead ready for a great day of jeepin. As this trip was my 1st time to Slaughterhouse, Dennis Ervin provided great directions so we didn't get lost. We started up the trail marked Forest Service road 101, which didn't prove to warrant using 4WD just yet. After reaching the saddle, we stopped for a quick 10-100, and we were off down the steep grade into Slaughterhouse Gulch. This stretch dry wasn't too much of a challenge, but some snow and ice would definitely test your sledding skills a bit! Past a few rocky sections, we encountered the "mud hole", which was not as full as some had seen in the past. I opted to go around it being in the lead, but soon found out it wasn't as deep as 1st suspected. So, everyone got their tires muddy, and ended up flushing out most of the mud water at the same time.
The trail tightens up a little down the gulch as we reached the turnoff to the left to head up a steep hill climb. Along this hill climb, one encounters a real "mud hole", no one who attempted it, could climb out of uphill. I was the 1st to try, but just couldn't get past the last ledge and kept wallowing in the mud until I gave someone else a try. Paul Weisz gave it a shot, and found himself in the same predicament as me, just short of the last ledge to get up and out of the mud pit. Lynn Story in his open TJ gave it a shot, and tried a line straight up the bank and ended up "stuck" trying to get out and his back stuck in the mud and no way to back up. After finally wiggling down off the bank, he was able to back out, and we on our way uphill.
Paul's CJ Jon's TJ Bill's CJ


Slaughterhouse Gulch Trail


Up the hill about 100yards is a great set of moguls for serious articulation and air photo shots! We all set up for either maximum articulation or maximum air depending if your sway bar was disconnected or not. Some TJs without disconnects got some 2 feet in the air, as cameras and camcorders recorded the action! Just past the photo shots we found a great lunch spot with views of the North Fork of the South Platte River valley below. After lunch we headed back down to the road to Crow Gulch, and turned right (east) to check it out. Crow Gulch used to run down to Hwy 285, but that section has been closed, so it's a dead end. We 1st tried a side road that I thought it might head up to the top of 10465' Crooked Top Mountain, but it ended all of a sudden so we all turned around and met up with Dennis Ervin down at the end of Crow Gulch. As it was getting late, we all headed back to the original air down trailhead for some free air provided by Hobo Paul (thanks Paul!). As it has been run in the snow, this trail would be fun with some fresh snow, and would change the whole trail rating to "moderate/difficult" as snow runs go.
On November 9th, we had our monthly Hobo meeting at my house, which is held the 1st Thursday after 1st Monday's MHJC Board meeting. On November 18th, the Hobos hosted the refreshments at the MHJC parent meeting, and a trip to Hackett Gulch that Saturday the 20th. Thanks to all the Hobos and prospective Hobos who helped out at the MHJC meeting.
As Saturday November 20th was upon us, I had envisioned a cold and snowy trail by the end of November. Well, that wasn't the case as we set out for a day (and night) run in the Rampart Range south of Denver, and ended up running the Hackett Gulch Trail. We all met at the Hugh M. Woods south of C-470 and Santa Fe at 8am and headed south on Hwy 85 to Sedalia. Hobos , Paul Weisz (and son Bret), Chris "Colonel" Potter, and myself (riding with Pete) were in attendance. Also along were Scott Maxwell (and son Tom), Pete Ramirez, Dirk and Jeni Mellott, Jon Brule (and friend), and Al and John with stock TJs.
After a winding paved road along the South Platte River, we were treated to a really long washboard dusty road that never seemed to end, and finally reached the trailhead of the Corral Creek trail. Corral Creek is pretty much all downhill to the South Platte River. The trail should be rated easy, since there were no major challenges or difficult maneuvers encountered. We reached the river and crossed to go up the Longwater trail. We did notice going up Longwater that we'd miss some cool obstacles down by the river, and decided to run up Hackett Gulch instead.
We had stopped to find our bearings, and Pete was coming of a rock and put a big gash in the sidewall of his rear tire. Well, today Pete carries a spare that is the same diameter, since that day he was lucky Jon was the only TJ/YJ bolt pattern around that had a 33"spare to use. After a quick change, thanks to Paul's air tools, we went up and tried Widowmaker Hill. All of the lockers, and some open jeeps made it up without to much trouble. We had to backtrack down and the we tried the obstacle just across the river near the start of the Hackett trail. Jon and Pete made it up ok, but Paul after a few tries got sideways to the hill and sat precariously defying gravity, as he was straightened up and safely brought down in one piece. Paul tried to use his winch, but his battery was a bit under-rated for running a 12000lb Ramsey Winch. We moved up Hackett Gulch and down a hairy mogul loose granite rock hillside that would challenge an open vehicle going the other direction. We did find a similar hill with deep tight moguls, and lined with trees that challenged Dirk's open Wrangler to its limits. After numerous attempts, we finally removed the sway bars to allow a little more travel and just enough grip to get past the deepest mogul, then Paul strapped him up the rest of the way.
It was getting pretty dark by now, and we still had half of Hackett to run. As we were heading up after everyone else made it up the hard mogul section, a motorcyclist grabbed our attention. He had said a Nisson Pathfinder traveling alone, had gotten sideways back at the river and needed help. Jon volunteered to go back and help, and Paul went to make sure they both got out safely since it would be dark. They were also they only ones that could also negotiate the loose mogul hill we went down a mile back. They, along with some other wheelers got the Nisson with a guy and his family off the hill and safety. Paul and Jon got back to Denver about 11:30pm, thanks guys. We headed up the trail, and the day trip turned into a night run about 4:30pm. With map and flashlight in hand, Forest Rd. 360 seemed to go on forever! We finally hit pavement at Westcreek, and we were on our way home. If you ever have plans to do Hackett/Longwater Gulches, plan to leave early and stay late. It's also a challenging trail, and almost too much trail if you're not equipped. Don't travel alone on this trail; it's a fun day of jeepin, just remember to think safety first. Here's hoping you all get your well deserved jeep presents under the tree or in the garage this Christmas!
The Hobo1Jeepers would like to wish everyone a very Merry Christmas 1999, and a safe joyous Holiday season!!!
BILL HALLINAN HoboJeepers
Welcome also to Scott Maxwell a new HOBO, sworn in on December 9th Hobo Meeting!!!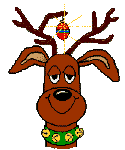 Merry Christmas 99'
and a Happy Hobo 2000 New Year!!!

(c) Copyright 1999/2000 MHJC Patrol One
Jeep is a registered trademark of DaimlerChrysler Corporation