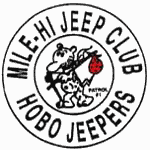 OCTOBER 1999

Hobo articles
represent the previous month's activities, and are published in MHJC's "Jeepers In The New's"
Let's see, there's New York, Paris, London, Tokyo, Hong Kong, and then there's MOAB! Moab, Moab, Moab! It's all it's hyped up to be and more! Over the Labor Day weekend, the Hobos got a taste of Moab and slick rock jeepin unlike the Rockies can give, and loved every minute of it! Paul Weisz (and his son Brett), Jon Brule (and his new lift and 33's), and I (Bill Hallinan with my harnessed sidekick Molly) set out Thursday September 2nd for the almighty Moab. We found a great camping spot (sorry cant' tell ya where), and I set up my tent trailer for a long trail-filled weekend. The weather was perfect, and the trails were surprisingly empty. We never encountered any crowds of any kind like we thought for a Labor Day weekend. In fact, on Saturday over Metal Masher and Arth's Rim, we didn't see a soul (except Molly saw 3 squirrels and a rabbit), until we hit pavement 7 hours later.
Jon tackles Hell's "Tip Over"/
MOAB 99' Base Camp/ Hobo Paul does Metal's "Mini Crack"


On Friday September 3rd, we ran the (4+rated) Hell's Revenge and the surrounding slick rock area. I say surrounding area, because the trail isn't well marked (I heard Red Rock 4-Wheeler were going to mark it on Sept 18th), so getting lost was a common occurrence. After paying a $5.00 entrance fee to Sand Flats Rec. Area (an elf told me the secret way in was to go to the western face of Lions Back and follow it north), of course we didn't find that out until we were looking for another way out besides the "big" mudhole. Speaking of which, after taking a quick left and "mounting" baby Lions Back, we encountered what I thought was a mud "puddle". Well, as I was 1st in line, I eased into the puddle that suddenly became a "mudhole"! It was really deep, so deep that Paul with a 6" spring over lift and 35's was swimming thru it above the fender. After the initial depth discovery and as panic set in as the muddy Moab water lapped my hood ornament, I headed and hugged the left bank at a 30 degree lean into the pool (which of course encouraged water intake in thru the passenger door), but I made it out without stalling and major engine/tranny damage. We all made it thru and pressed on, only to get lost. Back on the trail, we made our way around and over numerous slick rock hill climbs, canyons, and descents. We "stumbled" on the trail just in time to find some great obstacles. A Four-Runner, who was wandering around with us decided to tackle one obstacle no short-wheel based jeep would try. With some skill and ease, he managed to make it up the 6' vertical wall and up the second bathtub without any body damage. A long wheelbase, tire placement, and crawling with an automatic were keys. After running thru rubble hill we were back in slick rock, and climbing hills everywhere, and ended up for lunch atop the highest ridge with great views. After a windy lunch, we proceeded north only to find ourselves the only jeeps on the slick rock mountain bike trail. We followed it as mountain bikers passed by us, but soon found the trail was to small to negotiate any further. So we retraced our tracks back west to eventually some hairy obstacles along the western face of Lions back (the way we'll come in next time). One obstacle makes you lean into the canyon wall inches from sheet metal at about a 30 degree lean. We gassed up in Moab ready for a new day, and headed back to camp for some refreshments and a lawn chair. HOBOS 1, MOAB 0
On Saturday, September 4th, another perfect jeeping day at the (4 rated) Metal Masher awaited us. About 7 miles north of Moab, we started up the Gemini Bridges road off Hwy 191. The road makes it's way up along the cliff face were we going to be above later in the day, and into sandy Little Canyon. After passing the famous "Gooney Bird", we headed up the mesa and around to the NE to Arth's Rim. Since I hadn't been to Metal Masher, the turns were a little hard to find, but soon we found slick rock and were heading up the rim. Small ledges and cracks along the trail keep you entertained as you the approach a 500' cliff face with a great view overlooking Little Canyon. From the cliff face, to a point just past the rims highest point to the North is a kick in the pants! We ran thru a few obstacles which I bet one was "Mirror Gulch" and the others I didn't know their names. I'm sure we didn't miss the "Widow Maker" obstacle, with so many they all blended together. Only stacked rocks, and the occasional tire mark are your only clues that a trail exists. A maze of slick rock ledges, hill climbs, and decents await you. All the time you're wondering to yourself "there's a trail here??". As I mentioned we were the only ones out in the area that day, what a nice isolated feeling that was. Just as you think you're lost, a friendly stack of rocks leads you on into another rock ledge. We stopped for lunch at the highest point of Arth's Rim with a great view of Arches National Park and a 1500' drop below. After lunch, the trail eased up a bit and was easier to find as we worked our way along the northern edge and headed west thru Arth's Pasture. Instead of looping back to Little Canyon, we found a 2WD road that leads 4 miles west to pavement (Hwy 313) and back around to camp. HOBOS 2, MOAB 0.25 (Paul's u-joint was replaced). After some cool refreshments, food, and some games of poker, a campfire under a crystal sharp star-filled sky was the frosting on the cake that day.
Up early on Sunday September 5th, we were psyched for a long day of jeepin the popular Poison Spider/ Golden Spike/ Gold Bar Rim Loop trails. The night before, Paul removed his stock CJ bumper for more clearance, along with replacing his rear u-joint, which had taken a beating the previous day. The Poison Spider link starts just North of the Colorado River and past the sandstone cliff faces. It heads north up and along the rim thru Golden Spike, Gold Bar Rim, and Rusty Nail trail sections. A total distance of about 19 miles or so of trail await, of which about 16 is the "hoot" to wheel! We started Poison Spider (mile 0.0) at about 9:30am and finally hit the pavement of Hwy 191 about 5:30pm. With only 3 vehicles, no serious breakdowns, and very little if any traffic, we were able to complete the run in about 7.5 hours.
The 4-rated Poison Spider Trail was well marked (with tire tracks) compared with the previous days trails, as were the obstacles. As we jeeped over the minor obstacles, we came upon the 1st well-known "Water Fall" obstacle, and climbed over it with ease. The irregular ledges here make for great articulation. The slick rock defies your instincts and your tires grab like running up on "sand" paper. Pressing on thru the sandy mesa and back up to slick rock, we found the left at mile 5.0 that starts the 4+ rated Golden Spike Trail. After climbing up and thru some canyons, we took a right at a rock cairn, and up the white slick rock towards the rim. Taking this right finds a new trail of ledges and obstacles. This stretch is much more fun then going straight and doing the "Wedgie" obstacle. Since I hadn't been on this new section, I wasn't sure what the trail's name was, but whatever it is its' a kick-butt trail! Up and down, obstacle after obstacle, we jeeped on looking for rock cairns. The lunch stop affords another spectacular view of Arches and the La Sal Mountains. We came down off the rim, and down to the famous "Golden Crack" (~mile 10.7, depending on which route you took). After watching a few other cool-running jeeps crossing the crack, we all moved across with some serious articulation shots. Paul's input shaft in his Dana 300 got jammed, and created some problems later on the trail, and on his trip back to Denver. Not knowing which trail led us out, we followed a group of jeeps along the 3.5 rated Gold Bar Rim Trail portion past the "Double Whammy" obstacle (mile 11.5). A few minutes before we arrived, a "stock" Toyota truck had rolled. The driver broke his hand, and the truck didn't look drivable, with 5 miles of trail left to the north. So, we opted to go around it and press on thru more ledge climbs and descents. We passed Monticello Rock, and down into Little Canyon. Here in 2WD, we found some fun sand in the washes and some sand hills to play on before saying "adios" to the Gooney Bird. Out and back down to Hwy 191 (mile 19.6), we gassed up and headed off to camp. HOBOS 3, MOAB 1.

Bill gets twisted in Moab!/ Jon crossing "The Crack"/ Paul crawls off another ledge

So after reading the trip reports, you can see the final score at Moab 99' was Hobos 3 (3 great days), Moab 1 (.25=u-joint, .25=Dana 300 input, .25 trailer hitch, and .25 spring sag). Though Paul did take longer to get home (Tue) due to his input shaft, Jon and I made it home ok on Labor Day. Jon ran very clean on most of the trails, and used his lift and 33's to their fullest extent. The wonders of a lifted stock TJ always amaze me; add driver skill, and your ready to rock! Paul ran some great lines, and maneuvered his CJ with skill thru numerous obstacles. He's fixing his input shaft and some spring wrap, but a small price to pay for a weekend of jeepin in Moab I say. As for me, I had the best 4-wheelin in a long time! My right rear spring sags a little more now, but who cares, I did Moab! Hail to the almighty Moab, till we meet again!!
Plans include aspen-jeepin at ASPENCADES on Sept 25th (weekend), and BILL MOORE LAKE Oct 2nd(day). So I'll have to fill ya in next month on how they went. Ole' man winter is a-knockin, but he hasn't arrived just yet. I've also been updating our HoboJeepers web site with tons of 99' trip pics and other jeep stuff, check it out! We hope you all had a great summer of jeeping, and have a Happy Halloween!!
BILL HALLINAN
HoboJeepers

*note: alot of this text is taken from Moab 99' Trip Reports.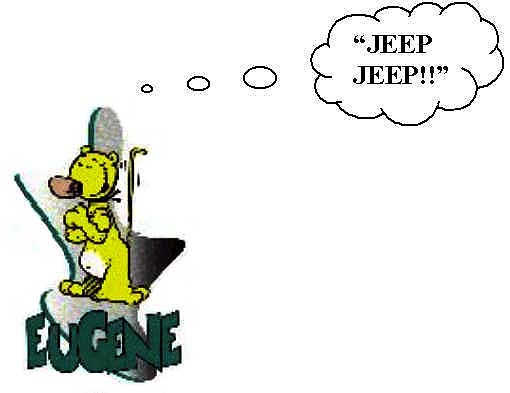 (c) Copyright 1999/2000 MHJC Patrol One
Jeep is a registered trademark of DaimlerChrysler Corporation