PATROL ONE OUTINGS
Bill Moore Lake/Empire Loop Trails

Above Empire, Colorado

As most of the aspens have peaked, the Hobos set out on the cool morning of October 2nd for a day of jeepin' the Bill Moore Lake/ Empire Loop Jeep Trails above the town of Empire, Colorado. We all met up at IHOP restaurant at 6th and Simms in Denver at 9am, and headed west on I-70 to Empire. The wheelers for the day were myself (and Molly of course), Hobo Ken Kordes, and Chris and Debi Vieth, along with guests Pete Ramirez and his wife, and Brad Riviere with his new TJ.

Click on photos to enlarge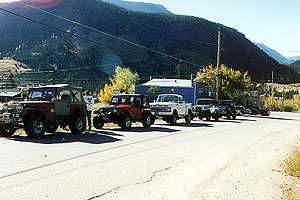 Airing down in Empire
We all aired down in Empire, as I checked my maps as I was going to lead a trip I had never done. After a quick turnaround (yep, I took a wrong turn), we were heading up the canyon switchbacks above Empire. Along the last switchback, we took the cutoff rock chute obstacle section. This section is similar to Iron Chest's rock chute section, but less and a little smaller rocks. The chute here still provides a challenge, since larger rocks need to be negotiated as loose medium-sized ones are crawled over, all in one steep climb.
With only one stall (gatta love those carburetors), I made it up with a big smile as I passed the camcorder. Ken was up next with his 61 F-150, and crawled right on up with his ARB's and low gears. Brad Riveria with his open TJ was able to use momentum and tire placement (skill) to maneuver thru the rocks, and on up with just a couple scraping noises coming from the undercarriage. Chris Vieth climbed up as Debi's camcorder was rolling. I think she only stopped it twice as I spotted Chris thru a tight section. Chris's highway gears proved to be to high for a rock crawl, but with some finesse, he climbed on up with a renewed look of confidence.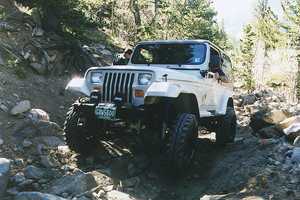 Pete runs the chute open, and has a clean run!
Hobo Chris V takes on the many rocks of the chute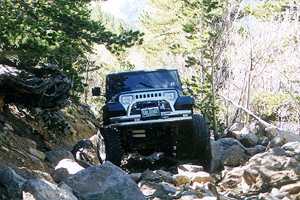 Once on the trail again, we took a left at the Bill Moore Lake sign, and headed uphill thru 10,000'+ spruce forests. The trail is more scenic then challenging up to the lake, as the views off to the south of Mt. Evans and Georgetown were spectacular.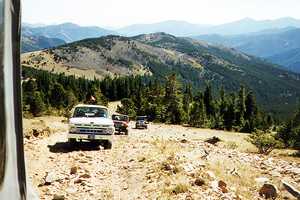 Looking east on one of the steep loose hill climbs up to Bill Moore Lake
Group shot along the ridgeline at 12,000', looking west to views of Mt. Evans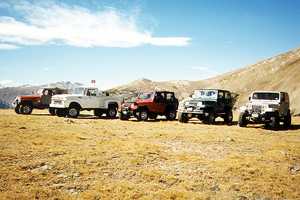 There are some fun mogul loose rock climbs on they way, which take your eyes away from the views briefly. We made it up to Bill Moore Lake, and had a windy lunch along the shore. A natural dam had broken recently holding a large portion of the lakes water, as it was down about a foot. We backtracked to find the turn to the north and the beginning of the Empire Loop Jeep Trail.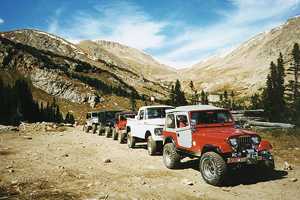 End of the trail near Bill Moore Lake in the background
Peaceful Mill Creek along the Empire Loop, the Mill Creek obstacle is nearby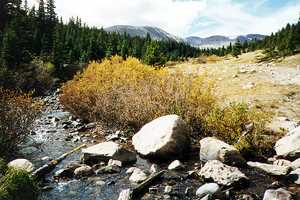 Along the Empire Loop we came across Mill Creek, and just past the creek crossing we came across an obstacle known for eating jeep hubs (ask Hobo Paul). It's a small 2' ledge and rocks, with a big tree on the left to avoid. There is a go around, but most of us opted for the "harder way" and made it up with our hubs intact.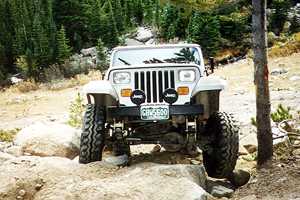 Pete Rameriz's 95 YJ at the Mill Creek obstacle

Chris Vieth's 93 YJ eases up the obstacle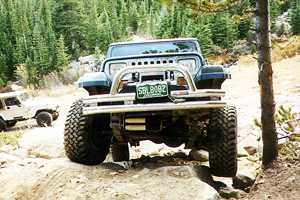 This side trail is a fun tight tree-lined rocky jeep trail. No Hummers should attempt this trail, as width is definitely a factor in the amount of pin striping you apply to your paint. Most of us were able to avoid the deep pinstripes, except Hobo Ken who is a good 6" wider then us, and had more of a challenge negotiating the trees. With his new steering box recently installed, it proved useful as he sliced thru the trees like butter.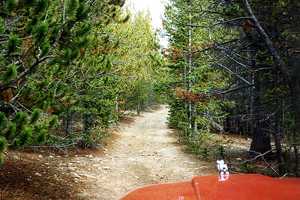 Empire Loop's tight tree-lined trail
Little rocky sections keep the ride bumpy along the Empire Loop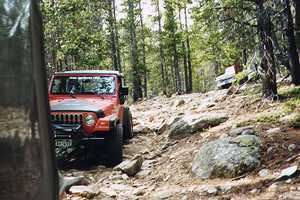 Back into the trees, this section gives any power steering pump a workout. Along with some rocky sections, it's a real fun "jeep trail". We finished the loop around Elephant Hill, and found the original way in near the rock chute. As weather set in, we headed on down to the Chancellor Mine to unlock. A great fall day, great company, and a fun "jeep trail",......... ................what more is there??
Bill Hallinan HOBOJEEPERS
More Bill Moore/Empire Loop Photos: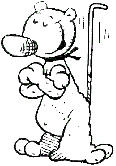 (c) Copyright 1999 MHJC Patrol One
Jeep is a registered trademark of DaimlerChrysler Corporation