PATROL ONE OUTINGS
Metal Masher/Arth's Rim Trails 99'
Near Moab, Utah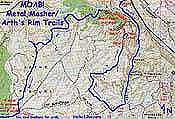 Click on map to enlarge
On Saturday, September 4th, another perfect jeeping day at the (4 rated) Metal Masher awaited us. About 7 miles north of Moab, we started up the Gemini Bridges road off Hwy 191. The road makes it's way up along the cliff face were we going to be above later in the day, and into sandy Little Canyon. After passing the famous "Gooney Bird", we headed up the mesa and around to the NE to Arth's Rim. Since I hadn't been to Metal Masher, the turns were a little hard to find, but soon we found slick rock and were heading up the rim.
Click on photos to enlarge
Small ledges and cracks along the trail keep you entertained as you the approach a 500' cliff face with a great view overlooking Little Canyon. From the cliff face, to a point just past the rims highest point to the North is a kick in the pants! We ran thru a few obstacles which I bet one was "Mirror Gulch" and the others I didn't know their names. I'm sure we didn't miss the "Widow Maker" obstacle, with so many they all blended together. Only stacked rocks, and the occasional tire mark are your only clues that a trail exists.
A maze of slick rock ledges, hill climbs, and decents await you. All the time you're wondering to yourself "there's a trail here??". As I mentioned we were the only ones out in the area that day, what a nice isolated feeling that was. Just as you think you're lost, a friendly stack of rocks leads you on into another rock ledge.
We stopped for lunch at the highest point of Arth's Rim with a great view of Arches National Park and a 1500' drop below. After lunch, the trail eased up a bit and was easier to find as we worked our way along the northern edge and headed west thru Arth's Pasture. Even along the northern edge of Arth's Pasture, small 2 foot ledges bring on Kodak articulation shots!
Instead of looping back to Little Canyon, we found a 2WD road that leads 4 miles west to pavement (Hwy 313) and back around to camp. HOBOS 2, MOAB 0.25 (Paul's u-joint was replaced). After some cool refreshments, food, and some games of poker, a campfire under a crystal sharp star-filled sky was the frosting on the cake that day.
Bill Hallinan HoboJeepers
More Metal Masher/Arth's Rim Photos:
Here are some other Metal Masher Trip reports:
Metal Masher Trail by Moab4x4.Com: http://www.moab4x4.com/mtmm.htm
Metal Masher Trail Report by Truckworld.Com: http://truckworldonline.com/truckworldcom/Travel-Adventure/Moab-Jan/moab-mm.html
Scott Rozmanís 1998 Metal Masher Trip Report: http://www.off-road.com/~srozman/UTmoabmash98/mm98.html
Metal Masher Trail Report by Jan Gremillion:
http://www.4x44u.com/pub/k2/am4x44u/trails/moab/mt007.htm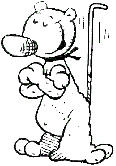 (c) Copyright 1999,2000 MHJC Patrol One
Jeep is a registered trademark of DaimlerChrysler Corporation