PATROL ONE OUTINGS
MOAB 99'
Moab, Utah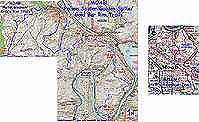 Click on map to enlarge

Let's see, there's New York, Paris, London, Tokyo, Hong Kong, and then there's MOAB! Moab, Moab, Moab! It's all it's hyped up to be and more! Over the Labor Day weekend, the Hobos got a taste of slick rock jeepin unlike the Rockies can give, and loved every minute of it! Paul Weisz (and his son Brett), Jon Brule (and his new lift and 33's), and I (Bill Hallinan with my sidekick Molly) set out Thursday September 2nd for the almighty Moab. We found a great camping spot (sorry cant' tell ya where), and I set up my tent trailer for a long trail-filled weekend.
Jon Brule on Hell's Tip Over Moab 99' Base Camp Hobo Paul on Metal's "Crack"


The weather was perfect, and the trails were surprisingly empty. We never encountered any crowds of any kind like we thought for a Labor Day weekend. In fact, on Saturday over Metal Masher and Arth's Rim, we didn't see a soul (except Molly saw 3 squirrels and a rabbit), until we hit pavement 7 hours later. Here are some trip reports for the trails we did during the weekend of Moab 99':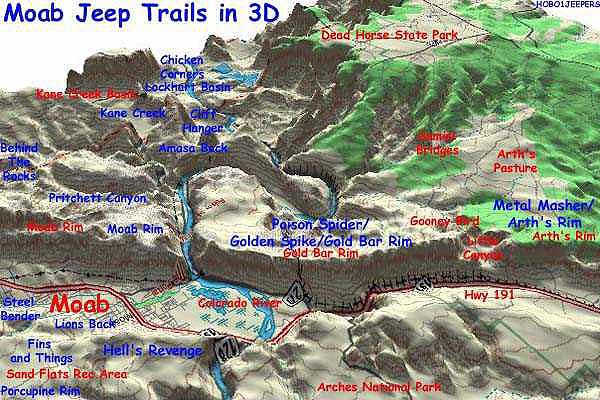 "Moab, A jeepers paradise"

click on link below to a trip report
POISON SPIDER/ GOLDEN SPIKE/ GOLD BAR RIM
Hobo Bill twisted in Moab / Jon crosses "Golden Crack" / Hobo Paul off another ledge


So after reading the trip reports, you can see the final score at Moab 99' was Hobos 3 (3 great days), Moab 1 (.25=u-joint, .25=Dana 300 input, .25 trailer hitch, and .25 spring sag). Though Paul did take longer to get home (on Tuesday) due to his input shaft, Jon and I made it home ok on Labor Day. Jon ran very clean on all of the trails, and used his lift, 33's, and his trailer hitch to their fullest extent. The wonders of a lifted stock TJ always amaze me; add driver skill, and your ready to rock! Paul ran some great lines, and maneuvered his CJ with skill thru numerous obstacles. He's fixing his input shaft and some spring wrap, but a small price to pay for a weekend of jeepin in Moab I say. As for me, I had the best 4-wheelin in a long time! My right rear spring sags a little more now, but who cares, I did Moab! Hail to the almighty Moab, till we meet again!!
BILL HALLINAN HoboJeepers
Here are some other Moab 4x4 Sites:
*Easter Jeep Safari's:
Dirtroad.Com Easter Safari 99':http://www.dirtroad.com/ejs.htm
33rd Annual Easter Jeep Safari by Flatlander: http://www.4x4now.com/33js.htm
Moab Off-Road.Com EJS 99': http://www.moab-offroad.com/EJS99/
1998 Easter Jeep Safari by Rockcrawler.Com: http://www.rockcrawler.com/trailreports/moab98/index.htm
32nd Annual Easter Jeep Safari by Flatlander: http://www.4x4now.com/32js.htm
31st Annual Easter Jeep Safari by Flatlander: http://www.4x4now.com/31js.htm
30th Annual Easter Jeep Safari by Flatlander: http://www.4x4now.com/30js.htm
*Moab Trail Lists:
4x4Now Moab Trail Reports: http://www.4x4now.com/mu4wd.htm
4Wheel of Moab Trail Listings: http://www.4wheelofmoab.com/index.html
Moab 4x4.Com Moab Trail Index: http://www.moab4x4.com/jeeptrails.htm
Moab Trails by Number: http://www.4x44u.com/pub/k2/am4x44u/trails/moab/moab001.htm
Moab Trail Difficulty Ratings: http://www.4x4now.com/tr.htm
Moab Trail Photos: http://www.jeeps.org/
*How to drive Moab Slickrock by Bill Burke: http://4x4now.com/bb0797.htm

(c) Copyright 1999,2000 MHJC Patrol One
Jeep is a registered trademark of DaimlerChrysler Corporation