PATROL ONE OUTINGS
MEMORIAL MOAB 2000
Moab, Utah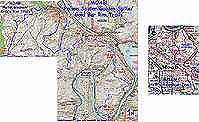 Click on map to enlarge

Moab, just the simple mention of this 4-letter word and the adrenaline begins pumping with images of slick rock and the unique jeepin' to be had there. Moab is the Mecca of all jeeping wonderlands, and the only place in the world with challenges that test and amuse you. The term slick rock is certainly an antonym when talking about the traction one gets on steep hill climbs. Your carburetor will give out on some climbs before your tires start to lose traction. Driving west out of Grand Junction still 2 hours from Moab, you begin to wonder where in all this desert is it? Not until you drive south from I-70 and begin to see the red sandstone cliffs do you know you are in jeepin heaven.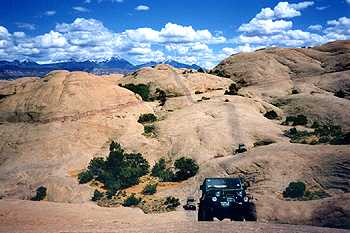 On Thursday May 25th, the HoboJeepers headed west on I-70 to seek the elusive slick rock, and enjoy 3 great days of trails over the Memorial Day weekend. Hobos Scott "Mad Max" Maxwell and his son Pete and myself pulling a tent trailer, with my jeepin-side kick Molly headed out later that day. Hobo Paul Weisz and his son Brett pulled his jeep out and arrived oh about 1:30am at our sandy campsite and proceeded to bury it for a good nights rest. Plans for the weekend include Fins and Things/and some of Hell's Revenge on Friday, All of Hell's Revenge on Saturday, and the long Poison to Gold Bar Rim trails on Sunday.
BILL HALLINAN HoboJeepers

click on link below to a trip report from the Memorial Moab Run 2000...
Day 1

FINS AND THINGS/HELL'S REVENGE
Day 2

Day3

POISON SPIDER LOOP/ GOLDEN SPIKE/ GOLD BAR RIM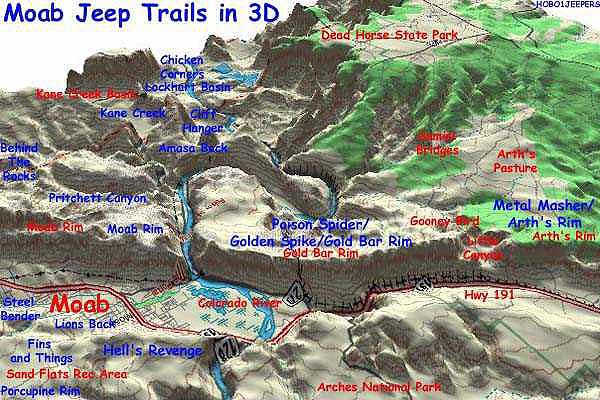 "Moab, A jeepers paradise"
click on link below to a trip report from the Sept 99 Moab Run...
POISON SPIDER/ GOLDEN SPIKE/ GOLD BAR RIM

Here are some other Moab 4x4 Sites:
*Easter Jeep Safari's:
Dirtroad.Com Easter Safari 99':http://www.dirtroad.com/ejs.htm
33rd Annual Easter Jeep Safari by Flatlander: http://www.4x4now.com/33js.htm
Moab Off-Road.Com EJS 99': http://www.moab-offroad.com/EJS99/
1998 Easter Jeep Safari by Rockcrawler.Com: http://www.rockcrawler.com/trailreports/moab98/index.htm
32nd Annual Easter Jeep Safari by Flatlander: http://www.4x4now.com/32js.htm
31st Annual Easter Jeep Safari by Flatlander: http://www.4x4now.com/31js.htm
30th Annual Easter Jeep Safari by Flatlander: http://www.4x4now.com/30js.htm
*Moab Trail Lists:
4x4Now Moab Trail Reports: http://www.4x4now.com/mu4wd.htm
4Wheel of Moab Trail Listings: http://www.4wheelofmoab.com/index.html
Moab 4x4.Com Moab Trail Index: http://www.moab4x4.com/jeeptrails.htm
Moab Trails by Number: http://www.4x44u.com/pub/k2/am4x44u/trails/moab/moab001.htm
Moab Trail Difficulty Ratings: http://www.4x4now.com/tr.htm
Moab Trail Photos: http://www.jeeps.org/
*How to drive Moab Slickrock by Bill Burke: http://4x4now.com/bb0797.htm

(c) Copyright 1999,2000 MHJC Patrol One
Jeep is a registered trademark of Daimler Chrysler Corporation