MEMORIAL MOAB 2000
Poison Spider Loop /Golden Spike /Gold Bar Rim Trails
Near Moab, Utah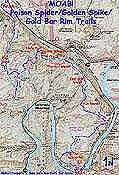 Click on map to enlarge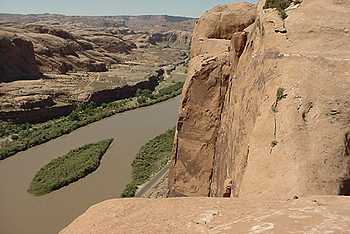 The Colorado River from Poison Spider Mesa
On Sunday May 28th, brings rumors of a really hot day, and they were right, it was a scorcher! We really didn't know how hot it was really going to get, but some said about 100 degrees! So, shade was a premium, as was the water, cold or warm. But, your in Moab and you can tuff it and let the wheelin make up for the heat!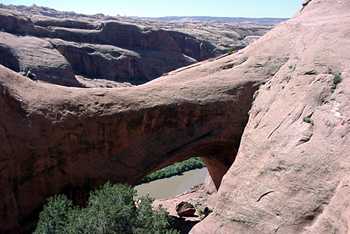 On the Poison Spider Loop we stopped at a cool arch overlooking the Colorado River...
Sunday was reserved for the longer Poison Spider Loop, Golden Spike, and Gold Bar Rim Trails. Many of you know it's hard to predict how long it takes, well with 6 vehicles and no real breakdowns, and the occasional stops, it took us from about 8:45am to 7:15pm to finally see pavement again. Time? What time, when you're on vacation, the clock is frozen, and only the sun tells you if it's day or night.
| | |
| --- | --- |
| | |
| After the "Waterfall", here's another fun obstacle... | Hobo "Mad Max" runs the "Wedge" on Golden Spike... |
We met up with Slingdawg and Pawk from JU, and started the switchbacks of Poison Spider. With only a few paragraphs to tell you 10.5 hours of trail, I'll make this brief. Every obstacle was better then the last, from the "Waterfall", to the "Wedge", to the "Golden Crack", a fun day for sure. Again, no major breakdowns to tell about, only FUN slick rock ledge after slick rock ledge, and some 100 in all (it seems like!).
| | |
| --- | --- |
| | |
| Sand dunes from the mesa is worth a few fun loops... | Slickrock abounds on the Poison Spider Loop... |
Though it's a long day, this long trail is my personal favorite. It has a sense of remoteness and tranquility, as you venture deeper into the many slick rock ledges. We found a great fully shaded (for the Jeeps too) spot for a cool lunch. The heat turned up, and the water became scarce except for Don's backup supply.
| | |
| --- | --- |
| | |
| Shade is a premium, a "cool" spot for lunch... | The overlook off Poison Spider Mesa looking SW towards Moab... |
Nobody's Jeep overheated, which with the heat and slow running easily could of happened. We could see some clouds off in the distance and they finally reached us and cooled us off. On our way down from the overlook, we encountered ledge after ledge, some 60 some odd (wild guess).
| | |
| --- | --- |
| | |
| Hobo Paul comes off one of the many ledges... | Hobo Bill negotiates another ledge... |

| | |
| --- | --- |
| | |
| The remoteness of this trail is priceless... | Don Wilson of MHJC's Patrol 11 ran a clean trail... |
The "Golden Crack" is always a favorite spot. We all took turns at some great photo shots, and put a few scratches on our rear metal parts as we exited the crack. Just a little scratch, but you can tell your friends "and that one I got in Moab goin' thru the crack"!!
| | |
| --- | --- |
| | |
| The approach to the "Golden Crack"... | Paul Weisz's 82 CJ7 |

| | |
| --- | --- |
| | |
| "The Golden Crack" | Slingdawg's TJ |

| | |
| --- | --- |
| | |
| "Mad Max" does the "Golden Crack"... | Scott Maxwell's TJ |
Past the "Golden Crack" your not done yet. Many more ledges await, along with one some tried, and only Paul Weisz was able to make. We FINALLY made it to the "Gooney Bird", as we exited a great day of jeepin!! As a lightning storm approached, we met up back at camp and talked about the trails and reflections of the whole Moab experience.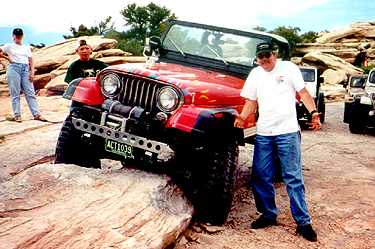 On our way out, Paul got himself high centered
as he was trying to climb this small ledge to avoid just that...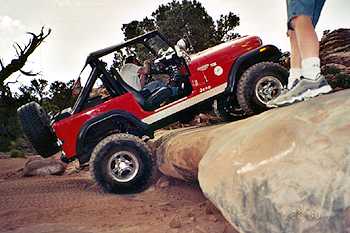 Hobo Paul hops up the 3' ledge, note his 35" tires for scale...
Bill Hallinan HoboJeepers
More Poison Spider/ Golden Spike/ Gold Bar Rim Photos from the 1999 Trip:
Click on photos to enlarge
"The Golden Crack" from the Sept 99 Moab trip...

Here are some other Poison Spider/Golden Spike/ Gold Bar Rim Trip reports:
Hobo 1999 Poison Spider/Golden Spike/ Gold Bar Rim Trip
Rob Reitzís 99íPoison Spider Trip Report: http://www.jeepthing.com/032099/
Rob Reitzís 99íPoison Spider Trip#2 Report: http://www.jeepthing.com/032699/index4.htm
Moab Off-Road.Com EJS 98í Poison Spider Trail: http://www.moab-offroad.com/EJS98/98Trails/PoisonSpider/
Rockcrawler.Comís Poison Spider/Gold Bar Rim Trail Reports: http://www.rockcrawler.com/trailreports/moab98/wednesday/wednesday.htm
Andy Voightís Golden Spike Trail Report: http://www.off-road.com/4x4web/travels/trails/usa/utah/1998/spike.html
Cindy Beaudeanís Poison Spider/ Golden Spike 98í Trail Report: http://www.off-road.com/~txh3202/trail/mo980920.html
Renegade 4WD club Moab Report:
http://www.off-road.com/~renegade/moab9707/lionspiderspike.html
The Golden Crack by Mike Knorr: http://www.off-road.com/~thbsjeep/Moab/GC.html