PATROL ONE OUTINGS
MEMORIAL MOAB 2000
Hell's Revenge Trail 110%
Near Moab, Utah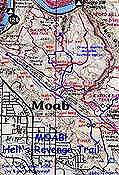 Click on map to enlarge
On Saturday May 27th, even though we had run the beginning of Hell's Revenge, it's well worth it to run it again! So, we decided to run the full length of the (4+rated) Hell's Revenge Trail, since Paul and I we lost most of the time last year here. The trail is well marked this time not just with flames painted on the rocks, but also with a grayish paved look to it from all the traffic just in 8 months.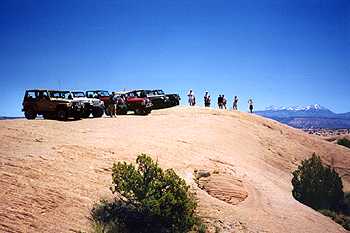 Hell's Revenge is a gem among a treasure of slickrock
The ladies (who arrived late Fri), and Tom Maxwell, then Don Wilson (and son James) of MHJC's Patrol 11, came by with some fresh donuts to start the day. We all headed into town and stopped at the City Market for some lunch supplies, and met up with a Jeeps Unlimited member (www.jeepsunlimited.com-a Jeep forum) named Slingdawg, with a TJ who tagged along with us. At the trail entrance, you could have set up a lemonade stand and done well as many groups met up here and some trying "Dump Bump".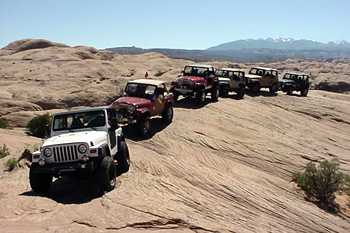 Great views at the Colorado River Overlook...
We wanted to make sure we wouldn't get lost, so we had the Utah trail book handy for reference, and took the go around and started the trail. Following the same tracks and fun hill climbs as Friday, we arrived at the turn up to the left for the emergency exit and "tip over" and headed right. Meeting up with the Slick rock Bike Trails, we headed North to the Colorado River Overlook and some entertainment at "Hell's Gate".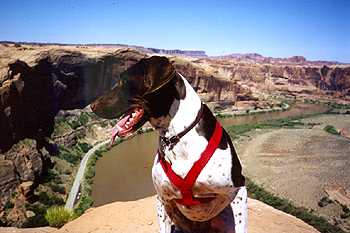 Molly at the overlook seems to be occupied by a lizard...
Some Yotas were running down "Hell's Gate" and proceeding to break steering knuckles and some other stuff, and since it was getting toasty hot, we moved on down the trail. We missed the turn to the right that leads up to the tubs, and ended up going around the slick rock and climbing the very steep hill leading up the ride to the tubs instead.
| | |
| --- | --- |
| | |
| A Yota starts down "Hell's Gate" | It's steep here, this photo is looking up about 70 degrees |
Much more exciting to climb it, at the very top, as your carb is about to give out is a small ledge (6 inches) that tests the carb to its limit for fuel starvation. A great view form the ridgeline of the La Sal Mountains and the vast expanse of slick rock Hell's Revenge is known for.
An intense hill climb, as you intrust your life with your Jeep
The tub was dry today, as we all took turns running thru it. By now, your probably wondering when the break and repair stories start, well we really don't have any ----sorry. Everyone ran a fun and clean trail, with no breakdowns.
| | |
| --- | --- |
| | |
| "Mickey's Hot Tub" looking south... | Hobo Bill dropping into the tub... |
Even at "Tip Over" we had a close call with Paul getting sideways. Then trying the optional 6' wall, his tow hook went flying past me at the speed of sound as I strapped his jeep up with a couple of tugs. Seems the combo of the welds and low grade bolts we no match for his Jeeps weight at a 45-degree angle.
| | |
| --- | --- |
| | |
| "Mad Max" lookin good up "Tip Over"... | Hobo Paul with some wheel lift at "Tip Over"... |
We moved on up the hill above "Tip Over", and somehow missed the turn to go up "Rubble Hill", so we ended up going down it instead, and coming back up it to head for the exit obstacles. The "Lean" obstacle is always fun, as you ride a line to the far right of large rocks to avoid leaning into the wall to your left.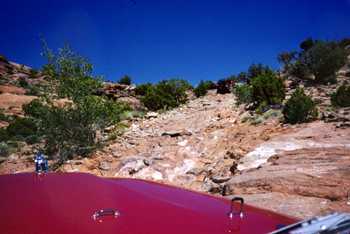 "Rubble Hill", one nice hill climb...
Finally out thru Hell's Revenge's "Exit" obstacles, and past the sand dunes under Lion's Back, we regrouped near the dump and reflected on a great day in Moab. slick rock. Only a high center, and flying tow hook, and nobody damaged or broke, we are ready for more on Sunday (the "long day"), as we had a nice potluck that night at camp.
Bill Hallinan HoboJeepers
Here are some other Hell's Revenge Trip reports:
1999 Hobo Hell's Revenge Trail
30th Annual Easter Jeep Safari Hells Revenge by Flatlander: http://www.4x4now.com/hr.htm
33st Annual Easter Jeep Safari Hells Revenge by Flatlander: http://www.4x4now.com/33jshr.htm
31st Annual Easter Jeep Safari Hells Revenge by Flatlander: http://www.4x4now.com/31jshr.htm
1998 Hells Revenge by Mike Millen: http://www.moab-offroad.com/EJS98/98Trails/HellsRevenge/
Rockcrawler's 1998 Hells Revenge Trail Report: http://www.rockcrawler.com/trailreports/moab98/friday/friday.htm
Scott Rozman's 1998 Hells Revenge Trip Report:
http://www.off-road.com/~srozman/UTmoabhellsrev98/hr98.html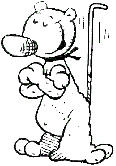 (c) Copyright 1999,2000 MHJC Patrol One
Jeep is a registered trademark of DaimlerChrysler Corporation
Fins and Things/Hell's Revenge Hell's Revenge Poison Spider/ Golden Spike/ Gold Bar Rim