MEMORIAL MOAB 2000
Fins and Things/
Hell's Revenge Trail
Near Moab, Utah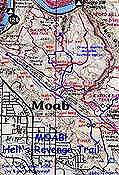 Click on map to enlarge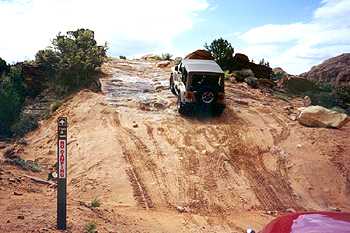 The beginning of the Fins and Things Trail
Up early on Friday May 26th, and ready for some slick rock, we readied ourselves to run The Fins and Things Trail just East of Moab. Known for a series of slick rock of fins and sandy hill climbs, we headed out. Don Wilson and his son James of MHJC's Patrol 11 was a great addition to our group. In fact Don ran all 3 days with us and did a great job (remember 80% driver skill). After paying a $5.00 entrance fee to Sand Flats Rec. Area, we headed down the trail which led us up and down slick rock fins and more fins. Combined with sandy spots. It's a fun trail.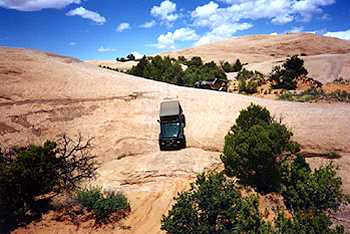 One of the many steep descends...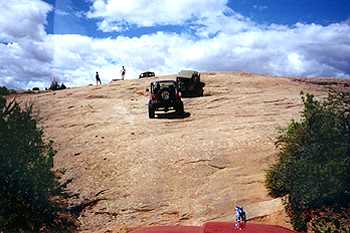 Lots of sand to slickrock ascends too...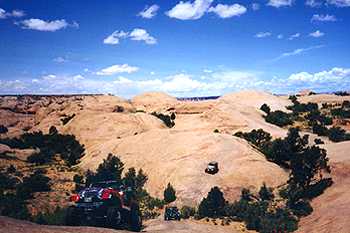 360 degree slickrock views...
We ended up doing it backwards after missing a turn somewhere, but it's just the same. No breakdowns, just fun. The sun was out all day and it was getting a little toasty. After Fin's and Things, we stopped at "Baby's Lion's Back" for a quick up and down hill climb. At the end of the fin are two steep hill climbs over 60 degrees, we all ran up it with a slight wheel lift just as you crest the climb.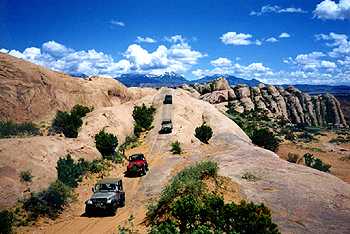 Hell's Revenge's "Entrance"
"Hummmm, only 2:30pm, let's head over the entrance to (4+rated) Hell's Revenge", so we did. We went thru the dry pond and followed the well-marked trail to some "mini-tubs".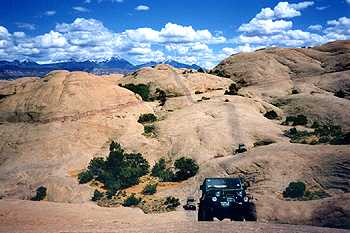 Fun, Fun, slickrock climbs everywhere!!
Right from there is a steep hill climb followed by a larger one to the North. Great views of the La Sal Mountains and white puffy clouds make for a scenic setting. Reaching the emergency exit, we headed up the little canyon to an obstacle with some off-camber and an optional hard line on the left.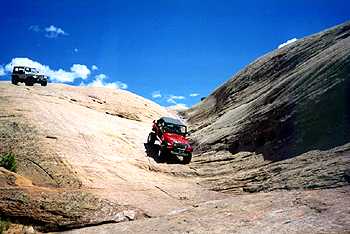 Hobo Paul negotiates a steep drop, then a quick right thru this obstacle...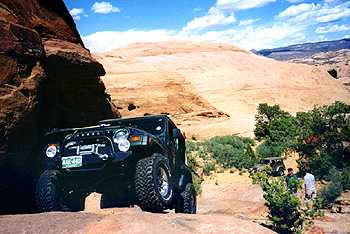 Hobo "Mad Max" climbs up the "Emergency Exit" obstacle
We all took the left line except Paul who made it up the rocky section with ease. Just ahead, the "Tip over" obstacle awaits. All who tried it ran clean, and had great articulation as well. Yep, Don is doing super for his inaugural 4+ run. We headed back thru town, got the essentials and headed back to camp. Scott' auto TJ was slipping out of gear, so we check some local shops for some advice.
Hell's Revenge's Exit provides for some great articulation!!
Bill Hallinan HoboJeepers
Here are some other Hell's Revenge Trip reports:
30th Annual Easter Jeep Safari Hells Revenge by Flatlander: http://www.4x4now.com/hr.htm
33st Annual Easter Jeep Safari Hells Revenge by Flatlander: http://www.4x4now.com/33jshr.htm
31st Annual Easter Jeep Safari Hells Revenge by Flatlander: http://www.4x4now.com/31jshr.htm
1998 Hells Revenge by Mike Millen: http://www.moab-offroad.com/EJS98/98Trails/HellsRevenge/
Rockcrawler's 1998 Hells Revenge Trail Report: http://www.rockcrawler.com/trailreports/moab98/friday/friday.htm
Scott Rozman's 1998 Hells Revenge Trip Report:
http://www.off-road.com/~srozman/UTmoabhellsrev98/hr98.html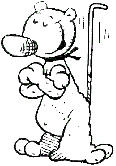 (c) Copyright 1999,2000 MHJC Patrol One
Jeep is a registered trademark of DaimlerChrysler Corporation