PATROL ONE OUTINGS
Hell's Revenge Trail 99'
Near Moab, Utah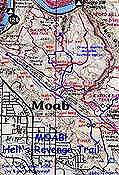 Click on map to enlarge
On Friday September 3rd, we ran the (4+rated) Hell's Revenge and the surrounding slick rock area. I say surrounding area, because the trail isn't well marked (I heard Red Rock 4-Wheeler were going to mark it on Sept 18th), so getting lost was a common occurrence.
Click on photos to enlarge
After paying a $5.00 entrance fee to Sand Flats Rec. Area (an elf told me the secret way in was to go to the western face of Lions Back and follow it north), of course we didn't find that out until we were looking for another way out besides the "big" mudhole. Speaking of which, after taking a quick left and "mounting" baby Lions Back, we encountered what I thought was a mud "puddle". Well, as I was 1st in line, I eased into the puddle that suddenly became a "mudhole"!
It was really deep as the photo shows Paul with a 6" spring over lift and 35's was swimming thru it. After the initial depth discovery and as panic set in as the muddy Moab water lapped my hood ornament, I headed and hugged the left bank at a 30 degree lean into the pool (which of course encouraged water intake in thru the passenger door), but I made it out without stalling and major engine/tranny damage. We all made it thru and pressed on, only to get lost.
Back on the trail, we made our way around and over numerous slick rock hill climbs, canyons, and descents. We "stumbled" on the trail just in time to find some great obstacles.
A Four-Runner, who was wandering around with us decided to tackle one obstacle no short-wheel based jeep would try. With some skill and ease, he managed to make it up the 6' vertical wall (see thumbnail), and up the second bathtub without any body damage.
This Toy escapes on 3 wheels without losing right rear tire in hole and a certain Moab body sticker on his panel.
A long wheelbase, tire placement, and crawling with an automatic were keys. After running thru rubble hill we were back in slick rock, and climbing hills everywhere, and ended up for lunch atop the highest ridge with great views.
After a windy lunch break, we proceeded north only to find ourselves the only jeeps on the Slickrock Mountain Bike Trail. We did pass by some mountain bikers and thought we'd get the usual "your not suppose to be here", but instead we got a thumbs up and a "cool".
We followed it as mountain bikers passed by us, but soon found the trail was to small to negotiate any further. So we retraced our tracks back west to eventually some hairy obstacles along the western face of Lions back (the way we'll come in next time). This "other" way in has some nasty obstacles that follow the west side of Lionsback, and would be fun running them north. One obstacle makes you lean into the canyon wall inches from sheet metal at about a 30 degree lean (pictures don't do justice).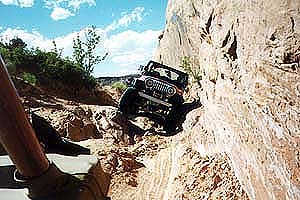 Paul takes a line further to the right to compensate for his 6" spring-over, and to avoid a metal to rock meeting.
What a great trail! If you love slickrock, this trails for you! We gassed up in Moab ready for a new day, and headed back to camp for some refreshments and a lawn chair. HOBOS 1, MOAB 0
Bill Hallinan HoboJeepers
More Hell's Revenge Photos:
| | | |
| --- | --- | --- |
| | | |
| Jon does "Tip Over" | Ridgeline view north | Rock "cliff" ledge |
| | | |
| 6' 1st "cliff" ledge | "Steep" is used here | Back at base camp |
Here are some other Hell's Revenge Trip reports:
30th Annual Easter Jeep Safari Hells Revenge by Flatlander: http://www.4x4now.com/hr.htm
33st Annual Easter Jeep Safari Hells Revenge by Flatlander: http://www.4x4now.com/33jshr.htm
31st Annual Easter Jeep Safari Hells Revenge by Flatlander: http://www.4x4now.com/31jshr.htm
1998 Hells Revenge by Mike Millen: http://www.moab-offroad.com/EJS98/98Trails/HellsRevenge/
Rockcrawler's 1998 Hells Revenge Trail Report: http://www.rockcrawler.com/trailreports/moab98/friday/friday.htm
Scott Rozman's 1998 Hells Revenge Trip Report:
http://www.off-road.com/~srozman/UTmoabhellsrev98/hr98.html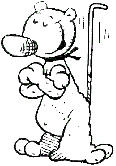 (c) Copyright 1999,2000 MHJC Patrol One
Jeep is a registered trademark of DaimlerChrysler Corporation