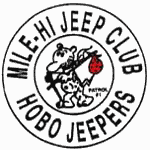 MAY/JUNE 1999

Hobo articles
represent the previous month's activities, and are published in MHJC's "Jeepers In The New's"
"JEEP JEEP", That's what Eugene and all the HOBOJEEPERS say welcome to the summer of 99!! As the days get warmer and the snow melts off the high tundra, plans are already made for a great summer of jeeping!
Our patrol meeting was on May 6th, discussion included land issues, our new web site, trails this summer, and of course Jeep stuff. Tentative plans are in the works for the 1st Annual HOBO RUN sometime this Summer, look for more details in the future. Also, along with the rest of the Hobos, We'd like to introduce to you the newest member to our patrol.
KEN KORDES, works for Lockheed Martin as a Power Systems Engineer working on satellite solar panels. He along with his wife Nancy, have been members of Mile High for 4 months, and will be a great addition to Patrol 1. He drives a modified 1961 Ford F-100 classic. This isn't your average truck, from everything Currie you can think of, to ARBs, he won't miss a beat on the trail.
Speaking of trails, we had the opportunity to hit the Barking Dog Trail as part of the Mother's Day Run put on again by Patrol 11 May 16th. Along with myself and my sidekick Molly, were Paul Wiesz and his son, Jon Brule and his new TJ (hehe), and Chris Potter with his son Jason. Thanks to Patrol 11 for another great annual run. Another salute goes to the "Undertaker" (Kevin Carter of Patrol 8), for support on and over the rocks, as he lead us up the trail. As we all paraded out of Longmont, it was great to see everyone ready to hit the trails after for some, a long winter. After airing down, the first test was the rock ledge. Jon breezes up it, and is thinking "piece of cake", little did he know what lurked ahead. Chris Potter discovered what else his jeep needed at this same obstacle, front ARB's, disconnects, and lots of skid plates (or alittle lift). With alittle finesse driving, and spotting from Kevin, he was up and over ready for more.

Hobo Bill Hobo Chris Hobo Chris on 3 wheels!
BARKING DOG TRAIL

Now the fun begins, remember Jon's new stock TJ? It's broken in by now as we have moved up half the trail. Well, up at the streambed, after he managed to lose the driver side steps, one rock seemed to lunge up and manage to take out his oil pan drain plug*. *Note: the small hole (size of pen) was quickly plugged, and ANY oil lost was removed along with it's soil. It's amazing what a little silicone, hammering, and duct tape will do, thanks to all that helped (see photo). Is that all you ask? Well, on up a little further, Chris driving behind Jon, noticed that his left rear tire was really low, make that flat! Tires don't hold air with a broken valve stem. As Paul Weiz played the song "Money", Jon got to try out that spare he brought. Rain and all, after we hit pavement, we all went up to Left Hand canyon and played on the hills, until they got alittle too slick. Yep, a great trip one of the many we plan to take this summer.

Jon at the creek crossing Trail Repair Hobo Paul

BARKING DOG TRAIL

BILL HALLINAN HoboJeepers


(c) Copyright 1999/2000 MHJC Patrol One
Jeep is a registered trademark of DaimlerChrysler Corporation