PATROL ONE OUTINGS
1st ANNUAL HOBO RUN
Over the Kingston Peak Loop Trail
Near Alice, Colorado


Click to enlarge the Interactive Photo Map
On July 17th 1999, the HoboJeepers sponsored the 1st Annual HOBO RUN over the Kingston Peak Loop Trail for the Mile-Hi Jeep Club. We all met at IHOP at 8am for breakfast, then going over the general instructions, all the "Hobos for a day" packed up their traveling bandanas and headed up for Alice. The air was crisp and cool on the ride up, and the sight of all the vehicles parading up I-70 was great. A special "Thanks" goes out to our sponsors (High Country, Mile-Hi Jeep Rebuilders, Off-Road Ltd., 4-to-Go, and Bestop) this year for continuing to support local 4WD events like these. Please take the time to thank them back if you can.
1st Annual Hobo Run Dash Plaques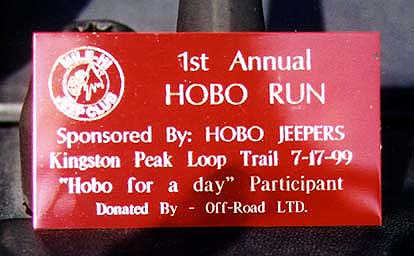 At the air down, each Hobo found their 1st item to be a fresh egg with a point value, which was placed in their bandanas. As they drove along the trail, other Hobos (Thanks to Ken, David, Chris, Paul, and Jon) were there to greet them with other Hobo survival items like Q-tips, a stick of gum, a toilet paper square, a match stick, and a kiss (Hershey that is). Each checkpoint also had a card that each Hobo collected for a poker hand. Clues to figure out where Eugene our mascot was were handed out at the 2nd checkpoint. All these items and extra-credit points were totaled up at the lunch stop at timberline. The trail was the same one we had scouted the week previous. With a run up Yankee Hill, and the tight tree-lined East Side of Kingston Peak. It was also great to see fellow Hobo David Parrett finally on the trail with us that day.
Yankee Hill climb looking south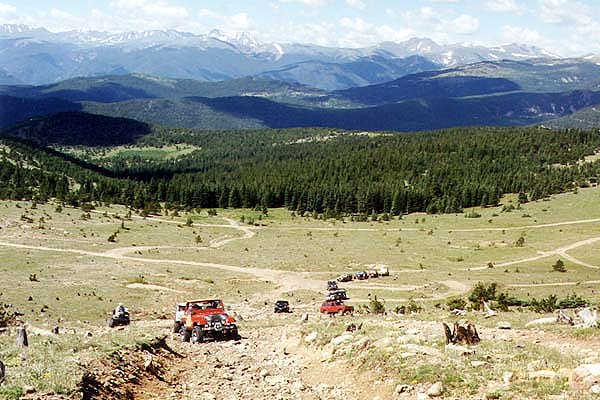 We then proceeded east along a tight tree-lined trail along the east side of Kingston Peak. The small and tight trail winds up and down back to the main trail heading north. While the "Hobos were having lunch, awards and door prizes keep their attention. The "Lucky Nut" award went to Don Wilson for wearing the largest lucky "nut" around his neck all day. Door prizes were then awarded by ticket numbers handed out at registration to each "Hobo", with a High-Lift going to Steve Schuster. The race for "Top Hobo" was close, if Dale Moser (total points=590) would of guessed right where Eugene was (add 200pts) who knows? Finally, came the Hobo trophy presentations. The 3rd-place trophy went to Sherry Winslow (with 630 pts, left in photo), and 2nd place went to Steve Schuster of Patrol 8 (with 680 pts, middle in photo). The 1st Annual Hobo Run "TOP HOBO" Trophy (with a total of 720 pts, right in photo) went to……..CHRIS VIETH (and his wife Debbie). Congratulations to the trophy winners, and to ALL the other "Hobos" who came along, because you were ALL winners that day.
"Top Hobos"!!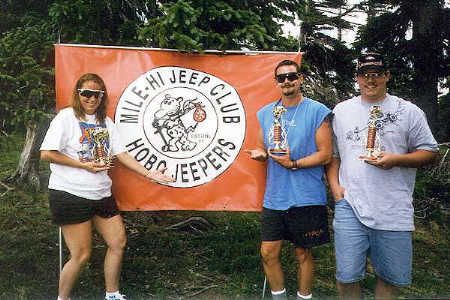 After lunch, we all proceeded the steep hill climb up and over 12,000' "Hobo Pass", traversed along the tundra, up some more steep hills, and back down to Alice. We stopped at the rock house to stack a rock and signed the "Loch" guestbook, and get a group photo, before we dropped down to Alice and air up. A ton of thanks go out to Paul Weisz for airing up about 32 or so tires for free!
"Hobos for a day" with Mt. Bancroft in the background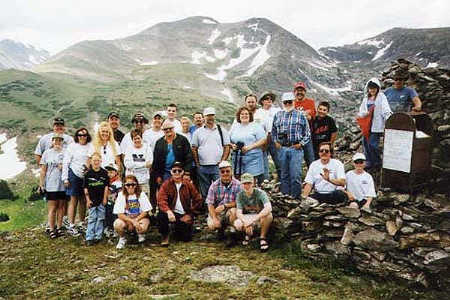 The HoboJeepers enjoyed putting on the run this year, and look forward to the 2nd Annual Hobo Run the 2nd week of July in 2000!
Patrol Leader of the HoboJeepers
More 1st Annual Hobo Run Photos
| | | |
| --- | --- | --- |
| | | |
| Registration | Alice Air Down | Yankee Hill Decent |
| | | |
| Door Prizes | Door Prizes | Hobo Awards |
| | | |
| Lunch Stop | Trail Pic | Hill Climb |
Here are some other Kingston Peak Trip Reports:
Kingston Peak by mountain bike
Kingston Peak Trail Report by TrailRidge Runners 4x4 Club
Kingston Peak Loop 2000-HoboJeepers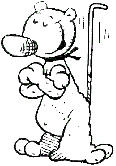 (c) Copyright 1999,2000,2001 MHJC Patrol One
Jeep is a registered trademark of DaimlerChrysler Corporation