We all headed up I-70 and up to the airdown spot for the run. We had run the 1st Annual Hobo Run last year over this same trail. The purpose of scouting trip is to look for turnoffs, plan for check-point locations, look at the lunch spot, and see the condition of the trail. I'm glad we were able to scout it, as the run itself ran smoother without anybody lost or myself leading 30+ jeeps into a dead end with no way to turn around. That's what we found just around the hill at the start of the trail. After running up and down Yankee Hill, we looked for the tight tree-lined trail from last year. One trail was a dead end, while the other just didn't look right. Staying on the main road, we found the main turn that takes the trail north and around the east side of loop. This is not too technical, but tight enough to watch for pinstripes.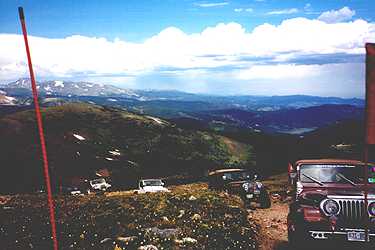 Really...It's steep here, just up from the James Peak switchback is this steep hillclimb up to the pass at 12,000'
We stopped and had lunch at the "lunch spot" which is about 11,400', as it's the last sets of trees before the open north face of Kingston Peak. Up from there it's all open and tundra until you reach the "Loch Lomond" rocks on the south side. Seems a bulldozer had been out working for the Forest Service making water bars, and grading the 1st steep hill just past the James Lake switchback. This too was apparent on the 2nd steep hill climb to the south, but it was full of loose dirt and rocks. Ken not having his disconnects and stock wasn't able to climb this stretch. This was good, since we then implemented a plan to set up jeeps with tow straps to help anyone who will need it. The rock house over-looking Loch Lomond Lake is always worth a stop. Stack a rock, sign the guestbook, and take in the view. We moved on down thru the bristlecone pines and thru the switchbacks down the the official air up spot. Not having Paul with us this time, we opted to get some free air in Idaho Springs down the road.
Bill Hallinan HoboJeepers
Here are some other Kingston Peak Trip Reports:
1st Annual Hobo Run-HoboJeepers
Kingston Peak Loop Trail 99'-HoboJeepers
Kingston Peak Loop Trail 00'-HoboJeepers
Kingston Peak by mountain bike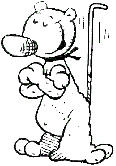 (c) Copyright 1999,2000 MHJC Patrol One
Jeep is a registered trademark of DaimlerChrysler Corporation