On Saturday July 15th, the HoboJeepers hosted the 2nd Annual Hobo Run 2000 for 30 "Hobos for a Day" over the Kingston Peak Loop Trail. "As real hobos ride the rails, we too ride the trails in that same traveling spirit". A hobo needs to muster up needed supplies in order to survive. Each checkpoint offered the hobo a chance to collect different point values from the items (fresh egg, matchstick, toilet paper square, Q-Tip, stick of gum, and a hersey kiss). Along with the items, a card is chosen at the other 5 checkpoints to try to have the highest poker hand for extra points. Eugene the Jeep (our little mascot), was also on hand in the area. At the second checkpoint, "Where's Eugene?" clues were handed out to each hobo and read out loud over the CB as to his possible whereabouts in the area. A hobo could receive 200 extra bonus points with the right answer. Each item was stored in souvenir traveling bandanas, and at the lunch spot, all the points were totaled up and trophies along with door prizes handed out.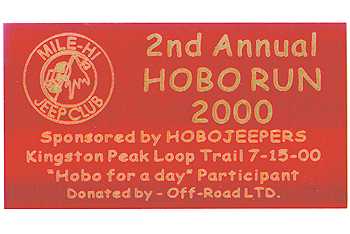 The Hobo Run 2000 dash plaques handed out to each participant...
The trail actually started at IHOP at 6th and Simms in Lakewood, Colorado at 8:00-8:40am with registration for the run. Since everyone had already pre-paid, registration consisted of only signing in and picking up you're goodie bag. After a quick driver meeting, and an "official" hobo swearing in ceremony, we were off parade style up Hwy 6, and west on I-70. Hobos were given an instruction sheet which covered the rules to read on the way up to the trailhead. Thanks to all of you ("Hobos for a Day") who supported us in this years run including our corporate sponsors.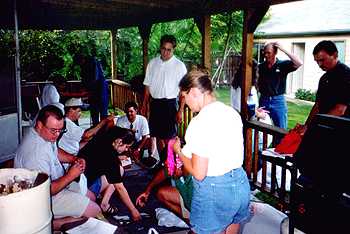 HoboJeepers meet to pull together and organize last minute details...
The "Hobos for a Day" included (sorry if I miss some spouses-busy day ya know), Gary Carmichael, Steve and Tracy Schuster (MHJC Patrol 8), Jerry and Shannon Ross (MHJC Patrol 11), Tim Vigil (MHJC Patrol 11), Kevin "not broke yet" Carter (MHJC Patrol 8), Heather and David Burke (MHJC Patrol 8), Don and son James Wilson (MHJC Patrol 11), John and Darlene Murphy (MHJC Patrol 14), Max Barker, Randy Whitney, Todd Frick (MHJC Patrol 11), Dennis and Marci Ervin (MHJC Patrol 14), Jim Jacobs (MHJC Patrol 5), Adam Wisely, John Rounds, Greg Mackey, Sean Tallant and his wife, Brent Miller (MHJC Patrol 14), Nathan Rogers (MHJC Patrol 14), Tom Hester (MHJC Patrol 14), Kevin Duncan, Michael Streb, Bobbette Mathews and kids Thomas, Catherine and Micheal, John Over (MHJC Patrol 14), Sherry Winslow (MHJC Patrol 8), Marc Cromer, Tony Knudson, Deborah Lampson, and finally #30 Sam Lunderburg.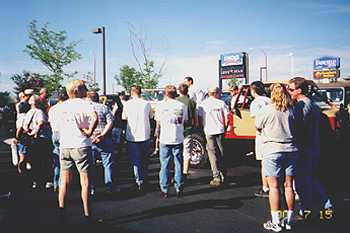 The Hobo driver meeting and the swear-in at IHOP in Lakewood, Colorado...
Now here's a sight! Picture 42 (30+12 HoboJeepers) good-lookin' jeeps running up I-70 all with their lights on in line, it looked cool from the front were I was! We managed to stay within about a 2-mile stretch of each other too, and nobody broke down! I think it took about 10 minutes for the CB introductions. Once off I-70 and up the more peaceful Fall River Road, we worked our way up to the summer town of Alice at about 10,500' in elevation to the air-down spot. Scott M helped me with the dispersion of the fresh eggs as the hobos air-downed for the trail.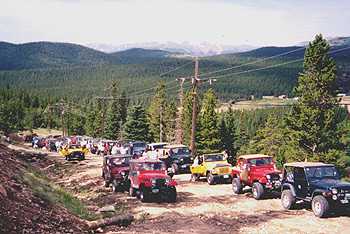 The air down with some 42 Jeeps, as the Hobos 1st survival item is collected...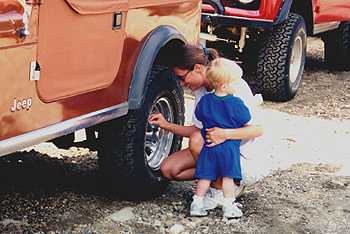 Wife Shannon Ross helps Jerry of Patrol 11 air down,
little does she know it may turn out to be a good day to be a Hobo...
All Aboard! One by one the train of hobos chugged/jeeped up the hill (with some pretty rocky stuff), as each hobo followed the trail to places unknown. Each of the HoboJeepers were at 5 other checkpoints as the train passed by to provide items for each hobo. We all made the turn at Chris and Phil's checkpoint and headed into the tight-tree lined trail.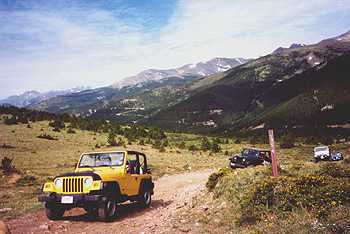 Looking SW, the Hobos follow the trail as it climbs up out of Alice....
I dared to find out how long we were strewn out when we stopped for a 10-100 on the east side of Kingston Peak. It took about 10 minutes for the end of the line to catch up. I know 3 guys on motorcycles had to find out the hard way how many of us there were. At one point we were strung out over I'd guess over a mile on the trail. All the while I rarely got out of 2nd low and kept a slow 5mph speed up front. The HoboJeepers did a great job in moving everyone along, and since Kevin Carter was in the rear of the pack, he didn't hold up anybody (or break down!).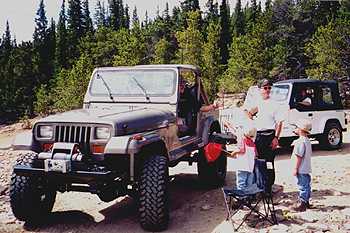 The "Colonel" and his sons Jason, Michael, and Scott
manned their checkpoint as Hobos collected survival items along the trail...
Once at the tree-line lunch spot (about 11,400'), each Hobo brought up their "Where's Eugene?" clue, and the fresh unbroken egg (for points), then settled down for lunch. As the "official" HoboJeeper judges tallied the points, each hobo received a really cool door prize. The list is long, as I handed out about $2,800 worth of some really cool stuff, thanks to the many sponsors, including the local Denver 4x4 shops: Mile-Hi Jeep Rebuilders, High Country 4x4, and 4Wheel Parts. Each hobo also compared the size of their nut to the person next to them to see who had the largest one. OK, footnote needed here: The nut in reference is a 5/16th inch steel nut on a string around their neck. OK?--, so Sean Tallent had the largest nut (3/8th inch to be exact), and received an extra 100 points to his point total.
| | |
| --- | --- |
| | |
| From stock to modified, all had one thing in common...FUN! | 42+ Hobo Jeeps at the lunch stop... |
With the points tallied, the 3rd runner up was John Murphy (660pts) of MHJC Patrol 14, and the 2nd runner up was Dennis Ervin (680pts) of MHJC Patrol 14. The "Top Hobo" of the 2nd Annual Hobo Run 2000 went to Jerry Ross of MHJC Patrol 11 with a total of 850pts! Jerry also got the 200 bonus points for the highest poker hand of three 9's. Congrats to the trophy winners, and to ALL the hobos, cause we all had fun--which is a winning feeling in my book.
Hobos relax with well deserved lunch,

and listen for their ticket # for a great door prize...

"Official" HoboJeeper judges tally away

while door prizes are handed out...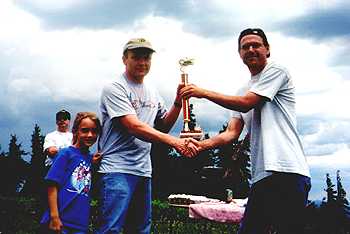 Congrats to "Top Hobo" Jerry Ross of Patrol 11 Cliffhangers of MHJC, way to go Jerry!!
The weather down in Denver called for sunny and hot, but the mountains may get a shower. Well, we were able to finish up lunch just in time to head out and see if our jeep bodies really do conduct electricity. Actually, the lightning held out till we were safely off the exposed tundra. Great views of the Front Range could be had in all directions as we trekked along the 11,500'+ tundra.
Hobo "Colonel" Potter and son Jason

lead out the rest of the Hobos...

Just above timberline at 11,500+

the views are great...

With 42+ or - Jeeps, the "train" loops along the hillside...
Everyone made it up both steep hills we scouted the previous weekend, and most stopped at the rock house to stack a rock before heading down into to the trees. Once down at the air-up spot the lightning did get close, so we all opted to head down to Idaho Springs for some air. Some jeepers met up and took on the steep up and back hill climb just off I-70 west of Idaho Springs.
Looking North along the Front Range

down the "train" of Jeeps up the 1st hillclimb...

Everyone conquered the hillclimb,

which was loose and rocky, even rookie Hobos...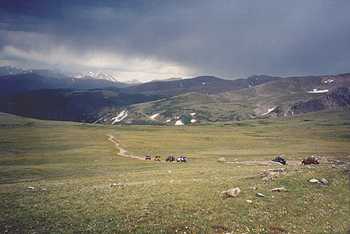 Hobos ride off into the distance after a fun day of jeepin' as storms loom overhead...
Thanks again to the "Hobos for a Day" for your support (you know who you are), hope you had as much fun as we did, and we look forward to seeing you next year in mid-July for the 3rd Annual Hobo Run!!
Bill Hallinan HoboJeepers
Here are some other Kingston Peak Trip Reports:
1st Annual Hobo Run-HoboJeepers
Kingston Peak Loop Trail 99'-HoboJeepers
Kingston Peak Loop Trail 00'-HoboJeepers
Kingston Peak by mountain bike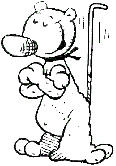 Click here for a
version of the HoboJeepers Homepage,
(only if you are in "no frames" currently)

(c) Copyright 1999,2000,2001 MHJC Patrol One
Jeep is a registered trademark of DaimlerChrysler Corporation