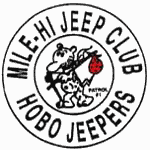 Jeep, Jeep!
Join Patrol 1 and Eugene The Jeep for the:
2nd Annual
HOBO RUN 2000
Over the Kingston Peak Loop Trail
Saturday July 15, 2000
"As real Hobos ride the rails, we instead ride the trails."

Come be a Hobo for a day, and ride the Kingston Peak Loop with us. As a Hobo, you'll need to muster up needed supplies along the trail to survive. Each item collected at random will be assigned a point value, the Hobo with the highest point total will be rewarded with the 2nd Annual "Top Hobo" Trophy. Trophies will also be awarded for 2nd and 3rd runner-ups. In addition to collecting vital supplies at each checkpoint, a playing card for a high poker hand, and other clues (like: Where's Eugene?) will be handed out for extra credit points. Oh yea, Did I mention we'd be jeepin? During the lunch stop, points will be tallied, awards presented, and door prizes (yep free stuff, no greedy raffle, 1 in 30 chances to win cool stuff!) will be handed out to lucky ticket holders. Dash plaques and a souvenir 2ndAnnual Hobo Run bandana (to hold your survival goodies), will be presented to each participant at registration, along with an instruction sheet.
Registration will be on 1st-come basis, and will be limited to 30 vehicles (1 Hobo per)
(as of 7-7-00, THE RUN IS FULL!!)
Schedule:
WHEN: Saturday July 15, 2000
MEET: IHOP-International House of Pancakes @ 6th Ave and Union/Simms (West Lot) in Lakewood, Colorado
TIMES: 7:30am-8:20am Breakfast (Dutch)
8:00am-8:35am Registration/Sign in-See red logo sign.
8:45am Hobo Driver Meeting
9:00am "Sharp" Depart for Yankee Hill (Alice) trailhead via I-70 thur Idaho Springs
on Channel 13 for the air down, and your 1st Hobo survival item. See ya There HOBOS!
A special "Thanks" and please support all of this years Hobo Run 2000 Sponsors:
*MILE HIGH JEEP REBUILDERS : 2nd Annual Hobo Run Traveling Bandanas
*OFF-ROAD LTD.: HOBO RUN 2000 Dash Plaques
*4WHEEL PARTS WHOLESALERS: "Top Hobo" and runner-up Trophies

Along with"Tons" of Door Prizes (over $2,800 worth so far) for ya! Sponsored by:
*BUSHWACKER- Set of Fender Flares for any application ($350.00 value!!)
*ACME TRUCK PARTS ONLINE-Steelhorse Replacement Jeep Soft Top ($275.00 value, fits 88-95 Wrangler)
*OFF-YOUR ROCKER-Set of Corner rear guards or Rocker panels ($200.00 value!)
*LECARRA STEERING WHEELS- Mark 4 or 9 Custom Steering Wheel ($200.00 value!)
*OPTIMA BATTERIES-Yellow Top Deep Cycle Battery ($190.00 value!)
*HIGH COUNTRY 4X4 of Englewood 303-761-7379- $100 Gift Cert, $50 Gift Cert, $25 Gift Cert!!
*THOR ENTERPRISES-Set of Thor SoundWedge Speaker Boxes for CJ or TJ ($120.00 value!)
*WARN INDUSTRIES- Winch Accessory Kit
*4WD HARDWARE- Five $20.00 Gift Certificates, and other door prizes
*WWW.MUDDYTIRES.COM- Five $20.00 Gift Certificates
*BIGOFFROAD.COM-JKS Disconnects for YJ, XJ or TJ
*TOTAL 4X4. COM-Kentrol Stainless, calendars, mounts, etc...
*MILE-HI JEEP CLUB'S PATROL 11 "The Cliffhangers"-Kentrol Jeep Stainless Hood Set
*DISCOUNT TIRE STORES- Free Sipping, and Rotate/Balance Certificates ($160.00 value total)
*WWW.4x4TRAILS.NET-Cool T-shirts
*BESTOP-Denium Jacket, Bikini Top, hats
*PULL-PAL-various door prizes, certificates
*TUFFY SECURITY PRODUCTS-various door prizes
*MILE-HI JEEP REBUILDERS of Denver 303-629-0378-mapbooks, Rick Russell video, cups
*4WHEEL PARTS WHOLESALERS of Denver 303-341-5337-various door prizes
*OFF-ROAD LTD. of Aurora 303-367-9666-various door prizes
You have a 1 in 30 chance of winning any of the above, you are guaranteed more then your $10 fee!


Check out last year's 1st Annual Hobo Run

Click to enlarge the Interactive Photo Map of the Kingston Peak Loop Trail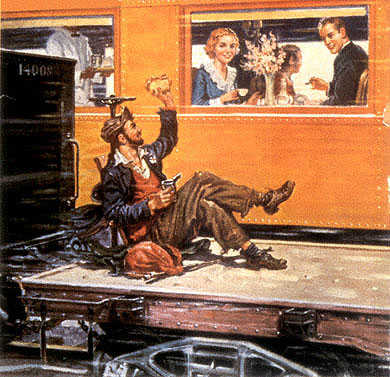 "Ridin' the Rails"