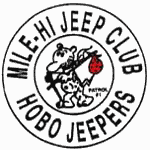 Patrol 1
HoboJeepers
-Bylaws-

1. SAFETY! UTMOST AND IMPORTANT! IT IS USED AND REVIEWED AND COMES FIRST AT ALL TIME. SAFETY ON THE TRAIL IS ABOVE PRIDE AT ALL TIMES. MHJC AND PATROL 1 ARE NOT RESPONSIBLE FOR THE SAFETY OF OTHERS.
2. SAFETY EQUIPMENT IS IMPERATIVE. EQUIPMENT SUCH AS FIRST AID KIT AND A FIRE EXTINGUISHER IS TO BE IN ALL VEHICLES AT ALL TIMES.
3. OBEY BLM, FOREST SERVICE RULES AND REGULATIONS. TREAD LIGHTLY. (DO NOT DESTROY THE CRYPTO SOIL OR TUNDRA). DRIVING OFF DESIGNATED ROADS WILL NOT BE ALLOWED OR TOLERATED.
4. SHOW GOOD SPORTSMANSHIP ON AND OFF THE TRAIL.
5. HAVE ACKNOWLEDGEMENT OF ALL VEHICLES AHEAD AND BEHIND YOU AT ALL TIMES WHILE ON TRIPS OR OUTINGS.
6. ANYTHING PERTAINING TO THE CLUB SUCH AS TRIPS, EVENTS OR OUTSIDE ACTIVITIES WILL BE REVIEWED, DISCUSSED OR VOTED ON BEFORE PURSUING THE PLANS.
7. MEMBERS MUST CONTINUE TO BE ACTIVE AND PARTICIPATE IN FUNCTIONS PUT ON BY THE PATROL OR MHJC, SO ALL CAN FAIRLY DO HIS/HER SHARE. IT IS ALSO STRONGLY RECOMMENDED TO ATTEND THE PARENT CLUB AND HOBO MEETINGS. THE CLUB RULES TO STAY ACTIVE ANNUALLY ARE AS FOLLOWS: a. YOU MUST ATTEND AT LEAST 6 PARENT CLUB MEETINGS. b. YOU MUST ATTEND AT LEAST 6 CLUB MEETINGS. c. YOU MUST ATTEND AT LEAST 7 CLUB TRIPS/OUTINGS. (THERE ARE A FEW EXCEPTIONS TO THIS RULE AND THAT IS IF YOU ARE OUT OF TOWN DURING THESE FUNCTIONS)
8. MEMBERS WORK AS A TEAM AND HELP EACH OTHER OUT WHEN NEEDED.
9. RESPECT EACH OTHER'S OPINIONS AND THOUGHTS, AND KEEP OPEN MINDS.
10. THE INAPPROPRIATE USE OF ALCOHOL IS REFRAINED DURING THE USE OF A VEHICLE AND THE RESPONSIBILITY RELIES SOLELY ON THE USER. a. THERE WILL NOT BE ANY ALCOHOLIC BEVERAGES ALLOWED ON DAY TRIPS.
11. ALL VEHICLES WILL BE A SHORT WHEEL BASE AND NOT TO EXCEED 112".
12. CB'S AND TOW HOOKS, STRAPS, ARE A MUST AND REQUIRED.
13. EACH VEHICLE MEMBER LEADS/PLANS ONE TRIP/OUTING A YEAR.
14. IF A MEMBER HAS DECIDED TO RESIGN FROM THE PATROL, A LETTER OF RESIGNATION IS ADVISED SO THAT WE MAY BE ABLE TO FILL YOUR POSITION. MEMBERSHIP IN THE HOBOJEEPERS PATROL 1 IS NOT RENEWABLE UPON LEAVING THE PATROL (UNFORESEEN CIRCUMSTANCES MAY BE REVIEWED, AND A UNANIMOUS VOTE BY ALL MEMBERS IS REQUIRED).
15. PATROL MEMBERSHIP IS LIMITED TO 12 VEHICLE MEMBERS (VEHICLES).
16. NEW MEMBERS: AS SPACE PERMITS, NEW MEMBERS ARE GLADLY WELCOMED. BEFORE THE HE/SHE BECOMES A PERMANENT MEMBER OF THE HOBO JEEPERS IN PATROL 1, CERTAIN CRITERIA MUST BE MET FIRST: a) MUST BE A GOOD STANDING MEMBER OF THE MILE HIGH JEEP CLUB (CURRENT DUES PAID) b) MUST ATTEND AT LEAST 2 PATROL AND PARENT CLUB MHJC MEETINGS. c) MUST ATTEND 3 TRIPS OR EVENTS PUT ON BY THE PATROL OR MHJC. d) AFTER COMPLIANCE TO THE ABOVE MENTIONED, THE PROSPECTIVE MEMBER WILL BE VOTED IN BY SECRET BALLOT AT THE NEXT SCHEDULED PATROL MEETING OR THRU EMAIL. THERE MUST BE A MAJORITY OF CURRENT MEMBERS PRESENT FOR A VOTE TO OCCUR. THE PURPOSE OF THESE CRITERIA IS SET FOR THE SOLE PURPOSE OF ALL MEMBERS TO GET TO KNOW THE PROSPECTIVE MEMBER.
17. OFFICERS: A MEMBER CAN ONLY BECOME A PATROL LEADER IF HE/SHE HAS BEEN A CURRENT MEMBER OF MHJC AND PATROL 1 FOR ONE CALENDAR YEAR. NEW MEMBERS CAN HOLD OTHER OFFICES (ASST. PATROL LEADER, SECRETARY, TREASURER). ELECTIONS (BY SECRET BALLOT, WITH A QUORUM PRESENT) WILL BE HELD IN NOVEMBER OF THE YEAR PRECEDING. YEAR OF OFFICE IS FROM JAN 1 TO DEC 31 OF THAT YEAR. THE PATROL MEMBER CAN BE ASKED TO STEP DOWN BY A UNANIMOUS VOTE OF MEMBERS AT ANYTIME. THE PATROL LEADER IS REQUIRED TO ATTEND THE MHJC BOARD MEETINGS HELD ON THE 1ST MONDAY OF EVERY MONTH.
18. FOR THEIR SAFETY, DOGS ARE TO BE KEPT UNDER CONTROL (ON LEASH) ON THE TRAIL, ONLY EXCEPTION TO THIS RULE, IS WHEN YOU ARE AWAY FROM ANY TRAIL ACTIVITY WHERE SAFETY IS A CONCERN.
19. ANY MONIES RAISED FROM THE PATROL FOR THE PATROL, REMAIN THE SOLE PROPERTY OF THE PATROL AND ITS CURRENT MEMBERS ONLY.
20. HOBO PATROL MEETINGS WILL BE HELD EVERY 1ST THURSDAY OF EVERY MONTH AFTER THE 1ST MONDAY AT 7:30 PM AT ROTATING MEMBER'S HOMES.
21. THESE BYLAWS ARE PRODUCED TO UPHOLD COMMON VALUES AND ARE FOR THE ENCOURAGEMENT OF PARTICIPATION AND FUN IN THE MILE HIGH JEEP CLUB OF DENVER, COLORADO.

"Jeep,Jeep"

(c) Copyright 1999,2000,2001,2002,2003,2004,2005,2006,2007 MHJC Patrol One
Jeep is a registered trademark of Daimler Chrysler Corporation