PATROL ONE OUTINGS
ALL-4-FUN 2002
Silverton, Colorado
Manufacture's Day
Under & around the 'Big Top' in camp & Silverton...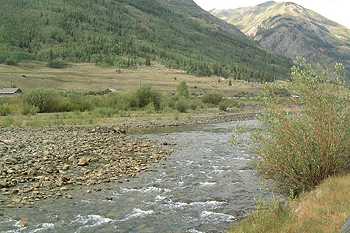 Waking to the sounds of the Animas River...
On Wednesday July 31st, Ahhhhhhhhhhhhhhhhhhhhhh, time to relax, sleep in, sit back, eat and drink, met and mingle, sit back, eat and drink, met and mingle, and enjoy Manufacture's Day! Every Wednesday of All-4-Fun's is set aside to do all the above mentioned. Some even took the opportunity to shop in Silverton, or take a mine tour, or??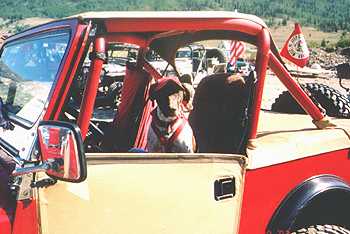 My Molly all dressed up for the parade thru town...
The manufacture's set up under and around the 'big top' early for the day. The day begins with a parade thru the host city. Since Silverton was just a few blocks away, we all lined up and cruised around town at 10am. I proceeded to blast my siren and set off my Jeep alarm as it echoed off the main street buildings. Molly was dressed up for the crowd too. A lot of people threw out candy to the kids of all ages watching on the street.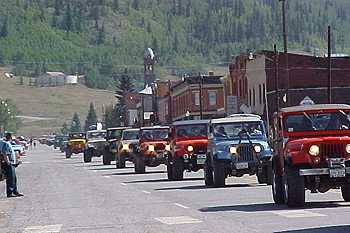 Paradin' thru Silverton...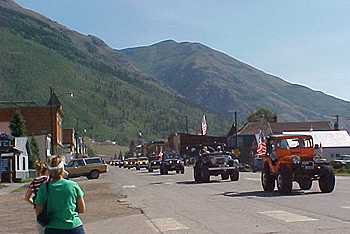 Many good-lookin' rigs...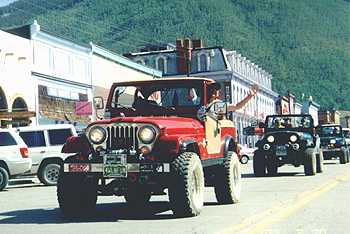 I can't resist a good 'Jeep Wave'...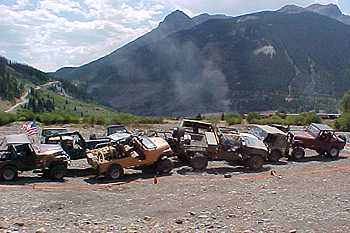 The 'Sheites' had their own Show-N-Shine...
Anyone who wanted to have his or her rig in the Show-N-Shine set up after the parade. This year's Show-N-Shine had all kinds of rigs, some with money and some...well. I entered once again for fun, to give someone ideas on building their CJ7.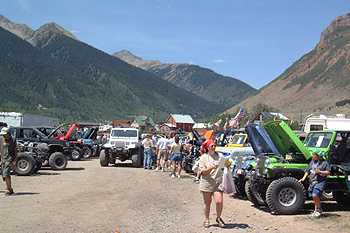 The Show-N-Shine next to the 'Big Top'...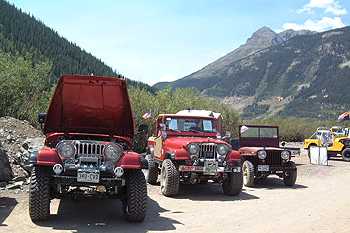 My Jeep in the show-n-shine (middle)...
The Kid's Games Committee entertained the kids from 11am to 3pm. All the kid's got to participate in many skill games in hope of a trophy that night, and it looked like they had a blast. From our group, Micheal Elliott got a 1st place trophy in his age class (Bobbette Mathew's son)-----yea! Free beer (from Clemson 4Wheel Center) and a BBQ of hot dogs from a local restaurant (Brown Bear) were close at hand from 11am to 4pm, along with free soda all day from 4x4 Xtreme.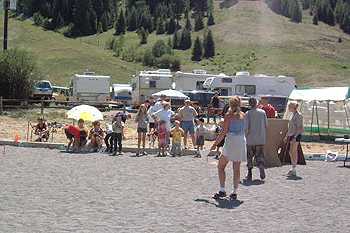 Kid's Games was a great hit!
Numerous manufactures were around from 10am to 4pm. They included: Bestop, Avenger Superchargers, Off-Again, Discount Tire, Warn, JKS Manufacturing, M.O.R.E., Currie Enterprises, Clemson 4Wheel Center, Pull-Pal, Tellico 4x4, Offroad General Store, Terraflex, Bits of Silver, Tomken Machine, Truck Parts Specialists, Tuffy Security Products, and Western Adventures.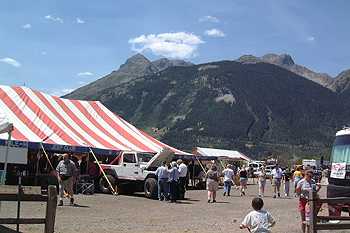 Manufacture's under the big top...
After a full morning and early afternoon just around camp, one can get wore out! A relaxing afternoon with friends, and a chance to check out Silverton, or some even took a Jeep trip to explore the many mines in the area.
A relaxing day at camp...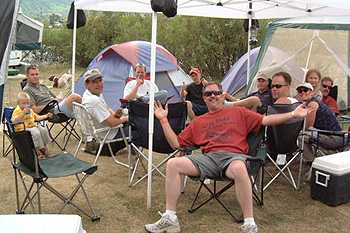 ...with great friends.
At 5pm, the BBQ Committee served up another great meal of hamburgers and hotdogs!! The rains began to come around 6pm, but they were also a welcome sight. Then around 7pm under the 'big top', all of the Kid's Games, and show and shine awards were handed out. I won 2nd Place from the Show-N-Shine in the 1987 and older Jeep category!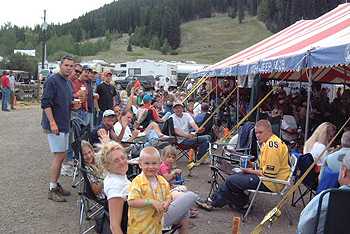 You sit outside the tent if you get there late,
after a yummy dinner, we wait for the Kid's Games Trophy Presentation...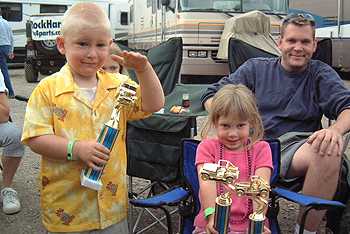 Micheal Elliot (left) and Macayla Marshall
receive trophies!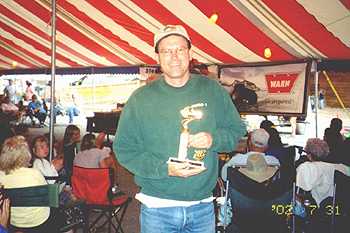 I receive 2nd place in the 1987 and older class...
A fun and relaxing day from the trail!! Or, meeting new and old friends, talking to manufactures about their products or new ones to fabricate, or?? Hump-day, only 2 more days of fun left!! Ahhhhhhhhhhhhhhhhhhhhhhhhhhhhh, Manufacture's day 2002 was a great success!!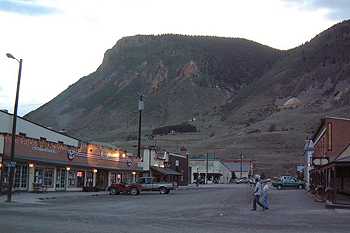 The sun sets on Silverton...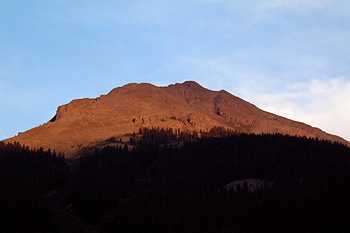 ...and over Kendall Mountain high above the big top.
Bill Hallinan HoboJeepers
Other All-4-Fun 2002 Trip Reports
Sat: Kendall Mtn. Sun: POWER GULCH TOUR Mon: Cinnamon Pass/Carson Townsite
Tue: Brown's Gulch/Corkscrew Gulch/Ross Basin/Colorado Basin Wed: Manufacture Day
Thur: Black Bear Pass/Imogene Pass Fri: Stony Pass/Kite Lake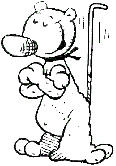 (c) Copyright 2002 MHJC Patrol One
Jeep is a registered trademark of Daimler Chrysler Corporation