PATROL ONE OUTINGS
ALL-4-FUN 2002
Silverton, Colorado
Kendall Mountain Trail
Near Silverton, Colorado

On Saturday July 27th, having arrived earlier on Friday afternoon, Bobbette Mathews-2000TJ (and her 2 sons Thomas & Micheal) and I decided to take a run up the KENDALL MOUNTAIN TRAIL just outside the main camping area East of Silverton. I drove Bobbette's Jeep so she could watch the view (or remark about my driving). Kendall Mountain rises about 4,000 vertical feet above Silverton! This short and scenic trail is very steep in places with some loose rocky spots, but is manageable with a smaller SUV. Friends Jeff Carr and Craig Olson headed up ahead of us in their ATV's. In a Jeep, the trip up took about an hour. In an ATV, It only takes about 30 minutes.
Once out of camp (Kendall Mountain Rec. Area), the trail climbs and climbs until you reach about 12,000' above timberline and a small basin. The trail forks off two ways. We took both, and started right to visit a mine site just below Kendall Peak proper. Passing a dead sheep (peeuu! seems the domestic sheep fell off the cliff above), we headed up the narrow shelf road up and around to the west facing ridge of Kendall Mountain that overlooked Silverton some 3,500' below. Beware: the trail dead-ends with no place to turn around once you pass the weather station 50 yards past on the corner. The town looked like a railroad set, with little houses, cars, and the narrow gauge Durango-Silverton railroad all nestled in the confines of surrounding 13,000'+ mountains.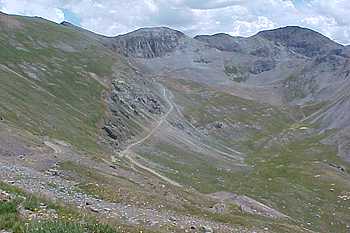 Kendall Peak, and the fork to the east...
Bobbette and her 'Smiley' TJ

at the base of Kendall Peak...

Kendall Mountain (looking west),

and the tight shelf road...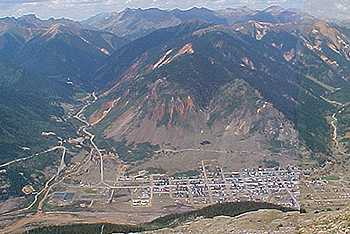 Awesome view from top of Silverton some 3,500' below, click on the photo above
for a 270 degree panorama of the area...
Being late in the afternoon, the typical afternoon shower was nowhere to be found. Just clear blue Colorado skies (a change from the hazy skies all summer from the fires), and excellent views from near the top of Kendall Mountain of the San Juan Mountains. We headed on down to camp thru the same steep switchbacks and trail. Wild raspberries were in season along the trail along the rocky hillsides. Wahooo! What a great way to jump-start All-4-Fun 2002 in Silverton, with a 3000'+ rise into the beautiful San Juan's of Colorado!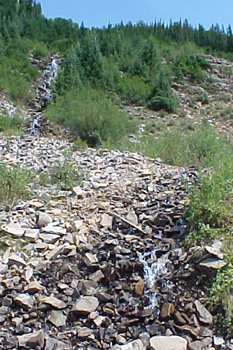 With the drought, waterfalls were much smaller...

Silverton, & base camp off to the right--
Wahooo, it's only Saturday---bring on the fun!!
Bill Hallinan HoboJeepers
Other All-4-Fun 2002 Trip Reports
Sat: Kendall Mtn. Sun: POWER GULCH TOUR Mon: Cinnamon Pass/Carson Townsite
Tue: Brown's Gulch/Corkscrew Gulch/Ross Basin/Colorado Basin
Wed: Manufacture Day
Thur: Black Bear Pass/Imogene Pass Fri: Stony Pass/Kite Lake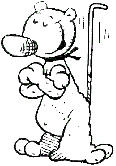 (c) Copyright 2002 MHJC Patrol One
Jeep is a registered trademark of Daimler Chrysler Corporation