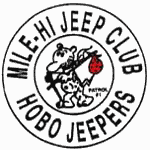 July 2001

Hobo articles
represent the previous month's activities, and are published in MHJC's "Jeepers In The New's"
July-Yea!! Well, boys and girls the big "S" is here! Summertime, Summertime, Sum, Sum, Summertime! Now all we need it to melt all that high mountain snow and we can get above timberline! Check on MHJC's website (www.mhjc.org), and if you know of a trail you just did and it was closed or open---spread the good word! Also, if you or your patrol are going out, invite your fellow club members, it's a great way to "Jeep, Jeep" with the same people who love the same sport. Our June reports actually start out from our trip to Moab over the Memorial Weekend. Please excuse the smaller print, I had too or it would of taken up more pages! All of our trips are posted on our website with numerous photos (over 90 for Moab!). Summer is here, get out and enjoy it!!
Ahhhhh, Moab! Moab, Moab, Moab! It has a nice ring to it doesn't it? Every Jeeper that lives out West is drawn to the area. Located just 6 hours west of Denver on I-70, if you haven't been there you need to go! If you go after Memorial Day and before Labor Day, it's a hot one, so prepare for it and bring lot's of water! Rafters, Hikers, Mountain Bikers, and Jeepers know the area for it's wonderful red rock scenery, and 'Moab Slickrock'. Many of you already know, as you have 'been there', it's a playground for grown-ups. No other place in the country comes close; Moab is 'Jeepin Heaven'!
The HoboJeepers ventured west on I-70 towards the Slickrock Gods for the long anticipated 2001 Memorial Day Weekend. Each Hobo left at different times on Thursday, and we all eventually met up at a nice campsite north of Moab. The 2001 MEMORIAL MOAB group consisted of: Scott "Mad Max" wife Janet, and sons Tom and Pete Maxwell (TJ), Chris "Colonel" Potter (CJ) with twin brother Craig, and good friend Bob (both from Nebraska), Sean "Joker" Tallant (TJ), Steve "Moose" Gilbert (TJ) with his girlfriend Holly, and myself "Hobo Willy" (CJ) with my jeepin-sidekick Molly.
Moab-"Jeepers Slick Rock Playground" For the past 12 days proceeding the Thursday departure date, my Jeep had been at an unnamed and certainly not recommended shop near 62nd and Carr outside on blocks with the AMC 20 out. One thing after another led to me finally waiting Thursday (D-Day) morning from 8am to 2pm when my axle was finally put back together. I was trying to eliminate shaking in the rear end, well---after $500+ I still had it (along with added u-joint vibration) for my adventure West on I-70! SIGH!!
Waking up to a nice mild morning each day, even the few mosquitoes that were out could not hold back the fact you and your Jeep were in Moab! The day temps I heard were in the 90's, while the nights were a mild upper 50's. For 3 fun days, we followed 6 different trails up and over numerous obstacles, ledges, and fields of slickrock! Each trip was planned to introduce the 'newbies' Colonel and Moose to Moab. From the moderate Steel Bender/Flat Pass Trails, on to Hell's Revenge 4+, and finally building to the 9 hour + Poison to Gold Bar Loop, we certainly got our fill!!

Day 1: Steel Bender Trail
On Friday May 25th, the sunrise warmed up the beautiful canyon we were camped in exposing the red and orange cliff canyon walls, and taking what chill was left over from the previous night. Like kids getting up early on Christmas to see what Santa Claus brought them, so to were the Hobos getting ready for a great day! Plans called for a new trail, either Strike Ravine (which I didn't have a map for), or Steel Bender (which I had both a map and Well's book on), so Steel Bender it was.
We headed out of camp and south towards Moab and City Market. Ready to go, we set off thru town and south to the golf course area, and the trailhead of Steel Bender (Flat Pass) Trail to air down and disconnect for the weekend. I remember in 96' having done this trail, but come to find out we never did the fun stuff located to the far SE near the cliffs. So, this was all new and fun to me!
With smiles and grins, and a quick one, two, three, "Moab!", we were off into Mill Creek Canyon and the start of Steel Bender. The beginning of the trail is quite easy and sandy along Mill Creek. Don't turn back! Once you come out of the canyon the real fun begins! Numerous obstacles abound and challenge your suspension, tires, engine, lockers, and yes your guts!
Once on a small mesa above the canyon, the road forks to the left or right. During Easter Jeep Safari, they must have added a small loop that goes north to an obstacle and returns in a loop of less then a mile. Back to the intersection again, we proceeded south along the Flat Mesa (Steel Bender) Trail thru drainages and smaller rock ledges.
A turn off to the right should be ignored, and stay left and start to climb up the side of the higher mesa that runs north and south. If you bring along a Moab East map, you will see the trail (called Flat Mesa), as it runs SE and up along the edge of the higher mesa. Fun steep hill climbs then down into tight drainages follow the trail up to a nice obstacle of ledges. We all went thru very clean, and with much 'finesse'. Even Janet (Mrs. "Mad Max") took the wheel and hopped up the ledges with a smile.
It seems one does not fully appreciate the entertainment of trail comedy, until you see someone from another party pull a 'stupid trail trick'. Just as we all 5 finished climbing the obstacle, we were treated to some trail comedy from a couple of Keystone beer-drinkin' goofs behind us.
One guy (with a beer in one hand, a cig in his mouth, so I assume the other is on the wheel), driving a mostly stock TJ with larger tires and a lift grabbed our attention. Remember, the obstacle rises 15' in a short 20', with a series of 3-4 ledges about 1-3' high requiring 'finesse' to crawl up. Well, this guy is a graduate from the 'Bonzai 101' class, and just barely too. He barreled up hard and fast hitting the ledges and bouncing back. He took the hardest and steepest line, and was turned back again. Well, "guess ya gatta hit it harder then", so he bounced up with full throttle one ledge at a time. He remarks getting out of his dusted TJ "Now that's the TJ way!!". Ok buddy, have another beer.
His buddy was actually the main event! Act 2: Next up---a stock Nissan Pathfinder. Sean caught most of this on tape for proof of what 'not to do'. This kid being last of his group of 5 was psyched up to go 'the TJ way' too, so we knew we had front row seats. He barrels on up and wham, wham, wham, hits and bounces back down. He tries again, but almost gets above the steepest ledge before he is stopped. He then tries to back down sideways and ends up rolling over a rock off the trail and gets his left front tire a good 4-5' up and almost goes over! Spare U-joint for a Pathfinder: $39, Keystone 12 pack: $3.25, the expression on his face when he was just about to go over: Priceless! Ohhhh the trail entertainment…hehehe.
With a grin on our faces, and wondering if there should be a separate driver license for off-roader, we were off for some more fun. We worked our way around the base of the mesa thru many more smaller obstacles to great views of the La Sal Mountains. Following the main trail, we eventually ended up back down into a canyon, and out past Ken's Lake in the southern end of Spanish Valley. We headed back to Moab, fueled up with food, Ice, (some-Ice Cream), showers, and gas, then met back at camp to swap trail stories. The mosquitoes (though not abundant) were there to greet us and join us in conversation. Everyone had a great day! Steve and Chris (the newbies) did great their first day, and Sean and Scott finessed every obstacle they came across. Molly and I enjoyed doing a new trail, and enjoyed the entertainment on the trail as well.
At camp, I had noticed my front axle had shifted over about an inch to the passenger side, and the passenger Tomken spring hanger bolts were not going to hold (I'm surprised they did for Steel Bender!) for Hell' Revenge the next day. Simple solution right? So, I made plans to go to Moab-Off-Road on a Saturday morning when the opened to fix it, boy was that a chore.

Day 2: Hell's Revenge Trail
On Saturday May 26th, I went into town early to Moab to Moab-Off-Road at 8am when they opened. I wasn't the only one, as I lined up like the doctor's office waiting for help. One by one the guy said he wasn't doing any work today, as all I needed was a couple of new spring hanger bolts installed. "Nope---busy" he says…. Geee for the only 4x4 shop in Moab, don't you think they would staff for weekend breaks?? What I learned: Do not rely on Moab-Off-Road for fixing you on a Saturday! So I made the rounds at every Welding/mechanic shop, and all were closed except Arches Repair on Main. This guy was 'good', I mean 'good' in a bad way. He basically installed t bolts, and didn't straighten my axle because he said my bushings were worn out. Well, $120 later I had my Jeep for Sunday's run.
If you ever get to Moab with your Jeep, don't leave until you do Hell's Revenge Trail! This is what Moab is all about------Slickrock!! Not having my Jeep, Chris Potter graciously offered Molly and I a ride with his brother Craig for the day in his CJ7. The Mad Max Family, Steve Gilbert and Holly, and Sean Tallant-now named "Joker" from the previous trail, were on our way to slickrock heaven! At 9:30am, it was off to the Dump-Bump, and the start of Hell's Revenge!
Hell's Revenge: Sean "Joker" Tallant lifts a tire coming up Hell's Gate (left), Chris "Colonel" Potter avoids contact (right) We took the 'shortcut' around the Sand Flats gate, and went thru dry Michigan Lake on up to the fence and took a left following the main trail. After the Easter Jeep Safari, and with Well's book, it's pretty hard to get lost these days. Also, with more tires on the trail these days, the slickrock is becoming more and more blacktop. Please try to eliminate excessive tire chirp around corners and tire slip to help keep the slickrock cleaner.
Following some Jeeps ahead of us built by Avalanche Engineering, we made our way to some mini tubs and the first steep slickrock climb. Chris Potter took his 1st hill climb with ease, as the sure steepness of the grade one would think would be impossible. With the traction the slickrock brings (like one giant piece of sandpaper) it wipes away any previous idea of what your rig is capable of. Once you arrive on the top of the 'Giant SlickRock Dome', welcome to Moab, and slickrock country!! Vast mounds of rock lie before you for the rest of the day. Steep hill climbs and descents are the order of the day! The trail is well marked with flames on the trail, so stay on the flames, and get the full enjoyment of the loop.
We moved on to the northeast along the sandy and easy stretch, working our way to the great views at the Colorado Overlook and the 'Hell's Gate' obstacle. Once we arrived, the Avalanche crew were already there and provided us with some nice crawling, spotting, and even a close call for the $60 grand rig as it took a high line and leaned WAY back!
We had lunch at the overlook, and Hobos 'Mad Max' (TJ) and 'Joker' (TJ) wanted to give 'Hell's Gate' a try. They both maneuvered down the north gate nice and slow. The south gate is a steep v-shaped ravine, with only one way up and more. Sean was up 1st, and having a 4.56 5 spd, he maneuvered with the spotting of Scott up the ravine in style! He took a little higher line to the right and got some great air! Scott's TJ being an automatic, also crawled up the steep ravine nice and safe and slow. Scott had been wanting to the Gate since last year's Memorial Moab, a successful run for both--congrats!!
Heading back from the overlook to catch the loop west, we took a right turn following the flames, and climbed numerous slickrock domes up around 'The Black Hole'. One turn above it is pretty intimidating, with a 200+ drop off. If your steering wheel devilishly turns left on you when you want to turn right, you'll be sucked down the Black Hole.
At the ridgeline above the Black Hole, a few tubs are scattered along the ridge. We all ran thru the furthest west tub, then following the flames, came upon the Mickey's where more trail comedy was waiting for our camcorders and cameras. Last year on Poison Spider to Gold Bar, we had the privilege of witnessing the same guys on Double Whammy. For sake of names, we will call them 'Dumb and Dumber'.
They are from Meeker, Colorado, but you would swear the license plates and the Jeeps were from the back roads of Arkansas. I don't really know how to describe their Jeeps, other then to say they are unusually stock, rusty, and a bit tired. 'Dumb' is the older (but not wiser---imagine Santa Claus in suspenders) of his son ('Dumber'-looks a lot like a Dukes of Hazzard extra).
We arrived at the Tub first, but none of us had plans to do it, but we knew this rare glimpse at 'what not to do' comedy was right behind us. 'Dumb' had the classic quote of the day, after we were all standing around looking at the tub, he waves his hand at the tub and shouts (insert hillbilly accent here) "Well,,,,, I'm tired of lookin' at it!!" hehehe So he gets in his ole' 'Besty' of a Jeep and creaks and scraps his way down into it. Turn on the camcorder boys and girls, and get the cameras ready---cause now the trail comedy begins!
The other side of the tub is a steep wall that is coated with rubber from tires and fluids of all kinds. He tries to climb the wall, and gets ¾ of the way and just spins his tires for a good 10 seconds in suspension. Not being able to make it, he stops and slides down scraping and hitting his rear bumper, side corner panel, and front shackles and bumper. Had enough? Heck no!! As he back down and fluids go everywhere. He checks out the fluid and says "oh,,,,it's just motor oil".
He tries another few times with the same reckless result, each time hitting all the same parts sliding down into the tub (even sideways!). So he tries to back out, nope---his rusty Olympic rear bumper won't let him! hehehe Oh the humor! This was the highlight of my day! Better then the 'Keystone Cops' from Steel Bender the day before!
On comes 'Dumber' to the rescue with his Jeep and a winch from the 60's. He sets up at the top of the tub with just enough room for his Pa's Jeep to fit and lowers the winch cable. He winches Pa up and 'Dumb' guns ole Betsy to within inches of 'Dumber' bumper (one tap and Dumber would go off the other side!). Now that Pa couldn't get out (had ARBs in front I heard), 'Dumber' in his stock Jeep decides to he could do it. He lines up and scraps into the tub. Well, surprise-surprise he doesn't climb the wall either!
After a few more reckless attempts, he breaks his engine mount getting sideways and tweaked. The classic finish to this story is when he opens his hood, he had a shovel bungeed on to his master cylinder, the Moose enjoyed that one. Ahhh, with Dumber (who I heard is a Mechanic-go figure) in the tub fixing his engine mount, the show was over. 'Dumb and Dumber goes to Moab', I would give it a 2 thumbs up, a must see trail comedy----coming to video in August.
So how do you top that? Oh the humor in it all, it makes anyone feel more like a responsible Jeeper. We headed off the steep decent off the ridge and up the valley to the west over to the 'Tip Over' challenge. With a series of ledges, and an off camber ledge near the top, tire placement is key. Sean, Scott, and Steve all make it up nicely. We headed up the hard rocky left to the ridgeline and off to descend to the backside of Lion's Back. Everyone negotiated the tippy lean spot and we stopped for some great articulation photos off the last obstacle. Through the sand and back on pavement…Hell's Revenge is all that!!
We headed over to 'Potato Salad Hill' to witness some carnage. There was an older Ford F-250 who was trying it and finally gave up. We headed into Moab and straight for the Fruit Juice bar for some smoothies! I picked up my Jeep from Arches, and all they could do was put 2 new bolts in, but could not line up my axles. It was good enough for Poison to Gold Bar, that's all I needed for $120 bucks! Back at camp, the talk of the day was our friends from Meeker, hehehe.

Day 3: Poison Spider Mesa thru Golden Spike to Gold Bar Rim
On Sunday May 27th, we geared up for the long-awaited pre-warned "long" trail run to finish off a great long weekend at Moab. My Jeep, with 2 fresh bolts ("not guaranteed to hold") was ready for the long loop trip as I was. This day's trails are a combination of the previous days trails. With numerous rock ledges, obstacles, and slickrock, these trail have it all. Along for the day with Molly and I were: The "Mad Max's", The "White Moose and Moosette", Chris Potter and friends took the opportunity to do some sightseeing of Arches and the beautiful scenery around Moab.
Let's see, you are in Moab, you have your Jeep with ya, and your looking for 10 hours to kill. Well, you've come to the right trail! At last year's Memorial Moab, we did the Poison Spider Mesa thru Golden Spike to Gold Bar Rim trails with 6 Jeeps and it took us with no breakdowns 11 hours. This year with 4 Jeeps, we were able to keep moving and take a few more breaks from the heat and do it in 9+ hours!
We did see 2 separate people running alone on this 18-mile trail, not a good idea. DO NOT RUN ALONE on this long trail! Too many things can happen, and you are to far in to hike out. Don't rely on your cell phone either, as we sometimes couldn't get out there. If you breakdown here, you are a few hours by jeep out either way, with numerous obstacles to limp over. Prepare for the worst and bring spare parts, water, fluids, sleeping bag, food, etc…
At 9am, with ice (the Moose brought dry ice!) and water in hand, we left the pavement at the Poison Spider trailhead and made our way up the first switchbacks. Numerous small ledgy obstacles greet you up to the mesa. Easy to hard lines could be attempted depending on your mood. The weather was much nicer as cloud cover keep the temps cool for a few hours.
Once on the mesa and thru a small squeeze, we ran across the "Tie-Rod Flats" at 25mpg max in 5th gear 4-low (well, at least that's what I did). Then the sand ends and a fun loop hill climb just up from the creek bed awaits. Heading up the sandy creekbed, we came across the 1st sets of obstacles one of which is named "The Waterfall" It's actually a set of ledges before it on a tight curve that are challenging. Then the waterfall is a 6 foot sloping wall to climb. Everyone climbed up nicely, with some taken a couple times to finally chirp up.
Then a series of FUN obstacles await, as one is called "The Wedgy". With everyone walking through, one could only lean back and get a quick snapshot of your buddy behind you. Through the "Whoop-ti-dos" (a series of high bank sandy turns), the flat easy mesa turns up the A/C as airflow is increased. We stopped at the grave marker where the Mesa was named. The story has it that a little girl was bit by a poison spider and died from it and was buried there. Someone had left a pocket full of change there for some odd reason. Sean could have used some of those quarters at the air station.
Trekking northeast, we came off the mesa to a sandy area and proceeded to play a few times in the sand. Saving some time, we headed north onto the Golden Spike Trail instead of heading over to the Little Arch. Following the white spikes on the trail, and the faint black tire tracks, the trail was pretty easy to stay on. Following on slickrock heading north, we came across the "Launch Pad", which is a steep ramp that tests most carbs (of those who still have them!). Finding a side obstacle Sean, Steve and Scott were able to get some great tire lift photos!
Onward thru the slick rock we reached the 'Skyline Drive', which is a long steep climb to some great 360 degree views of where we were and where we were going. Dropping down and to the right is the perfect lunch spot as everyone (even the Jeeps) were shaded for the break! After a cool lunch break, we headed up the 'Narrow Ravine' and some tight creek bed Jeepin'!
Just ahead is a small deep tub, that when filled with water is pretty deep. Above that is a steep 1-2' ledge just above the creek we all negotiated with different lines. More obstacles up the ravine till we reached the white slickrock of Moab. Since we are heading north, and most if all the rocks and ledges run west to east, we encountered rock ledge after rock ledge. Ive never counted them, but I'm pretty sure there are over 40 of them of all sizes. The bigger ones get your attention, as we stopped for photo opps on them.
Finally, our 1st view looking down on Hwy 191 and the long line of tourist waiting to get into Arches National Park across the valley. At this point in the trip we were about 5 hours in, and not the place to "have problems". The weather also turned a lot warmer as the clouds disappeared. Now heading along the rim's edge we traversed more rock ledges and obstacles until we finally reached the infamous "Golden Crack". Or as Scott's son Pete would say, "Moab's Buttcrack". There were some guys in rental Jeeps there crossing the crack, I guess they must of signed the damage waiver.
One by one, the Hobos crossed the Crack with some articulation and a few bumper scrapes (that's what they are for right?). First-timers to the Crack Sean and Steve walked thru looking like pros. It seems every time I run the Crack, I tend to take the left highline, because my right front seems to always catch major air! Once through, Sean and Scott contemplated how to straddle the Crack, but opted for more slick rock obstacles ahead waiting for us. Which there was plenty!!
More obstacles like the 'Golden Stairs', which are a series of rock ledges in which CJ7's hit both tires at the same time. After a few tries I was able to climb up. The TJ's behind me also made it up some with different lines taken. Near 'Double Whammy', a stock TJ had broken his rear spline, and had to take it easy the way out thru Gold Bar Rim.
Finally, after 7 hours, we reached the beginning of Gold Bar Rim Trail. Ready for some smooth trails, all we encountered were more rock ledges and obstacles. Around the Gold Bar Canyon, the trail comes within a few feet of a good 400' drop. Not the kind of turn you want to take at night (stay right!). Another 7 or so miles later we reached the sandy bottom and out past the 'Gooney Bird Rock'. Once in 2WD, we raced down the sandy washes and headed north to below the main mesa that leads out down the cliff side down to Hwy 191 and the welcome pavement!
Another must-do-trail! Go with some buddies, be prepared with the right supplies, and enjoy a full day of true "remote" Jeepin' over ledges and slickrock. Do the whole loop in one day, it's the best day of Jeeping you will have all year! Once back at camp, no night runs were planned. We all sat back and relished the day, while trying to remember the many obstacles and challenges throughout the day! Even the young "Kids" were a bit worn out, but that didn't stop them from the smore party at 10pm! "The end of the trail, and the end to a 'Memorable' Memorial weekend in Moab with great friends and fun trails!!! "

On Thursday June 7th, we had our June Hobo Meeting at Chris "Curly" Vieth's house. We discussed MHJC and Hobo Business, and detailed some future trips including the 3rd Annual Hobo Run on Saturday July 14th. On Sunday June 10th, Sean Tallant lead a trip up Spring Creek.
On Saturday June 16th, the HoboJeepers went along with some fellow Jeepers up into the mountains to run the Jenny Creek Trail off the Moffat Road. Not hearing of any reports of if it was open or not, we decided to check it out for ourselves. Other then networking with the Forest Ranger, or some 4x4 forums, hitting snowbanks on the trail is a regular thing anytime in June. Especially the higher you go; the more likely you will hit a drift that is impassable. What the heck, you're out of town and your jeepin'!
With no word on if Jenny Creek was open, we decided to take a chance and run the Jenny Creek Trail on June 16th. On a nice clear Saturday morning, we met at the designated spot of Hwy 93 and Hwy 72 at 8:00am, and we left a little after 8:15am heading up Hwy 72 towards Rollinsville. Hobos along for the day were myself as lead (CJ), with friend Kristin, and my jeepin sidekick Molly, Hoboette Bobbette Mathews (TJ) with daughter Catherine, and son Michael, & Prospective Hobos Drew "Drewby" Middleton (TJ), and Mark & Kristen Gilbertson (CJ). Guests included: Robert Schlegel (YJ), Neil & Jill McMorrison of Patrol 14 (TJ), Max Baker & pup of Patrol 14 (CJ), Luis Garza and friend Fernado (TJ), Ken McGuigan of Patrol 7 (YJ), & Jeb McClelland w/family (CJ).
We headed up Hwy 72, and aired down and disconnected just west of Rollinsville. The dusty and washboard road came to life in a few miles as we made our way to the Moffat Road. Once on the historic Moffat Road (an old railroad grade), it was every 'person' for themselves, as you dodged potholes and small rocks that would jar any bolt that was or soon to be loose. If you had a squeak before, you certainly had one before you reached the Jenny Creek trailhead.
Once at the trailhead, I got out and locked in (seems most TJ owners stayed in their Jeeps). The start of the trail is a tight fir-lined section that didn't afford many rocks, but kept your attention for avoiding the 'rocky mountain pin striping'. Eventually you reach Jenny Creek and two fun obstacles, one crossing the creek, and the other is a sharp left out. Everyone took turns going through the creek. A large rock in the middle of the crossing, affords some challenge to avoid without contact.
Most ran clean through the creek and over the big rock climbing out with a sharp left through some other boulders. I spotted Mark (CJ) over the large rock in the creek for a photo opp, and then he ended up high centered on his skid plate with water all around him. With no place to go, Robert (YJ) came back and we hooked up a strap to pull Mark off the rock. Once off, we were ready to head up Jenny Creek, literally.
The trail follows along side Jenny Creek, and eventually up and in the creek. With the high runoff from snowbanks we were to eventually encounter, the water in Jenny Creek was running high and clear! Seemed a little strange driving up the creekbed, but this is the trail. For a hundred yards or so in two different spots we were running up the creek, as hidden rocks were avoided.
We eventually we started up the north side of the creek, and climbed various small rocky hills thru some moderate rocky sections. Without to many choices to pull off, I found a nice spot by an old cabin enough for 10 Jeeps to park off (while not impacting anything) the trail for a nice lunch by Jenny Creek.
From the cabin, the trail follows through the trees and various rocky sections. Once we reached near the end of the trail, we started to see more and more small snow banks on the trail and in the trees. Then we came across a pretty big one covering the trail right at a turnoff to a campsite. This snow bank had a go around, but just 100 yards later was the mother of all snow banks! This puppy was huge as it engulfed the trail and the ridge. More snow banks lie further up the trail as we were less the a few hundred yards from partially frozen Yankee Boy Lake. Mother Nature still has her winter grip up here, and another few weeks all the snow may melt. Even the Moffat Road was closed (our way out) with some huge drifts.
So, 'what goes up, must come down'. We turned around, and headed back down the Jenny Creek Trail. The same fun rocky sections were encountered, as we drove on past the cabin and back into Jenny Creek going downstream this time. Luis was in the lead and discovered the big rock at the first stream obstacle a little to friendly with his TJ. He had taken a little to far left of a line and took out his driver step (why do they put those on anyway?). He also left a small portion of his red paint as the 'rock' took a nice tap on the 'naked' rocker panel. Plans are for some Durango Rocker Panels---I hear.
We all took turns coming off the rock down into the stream crossing avoiding the 'rock' (the one Luis hit). On to the trailhead through the thick trees and back on the Moffat "your on your own dodging potholes" Road. We reached the turnoff up to Apex at about 3:30pm, and decided not to try Miner's Gulch (as I had not planned the big snowdrift at the top of Jenny Creek). Thanks to Max "Air" Baker for the free air off his York compressor at a rest stop. A great day of Jeepin' in Mid-June, though winter seems to have socked in higher elevations of the high country. I enjoyed the day, as the rookies and the experienced all did very well. Thanks to all that attended, I hope everyone had a fun time. Jenny Creek, a fun classic "Jeep Trail"…
Every month we will introduce you to another Hobo. For July, we would like you to meet Hobo Chris "Colonel" Potter. Chris is one of the original Hobos from the rejuvenated Patrol in 1999. He has a well-modified 86 CJ7, which has all the bells and whistles a grown man would want on a CJ7 Jeep. As a devoted family man, he delicately manages his free time between his 3 sons and his passion of Jeepin'. He is an Oil Landman by trade, and is a great asset to our Patrol with his continued involvement, and excellent trail experience and etiquette. Say 'Hi' to the "Colonel" sometime. Have fun this July on the trails! 'Be Safe' at all times!!!!!!

See ya on the trail, "Jeep, Jeep"
Bill Hallinan HoboJeepers


Happy Hobo 4th of July 2001!!!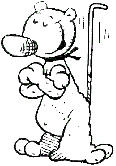 (c) Copyright 1999/2000/2001 MHJC Patrol One
Jeep is a registered trademark of DaimlerChrysler Corporation