PATROL ONE OUTINGS
MEMORIAL MOAB
2001
Moab, Utah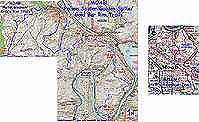 Click on map above to enlarge...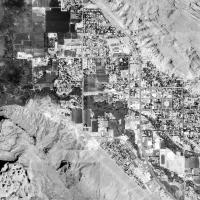 Click above for a 'cool' air photo of Moab!!
Moab, Ahhhhhhhhhhh, Moab! Moab, Moab, Moab! It has a nice ring to it doesn't it? Every Jeeper that lives out West is drawn to the area. Located just 6 hours west of Denver on I-70, if you haven't been there you need to go! If you go after Memorial Day and before Labor Day, it's a hot one, so prepare for it and bring lot's of water! Rafters, Hikers, Mountain Bikers, and Jeepers know the area for it's wonderful red rock scenery, and 'Moab Slickrock'. Many of you already know, as you have 'been there', it's a playground for grown-ups. No other place in the country comes close; Moab is 'Jeepin Heaven'!
Ahhhhhh......Slickrock paradise!!!
The HoboJeepers ventured west from Denver on I-70 towards the Slickrock Gods for the long anticipated 2001 Memorial Day Weekend. Each Hobo left at different times on Thursday May 24th, and we all eventually met up at a nice campsite north of Moab. The 2001 MEMORIAL MOAB group consisted of: Scott "Mad Max" wife Janet, and sons Tom and Pete Maxwell (TJ), Chris "Colonel" Potter (CJ) with twin brother Craig, and good friend Bob (both from Nebraska), Sean "Joker" Tallant (TJ), Steve "Moose" Gilbert (TJ) with his girlfriend Holly, and myself "Hobo Willy" (CJ) with my jeepin-sidekick Molly.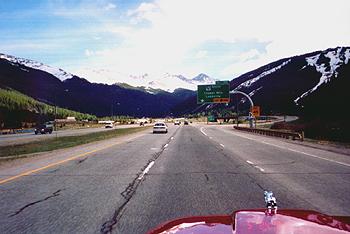 Moab and/or no 'bust'!! Heading West on !-70 near Copper Mountain...
For the past 12 days proceeding the Thursday departure date, my Jeep had been at an unnamed and certainly not recommended shop near 62nd and Carr outside on blocks with the AMC 20 out. One thing after another led to me finally waiting Thursday (D-Day) morning from 8am to 2pm when my axle was finally put back together. I was trying to eliminate shaking in the rear end, well---after $500+ I still had it (along with added u-joint vibration) for my adventure West on I-70! ARRGGG--SIGH!!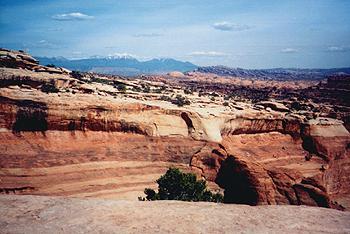 Gold Bar Canyon, with the La Sal Mountains overlooking MOAB...

Click on a link below to a trip report
from the Memorial Moab Run 2001...
Day 1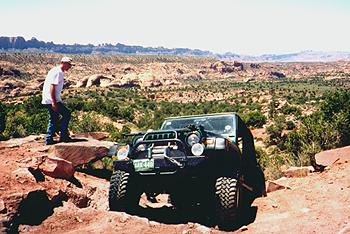 Day 2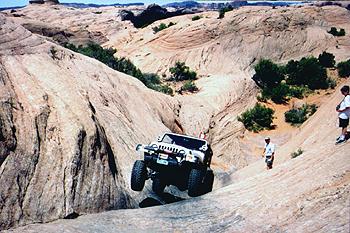 Day3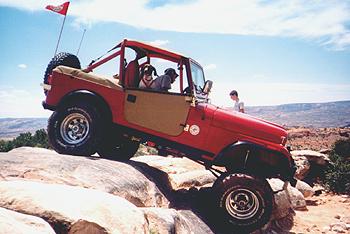 POISON SPIDER LOOP/ GOLDEN SPIKE/ GOLD BAR RIM

Waking up to a nice mild morning each day, even the few mosquitoes that were out could not hold back the fact you and your Jeep were in Moab! The day temps I heard were in the 90's, while the nights were a mild upper 50's. For 3 fun days, we followed 6 different trails up and over numerous obstacles, ledges, and fields of slickrock! Each trip was planned to introduce the 'newbies' Colonel and Moose to Moab. From the moderate Steel Bender, on to Hell's Revenge 4+, and finally building to the 9 hour + Poison Spider thru Golden Spike to Gold Bar Rim Loop, we certainly got our fill!! Ahhhh-Moab!!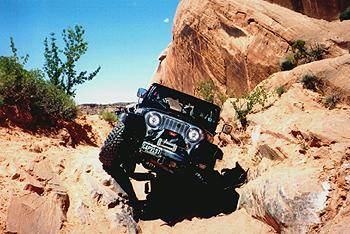 Slickrock and obstacles....enough fun for a whole week!!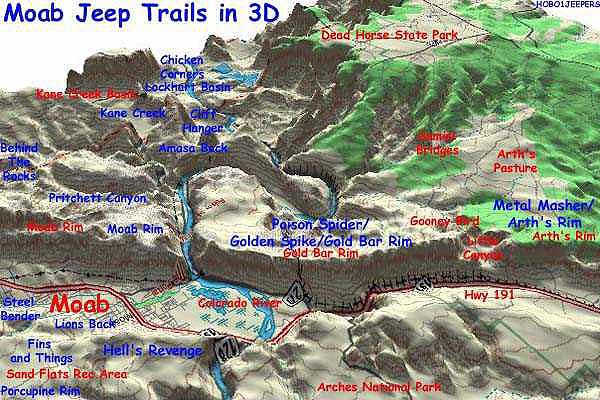 "Moab, A jeepers paradise"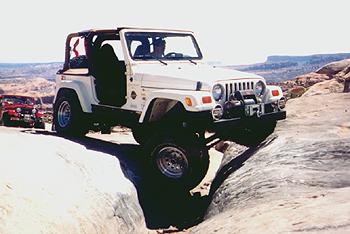 "One endeavors to do 'The Crack'...
BILL HALLINAN HoboJeepers

click on link below to a trip report from the Memorial Moab Run 2000...
Day 1

FINS AND THINGS/HELL'S REVENGE
Day 2

Day3

POISON SPIDER LOOP/ GOLDEN SPIKE/ GOLD BAR RIM
click on link below to a trip report from the Sept 99 Moab Run...
POISON SPIDER/ GOLDEN SPIKE/ GOLD BAR RIM



**Easter Jeep Safari 2001 Reports**


Here are some other Moab/ESJ Reports:
*Easter Jeep Safari's Previously:
OutdoorWire.Com's ESJ 2000: http://www.outdoorwire.com/4x4/trail/report/ut/moab00/
Off-Road.Com's ESJ 2000: http://www.off-road.com/toyota/trips/moab2000/
Dirtroad.Com Easter Safari 99':http://www.dirtroad.com/ejs.htm
33rd Annual Easter Jeep Safari by Flatlander: http://www.4x4now.com/33js.htm
Moab Off-Road.Com EJS 99': http://www.moab-offroad.com/EJS99/
1998 Easter Jeep Safari by Rockcrawler.Com: http://www.rockcrawler.com/trailreports/moab98/index.htm
32nd Annual Easter Jeep Safari by Flatlander: http://www.4x4now.com/32js.htm
31st Annual Easter Jeep Safari by Flatlander: http://www.4x4now.com/31js.htm
30th Annual Easter Jeep Safari by Flatlander: http://www.4x4now.com/30js.htm
*Moab Trail Lists:
4x4Now Moab Trail Reports: http://www.4x4now.com/mu4wd.htm
4Wheel of Moab Trail Listings: http://www.4wheelofmoab.com/index.html
Moab 4x4.Com Moab Trail Index: http://www.moab4x4.com/jeeptrails.htm
Moab Trails by Number: http://www.4x44u.com/pub/k2/am4x44u/trails/moab/moab001.htm
Moab Trail Difficulty Ratings: http://www.4x4now.com/tr.htm
Moab Trail Photos: http://www.jeeps.org/
*Hobo Moab Trip Reports:

Memorial MOAB 2000- HoboJeepers

Labor Day MOAB 1999- HoboJeepers
*Moab Driving Tips:
*How to drive Moab Slickrock by Bill Burke: http://4x4now.com/bb0797.htm

(c) Copyright 1999,2000, 2001 MHJC Patrol One
Jeep is a registered trademark of DaimlerChrysler Corporation