MEMORIAL MOAB 2001
Steel Bender Trail
SE of Moab, Utah

On Friday May 25th, the sunrise warmed up the beautiful canyon we were camped in exposing the red and orange cliff canyon walls, and taking what chill was left over from the previous night. Like kids getting up early on Christmas to see what Santa Claus brought them, so to were the Hobos getting ready for a great day! Plans called for a new trail, either Strike Ravine (which I didn't have a map for), or Steel Bender (which I had both a map and Well's book on), so Steel Bender it was.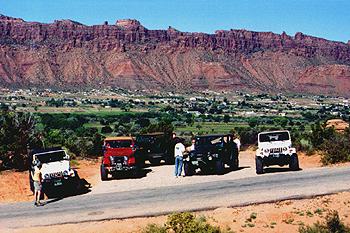 Airing down for our 1st trail of the weekend,
with Spanish Valley and Moab in the background...
Everyone was eager to go. Ready were: Scott "Mad Max" wife Janet, and sons Tom and Pete Maxwell (TJ), Chris "Colonel" Potter (CJ) with twin brother Craig, and good friend Bob (both from Nebraska), Sean "Joker" Tallant (TJ), Steve "Moose" Gilbert (TJ) with his girlfriend Holly, and myself "Hobo Willy" (CJ) with my jeepin-sidekick Molly. We headed out of camp and south towards Moab and City Market. Ready to go, we set off thru town and south to the golf course area (see air photo above), and the trailhead of Steel Bender (Flat Pass) Trail to air down and disconnect for the weekend. I remember in 96' having done this trail, but come to find out we never did the fun stuff located to the far SE near the cliffs. So, this was all new and fun to me!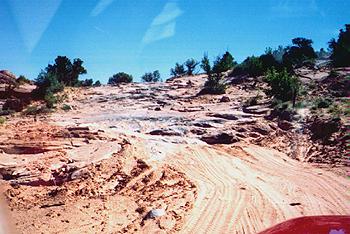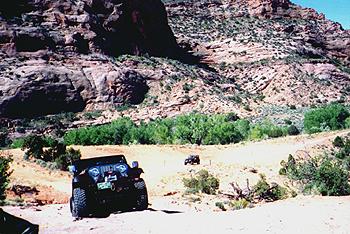 This small ledge was the tip of the slickrock 'iceberg' today...
'Colonel' Potter's 86CJ7 makes it up
the 1st real obstacle out of the North Fork of Mill Creek...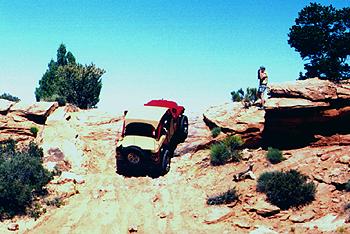 Bill and Molly climb up the obstacle along the small loop to the north...
Once on a small mesa above the canyon, the road forks to the left or right. During Easter Jeep Safari, they must have added a small loop that goes north to an obstacle and returns in a loop of less then a mile. Back to the intersection again, we proceeded south along the Flat Mesa (Steel Bender) Trail thru drainages and smaller rock ledges.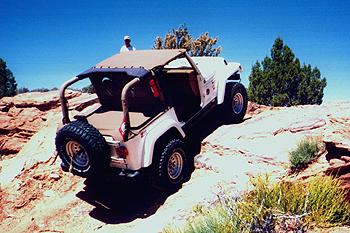 Steve drives the 'White Moose' up the same ledge nice and smooth for a 'newbie' to Moab...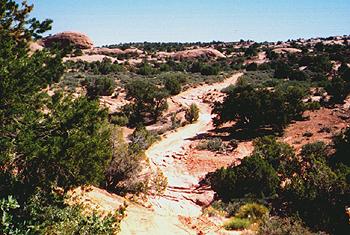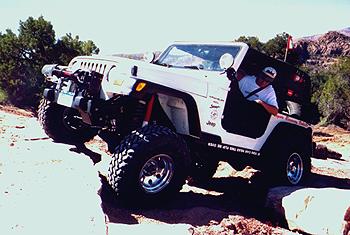 Steel Bender has many small and large ledges to climb over...
Sean climbs
one of the many ledges with ease and 35's...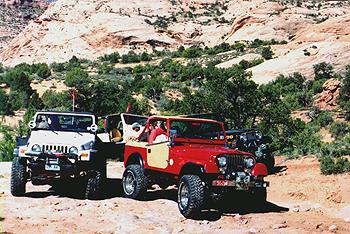 A nice break as the sun bakes the slickrock to the low 90's...
A turn off to the right should be ignored, and stay left and start to climb up the side of the higher mesa that runs north and south. If you bring along a Moab East map, you will see the trail (called Flat Mesa), as it runs SE and up along the edge of the higher mesa.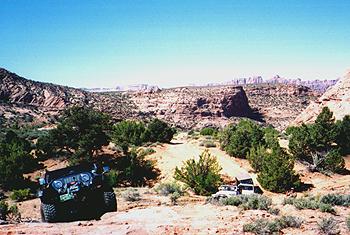 The 'Colonel' climbs another ledge nice and easy to for a 'newbie'...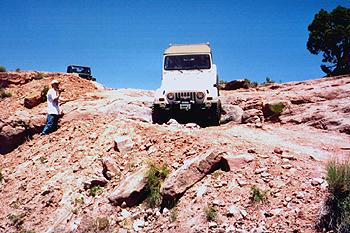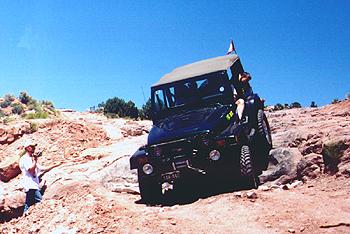 This ledge requires a quick left
as you can see the drop off to the right is a duzzy...
"Mad Max" and family take the ledge on 'autopilot'...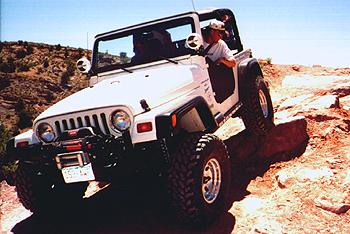 Large speed bumps for 35's...
Fun steep hill climbs then down into tight drainages follow the trail up to a nice obstacle of ledges. We all went thru very clean, and with much 'finesse'. Even Janet (Mrs. "Mad Max") took the wheel and hopped up the ledges with a smile. It seems one does not fully appreciate the entertainment of trail comedy, until you see someone from another party pull a 'stupid trail trick'. Just as we all 5 finished climbing the obstacle, we were treated to some trail comedy from a couple of Keystone beer-drinkin' goofs behind us.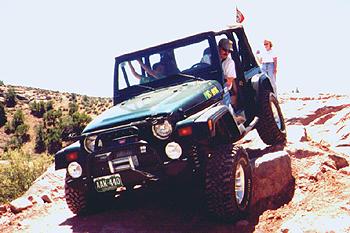 The many ledges provide for great articulation shots!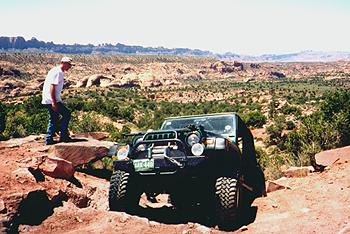 This series of 3 ledges is where the show was,
though Sean shows the right way...
Ya can't tell from the photo, but 'Mrs Mad Max' took obstacle!
His buddy was actually the main event! Act 2: Next up---a stock Nissan Pathfinder. Sean caught most of this on tape for proof of what 'not to do'. This kid being last of his group of 5 was psyched up to go 'the TJ way' too, so we knew we had front row seats. He barrels on up and wham, wham, wham, hits and bounces back down. He tries again, but almost gets above the steepest ledge before he is stopped. He then tries to back down sideways and ends up rolling over a rock off the trail and gets his left front tire a good 4-5' up and almost goes over! Spare U-joint for a Pathfinder: $39, Keystone 12 pack: $3.25, the expression on his face when he was just about to go over: Priceless! Ohhhh---the trail entertainment…hehehe.
Did I mention there were a few ledges????
The 'Moose' gets a good stretch on this ledge...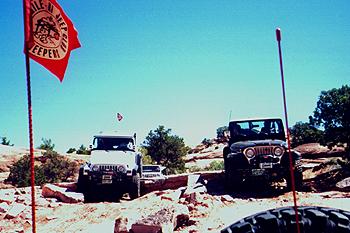 Now, now, there are enough ledges to go around!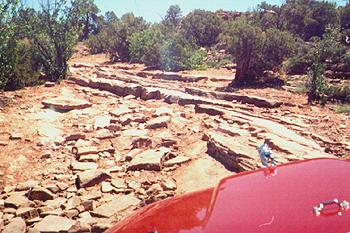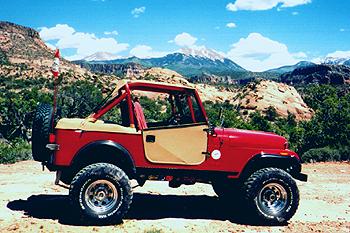 Geeeezzz, these ledges look small, but you still
need to pay attention to them or they will bite your undercarriage...
My 82 CJ7 is taking a break
with the La Sal Mountains in the background...
With a grin on our faces, and wondering if there should be a separate driver license for off-roader, we were off for some more fun. We worked our way around the base of the mesa thru many smaller obstacles to great views of the La Sal Mountains. Following the main trail, we eventually ended up back down into a canyon, and out past Ken's Lake in the southern end of Spanish Valley.
A nice break near the end of the trail with the La Sals...

This last obstacle at the end of the trail requires a steep climb

of about 5 feet just out of the water...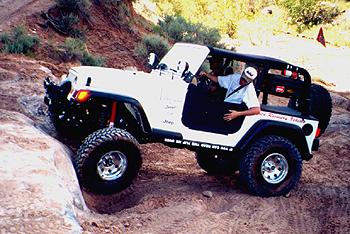 Sean plays on the last obstacle just out of the creek...
We headed back to Moab, fueled up with food, Ice, (some-Ice Cream), showers, and gas, and then met back at camp to swap trail stories. The mosquitoes (though not abundant) were there to greet us and join us in conversation. Everyone had a great day! Steve and Chris (the newbies) did great their first day, and Sean and Scott finessed every obstacle they came across. Molly and I enjoyed doing a new trail, and enjoyed the entertainment on the trail as well.
At camp, I had noticed my front axle had shifted over about an inch to the passenger side, and the passenger Tomken spring hanger bolts were not going to hold (I'm surprised they did for Steel Bender!) for Hell' Revenge the next day. Simple solution right? So, I made plans to go to Moab Off-Road on a Saturday morning when the opened to fix it, boy was that a chore. Note to self: "Don't plan on Moab Off-Road to help you on a Saturday--They don't!!
Bill Hallinan HoboJeepers

Here are some other Steel Bender Trip reports:
Moab Jeep Jamboree 2000 Steel Bender Trail Report: http://www.4wdriver.com/tripreports/moabjj.html
Steel Bender Trail by Dan Mick's Guided Tours: http://www.moab.net/jeeptour/mtsb.htm
Steel Bender Trail by Amazingoutdoors.com: http://www.amazingoutdoors.com/0,2010,S329-P1283-A9730-TA,00.html
Steel Bender Trail by Vintage Broncos: http://www.vintagebronco.com/colobronco/direction/moab00/steel/steelbender00.htm
Steel Bender Trail GPS Map by 4lo.com:
http://www.4lo.com/GPS/gps-steelben.htm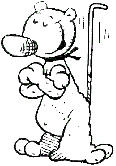 (c) Copyright 1999,2000, 2001 MHJC Patrol One
Jeep is a registered trademark of DaimlerChrysler Corporation