MEMORIAL MOAB 2001
Hell's Revenge Trail
NE of Moab, Utah

On Saturday May 26th, I went into town early to Moab to Moab-Off-Road at 8am when they opened. I wasn't the only one, as I lined up like the doctor's office waiting for help. One by one the guy said he wasn't doing any work today, as all I needed was a couple of new spring hanger bolts installed. "Nope---busy" he says…. Geee for the only 4x4 shop in Moab, don't you think they would staff for weekend breaks?? What I learned: Do not rely on Moab-Off-Road for fixing you on a Saturday! So I made the rounds at every Welding/mechanic shop, and all were closed except Arches Repair on Main. This guy was 'good'; I mean 'good' in a bad way. He basically installed bolts, and didn't straighten my axle because he said my bushings were worn out. Well, $120 later I had my Jeep for Sunday's run that afternoon!
If you ever get to Moab with your Jeep, don't leave until you do Hell's Revenge Trail! This is what Moab is all about 'Slickrock'!! Not having my Jeep, Chris Potter (CJ) graciously offered Molly and I a ride with his brother Craig for the day in his CJ7. The Mad Max Family (TJ), Steve Gilbert (TJ) and Holly, and Sean Tallant (TJ)-now named "Joker" from the previous trail, were on our way to slickrock heaven! About 9:30am, we were off to the Dump-Bump, and the start of Hell's Revenge!
We took the 'shortcut' around the Sand Flats gate, and went thru dry Michigan Lake on up to the fence and took a left following the main trail. After the Easter Jeep Safari, and with Well's book, it's pretty hard to get lost these days. Also, with more tires on the trail these days, the slickrock is becoming more and more blacktop. Please try to eliminate excessive tire chirp around corners and tire slip to help keep the slickrock cleaner.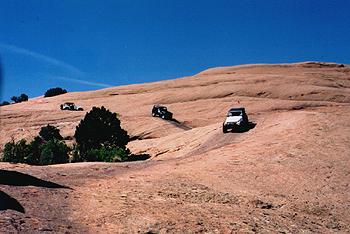 Slickrock everywhere! Here near the start of the trail is a series of descents and ascents...
Following some Jeeps ahead of us built by Avalanche Engineering, we made our way to some mini tubs and the first steep slickrock climb. Chris Potter took his 1st hill climb with ease, as the sure steepness of the grade one would think would be impossible. With the traction the slickrock brings (like one giant piece of sandpaper) it wipes away any previous idea of what your rig is capable of.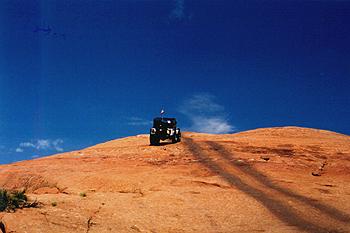 Sean climbs the 'Dome'...
Once you arrive on the top of the 'Giant SlickRock Dome', welcome to Moab, and slickrock country!! Vast mounds of rock lie before you for the rest of the day. Steep hill climbs and descents are the order of the day! The trail is well marked with flames on the trail, though there are many spurs, stay on the flames, and get the full enjoyment of the loop.
Hell's Revenge...a 'must do' on your trail list...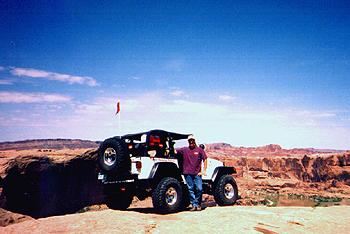 Colorado Overlook...
We moved on to the northeast along the sandy and easy stretch, working our way to the great views at the Colorado Overlook and the 'Hell's Gate' obstacle. Once we arrived, the Avalanche crew were already there and provided us with some nice crawling, spotting, and even a close call for the $60 grand rig as it took to high of a line and leaned WAY back!
Near the bottom of Hell's Gate...a steep v-shaped ravine, where spotting and placement are the key...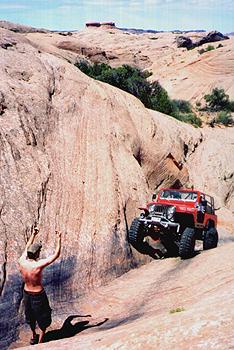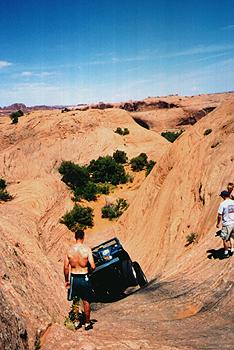 This $60K machine got in a hairy predicament just after this!...
One wrong line results in too much
wheel air and gravity takes over...
We had lunch at the overlook, and Hobos 'Mad Max' (TJ) and 'Joker' (TJ) wanted to give 'Hell's Gate' a try. Mad Max had wanted to do 'Hell's Gate' since last year's Memorial Moab. They both maneuvered down the north gate nice and slow. The south gate is a steep v-shaped ravine, with only one-way up and more. Sean was up 1st, and having a 4.56 5 spd, he maneuvered with the spotting of Scott up the ravine in style! He took a little higher line to the right and got some great air! Scott's TJ being an automatic, also crawled up the steep ravine nice and safe and slow. Scott had been wanting to the Gate since last year's Memorial Moab, a successful run for both--congrats!!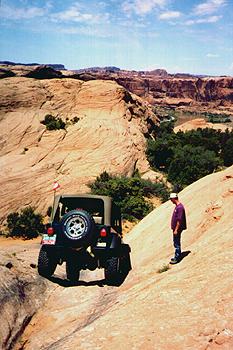 Scott "Mad Max" eases down the north entrance to Hell's Gate...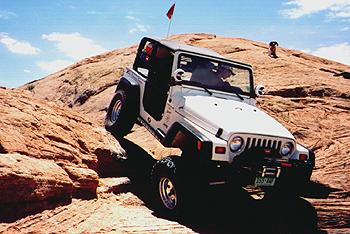 Hell's Gate with some nice wheel travel...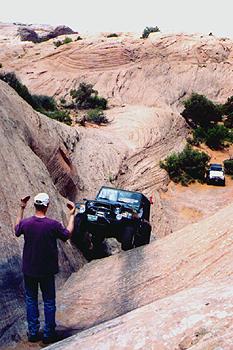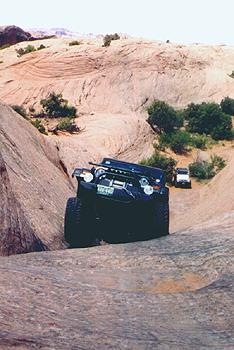 Sean guides Scott up the ravine...
True steepness is always tricky in photos,
as Scott climbs this steep ledge with one tire up...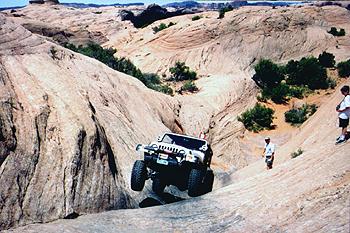 Sean on 3 wheels!!
Heading back from the overlook to catch the loop west, we took a right turn following the flames, and climbed numerous slickrock domes up around 'The Black Hole'. The last turn above the hole is pretty intimidating, with a 200+ drop off. If your steering wheel devilishly turns left on you when you want to turn right, you'll be sucked down the Black Hole.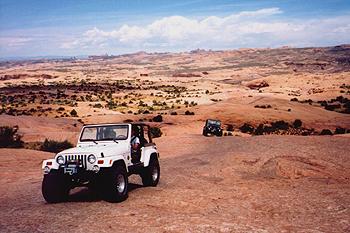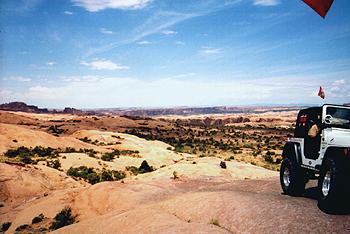 The colors and scenery 360 degrees is spectacular!!!
Back up on the ridge, it's all slickrock!
At the ridgeline above the Black Hole, a few tubs are scattered along the ridge. We all ran thru the furthest west tub, then following the flames, came upon the Mickey's where more trail comedy was waiting for our camcorders and cameras. Everyone had a great time going down and up the tub!
Potter's CJ comes out of the tub...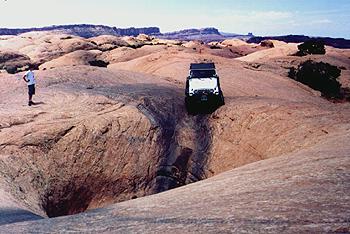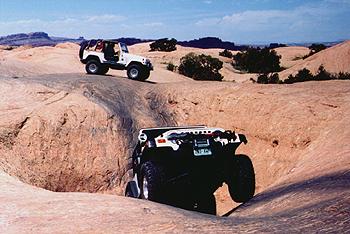 It's a steep drop in and a steep climb out...
As Sean shows us in style...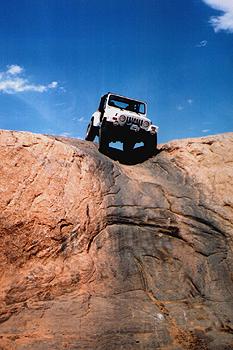 Steve 'White Moose' Gilbert with some wheel flex descending into the tub...
Last year on Poison Spider to Gold Bar, we had the privilege of witnessing the same guys on Double Whammy. For sake of names, we will call them 'Dumb and Dumber' (no offense of course...). They are from Meeker, Colorado, but you would swear the license plates and the Jeeps were from the back roads of Arkansas. I don't really know how to describe their Jeeps, other then to say they are unusually stock, rusty, and a bit tired (like an ole' mare). 'Dumb' is the older (but not wiser---picture Santa Clause in suspenders) of his son ('Dumber'-looks a lot like a Dukes of Hazzard extra).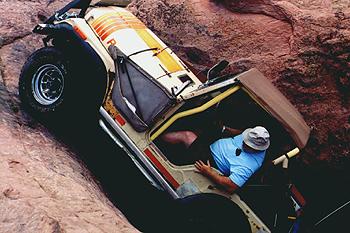 A picture is worth 1000 words...
We arrived at the 'Tub' first, but none of us had plans to do it, but we knew this rare glimpse at 'what not to do' comedy was right behind us. 'Dumb' had the classic quote of the day, after we were all standing around looking at the tub, he waves his hand at the tub and shouts (insert hillbilly accent here) "Well,,,,, I'm tired of lookin' at it!!". So he gets in his ole' 'Betsy' of a Jeep and creaks and scraps his way down into it. Turn on the camcorder boys and girls, grab the popcorn, and get the cameras ready---cause now the trail comedy begins!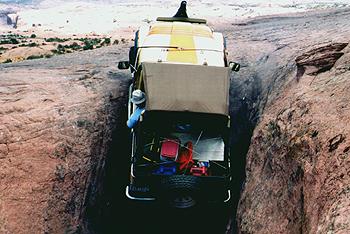 Imagine this sound: "urturturturuturturturt", while he sits suspended just spinning his wheels
and burning a few hundred miles left on already bald tires...
The other side of the tub is a steep wall that is coated with rubber from tires and fluids of all kinds. He tries to climb the wall, and gets ¾ of the way and just spins his tires for a good 10 seconds in suspension. Not being able to make it, he stops and slides down scraping and hitting his rear bumper, side corner panel, and front shackles and bumper. Had enough? "Heck no!!" As he back down and fluids go everywhere. He checks out the fluid he has left all over the wall and says "oh,,,, it's just motor oil".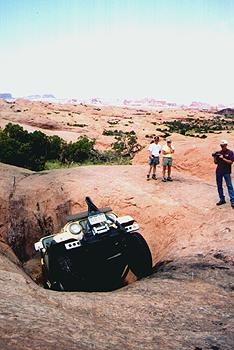 Don't worry, he never got out on his own, note-Sean is in 'recording mode'...
He tries another few times with the same reckless result, each time hitting all the same parts sliding down into the tub (even sideways!). So he tries to back out, nope---his rusty Olympic rear bumper won't let him! hehehe Oh the humor! This was the highlight of my day! Better then the 'Keystone Cops' from Steel Bender the day before!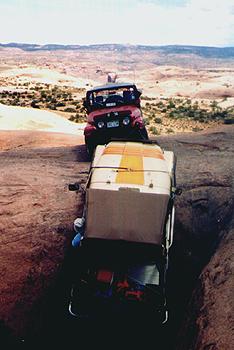 What you can't see, is a sharp drop of behind the red Jeep,
and inches to spare when 'Dumb' guns it out of the tub.....a 'classic'.
On comes 'Dumber' to the rescue with his Jeep and a winch from the 60's. He sets up at the top of the tub with just enough room for his Pa's Jeep to fit and lowers the winch cable. He winches Pa up and 'Dumb' guns ole Betsy to within inches of 'Dumber' bumper (one tap and Dumber would go off the other side!). Now that Pa couldn't get out (had ARBs in front I heard), 'Dumber' in his stock Jeep decides that he could do it. He lines up and scraps into the tub. Well, surprise-surprise he doesn't climb the wall either!
After a few more reckless attempts, he breaks his engine mount getting sideways and tweaked. The classic finish to this story is when he opens his hood, he had a shovel bungeed on to his master cylinder, and the Moose enjoyed that one. Ahhh, with Dumber (who I heard is a Mechanic-go figure) in the tub (mind you it was 90+ degrees) fixing his engine mount, the show was over. 'Dumb and Dumber goes to Moab', I would give it a strong 2 thumbs up, a must see trail comedy----coming to video in August.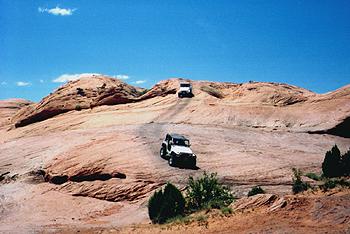 Coming off the ridgeline down a steep drop...
So how do you top that? Oh the humor in it all, it makes anyone feel more like a 'responsible' Jeeper. We headed off the steep decent off the ridge and up the valley to the west over to the 'Tip Over' challenge. With a series of ledges, and an off camber ledge near the top, tire placement is key. Sean, Scott, and Steve all make it up nicely.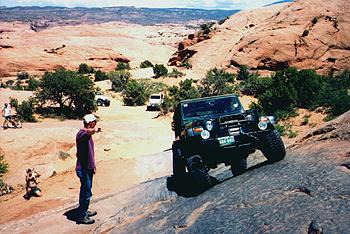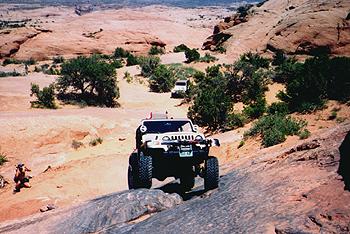 Scott at 'Tip Over' looking level as ever!
Sean takes the correct line with no trouble...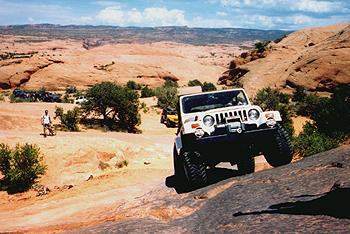 Steve takes on 'Tip Over' like he's done it before...
We headed up the hard rocky left to the ridgeline and off to descend to the backside of Lion's Back. Everyone negotiated the tippy lean spot and we stopped for some great articulation photos off the last obstacle. Through the sand and back on pavement…. Hell's Revenge is all that!!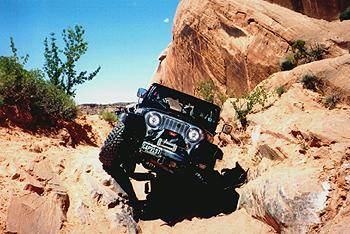 Potter takes his CJ high to the right to avoid the rocks on his left...nice shot!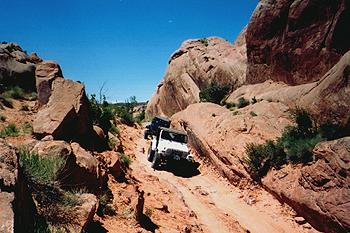 Working thru the 'last' obstacle after a great day on the slickrock!!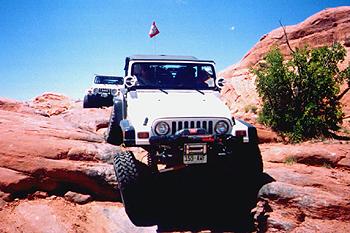 Sean flexing one more time...
We headed over to 'Potato Salad Hill' to witness some carnage. There was an older Ford F-250 who was trying it and finally gave up. We headed into Moab and straight for the Fruit Juice bar for some smoothies! I picked up my Jeep from Arches, and all they could do was put 2 new bolts in, but could not line up my axles. It was good enough for Poison to Gold Bar, that's all I needed for $120 bucks! Back at camp, the talk of the day was our friends from Meeker, hehehe.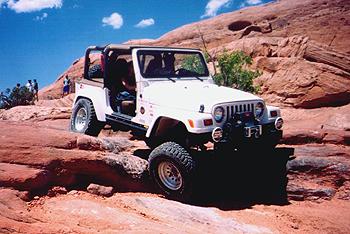 Da Moose's hoofs on all 4's...
Bill Hallinan HoboJeepers

Here are some other Hell' s Revenge Trip reports:
2000 Hobo Fin's and Things/Hell's Revenge Trail
2000 Hobo Hell's Revenge Trail 110%
1999 Hobo Hell's Revenge Trail
Hell's Revenge Trail by Mike Millen: http://www.moab-offroad.com/EJS98/98Trails/HellsRevenge/
33st Annual Easter Jeep Safari Hells Revenge by Flatlander: http://www.4x4now.com/33jshr.htm
30th Annual Easter Jeep Safari Hells Revenge by Flatlander: http://www.4x4now.com/hr.htm
31st Annual Easter Jeep Safari Hells Revenge by Flatlander: http://www.4x4now.com/31jshr.htm
Rockcrawler's 1998 Hells Revenge Trail Report: http://www.rockcrawler.com/trailreports/moab98/friday/friday.htm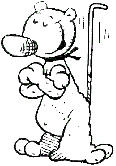 (c) Copyright 1999,2000, 2001 MHJC Patrol One
Jeep is a registered trademark of DaimlerChrysler Corporation