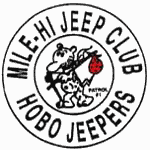 September 2000

Hobo articles
represent the previous month's activities, and are published in MHJC's "Jeepers In The New's"
September, Already? Geeeeezz, how has a summer of jeepin' goes by so fast! In a few weeks the Aspens will be turning, and the lull of another winter won't be far behind. You still have time though…the first high mountain snows may not come till late October. Sit back in your favorite easy chair, cause I have way too much to tell ya. We hope your summer is as fun as ours was/is, as the trail season winds down for 2000. Let's all close out the trail season in style at the Aspencades 2000 at the town of Tarryal. Other then All-4-Fun, it's a MHJC event to "hang" with your fellow members. August is prime jeepin time, especially with All-4-Fun the 1st week every year.
The following text is taken from the All-4Fun 2000 report:
All-4-Fun, spelled backwards is Fun-4-All. That's what the week is all about, fun for the whole family, and fun for jeepers of all skill and rig levels. Held every year by the MHJC during the 1st week in August, a different town in Colorado is chosen to host the event. For 2000, it is Central City. A historic mining town in it's hay-day of the 1890's; it's located about 40 miles west of Denver in the Foothills. Once a sleepy town, Central City was rejuvenated in 1990, when legalized gambling was voted in. Today, it seems a little quiet again, due to the build up of bigger casinos in neighboring town of Blackhawk down the hill.
This year, the 34th Annual MHJC All-4-Fun Central City played host to about 285 registered wheelers from Sat July 29th to Sat Aug 5th. Along with some 85-100 MHJC members, well over 1000 people attended the weeklong event. Each All-4-Fun every year would not be as successful as the last without the long hours of support and help of each committee member doing their part. Thanks to all, and especially Chairs John and Stephanie Flesner (Fugowies), who can now sit back and accept this congratulations. The "saved our a%$" award goes to the last minute heroic efforts of Jim and Paula Provence (Fugowies too!) with getting a year's worth of door prizes in 2 weeks, and having still over 40 left over!! Their effort, and the effort of everyone else is what makes it worth while when you see smiles on people's faces all week long.

MHJC's ALL-4FUN 2000 Central City was a great success!!
Jeepers from all over the country (farthest this year was from Mass) come to enjoy a week of jeepin' (5 days), and the social functions held every night under the big top year after year. This year in Central City was no exception, Sat. night: Orientation Night, Sun. night: Central City Appreciation Night, Mon. night: Land Use Town Hall Night/Poker Run, Tue. night: Bestop Ice Cream Social/Comedian Singer, Wed. night: BBQ/Show-N-Shine/Kids Games Awards, Thur. night: DOOR PRIZE NIGHT, and finally, Fri. night: Warn Night/BBQ/Live Band til midnight.
So, as every night was planned, all you had to do was figure out from the 14 or so trips run each day (except Wed.) which one you wanted to do! I was a trip leader all week and lead 4.5 trips to some great trails (Sunday: Coney Flats Trail, Monday: Caribou Flats Trail, Tuesday: Kingston Peak/Yankee Hill/N. Clear Creek (709.1-down) Trails, Thursday: N. Clear Creek (709.1-up)/Kingston Peak/Yankee Hill, Friday: Jenny Creek (tail)/N. Clear Creek (709.1-up-lead), do you see a trend here?
As far as camp stories, I won't go in specifics, so I'll be brief. It was so nice to visit other patrol camps (P8,P11,P7,P12,P14), and other camps from other visiting jeepers. Everyone was so upbeat and in a great mood all week. Was it the beer? Nope, just friendly people, all with the same hobby-jeepin'. After a long day on the trail, it was great to hang and swap trail stories. Since there was a fire ban on open fires, some portable propane campfires were a hit with everyone.

Parade's and Trails..."FUN-4-ALL"
Wilma Davis was always there if you needed some frozen water, and you did if you left your ice chest in the sun on the asphalt like I did. Rob of Ft. Collins 4x4 was on hand once again to help out anyone in need of repairs. Discount Tire and BF Goodrich were also on hand every day for free "Ride and Drive" tires. Thanks to Brian and Margie Hoag (Trail Bosses) for organizing trips everyday, and making the Trail Leader's job easier.
As the token Hobo for the week, I headed up to Central City on Sat July 29th to the All-4-Fun site I hadn't seen yet to set up the tent trailer. I was pleasantly surprised to see most all of us were all camped in large shuttle paved parking lots, a far cry from last year's All-4-Fun in the Fairplay mud bath! Now being prepared, I had to figure out what to do with my green patio roll, and all my other dust/mud proof items. Yes, it did rain, but it was nice to be able to look under the Jeep dirt free too. Perched high above Central City, the site had great views of the Foothills and the Front Range. John, thanks-you picked a great site!

On Sunday July 30th, I got up and ready to head over to the staging area for my 8:30am trip to run the Middle St. Vrain/Coney Flats Trails. As this was the 1st day for trails, everyone was ready for a great day of scenery and rocks (of which we had both). Some 20-odd jeepers lined up behind me in the staging area, and we pulled out at 8:30am and headed up HWY 119 for a 30-mile drive to the trailhead. Being the furthest most Northern trail to run, we finally started up the trail after airing down about 10:15am. I aired down my 33's to 18 for the week. Riding along with myself (and my jeepin-sidekick Molly) was Bobbette Matthews who kept us company. As Coney Flats is known as a "bumpy" trail, she took every one and still kept smiling. She has a 2000 TJ, so she understands the "Jeep Thing".
Middle St. Vrain/Coney Flats Trails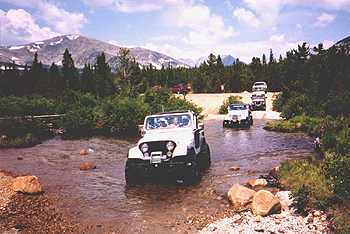 Once on the trail, your speed right off is dictated by the size of the rock you are about to go over. From fist-size, to boulder sized (about 18"), there was defiantly no shortage of rocks on this trail. The trail follows up the drainage of the Middle St. Vrain Creek. There was no real obstacle to really stop and guide people over, but many little rock fields, which left un-attended by the driver, could easily dent a diff cover or a skid plate. To my pleasure, I didn't have even a minor breakdown. I prefer not to use or hear the "B" word over the CB. So, sorry no really cool trail fix stories for me to tell ya on this day.
After about 2 miles of rock fields to drive thru, we reached the end of the Middle St. Vrain Trail, and took a break next to the Middle St. Vrain Creek. At the start of the Coney Flats trail is a hillside climb, which for stockers poses a challenge to maneuver up and over. Once on the "Flats", a nice set of boulders keeps you on your toes, as your mind is calculating where each diff and every low spot on your undercarriage is to avoid collision. Just past the boulder fields, we came across Coney Creek, and had lunch at a small lake with excellent views of the Front Range and 12,300' Sawtooth Mountain in the background.
Being about halfway thru the run, more rock fields await. Yep, if you like rocky trails then do Coney Flats. Just when you get a break and the trail smooths out for a few yards, another little rock field awaits around the corner. But hey, that's why it's a jeep trail, and that's what makes the day so fun. Driving in low gear over rock after rock is much more fun then burning up my clutch in 1st gear on I-25 at 4:46pm every day!
Without a breakdown, and with a big smile on our faces, we all came off the trail at Beaver Res. to unlock and put on disconnects. We all stayed together til the small town of Nederland as we got gas and groceries. Seems Central city has no grocery store, hardware store, or even a gas station. But hey, the do have gambling?? The Central Palace Casino gave out free prime rib dinners from 4-11pm to all All-4-Fun participants on Sunday night. So of course it was packed form 4-6! That night at 7pm under the big top, Jeff Carr and Jim Provence handed out door prizes donated by various businesses in Central City and Idaho Springs. Thanks all for a great start to All-4-Fun Central City 2000 with a run over Coney Flats!

On Monday July 31st, begins with the traditional line-up at the staging area. If you were lined up at (9:30am on staging line C, you were going to run the Eldorado Mountain/Caribou Flats Trails ("North and Left" on trip board) just north of Eldora that day. I led some 13 jeeps out of the staging area at 9:30, along with myself (and my jeepin-side kick Molly), was Bobbette Matthews who also helped me with directions, as I had never done the trail before.
Jeepers for the day included Dick Dillon-Commando(CO), Scott Dillon-CJ5(CO), David Guthrie-Cherokee(IND), Scott Marshall-CJ7(OR), Chuck Wilcox-Bronco(OR), Ollie Rigdon-CJ7-"Sourdough"(OR), Shaun Hathaway-XJ(UT), Brandon Winchester-YJ(CO), Cory Moul-Toyota Pickup(CO), Gary Moul (All-4-Fun 2001 Chairman)-Mazda B2000 pickup(CO), Tom Mathews-Cherokee(FL), Grant Goble-Bronco(CO), and Ashley Goble-CJ7(CO).
Eldorado Mountain/Caribou Flats Trails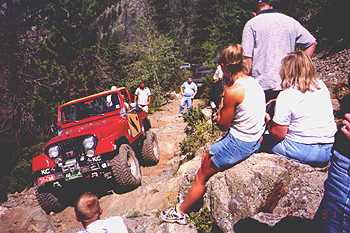 We headed up Hwy 199 north out of Central City on up to the small town of Eldora. I missed the trail entrance, so here are some directions. Once you get to Eldora stay straight and take the dirt road to the Hotel and turn right. Take another right and take a small road between a house and a garage (Yes, that's a public road). Your there, that is the start of FS 505, which will be your friend for the rest of the trip. Put it in 4WD, cause your wheelin' right at the trailhead.
Right away the road is ATV size, with tree/bush limbs overhanging into the road. On your right is a drop off, and your left is a steep hill. We worked our way along the shelf road to a small off-camber obstacle. Too far to the right and you will encounter some brush downhill. I thought that was the "obstacle people were talking about, well I was wrong. Just up the road was the "obstacle". With only 14 vehicles, it still took us over an hour to pass thru it. I took the far right line, and come to find out, the best line is far left. We had a few tense moments with a CJ7 too far right, but after moving over it made it thru. Gary Moul's B2000 truck was a different story. Trying the right line, he couldn't climb the small ledge rock being stock, and got sideways to far to the right. We got a come-a-long and move him over 3 feet, then pulled him up over the small ledge. After some more rock stacking, we all made it thru safely.
The trail runs up the side of Eldorado Mountain until you level off at about 9,600' into some dense trees. Not knowing where to have lunch, and it was past 1pm; we stopped in the trees for lunch. Just a mile up the road, the trees fade away, and some great views of the Front Range can be seen. We stopped at a saddle near Klondike Mountain for a group photo. With all the fires going on in the West, it seemed a bit hazy then I've seen in the past, but scenic none the less.
Heading north, and staying on FS 505, the trail runs thru the ghost town site of Caribou. A county road to the East will take you down thru Cardinal. The trail is easy from here, with the occasional rock or two. Soon we met up with FS road 298, and back on 2WD dirt till the restrooms trailhead down near Hwy 119. It was another great day of jeepin' at All-4-Fun 2000. No breakdowns, or lost of jeeps or trucks off the hillside. Just a few battle scars on some, but overall a big smile for a fun day.
Though Scott Marshall of Portland, Oregon, lost his u-joint on Hwy 119 up a switchback heading back to camp. He took of the drive shaft and ran back to camp in front-wheel drive. Rob at Fort Collins 4x4 fixed him right up the next day. We all got gas in Nederland, and headed back to camp for the Land Use Meeting or the Poker Run in Central City.

On Tuesday August 1st, I was ready to go and led a trip over the Kingston Peak Loop Trail/Yankee Hill/709.1 Trails. We all assembled on Channel 12 at the staging area at 8:30am. The trip introductions did take awhile with 24 rigs. Jeepers for the day included: Craig Stunibough (CJ7), Mike Golly (CJ7), Ken Kinnison (CJ7), Elaine Allbrant (TJ), George Kinnison (CJ8), Dick Block (CJ7), Scott Marshall (fixed CJ7), Bruce Jones (Toyota), Gary Underhill (YJ), Dick Boyce (Jeepster), Jim Priest (CJ5), David Guthrie (Cherokee), Dave Piler (YJ), Steve Mcalister (YJ), Dave Golubosky (CJ5), Steve Rivera (Cherokee) and Eric Schmoutz (Ranger)-"Discount Tire Mobile Team", Craig Eggerman (XJ), Singleton (CJ7), Eslick (CJ7), Martin (CJ7), Jim Partridge (CJ7), and my tail end-Walt Gilbert (YJ).
Having done the trail twice already this year I was confident. Well, nothing like getting to the end of a trail and seeing "no trespassing" signs and no more road with 24 jeeps behind you. The reason I took a road I didn't know about was I was looking for the same small fun trail I had done last year, except I had never looked for it from the north. So, with my head between my tail I took the obvious route along Apex and up to the James Peak switchback and the 1st small hill climb. We all traversed across the 11,000'+ tundra to the second steep hill. Everyone made it up it, and we stopped at the "Rock House" to stack a rock and have lunch.
Kingston Peak Loop Trail/Yankee Hill/North Clear Creek(709.1) Trails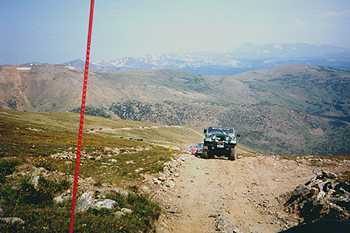 Since we were blocking the road with 25 jeeps (Note: we stayed on the trail to park OFF the tundra), we blocked the trail for 2 other SUV's coming up. Well, seems the Rodeo had a hissing sound coming from it as it approached me (I was going to ask them to wait 15 minutes or so). Come to find out, the hissing was coming from his tire and then it was flat. The guy didn't have a key for his locknut, Hummm what to do? Come to find out Steve and Eric of Discount Tire were with us on the trail and jumped right in to help. I'm glad they did, cause the trip wasn't going anywhere until the tire was fixed. About 30 minutes later they had the guys tire changed, and we were on our way down the mountain (just in time, as a storm approached).
Once off the switchbacks and down into the summer town of Alice, I gave people the choice to head down to Idaho Springs, or do some more wheelin. Only 2 bailed, so we went up to run up and down Yankee Hill. The hill is a steep loose mogally run, quite the challenge if your stock without disconnects, but a fun crawl with articulation if your set-up. I knew where the trail was from the southwest, so we headed down FS 709.1 trail as I tried to redeem myself for the wrong turn in the morning.
This trail is a kick in the pants, it's a small ATV-like trail with rocks, water, and tight tree-line turns to keep your attention. Problem was, I had seen a gate on the Apex road in the morning, and so I didn't know if we would be able to get out, or be stuck at the gate. After the fun part of the trail, we took a right and headed down towards the Apex road. I went ahead and found the road and the gate (nothing more then a chain-not locked), and the landowner waiting for me.
I explained I was lost and had 24 jeeps up behind me lost too...haha. His trailer was just broken into, so he was just worried. He did let us pass thru for more access on Thursday and Friday. Everyone made it out ok, and glad we ran that 709.1 section. I liked it so much; I planned on leading a trip up it on Thursday, and integrating it into the Kingston Peak Loop. On a side note: Eric Schmoutz of Discount Tire went on a night run that night, and rolled his Ranger on it's side. Eric was ok, though his Ranger was not-"Better Get Maaco". On back to camp for the Tuesday night Bestop Ice Cream social at 6pm, and a funny comedian/singer who entertained us for over 3 hours of fun!

On Wednesday August 2nd, is the traditional Manufacture's Day. A day of food, fun, manufactures, and games! The day starts off at 9:00am with a parade thru the sleepy town of Central City. We all parked downtown and had our picture taken filling up the street. Once back at camp, I parked my CJ7 with the others in the Show-N-Shine (from 11am to 2pm), and proceeded to check out the many manufactures booths under the big top (from 10am to 3pm).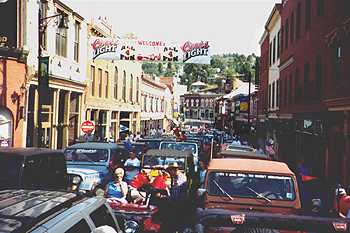 Kevin Carter and Jeff Fish of the Kid's Games Committee entertained the kids from 11am to 1pm. All the kid's got to participate in many skill 4WD related games in hope of a trophy that night, and it looked like they had a blast. Free beer and a BBQ were close at hand from 11am to 4pm. A thunderstorm rumbled in about 2pm, but soon moved off and the sun was back out again. The MHJC BBQ committee headed up by Jerry Ross started serving a yummy dinner at about 6pm, and the awards were handed out under the big top at 7pm. Yep, a full day I'd say. It's a nice break from jeepin', and always a fun day at every All-4-Fun I've been too.

On Thursday August 3rd, I was ready and anxious to run "up" 709.1 trail and bring 23 fellow jeepers with me to join in the fun. About 10 of them were from the Bullhead 4Wheelers of Bullhead City Arizona, a great bunch of folks! The official trip was Kingston Peak, but I renamed it to include North Clear Creek-709.1 (up)/Kingston Peak/Yankee Hill Trails. Some 20-odd jeeps pulled out of the staging area ready for a great trail in 709.1, and some tundra scenery of Kingston Peak. We headed up the Apex road, and went thru the private gate (a chain link) to which we got permission on Tuesday. Please do not access private land without asking first. We stopped for a 10-100 and to organize, and we were off to the 709.1 trailhead. This trail could also be named North Clear Creek, since it runs along and in the trail.
We reached to fun and locked in the 4WD for some fun wheelin'! Right off the bat is a small boulder field, which turns into a small hill climb and more rock fields. It's a good ¼ mile of real jeepin, then you reach FS road 175.2 and stay straight for more ATV-like wheelin'. Now, you climb out of the valley with a jeep width's to spare as you avoid the numerous trees close to the trail and climb rock fields up steep hills on up to the saddle.
North Clear Creek-709.1 (up)/Kingston Peak/Yankee Hill Trails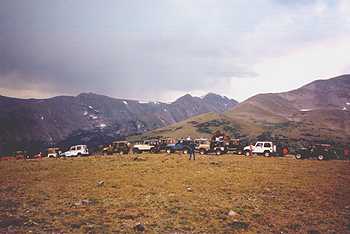 Once at the saddle, I led the group over the East side of Kingston Peak, and the tree-lined trail we took over the Hobo Run 2000. Not to technical, but a challenge to avoid trees and Rocky Mountain Pinstripping". The trail crosses a few creeks and reaches the north end and a climb up to FS 353 and the main road around Kingston Peak. We all had lunch at the Hobo Run lunch spot at 11,500'. Ready for more, we trekked out onto the shelf road, and into the tundra with views of the Indian Peaks along the Front Range to the north.
A small hill climb past the James Peak switchback, and we were at 12,100' and could now see south to 14,000'+ Mt Evans, Georgetown, and much more. We all stayed on the main trail, being very careful to "tread lightly" and not use the alternate non-rocky parts of the road like many do. In time the road will be so braided, the FS will soon close it down, so please stay on the main road at all times. The hill climb below the Rock House is steep and loose. Everyone made it up it and we all stopped to stack a rock and a group photo at the Rock House. After coming down thru the very old Bristle cone Pine forest, we all made it down to Alice.
As on the Tuesday trip, I offered to take anyone to do Yankee Hill, and run back down the 709.1 trail, and all the Bullhead 4Wheelers were in. We climbed out of Alice, and climbed up Yankee Hill. Once at the top, one of the Bullhead 4Wheelers with a YJ's fan was rubbing against his radiator. Come to find out, the left engine mount bolts had come out and the engine had shifted. They were able to jack up the engine and put in 2 of the 3 bolts in just to get down.
So, since the main group was together, I decided to head down to Idaho Springs via Fall River Road and get gas too. Heading back to camp, one has to drive the steep dusty (with no guard rails) "Oh My God Road" back up to camp. That night at 7pm sharp, Jim Provence and Jeff Carr were ready to had out over 340 "NICE" door prizes to registered jeepers who were present. How long does that take? Well, at 11:45pm we had the raffle, and these guys were working as a team too…well done door prize committee!! I got my $20 worth of Children's Hospital raffle tickets, and not a one even came close. Who cares, it's all for the kids. Another fun night under the big top!

On Friday August 5th, was a sunny All-4-Fun morning, and great jeepin' weather for the last ride of the week. I signed up to tail Brad Pero's trip up the Jenny Creek Trail. We all headed north on Hwy119 on up to Rollinsville and made a turn east towards the Front Range and the start of the Moffat Road. The Moffat road is the old railroad grade that isn't maintained anymore that leads up to Rollins Pass. We "chugged" (chugged-get it?), up the road about 5 miles to the trailhead. All 20-odd jeeps locked in and headed out on the trail.
The trail starts with a tight tree-lined trail section down to an old bridge and the Jenny Creek crossing. Brad got his YJ stuck between a rock and a hard place and we needed to move the rock so he could move. A series of boulders and a hard left challenged everyone just after the stream. We jeeped on up thru rock fields, thru Jenny Creek, and on to a lunch stop in the trees. The trail winds up Jenny Creek, literally it does. A tight set of trees test the power steering pump as you maneuver around them. With Detroit's, I of course had to back up a few times.
Jenny Creek Trail/North Clear Creek Trails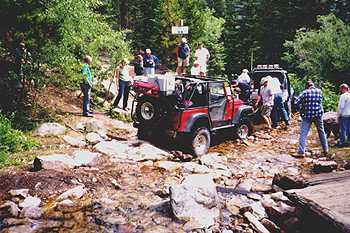 The trail is a fun trail and well worth the bumpy 2WD drive up the Moffat Road. I wish Colorado had more real Jeep" trails like this one. Unfortunately these are the ones that fall less then 52" wide and are vulnerable to road less status. We ended up at Yankee Doodle Lake just below Rollins Pass, and I suggested since it was still about 2:30pm on the last day to run up 709.1 trail. We all agreed and headed down the Moffat Road thru Tolland and up County rd. 4N to Elk Park. We did want to get back to camp by 5pm though.
I had never been down to the North Clear Creek (709.1) trailhead from the north but found a cable "gate" that wasn't locked and had NO no trespassing on it. Once we headed down the valley, no trespassing signs were posted, so we stayed on the main FS 705.1 (it says it on a carsonite sign at the bottom-looking back up). I found the trailhead and the fun begins once again. I won't go over the specifics since this is the 3rd time you've heard me on it, but two words: ""A Blast!" Ask Brian Hoag; he led a trip that same day up the trail in the morning. We reached the saddle again, and instead of going west we headed east towards camp thru some easy to moderate jeep trails all the way down to the cemeteries above Central City. A great way to end a fun-fun week of jeepin along the Front Range!
Once back at camp, the MHJC BBQ, free beer, and the band (which played last year in Fairplay) started up at 6pm as part of Warn Night, sponsored by Warn Industries. During intermission, a 9500i Warn winch was given out by Harold Ogden of Warn, and the band played on till midnight.
By Sat August 5th at 11am, the parking lots were almost empty, as jeepers would make their own treks back home. Everyday of the week, either on the trail or in camp, was a blast! A toast to the hosts and the guests for another successful All-4-Fun 2000!

On the weekend of August 12th the HoboJeepers camped and jeeped near Kenosha Pass among the cool aspens. Two trails were planned: Saturday was Red cone/Radical Hill/Middle Swan/S.O.B. Hill/ and Georgia Pass Trails, and Sunday: Twin Cone Trail. Scott "Mad Max" Maxwell put together a trip report covering the weekend. Here is his report: "Friday night found Hobos Bill Hallinan (CJ) and his jeepin-sidekick Molly, and guests Bobbette Matthews-who drove (TJ), son Thomas, and daughter Cathrine; Chris Vieth (YJ); Scott and Janet Maxwell (TJ), with sons Tom and Pete, and guest Jessica Schnabel from Germany snuggled in for a chilly August night at Kenosha Pass."
"On Saturday August 12th, Pete Ramirez (YJ) and his buddy Mike who recently relocated from Florida joined us in the a.m. as we aired down and headed out to run Red cone/Radical Hill/Middle Swan/S.O.B. Hill/ and Georgia Pass Trails. The day started out drizzly, and was only a sign of what was to come. As for Chris Vieth, it was his one year anniversary of running Red Cone and his first 4 wheeling adventure. The trail up Sawhill Gulch was scenic and contained some rock fields, with lots of fun had by all on the obstacles. A small steep hill climb tests your carburetor at high altitude. The Red Cone 12,800' summit was reached without much ado, as we were joined by another MHJC member (Jeff Mullin) at the scenic viewpoint."
Red cone/Radical Hill/Middle Swan/S.O.B. Hill/ and Georgia Pass Trails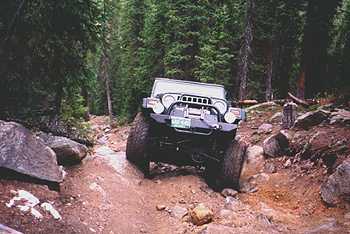 "While we all enjoyed the spectacular views and inspiring colored rocks as we contemplated the infamous descent from Red Cone. Bill commented that the moguls were growing larger and more intimidating as the years go by. We all managed to slip and slide our way down with ease with even Janet taking a turn at the wheel. She reached the bottom uneventfully except for the ear to ear grin and shaking knees, as she stopped (or was stuck) at one of the moguls."
"We proceeded down to Webster pass thru some smaller steep moguls, stopped for a quick break to repair a downed barricade, and stopped for lunch at the bottom of the hill. The afternoon started with Bobbette's new TJ sidestep taking a beating on one of the obstacles at the bottom of the climb up Radical Hill, which is quit interesting. It's easy to see where the name comes from. The narrow ledges and loose scramble to the top got the adrenaline flowing. While on top we spotted two of the local mountain goats. Peaks back at Red Cone revealed several more groups making the trip, with the Hobos thankful for our early start and beating the crowds."
"Heading on down the hill we stopped to scout around the ruins of the old mining cabins. Bill pointed Chris and Scott in the direction of S.O.B. hill. The rain slickened rocks provided a fun run up and back run with Chris making it look easy. Did I mention rain? Then the clouds that had threatened all day opened up and we were treated to a nice soaking. We headed down the Middle Swan drainage as Pete and buddy Mike departed at the bottom of the hill for the nearest gas station, as they were running empty, and a return to Denver. The rest of the gang headed up over Georgia Pass and into Jefferson for gas. The Georgia Pass road starts out easy then gets a little rocky towards the top. All the time up, it was raining, did I mention that yet?"
One important sidenote: We were in the same area Mike Lane rolled his CJ7 and lost his life that day above the Middle Swan and Gibson Lake. We opted not to run Glacier Ridge due to the rains and possible mud sliding on the off-camber trail. Please be safe wherever to ride. ALWAYS STAY PERPENDICULAR TO THE SLOPE. Don't take chances with your life, say NO "it's not safe", if you have a choice, and YOU DO-your buddies will understand.
"Guests Bobbette, Thomas and Cathryn headed back for Denver in their TJ. After savoring La Popular's famous pork tamales, guest Jessica and Tom called it a chilly night and headed back for town as well. Too bad they weren't equipped with the security code to the Maxwell's home alarm system, but then that's another expensive story. Chris's tent got a little soaked from all the rain we had, and decided to head back to his cozy bed in Denver. So, it was up to Scott and Janet, and Molly and I to run Twin Cone on Sunday."

"On Sunday August 13th, treated us to bright blue skies with nary a cloud to be found. Bill, sidekick Molly, Janet, Scott and son Pete got an early start for the Twin Cone Peak Trail. The trail winds thru some easy rocky area on up past some aspen groves. Once near timberline, the obstacles appear, and are fun to run. After photo ops on the obstacles and setting up a make shift rock barricade on a newly opened trail on the tundra we reached the summit of Twin Cone Peak at 12,319'. The 360 degree views from Mt. Evans through all of South Park and the collegiate range were spectacular backdrop for brunch."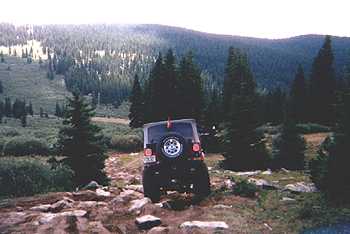 "We watched some young idiots in Dad's Cherokee racing and pogo hopping up the hill. With a three-point turn on the hillside that nearly ended in the roll they proceeded around our barricade and charged on up the mountain. We proceeded to give them a few pointers on treading lightly and respecting the mountain. On the way down we stopped and chatted with Jon Jon from BigOffRoad.com who was trying out his newly constructed rig and then wandered on down the hill and back to camp. All in all it was a great trip and we had the opportunity to share some great wheeling and with some great guests." "Jeep Jeep" Scott "Mad Max" Maxwell.
This month, we have plans to run Battlement Mesa, North Clear Creek/Aspen Loop, Pickle/Miner's Gulch, and of course the Aspencades 2000 sponsored by MHJC's Patrol 5 at Tarryal, over the 23rd weekend. So get out and take a look at the aspens as Fall will soon turn to Ole' Man Winter.
See ya on the trail, "Jeep, Jeep"
Bill Hallinan HoboJeepers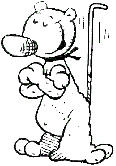 (c) Copyright 1999/2000 MHJC Patrol One
Jeep is a registered trademark of DaimlerChrysler Corporation