PATROL ONE OUTINGS
NORTH TWIN CONE PEAK TRAIL
Near Kenosha Pass, Colorado
On Sunday August 13th, treated us to bright blue skies with nary a cloud to be found. Bill with his sidekick Molly, Janet, Scott and son Pete got an early start for the Twin Cone Peak Trail. The trail winds thru some fairly easy rocky areas on up past groves of aspens. Once near timberline, the obstacles appear, and are fun to run. This trail is adopted by the Colorado Go-4er's 4x4 Club out of Colorado Springs.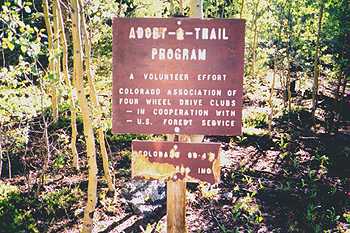 Colorado State Associations "Adopt-A-Road" programs
keeps trails like Twin Cone maintained and open.
This trail is adopted by the Colorado Go-4-er's.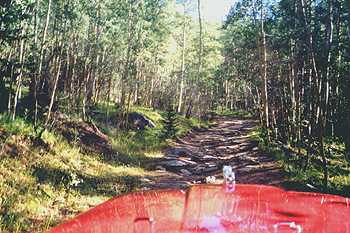 The trail starts with some small rocky sections thru groves of aspens...
The obstacles would be much more challenging in the rain. A fun steep rock hill climb before the "Lunch Rock" would be fun for a stocker. After photo ops on the obstacles and setting up a make shift rock barricade on a newly opened trail on the tundra, we reached the summit of Twin Cone Peak at 12,319'. The 360 degree views from Mt. Evans through all of South Park and the Collegiate Range off in the distance, were a spectacular backdrop for brunch.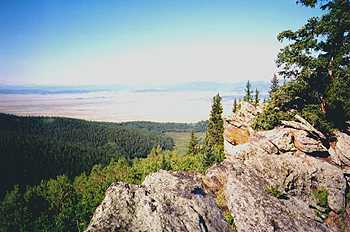 Great view from right off the road looking south-west...
| | |
| --- | --- |
| | |
| Seems my TJ has flex-appeal! | I ease over this obstacle easily with an automatic... |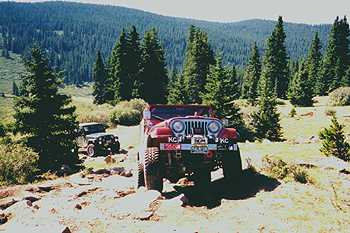 Hobo Bill eases thru as this last obstacle challenges even one with lockers to avoid a diff collision...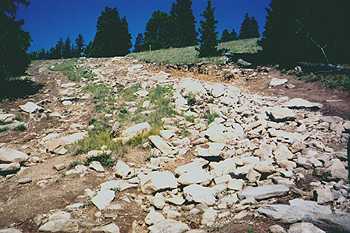 After the last obstacle, a steep rocky climbs awaits...
| | |
| --- | --- |
| | |
| The main trail goes up this loose rocky and steep climb, but some have chosen to ride the pillow soft tundra instead! These rocks won't hold people back... | "Mad Max" climbs up the loose rocky hill... |
We watched some young idiots in Dad's Cherokee racing and pogo hopping up the hill. They tried the steep rocky climb and got stuck, so with a three-point turn on the hillside that nearly ended in the roll they proceeded around our barricade and charged on up the mountain in minutes flat! They had seen way to many Jeep commercials of the Grand Cherokee flying down the road. We proceeded to give them a few pointers on treading lightly and respecting the mountain.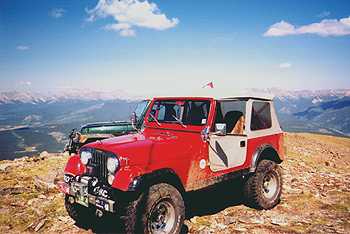 Scott and Bill on top of Twin Cone...

The top of North Twin Cone peak looking southwest...
On the way down we stopped and chatted with Jon Jon from BigOffRoad.com who was trying out his newly constructed rig and then wandered on down the hill and back to camp. Just another great day of jeepin'!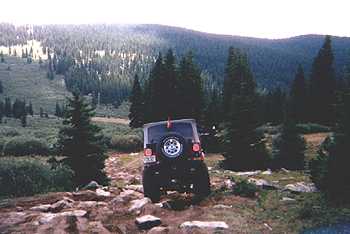 Going down is as much fun as going up...
Scott "Mad Max" Maxwell HoboJeepers
Here are some other Twin Cone Peak Reports:
Twin Cone Peak Trail Report and Map by Scott Brayshaw of www.4x4trails.net
Twin Cone Peak Trail 99'-HoboJeepers
Twin Cone Trail Photos-Source unknown
Twin Cone Trail Photos-by TJJeeper (on the same day as our trip)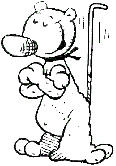 (c) Copyright 1999,2000 MHJC Patrol One
Jeep is a registered trademark of DaimlerChrysler Corporation