PATROL ONE OUTINGS
ALL-4-FUN 99' Fairplay
Twin Cone Peak Trail
Near Jefferson, Colorado

On Monday, (after another little downpour that night, just to keep the mud a constant viscosity of course) I led a trip up to Twin Cone Peak Trail with Chris and his son, and about 28 or so behind us. After a brief air down, we drove thru some easy trails west of Kenosha Pass. The trees and countryside we passed thru, made you forget all about the hustle of city traffic, your job, and whatever else ailed you before then.
Air down near Jefferson Lake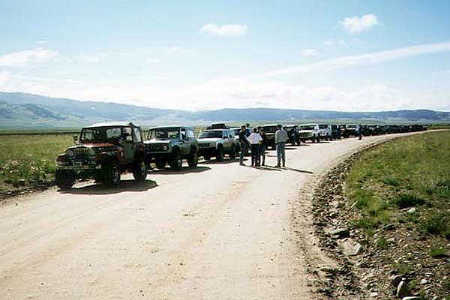 We looped back to the top of Kenosha Pass, and started up the Twin Cone Peak Trail all together. The trail winds up along Kenosha Creek and a few switchbacks, until you reach the "Colorado Go-4-ers" adopt-a-road sign, that's where people got some jeepin in.
Hobo Chris at one of the hill climbs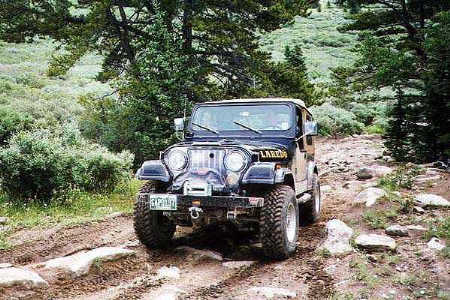 After a left at the sign, and running the group thru the obstacles, we all had lunch (actually the mosquitoes had us for lunch) at "The Rock". The obstacles are not a walk in the park if your "stock", as many that were had to make several tries to get up them. As trip leader, I didn't have a lot of time to take pictures at the obstacles of various vehicles. A few others and I ran up to the top of Twin Cone, but with just a two-track, no pullouts, and fragile tundra, only a couple could go at a time. There is only room for 2 or 3 on top anyway, so we proceeded to retrace our tracks back to the bottom and back to camp.
View looking South-West from the top of Twin Cone Peak

Bill Hallinan HoboJeepers
Here is another Twin Cone Trail Report:
Twin Cone Peak Trail-HoboJeepers

(c) Copyright 1999,2000,2001 MHJC Patrol One
Jeep is a registered trademark of DaimlerChrysler Corporation