ALL-4-FUN 2000
Central City, Colorado
Kingston Peak/Yankee Hill/
Miner's Gulch (709.1-down) Trails
Near Alice/Central city, Colorado

On Tuesday August 1st, I was up and ready to go, as I lead a trip over the Kingston Peak Loop Trail/Yankee Hill/Miner's Gulch (709.1-down) Trails. We all assembled on Channel 12 at the staging area at 8:30am. As myself with Bobbette Matthews and my jeepin'-sidekick Molly pulled out of the staging area, the trip introductions did seem to take awhile with some 24 rigs. The sun was out and it was prime for a great day of jeepin'!!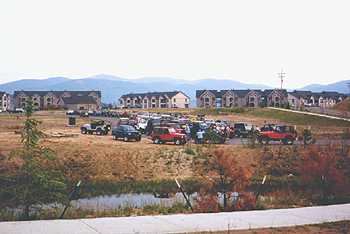 The staging area is full of jeepers that are only going on the 8:30am runs,
every half hour (from 7:30am-9:30am) a different trip leaves from one of the 4 line ups...
Jeepers for the day included: Craig Stunibough (CJ7), Mike Golly (CJ7), Ken Kinnison (CJ7), Elaine Allbrant (TJ), George Kinnison (CJ8), Dick Block (CJ7), Scott Marshall (fixed CJ7), Bruce Jones (Toyota), Gary Underhill (YJ), Dick Boyce (Jeepster), Jim Priest (CJ5), David Guthrie (Cherokee), Dave Piler (YJ), Steve Mcalister (YJ), Dave Golubosky (CJ5), Steve Rivera (Cherokee) and Eric Schmoutz (Ranger)-"Discount Tire Mobile Team", Craig Eggerman (XJ), Singleton (CJ7), Eslick (CJ7), Martin (CJ7), Jim Partridge (CJ7), and my tail end-Walt Gilbert (YJ).
Having done the trail twice already this year I was confident. Well......nothing like getting to the end of a trail and seeing "no trespassing" signs and no more road with 24 jeeps behind you. The reason I took a road I didn't know about was I was looking for the same small fun trail I had done last year, except I had never looked for it from the north.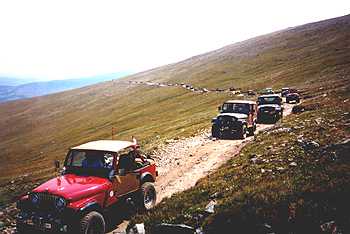 The line of 25+ jeepers finally makes it around the corner,
views to the north of the Front Range are spectacular!!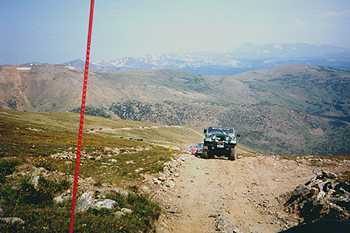 The 1st steep hillclimb is fairly easy and is just south
of the James Peak switchback in the center of the photo looking north...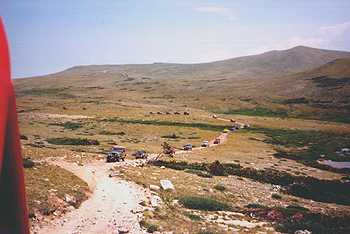 With Kingston Peak off to the right, the trail runs along the tundra...
please stay on the main trail, as new braided trails are being made.
So, with my head between my tail I took the obvious route along Apex and up to the James Peak switchback and the 1st small hill climb. We all traversed across the 11,000'+ tundra to the second steep hill. Everyone made it up it, and we stopped at the "Rock House" to stack a rock and have lunch.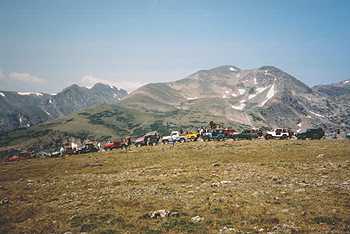 Lunchtime at the "Rock House" (behind blue jeep)...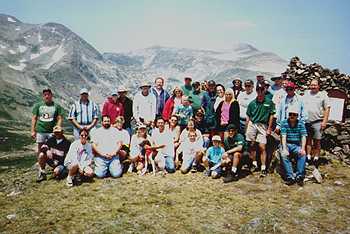 A great view with great friends...
Since we were blocking the road with 25 jeeps (Note: we stayed on the trail to park OFF the tundra), we blocked the trail for 2 other SUV's coming up. Well, seems the Rodeo had a hissing sound coming from it as it approached me (I was going to ask them to wait 15 minutes or so). Come to find out, the hissing was coming from his tire and then it was flat. The guy didn't have a key for his locknut, Hummm what to do? Come to find out Steve and Eric of Discount Tire were with us on the trail and jumped right in to help. I'm glad they did, cause the trip wasn't going anywhere until the tire was fixed. About 30 minutes later they had the guys tire changed, and we were on our way down the mountain (just in time, as a storm approached).
Seems the trail ahead for us is blocked,

so we waited for the "Discount Tire Mobile Team" to arrive...

Steve goes right to work,

with boss Eric supervising of course...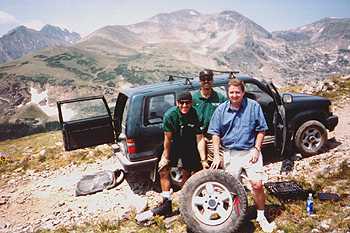 Thanks to Discount Tire's--Steve and Eric,
for getting this guy and US back on the trail!!
Once off the switchbacks and down into the summer town of Alice, I gave people the choice to head down to Idaho Springs, or do some more wheelin. Only 2 bailed, so we went up to run up and down Yankee Hill. The hill is a steep loose mogally run, quite the challenge if your stock without disconnects, but a fun crawl with articulation if your set-up. I knew where the trail was from the southwest, so we headed down FS 709.1 trail as I tried to redeem myself for the wrong turn in the morning.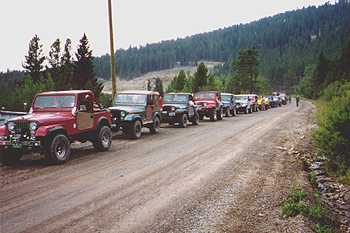 Once down, I offered to led the group to some more wheelin'---so we
all headed over to run Yankee Hill and beyond...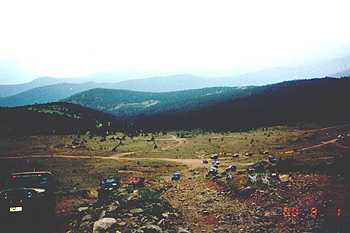 Yucky photo, but here's Yankee Hill, steep and mogually...
This trail is a kick in the pants, it's a small ATV-like trail with rocks, water, and tight tree-line turns to keep your attention. Problem was, I had seen a gate on the Apex road in the morning, and so I didn't know if we would be able to get out, or be stuck at the gate. After the fun part of the trail, we took a right and headed down towards the Apex road. I went ahead and found the road and the gate (nothing more then a chain-not locked), and the landowner waiting for me.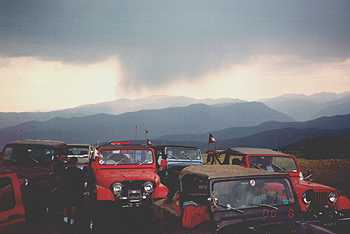 On top of Yankee Hill, the rains came again...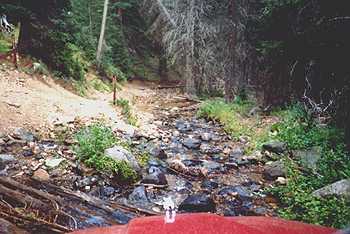 This wet and rocky section is just as much fun going up as down...
I explained I was lost and had 24 jeeps up behind me lost too...haha. His trailer was just broken into, so he was just worried (mind you-his trailer was not plush). He did let us pass thru for more access on Thursday and Friday. Everyone made it out ok, and glad we ran that 709.1 section. I liked it so much; I planned on leading a trip up it on Thursday, and integrating it into the Kingston Peak Loop.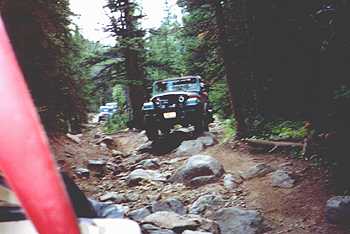 Good boulder-sized rocks keep your attention on the trail, a fun-fun little section...
On a side note: Eric Schmoutz of Discount Tire went on a night run that night, and rolled his Ranger on it's side. Eric was ok (which is all that's important!), though his Ranger was not-"Better Get Maaco". On back to camp for the Tuesday night Bestop Ice Cream social at 6pm, and a really funny comedian/singer who entertained us for over 3 hours of fun!
Bill Hallinan HoboJeepers
Here are some other Kingston Peak Trip Reports:
**1st Annual Hobo Run-HoboJeepers**
**2nd Annual Hobo Run 2000-HoboJeepers**
**Kingston Peak Loop Trail 99'-HoboJeepers**
**Kingston Peak Loop Trail 00'-HoboJeepers**
**Kingston Peak by mountain bike**
**Kingston Peak Trail Report by TrailRidge Runners 4x4 Club**
Other All-4-Fun Trip Reports
Sun: Middle St. Vrain/Coney Flats Mon: Eldorado Mountain/Caribou Flats Tue: Kingston Peak/Yankee Hill/Miner's Gulch
Wed: Manufacture Day Thur: Miner's Gulch/Kingston Peak/Yankee Hill Fri: Jenny Creek/Miner's Gulch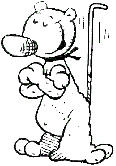 (c) Copyright 1999,2000 MHJC Patrol One
Jeep is a registered trademark of DaimlerChrysler Corporation