PATROL ONE
HOBOJEEPERS OUTINGS
MHJC's 34th Annual
Central City, Colorado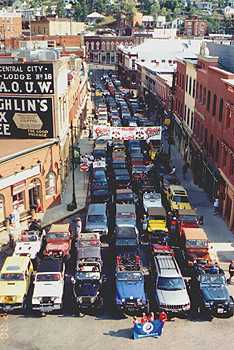 All-4-Fun 2000 Central City, Colorado
All-4-Fun, spelled backwards is Fun-4-All. That's what the week is all about, fun for the whole family, and fun for jeepers of all skill and rig levels. Held every year by the MHJC during the 1st week in August, a different town in Colorado is chosen to host the event. For 2000, it is Central City. A historic mining town in it's hay-day of the 1890's; it's located about 40 miles west of Denver in the Foothills. Once a sleepy town, Central City was rejuvenated in 1990, when legalized gambling was voted in. Today though, it seems a little quiet again, due to the build up of bigger casinos in neighboring town of Blackhawk down the hill.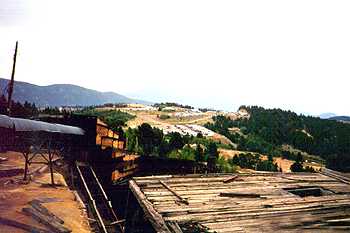 All-4-Fun Base Camp off in the distance...
This year, the 34th Annual MHJC All-4-Fun Central City played host to about 285 registered wheelers from Sat. July 29th to Sat. Aug 5th. Along with some 85-100 MHJC members, well over 1000 people attended the weeklong event. Each All-4-Fun every year would not be as successful as the last without the long hours of support and help of each committee member doing their part.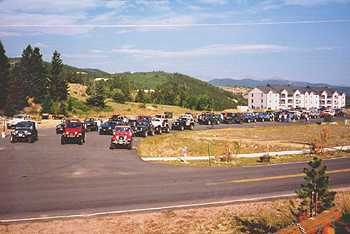 Trips up to 13 a day leave from the staging area...
Thanks to all, and especially Chairs John and Stephanie Flesner (Fugowies), who can now sit back and accept this congratulations. The "saved our a%$" award goes to the last minute heroic efforts of Jim and Paula Provence (Fugowies too!) with getting a year's worth of door prizes in 2 weeks, and having still over 40 left over!! Their effort, and the effort of everyone else is what makes it worth while when you see smiles on people's faces all week long.
Trips vary in difficulty,

from easy and scenic like Kingston Peak...

To moderate/difficult off-camber

obstacles like those on Eldorado Mountain...
As far as camp stories, I won't go in specifics, so I'll be brief. It was so nice to visit other patrol camps (P8,P11,P7,P12,P14), and other camps from other visiting jeepers. Everyone was so upbeat and in a great mood all week. Was it the beer? Nope, just friendly people, all with the same hobby-jeepin'. After a long day on the trail, it was great to hang and swap trail stories. Since there was a fire ban on open fires, some portable propane campfires were a hit with everyone.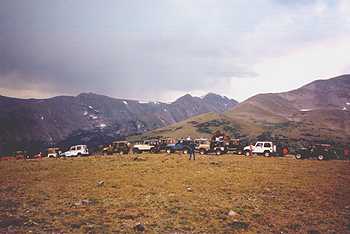 The "Rock House" on Kingston Peak, is a popular place for a stop to stack a rock...
Wilma Davis was always there if you needed some frozen water, and you did if you left your ice chest in the sun on the asphalt like I did. Rob of Ft. Collins 4x4 was on hand once again to help out anyone in need of repairs. Discount Tire and BF Goodrich were also on hand every day for free "Ride and Drive" tires. Thanks to Brian and Margie Hoag (Trail Bosses) for organizing trips everyday, and making the Trail Leader's job easier.
New trails are discovered...like the Miner's Gulch Trail

Even Discount Tire provided "Free Mobile Tire Service"

for a stranger on the trail...
Jeepers from all over the country (farthest this year was from Mass) come to enjoy a week of jeepin' (5 days), and the social functions held every night under the big top year after year. This year in Central City was no exception, Sat. night: Orientation Night, Sun. night: Central City Appreciation Night, Mon. night: Land Use Town Hall Night/Poker Run, Tue. night: Bestop Ice Cream Social/Comedian Singer, Wed. night: BBQ/Show-N-Shine/Kids Games Awards, Thur. night: DOOR PRIZE NIGHT, and finally, Fri. night: Warn Night/BBQ/Live Band til midnight.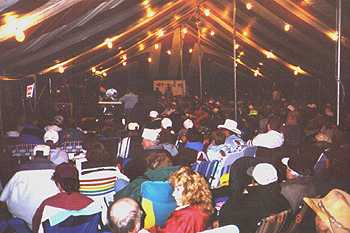 Every night under the big top was one event after the other.
So popular, you need to set up your chair "before" you go out that day on a trail...
So, as every night was planned, all you had to do was figure out from the 14 or so trips run each day (except Wed.) which one you wanted to do! I was a trip leader all week and lead 4.5 trips to some great trails (Sunday: Coney Flats Trail, Monday: Caribou Flats Trail, Tuesday: Kingston Peak/Yankee Hill/Miner's Gulch (down) Trails, Thursday: Miner's Gulch (up)/Kingston Peak/Yankee Hill, Friday: Jenny Creek (tail)/Miner's Gulch (lead), do you see a trend here?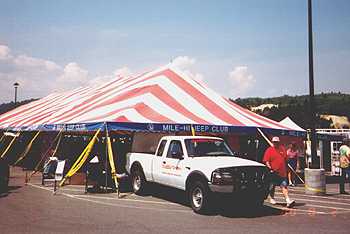 MHJC's Big Top...with a "mud free" base!

Here are the general trail locations and All-4-Fun or past links of
the trails offered this year All-4-Fun 2000 based out of Central City

click on link below to a trip report from All-4-Fun 2000...
Sunday, July 30th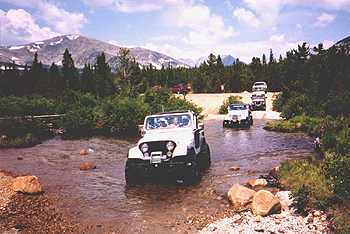 MIDDLE ST.VRAIN/ CONEY FLATS TRAILS
Monday, July 31st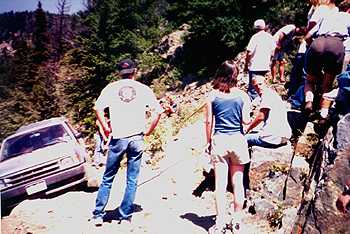 ELDORADO MOUNTAIN/CARIBOU FLATS TRAILS
Tuesday, August 1st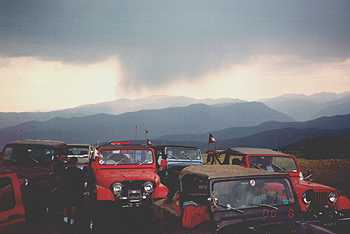 KINGSTON PEAK/YANKEE HILL/MINER'S GULCH TRAILS
Wednesday, August 2nd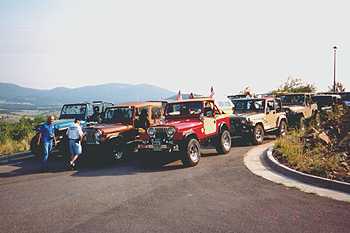 Thursday, August 3rd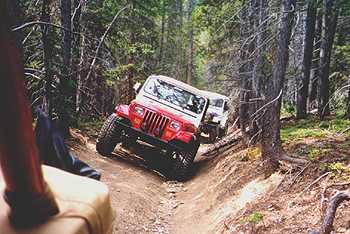 MINER'S GULCH / KINGSTON PEAK/YANKEE HILL TRAILS
Friday, August 4th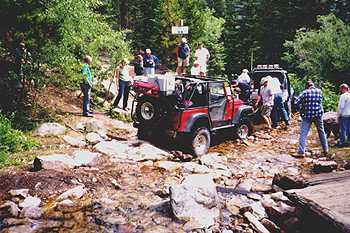 JENNY CREEK/MINER'S GULCH TRAILS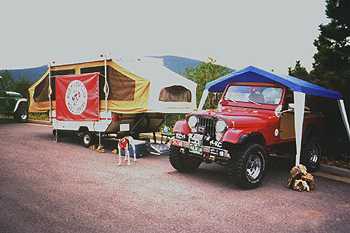 Home for the week--the asphalt was a welcome sight...
As the token Hobo for the week, I headed up to Central City on Sat July 29th to the All-4-Fun site I hadn't seen yet to set up the tent trailer. I was pleasantly surprised to see most all of us were all camped in large shuttle paved parking lots, a far cry from last year's All-4-Fun in the Fairplay mud bath! Now being prepared, I had to figure out what to do with my green patio roll, and all my other dust/mud proof items. Yes, it did rain, but it was nice to be able to look under the Jeep dirt free too. Perched high above Central City, the site had great views of the Foothills and the Front Range. John, thanks-you picked a great site!
On Thursday night at 7pm sharp, Jim Provence and Jeff Carr were ready to had out over 340 "NICE" door prizes to registered jeepers who were present. How long does that take? Well, at 11:45pm we had the raffle, and these guys were working as a team too…well done door prize committee!! I got my $20 worth of Children's Hospital raffle tickets, and not a one even came close. Who cares, it's all for the kids. Another fun night under the big top!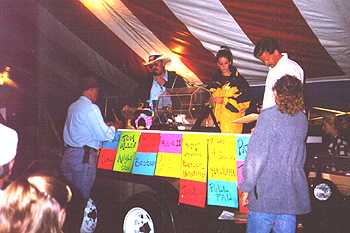 The ever-so-popular "Door Prize Night" was a great success!!
The week of FUN closed up on Friday night with the MHJC BBQ, free beer, and the band (which played last year in Fairplay) started up at 6pm as part of Warn Night, sponsored by Warn Industries. During intermission, a 9500i Warn winch was given out by Harold Ogden of Warn, and the band played on till midnight. By Sat. August 5th at 11am, the parking lots were almost empty, as happy and content jeepers would make their own treks back home.
Here are some group photos of wonderful jeepers I met and led on trails during the week...
Everyday of the week, either on the trail or in camp, was a blast! A toast to the hosts and the guests for another successful All-4-Fun 2000! I hope you enjoy my week-long adventures, and the accompanying 70 odd photos...
BILL HALLINAN HoboJeepers
Here are some other Central City Sites:
Central City's Official Website
Central City, Colorado Current Weather
Here are some links to other Mile-Hi ALL-4-FUN Reports:
All-4-Fun Week 2000 Central City Willie Worthy
All-4-Fun Week 99 Fairplay by 4x4U.com
All-4-Fun Week 99 Fairplay-HoboJeepers
33rd Annual All-4-Fun Fairplay, Colorado by Flatlander
32nd Annual All-4-Fun Silverton, Colorado by Flatlander
32nd Annual All-4-Fun Silverton, Colorado by Truckworld.Com
32nd Annual All-4-Fun Silverton by Harold Ogden
30th Annual All-4-Fun Salida, Colorado by Flatlander
See Ya in Salida, Colorado for
OR
*To HOBOJEEPERS HOMEPAGE w/frames*
To HOBOJEEPERS HOMEPAGE without frames

(c) Copyright 1999,2000,2001,2002,2003 MHJC Patrol One
Jeep is a registered trademark of Daimler Chrysler Corporation