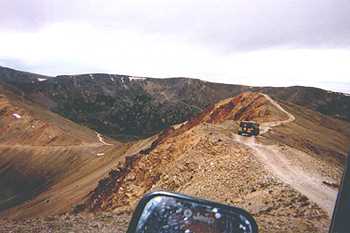 The trail follows the sharp ridgeline down to Webster Pass to the left...
"The narrow ledges and loose scramble to the top of Radical Hill got the adrenaline flowing. While on top we spotted two of the local mountain goats. Peaks back at Red Cone revealed several more groups making the trip, with the Hobos thankful for our early start and beating the crowds."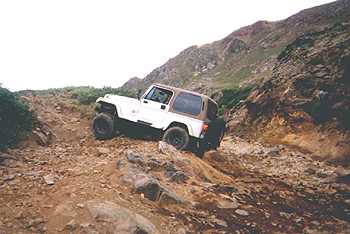 Hobo Pete "JeepDog" eases up a side obstacle on Radical Hill Trail...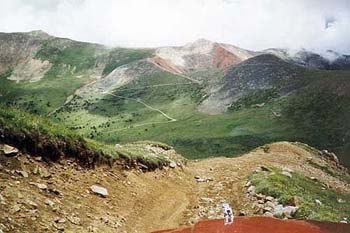 The last sharp turn on Radical Hill runs thru a loose rocky section...
Red Cone and Webster Pass is across the valley.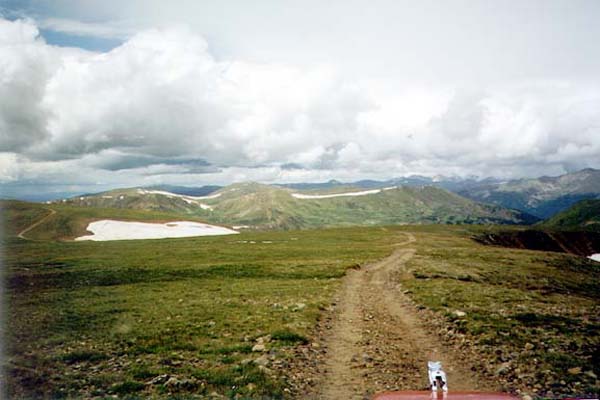 Now this is Colorado!!...
The tundra shelf road at over 11,500' above
Radical Hill (center right) offers 360 degree views!
"Heading on down the hill and along the Middle Swan Trail, we stopped to scout around the ruins of the old mining cabins. Bill pointed Chris and Scott in the direction of S.O.B. hill. The rain slickened rocks provided a fun run up and back run with Chris making it look easy. With my automatic, I was also able to crawl up and down, with a smile for my troubles. Did I mention rain yet? Then the clouds that had threatened all day opened up and we were treated to a nice soaking."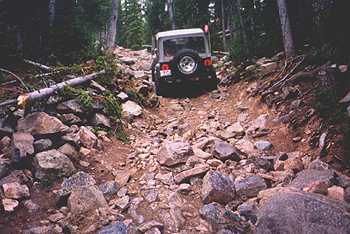 Hobo Chris Vieth crawls up the steep hill
up and over boulders along the way...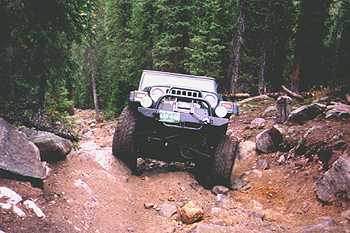 "Mad Max" climbing and negotiating...nice run Scott!
A look down S.O.B. Hill, steep and boulders everywhere...fun,fun,fun!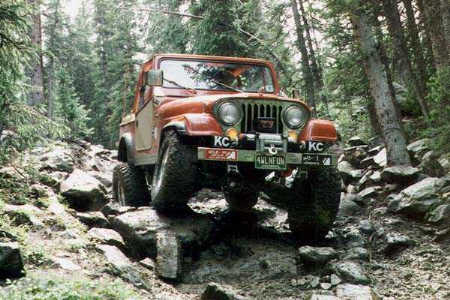 Here's a shot of myself coming down S.O.B. Hill
in the rain during last year's All-4-Fun...Wet, slick, and muddy.
"We headed down the Middle Swan drainage as Pete and buddy Mike departed at the bottom of the hill for the nearest gas station, as they were running empty, and a return to Denver. The rest of the gang headed up over Georgia Pass and into Jefferson for gas. The Georgia Pass road starts out easy then gets a little rocky towards the top. All the time up, it was raining, did I mention that yet?"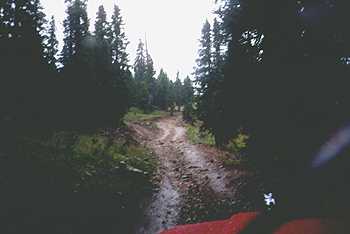 The easy Georgia Pass Trail was quite interesting in the rain...
"Guests Bobbette, Thomas and Cathrine headed back for Denver in their yellow smiley TJ. After savoring La Popular's famous pork tamales, guest Jessica and Tom called it a chilly night and headed back for town as well. Too bad they weren't equipped with the security code to the Maxwell's home alarm system, but then that's another expensive story. Chris's tent got a little soaked from all the rain we had, and decided to head back to his cozy bed in Denver. So, it was up to Scott and Janet, & Bill and Molly (actually Molly just looks for squirrels) to run Twin Cone on Sunday."
Scott "Mad Max" Maxwell HoboJeepers
One important sidenote: We were in the same area Mike Lane rolled his CJ7 and lost his life that day above the Middle Swan and Gibson Lake. We opted not to run Glacier Ridge due to the rains and possible mud sliding on the off-camber trail. Please be safe wherever to ride. ALWAYS STAY PERPENDICULAR TO THE SLOPE. Don't take chances with your life, say NO "it's not safe", if you have a choice, and YOU DO-your buddies will understand.
Bill Hallinan HoboJeepers
Here are some other Red Cone/Radical Hill/Swan/SOB Hill/Georgia Pass Trip Reports:
Red Cone/Radical Hill/Swan/SOB Hill/Glacier Ridge-All-4-Fun 99'-HoboJeepers
Red Cone Trail 99'-HoboJeepers
Co Sports.Com Webster Pass/Radical Hill
Georgia Pass/S.O.B. Hill by Flatlander
Red Cone Trail Map by 4x4trails.net
Red Cone Trail by MHJC Patrol 16
Big Horn Jeep Club Trip to Red Cone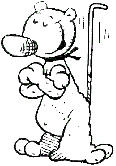 (c) Copyright 1999,2000 MHJC Patrol One
Jeep is a registered trademark of DaimlerChrysler Corporation