PATROL ONE OUTINGS
ALL-4-FUN 99' Fairplay
Glacier Ridge/S.O.B.Hill/Swan/Radical Hill/Webster Pass Trails
Near Jefferson/Montezuma, Colorado

On Thursday Aug 5th, the Hobos (Myself, Paul Weisz, and Chris Potter), decided to run a loop trip involving Georgia Pass, Glacier Ridge, S.O.B. Hill, The Swan, Wise Mtn., Radical Hill, Webster Pass, and back to camp in time for Door Prize Night.
Top of Georgia Pass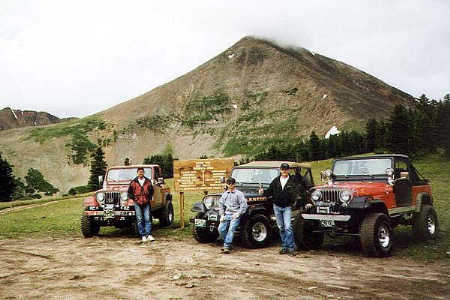 With the weather touchy all morning, we able to still get in some great shots of the area and some of us jeepin. Glacier Ridge was as advertised, a long off-camber scenic timberline trail, which keeps one eye on the scenery, and the other on your level-gauge. We met up with some Illinois 4-Wheelers coming up S.O.B Hill, and with their super swampers on the mud and rocks they made it look easy. Geeeee, all we had to do was slide down it, as we did without major scraping noises along they way.

Hobo Bill Hobo Chris Hobo Paul



The views once on top were spectacular, as we watched big puffy white clouds roll our way, like being engulfed by a tidal wave. Once down Radical Hill and up Webster Pass, then the rains really came down just in time for us to negotiate the narrows down the other side.
Swan Hill Climb Top of Wise Mtn. Down Radical Hill with Webster Pass


Once down, we passed the wonderful job that Gene King and others have done keeping the meadows left alone along the trail. Speaking of trail, this one seemed like it would never end, then finally it did! Thanks to Paul for the free air, and we were heading back over Kenosha Pass and south towards camp.
Bill Hallinan HoboJeepers
More Trip Photos
| | | |
| --- | --- | --- |
| | | |
| S.O.B. Hill | Group Shot | Swan Hill Climb |
| | | |
| This is Colorado! | S.O.B. Hill | S.O.B. Hill |
| | | |
| S.O.B. Hill | Wise Mtn. | Radical Hill |
Here is another Webster Pass Trail Report:
*CoSports.Com Webster Pass Trail Report: http://www.cosports.com/fwhldr/trails/webster.htm
*Georgia Pass and Glacier Ridge Trail Report By Flatlander: http://www.4x4now.com/trcobgg.htm

(c) Copyright 1999,2000,2001 MHJC Patrol One
Jeep is a registered trademark of DaimlerChrysler Corporation