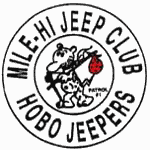 September 2001

Hobo articles
represent the previous month's activities, and are published in MHJC's "Jeepers In The New's"
By the end of September, the Aspens transform the landscape...
September—is here already! As he days get shorter, the mountain Aspens change to their Fall colors, and we scramble to get the high mountain trails in before the snow flies. The HoboJeepers had a fun August, and have plans for 3 weekend trips this month. In August, was the end of All-4-Fun 2001, Red Cone to Georgia Pass, Twin Cone Peak, Reno Divide (Italian Creek, American Flag) thru Crystal and Taylor Pass Trails. The time is now---"Jeep,Jeep"!!
The HoboJeepers would like to introduce our newest Hobos Marc & Kristin Gilbertson (CJ7). We look forward to many "Jeep,Jeep" trips with them in the near future, and welcome them into our 'family'.
On Thursday August 9th, we had our August Hobo Meeting at Bobbette Mathew's house, as we swore in Marc Gilbertson as an official Hobo. Marc & Kristin are transplants from Wisconsin, and Marc is modifying his 82 CJ7 just right as we speak. With Marc and Paul Weisz as Electricians, we got the electrical trail fixes covered.
All-4-Fun, spelled backwards is Fun-4-All!! That's what the week is all about, fun for the whole family, and fun for jeepers of all skill and rig levels. For 2001, it is the town of Salida. What a week!!! From dusty to wet, from hot to cold, to dusty, we had it all! The week went by too fast!
This year, the 35th Annual MHJC's All-4-Fun 2001 Salida played host to about 375 registered wheelers from Sat. July 28th to Sat. Aug 4th. Along with some 85-100 MHJC members, well over 1000 people attended the weeklong event. Each All-4-Fun every year would not be as successful as the last without the long hours of support and help of each committee member doing their part.
Thanks to all who helped, and especially Chair Gary Moul who can now sit back and accept this congratulations. It takes alot of people to put an event like this together. Thanks to everyone for making this a fun and successful week. Anyone reading this that was there would agree! As I said last year, "As far as camp stories, I won't go in specifics, so I'll be brief. It was so nice to see and visit other patrol camps (P5, P7, P11, P12, P14, P21), and other camps from other visiting jeepers (Did I hear another "Hoob-Chucka"?). Everyone was so upbeat and in a great mood all week. Was it the beer? Nope, just friendly people, all with the same hobby-----jeepin'. After a long day on the trail, it was great to hang and swap trail stories." There was no ban on fires this year, so the campfire stories were all around.
Rob of 4x4 Used Parts Inc. was on hand once again to help out anyone in need of repairs. Discount Tire, Warn & MuddyTires.Com provided refreshments, and BF Goodrich were also on hand every day for free "Ride and Drive" tires. Thanks to Marci and Dennis Ervin (Trail Bosses) for organizing trips everyday, and making the Trail Leader's job easier. It takes a lot to please over 200 Jeepers with fun trails for all skills and wants—great job!
| | |
| --- | --- |
| | |
| The 'Big Top'-Salida's All-4-Fun basecamp... | Door Prize Night Thursday-a popular place!! |
Jeepers from all over the country (farthest this year was from Hawaii) come to enjoy a week of jeepin' (5 days), and the social functions held every night under the big top year after year. This year in Salida was no exception, Sat. night: Orientation Night, Sun. night: Salida Appreciation Night, Mon. night: Land Use Night, Tue. night: Bestop Ice Cream Social/Baby Doe Tabor Entertainment, Wed. night: BBQ/Show-N-Shine/Kids Games/Adult Games/Awards, Thur. night: DOOR PRIZE NIGHT, and finally, Fri. night: Warn Night/BBQ/Live Band til quiet hours?
So, as every night was planned, all you had to do was figure out from the 20 or so trips run each day (except Wed.) which one you wanted to do! I was a trip leader all week, and lead 4.5 trips to some great trails covering the whole area around Salida: (Sunday: Hancock/ Tomichi Pass Trails, Monday: Toll Road Gulch/Clover Creek Trails, Tuesday: Spiral Mtn./Aspen Ridge/Bald Mtn. Gulch Trails, Thursday: Tailgunner for Kevin on Chinaman Gulch, and Friday: Mt. Antero. Check out our website for trip reports of each day/trip, with many photos of the trail and area scenery.
As the token Hobo for the whole week, I headed down to the All-4-Fun site on Friday. Drew "Drewby" Middleton arrived Friday night and stayed til Wed late, and Chris "Colonel" Potter and son Jason arrived Sat til early Tuesday. I camped on the high ground just south of the 'Big Tent', just far enough away from the morning and afternoon dust from the newly formed camp trails, though none were exempt from the dust. Dust was our friend...rain too.
| | |
| --- | --- |
| | |
| Jeepin' at All-4-Fun, anywhere was a blast! | Along with some technical stuff at Chinaman... |
On Thursday night at 7pm sharp, the popular Door Prize night was run by Brian and Margie Hoag's committee. Everyone was ready to receive over 400 "NICE" door prizes to registered jeepers who were present. How long does that take? Well, at 11:45pm we had the raffle, and these guys were working as a team too…well done door prize committee!! I got my $20 worth of Children's Hospital raffle tickets, and not a one even came close. Who cares, it's all for the kids. Another fun night under the big top!

The following trip report is written by Trip Leader Bobbette "Smiley" Mathews: On Saturday Aug 11th, myself (Yellow TJ), along with Hobo Bill and my toddler Michael, met up with Jed McClelland (CJ), his friend Eric (YJ) who had a buddy riding, and Drew Middleton (TJ) at the Bugling Bull in Conifer. We headed out early to Kenosha Pass. Bobbette, Bill and Drew set up camp for the weekend then it was on to the trailhead at Red Cone.
We took a break to put up barricades along the way; didn't we do this last year? Seems some motorcycles cut off the trail on the west side of Webster Pass. Permanent barrier need to be in place. Still avoiding the rain, we had lunch in the meadow just below the Pass. A touch of rain came, so some put there tops up on there jeeps, all but Eric who got out the rain ponchos, he didn't have a top. Just in time for a good little shower.
The trail up Radical Hill has a few tough spots and it was a steep climb up. There were a few people up top we had to maneuver around. The views of Summit County are always great! This area is the largest shelf (above tundra) trails closest to Denver.
We drove down Swan Valley and back into the trees and stopped by an old cabin. The loop to get back to camp calls for us to head up Georgia Pass. The trail starts off misleadingly easy and goes into a few rough spots. Everyone made it up to the top where we then saw, regular vehicles? The trip down the other side is a maintained county and easy trip from there on into the little town of Jefferson.
Jed and his friend Eric left for home while Drew and I (with my navigator Bill) went into Jefferson for gas and marshmallows. Gotta have those for the campfire ya know (even if they were overpriced!). The camp was pretty wet where it had rained in the afternoon. Again, we were fortunate on the trail with no problems, and all had a great time. Thanks Bobbette for leading, and the report!

This next trip report to North Twin Cone Peak Trail is from Trip Leader Hobo Drew Middleton: After a challenging, exciting day running Red Cone and Radical Hill, the Hobos awoke bright and early Sunday morning on August 12th. Actually, we would have slept in a little later, but the Boy Scouts in the next campsite decided to break camp at 6:00am. The sounds of aluminum tent poles clanking served as our alarm clock.
Once we'd had our breakfast (and Molly had finished off the remains of last night's beef stew), we started for the trailhead. In attendance were Sean Tallant, Bobbette "Smiley" Matthews with a full Jeep (son Michael in the backseat with Molly the wonderdog, and Bill "Hobo Willy" Hallinan as co-pilot), and myself (Drewby Dooby Doo) leading the way.
Leaving from our campsite on the east side of Kenosha Pass, we turned left up the Twin Cone road and quickly came to the first gate. At this point the road goes through private property. We were careful to close both this gate and the next after ourselves, respecting the property-owners' wishes. The first part of the trail wasn't difficult, but views of aspen groves and beaver ponds made for a pleasant ride. This trail must be breath taking in the fall when the aspens change color!
About 5 1/2 miles into the trip, the road turns to the left at the Colorado Go-4's Adopt-a-Trail sign. The going gets a little tougher here, with some small obstacles to crawl over. This was just a taste of what was to come. A few miles later, the trail became rutted and much more difficult. With careful tire-placement and excellent spotting, we all made it past two rocky, technical sections. Then we came to a steep rocky section. The tricky part was to navigate through the rocks without getting too off-camber. After a few attempts, we found the right line and continued up above tree-line.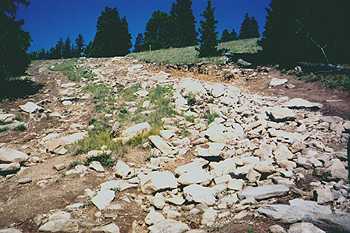 The last steep loose rocky hill before tree line (this was taken from last year's trip)...
Several more loose steep stretches awaited us on the tundra. Since this is a very fragile environment, the Hobos stopped to block off an impromptu bypass on the tundra. We then continued up the slope, finally gaining the summit. The 360-degree views were a stunning backdrop for our lunch stop. In one direction, the vast plateau of South Park stretched to the horizon.
The views off American Flag were spectacular! We arrived at the top were an American flag had been placed on a pole. The mountain gets it's name because seen down from Taylor Park it has long dark gray, reddish, and white bands running thru it like the flag. Even with the haze from the forest fires out west, the views can't be beat.
On down American Flag, we headed over to the talus slope where the trail has been cut thru the slope. A couple of sections we spotted each other thru. The last section had a series of larger rocks tipping a bit down slope. The whole thing is intimidating just because of the shear drop off on the driver's side. Once thru, we were on our way down and out Cement Creek to HWY 135 over to Crested Butte. Our 1st leg of our 3 leg trip was complete. This leg from Taylor Park to crested Butte is called the Reno Divide Trail in some books.
After a quick city tour of Crested Butte (ok we 'cruised' the Butte), we headed up past the ski resort, and on up past Gothic on FR 811 for a lunch stop. We were still making good time, as I knew we still had a lot of trail ahead. It was 1pm as we headed up (FR734) and over Schofield Pass, and thru the old town site of Schofield. We also had seen a sign that said 'road closed' ahead, and I wondered if we would not be able to make our loop. We did see a group from the Grand Mesa Jeep Cub come past us, so I assumed they came up the canyon. Come to find out they did try to close it because a boulder was encroaching on part of the Crystal Canyon Trail as we soon saw.
Crystal Canyon is a steep tight trail with the Crystal River cascading down it. The trail warrants your attention in 4low, as you maneuver thru the tight shelf road. We came across the boulder in question and each one was spotted by it with inches to spare on the right side. Once thru we thought we were down, until from around the corner comes up a Toyota 4-Runner. Remember there are no pullouts. We tried to figure a way to get by this guy when I discovered he had a flat tire.
Well, neither he our us were going anywhere until his tire was changed. Come to find out he didn't have a lug wrench, and we were able to get the tire up enough to change it. No tip even, as he never offered to help change his tire. We squeezed by him, and 45 minutes delayed, we were on our way down to the ghost town of Crystal and the famous Crystal Mill.
The Crystal Mill is one of the most photographed in Colorado. It's probable well know nationwide and internationally. Used to generate electricity in the late 1890's, it is protected and preserved today. If you ever get close to Marble or Crested Butte, you should take a trip to see the Crystal Mill, it's well worth it!
The trail down from the Mill to Marble is a nice moderate to easy stretch. I had seen a Subaru in Crystal, but I wouldn't take mine on this section. It's pretty rocky in parts, not big rocks, just a lot of them keeping your speed down. We finally reached Marble (home of the quarry up the valley of most of Washington DC's monuments and more). The second leg of the trip was complete as we reached HWY 133, and headed north to Carbondale for gas, and make our way back to Taylor Park thru Aspen and Taylor Pass. The original plan was to come back over Pearl Pass, but when we contacted the Forest Service in Gunnison, they said it was still closed to vehicles due to snow. Well, the guy we helped in Crystal Canyon told us that he went over Pearl Pass last week and it was open…go figure with the FS.
We headed up Castle Gulch Canyon out of Aspen for some Jeepin' at 6pm. Our last leg was from the ghost town of Ashcroft up and over Taylor Pass back down into Taylor Park. The west side of Taylor Pass was quite easy, as we reached the top with views of the area with the fading light. We headed down the 'fun' part on the east side (next time we are going up Taylor Pass) with our lights on as dusk at 8pm was fast approaching.< Rocky sections abound everywhere! Just as you go thru one there is another! As the trail heads down, it would be better to run it up hill with all the rock chutes. We made it to the county road in Taylor Park at 7:30pm! Just about 1.5 hours of constant Jeepin', what a fun trail! High 5's all around as we headed back to camp for some food and refreshments! I had a great day with Chris and Jed!
Believe it or not, it's Fall folks! All of the high mountain trails are open and awaiting your presence. Soon near the end of the month the Aspens will be signaling Fall has arrived with many great Aspen Jeep trails around Central City, Bill Moore, Slaughterhouse Gulch, and others to enjoy them in. So, clean out the dirt from the last trail, and get out and enjoy this beautiful Fall ONLY Colorado has to offer!
See ya on the trail, "Jeep, Jeep"
Bill Hallinan HoboJeepers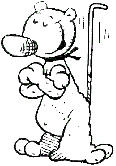 (c) Copyright 1999/2000/2001 MHJC Patrol One
Jeep is a registered trademark of DaimlerChrysler Corporation