PATROL ONE OUTINGS
Italian Creek/American Flag Mtn./
Reno Divide/Crystal Canyon/
Crystal Mill/Taylor Pass Trails
Taylor Park to Crested Butte,
to Marble, to Aspen, & back to Taylor Park, Colorado

What a great weekend! On Friday August 17th, 2001, the Hobos headed out west on HWY 285 and met up at the Fort at 10am for the trip to Taylor Park 2.5 hours away. Along with myself (CJ) and my jeepin-sidekick Molly, were Chris "Colonel" Potter (CJ), and prospective Hobo Jed "Top Hobo" McClelland (CJ) for an all CJ weekend!
I have been trying to do this trip for the past 2 years, so I was excited about going. We headed up 285 past Kenosha Pass, Fairplay, and into Buena Vista for some lunch. West of Buena Vista we went over paved Cottonwood Pass on the Chaffee County side, and washboard dirt on the western Gunnison County side. It seems Gunnison County wants people to drive out of their way to get gas in Gunnison then Buena Vista. We aired down at the pass for the bumpy ride to camp.
We arrived about 1pm to a nice scenic camp spot in the north part Taylor Park (psssst---it's a secret where). We set up camp and took in the views and some fishing. Jed and myself tried out the Taylor River, but I only managed a small brown trout with worms. No trouble, we had beer and meat waiting at camp for chow. We cooked up some good grub, then Jed and I headed over to Pothole lake for some dusk fishing. Well, seems all we caught was an awesome sunset off the Collegiate Range, which was fine for me. We headed back to camp with the headlights on, where the 'Colonel' already had a nice fire going. Ready for a long day early, we called it a night as the chills picked up.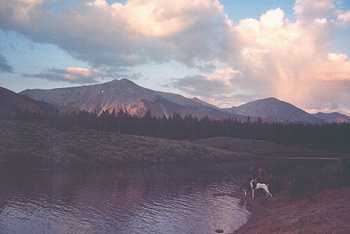 Molly and I fishing with a beautiful sunset over the Collegiate Range...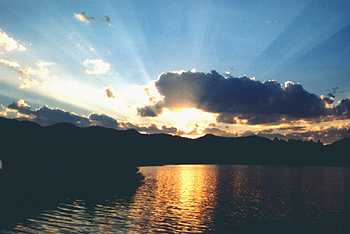 The view of the sunset, the photo doesn't show the true colors...
On Saturday August 18th, we readied ourselves for an 8am start. Wow! It wasn't chilly, it was darn right frosty! It must of gotten below freezing, as everything had frost on it (saves on ice though!). Chris Potter had checked with the Forest Service days before and was told that Pearl Pass was closed due to snow. So the plan was to run the Italian Creek/American Flag Mtn./Reno Divide/Crystal Canyon/Crystal Mill/Taylor Pass Trails. We would pass thru Crested Butte, Marble, and Aspen as we made an eventual loop of 150 miles. We started at 8am and finally got into camp at dusk near 8pm. 12 hours of some great jeepin', and the best scenery Colorado has to offer! So sit back and enjoy the ride...
We headed up Italian Creek (FR 759), as the views of American Flag and Lambertson Peak were nice driving up into the upper Italian Creek basin. We stopped at some cabins to disconnect and lock in for the ascent up American Flag Mountain just ahead. I had led a trip in 97 at All-4-Fun, and wanted to reach the summit again this year.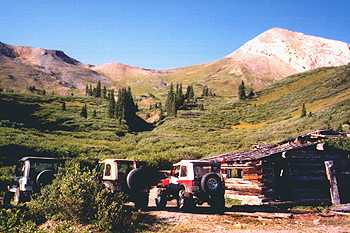 Stopping for a break before the saddle to American Flag...
The climb up the long slope is steep but not too rocky. Low gears above timberline here prevent erosion, though you can see where many ATV users were making their own tracks, and tearing up the main trail as well. What can you do? Educate, and act responsibly yourself is all we can do. Tread Lightly above timberline, and stay on the main trail.
The views off American Flag were spectacular! We arrived at the top were an American flag had been placed on a pole. The mountain gets it's name because seen down from Taylor Park it has long dark gray, reddish, and white bands running thru it like the flag. Even with the haze from the forest fires out west, the views can't be beat. Here is a Topozone.com link to a topo map of the area (zoom in or out and scan left for more of the trail: http://www.topozone.com/map.asp?lat=38.95488599268244&lon=-106.6898940003006&s=200&size=m&symshow=n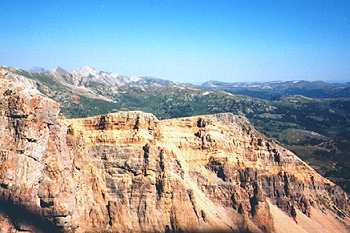 From the 12,713' American Flag Mountain looking north (note the alternating 'stripes')...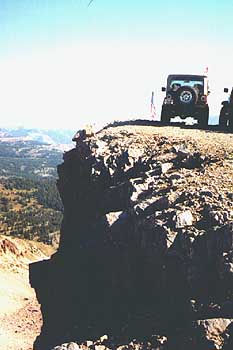 360 degree views...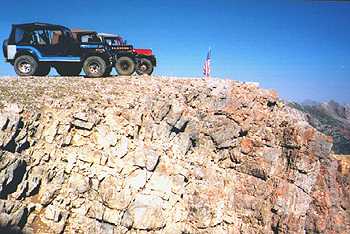 The American Flag flies...
On down American Flag, we headed over to the talus slope where the trail has been cut thru the slope. A couple of sections we spotted each other thru. The last section had a series of larger rocks tipping a bit down slope. The whole thing is intimidating just because of the shear drop off on the driver's side. Once thru, we were on our way down and out Cement Creek to HWY 135 over to Crested Butte. Our 1st leg of our 3 leg trip was complete.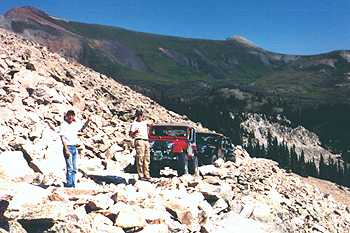 We get ready to run this tight spot on the talus...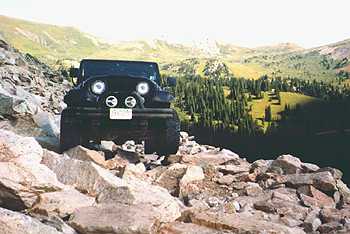 Jed McClelland crawls over the biggest of rocks with ease...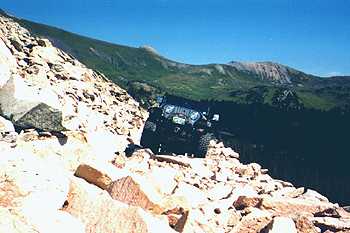 Chris Potter guides his 86' CJ7...
After a quick city tour of Crested Butte (ok we 'cruised' the Butte), we headed up past the ski resort, and on up past Gothic on FR 811 for a lunch stop. We were still making good time, as I knew we still had a lot of trail ahead. It was 1pm as we headed up (FR734) and over Schofield Pass, and thru the old town site of Schofield.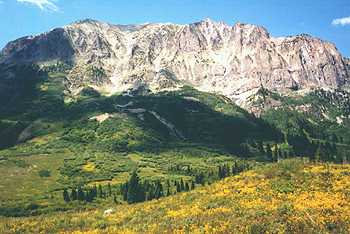 12,625' Gothic Mountain towers over the valley...
We also had seen a sign that said 'road closed' ahead, and I wondered if we would not be able to make our loop. We did see a group from The Grand Mesa Jeep Cub come past us, so I assumed they came up the canyon. Come to find out they did try to close it because a boulder was encroaching on part of the Crystal Canyon Trail as we soon saw.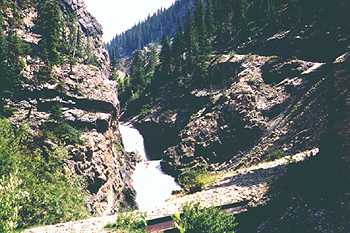 Crystal Canyon, no place for a hummer, an Expedition, or wide axles...
Crystal Canyon is a steep tight trail with the Crystal River cascading down it. The trail warrants your attention in 4low, as you maneuver thru the tight shelf road. We came across the boulder in question and each one was spotted by it with inches to spare on the right side. Once thru we thought we were down, until from around the corner comes up a Toyota 4-Runner. Remember there are no pullouts. We tried to figure a way to get by this guy when I discovered he had a flat tire.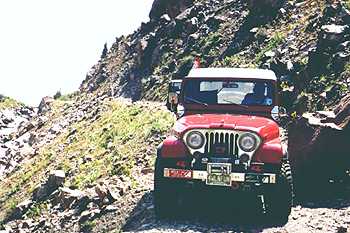 I squeeze by this boulder that has slide down on the trail with Chris spotting
(note where my right front tire is inches from a good 400' drop)....
Well, neither he our us were not going anywhere until his tire was changed. Come to find out he didn't have a lug wrench, and we were able to get the tire up enough to change it. We squeezed by and 45 minutes delayed we were on our way down to the ghost town of Crystal and the famous Crystal Mill.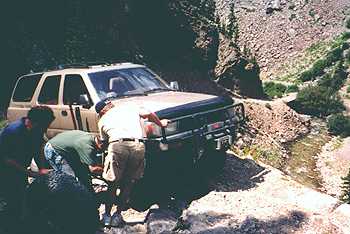 'The Hobo Mobile Tire Service' at work (just inches from the drop off)...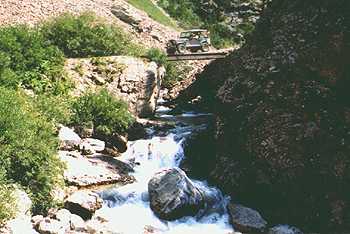 Jed crosses the bridge near the end of the tight
Crystal Canyon with cascading Crystal River below....
The Crystal Mill is one of the most photographed in Colorado. It's probable well know nationwide and internationally. Used to generate electricity in the late 1890's, it is protected and preserved today. If you ever get close to Marble or Crested Butte, you should take a trip and see the Crystal Mill, its worth it!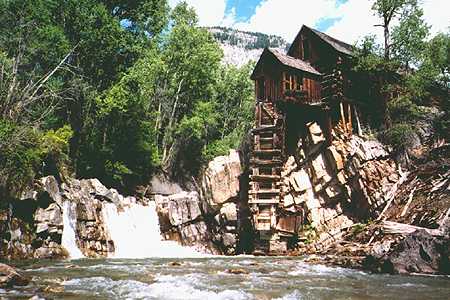 The Crystal Mill at Marble...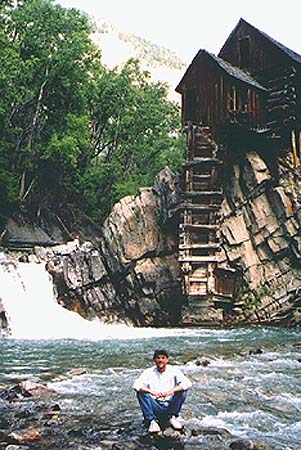 Time for some 'Kodak Moments' ...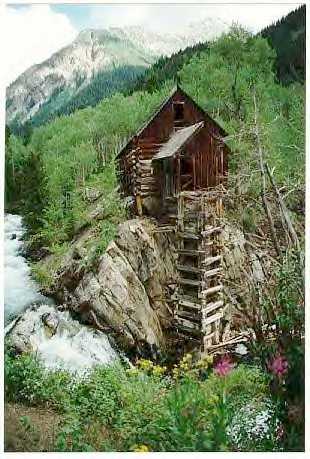 A view from the road...
(photo by Susan Eckles)
The trail down from the Mill to Marble is a nice moderate to easy stretch. I had seem a Subaru in Crystal, but I wouldn't take mine on this section. It's pretty rocky in parts, not big rocks, just a lot of them keeping your speed down. We finally reached Marble (home of the quarry up the valley of most of Washington DC's monuments and more). The second leg of the trip was complete as we reached HWY 133, and headed north to Carbondale for gas, and make our way back to Taylor Park thru Aspen and Taylor Pass.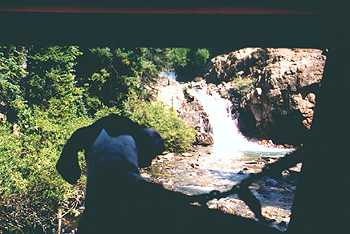 Molly enjoys a nice waterfall down the trail from the Mill...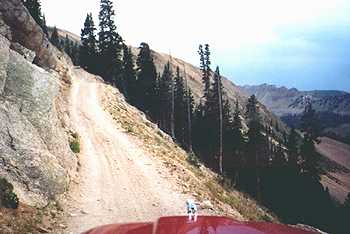 The western climb up Taylor Pass is easy but steep...
We headed up Castle Gulch Canyon out of Aspen for some Jeepin' at 6pm. Our last leg was from the ghost town of Ashcroft up and over Taylor Pass back down into Taylor Park. The west side of Taylor Pass was quite easy, as we reached the top with views of the area with the fading light. We headed down the 'fun' part on the east side (next time we are going up Taylor Pass) with our lights on as dusk at 8pm was fast approaching. Rocky sections abound everywhere! Just as you go thru one there is another! As the trail heads down, it would be better to run it up hill with all the rock chutes.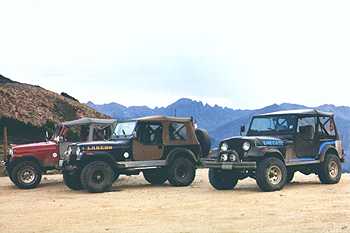 On top of Taylor Pass...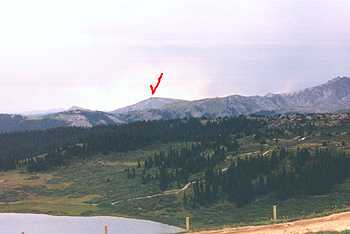 Looking south from Taylor Pass at American Flag Mountain (arrow), where we were this morning...
We made it to the county road in Taylor Park at 7:30pm! Just about 1.5 hours of constant Jeepin', what a fun trail! High 5's all around as we headed back to camp for some food and refreshments! I had a great day with Chris and Jed, thanks guys!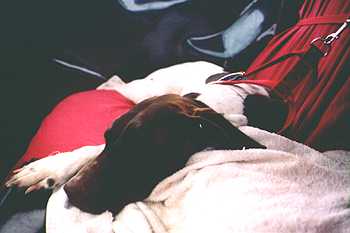 Even Molly was tuckered out as soon as I hit the flat county road back to camp...
Here are some excerpts of the day on the Hobo Café:
Chris "Colonel" Potter: "Good trip to Taylor Park area this last weekend. Just Bill, Jed and myself. Saturday was a brutal 12 hr day but well worth it. Night time temps dipped below freezing but the day time was great. My first time in the area and I look forward to going back."
"Jeep,Jeep"
Bill Hallinan HOBOJEEPERS
*Photos provided by Chris Potter and myself*
Other links of the area for reference:
Taylor Park Dam: http://dataweb.usbr.gov/dams/co00151.htm
Taylor Park Reservoir: http://www.taylorparkmarina.com/taylorframe.htm
Nice photos of the Crystal Mill and the Crystal River: http://www.swparks.com/us/travel/colorado/crystalpics.html
Marble, Colorado History: http://www.marblecolorado.org/
Crystal Mill Photo: https://members.tripod.com/~mountevans/colorado.html
Taylor Pass and more: http://www.off-road.com/4x4web/travels/colopass.html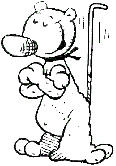 "Jeep, Jeep"

(c) Copyright 2001 MHJC Patrol One
Jeep is a registered trademark of DaimlerChrysler Corporation