PATROL ONE OUTINGS
ALL-4-FUN 2001
Salida, Colorado
Spiral Mtn./Aspen Ridge/
Bald Mtn. Gulch Trails
From Salida to Nathrop, Colorado

On Tuesday July 31st, at 9:00am sharp, it was time to line-up at the staging area just east of the 'big top'. Today, you are in staging line 5, on channel 36 for a fun run north of Salida. The trails run are mainly easy, except for the hill climb out of Salida. I checked everyone in, as we headed out at 9am to run the Spiral Mtn./Aspen Ridge/Bald Mtn. Trails on this wonderful Tuesday!! I (along with my jeepin-side kick Molly), led only 11 rigs (yep a small group, easier to manage--more flexibility) out of the staging area heading south on Hwy 285 to Spiral Mtn. overlooking Salida.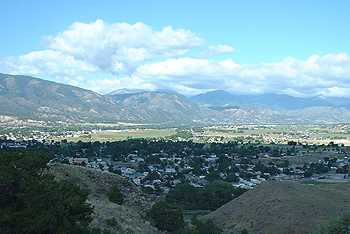 Salida, Colorado...
The 11 Jeepers for the day included: Rick Fitzimmons (Bronco), Jeff Carr (CJ), Scott Marshall (CJ7), Sheldon Brown (CJ7), Ed Cruess (Toy), Dick Bergerson (CJ7), Ray Jenkins (TJ), Bob Theige (CJ), John Davis (YJ), John Toumbs (TJ), and Bill Lindemann (Full-Size Blazer). My tail-gunner was Mr. Drew Middleton.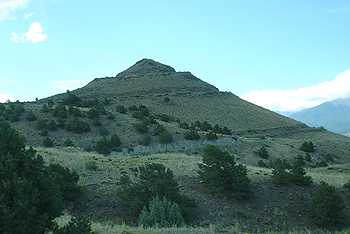 Spiral Mountain, around and around and around...
We headed south towards Salida for a quick run up Spiral Mtn. Spiral Mtn. is a small upside-down cone shaped mountain just east of town. I'm sure it's well know by the locals as the 'party hill', or the 'baby maker', cause it's all that. The road up to the top circles the mountain about 3 times before the summit about 600' over-looking Salida.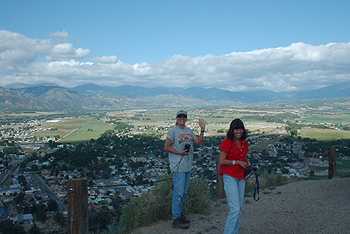 The views are great from this local 'make out point'...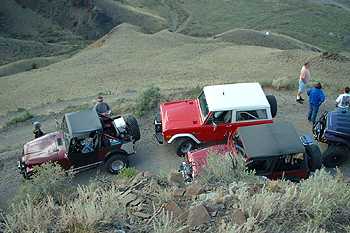 The spiral road just below the summit...
Near Spiral Mtn. is the turn off 'up' up FR 173 and let the fun begin. The trail climbs from about 7400' to 9200' in about 2 miles. Rocks and a tight trail keep your attention on the road and not the constant view of the valley below. This was definitely the best part of the trip.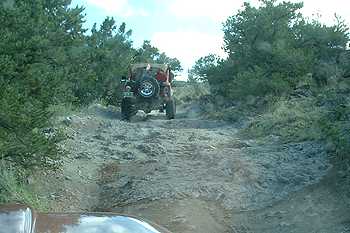 Numerous small rocky obstacles keep ya smilin'...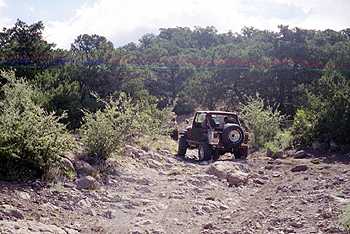 The climb and the rocks make for some fun...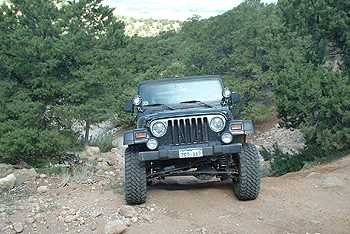 Drew Middleton thru the top part of this rocky obstacle...
We reached our turnoff to the north at FR 181 to head towards Aspen Ridge and lunch at the ghost town of Turret. We took county road 175 briefly to FR 184 for a stop at the ghost town of Turret. Turret was a mining town in the late 1800's, and today has been purchased by a developer who wants to preserve and sell lots to anyone who has $40k (depending on the size and location of course). We met the mayor of Turret (the developer), and spent about an hour looking around 'town'.
| | |
| --- | --- |
| | |
| Up thru high mountain meadows... | and past man-made lakes... |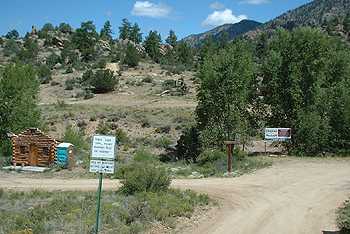 We stop at Turret for lunch and some history...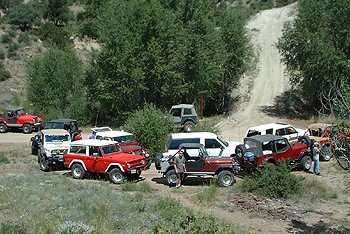 Stopping for lunch...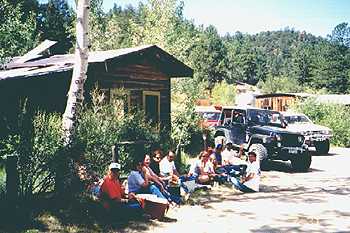 Nice grub, and company...
Having our fill, we headed back to FR 185, and headed north. The rest of the day was a relaxing trail thru the largest continuous grove of Aspens along Aspen Ridge for about 6 miles. Somehow a guy in our group managed to get a rock stuck in his brake calipers and was squeaking something good.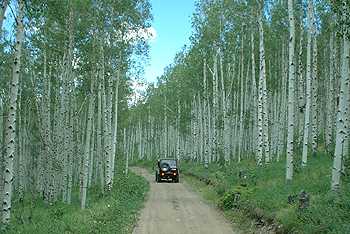 Beautiful Aspen groves...

After a break in the Aspens, we headed up thru Bassam Park and took a 'jeep trail' side trip back down the hill. I had some topo maps that showed this small ATV-like trail, so I decided to add some adventure and try it. Here is a topo of the area from Topozone: http://topozone.com/map.asp?z=13&n=4277865&e=412497&s=200&size=m&symshow=n

. Though I was hesitant, given I had led a group into and 'adventure' the day before.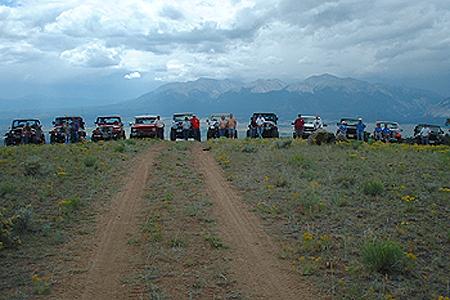 Great jeepers make for another great day of jeepin'...
The trail turned out to be fun. Nothing to write home about, but tight and fun. Once we reached near Bald Mountain Gulch, we followed the sandy bottom until we reached a ledge one would perk up about. This ledge was anywhere from 1' to 4' depending on which line to decided to take. Every line was taken, and even some used tires helped a bit. Drew was the last thru, and the storm we had been watching moving across the valley had finally reached us. Out came the raingear, door tops were put on, and it rained cats and dogs for a good 15 minutes.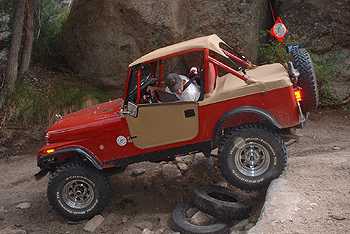 I step off the ledge, cushioned by the tires...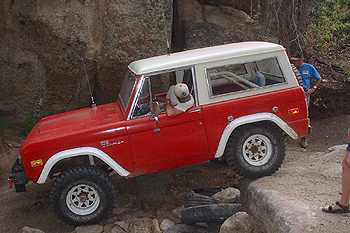 Rick Fitzimmons takes it slow in his automatic...
"Its all about Drew" as he hams it up...
("Hurry up Drew it's raining!")
We reached the end of the trail down by the Arkansas River as rafters went by. Another fun day of jeepin' a different part of the country (NE of Salida), for a different perspective.
The dessert under the 'big top' started at 6pm, with Bestop supplying the 'Ice Cream Social' ice cream for everyone's dessert. At 7pm., Gene King put on a Land Use Conference for a couple of hours to discuss current and future land issues.
Bill Hallinan HoboJeepers
Other All-4-Fun 2002 Trip Reports
Sat: Kendall Mtn. Sun: POWER GULCH TOUR Mon: Cinnamon Pass/Carson Townsite
Tue: Brown's Gulch/Corkscrew Gulch/Ross Basin/Colorado Basin Wed: Manufacture Day
Thur: Black Bear Pass/Imogene Pass Fri: Stony Pass/Kite Lake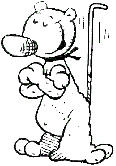 (c) Copyright 2001 MHJC Patrol One
Jeep is a registered trademark of DaimlerChrysler Corporation