PATROL ONE OUTINGS
RED CONE/RADICAL HILL
MIDDLE SWAN/
GEORGIA PASS TRAILS
From Webster to Jefferson, Colorado

On Saturday, Aug 11th 2001, myself Bobbette "Smiley" Mathews (Yellow TJ

), along with passengers Hobo Bill Hallinan his jeepin-sidekick Molly, and my toddler Michael, met up with prospective Hobo Jed McClelland (CJ), his friend Eric (YJ) who had a buddy riding, and Drew "Drewby" Middleton (TJ) at the Bugling Bull in Conifer. We headed out at 8am to Kenosha Pass. Bobbette, Bill and Drew set up camp for the weekend and air down, then it was on to the trailhead at Red Cone.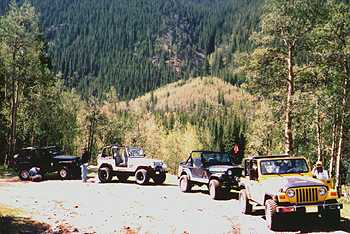 We organize at the Red Cone/Webster Pass trailhead...
The loop trip would include Red Cone, Radical Hill, Swan Fork, and the Georgia Pass Trails. The trip started out fairly easy with some rocky sections with beautiful scenery and Aspen groves. Being trip leader I got to stop to take a couple interesting pictures of mushrooms, while the group patiently waited. We pushed on up to the summit of Red Cone at 12,800' hoping to miss the rain.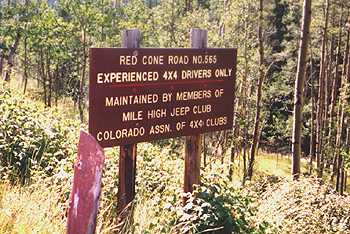 "Maintained by members of MHJC",
Note: "Experienced 4x4 Drivers only",,,,,hummmmm...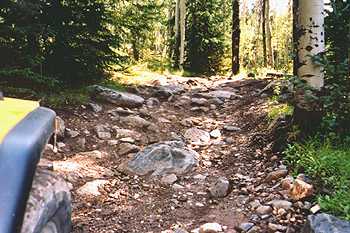 The trail starts in the aspens along periodic rocky sections...
We were lucky enough to only get some light rain a couple of times on the trail. We did stop at a tricky section with the middle being the hardest, but we all made it thru ok. The shelf rode up Sawhill Gulch was scenic. The clouds cast shadows on part of the range making for wonderful pictures and breathtaking awe. The view from the summit of Red Cone can't be matched, in my opinion, anywhere.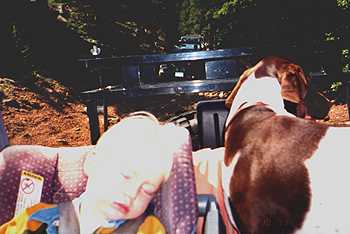 Micheal dreams of his own Jeep someday, while Molly 'hunts'...
| | |
| --- | --- |
| | |
| This loose rocky stretch is a challenge thru the middle... | As Drew soon finds out... |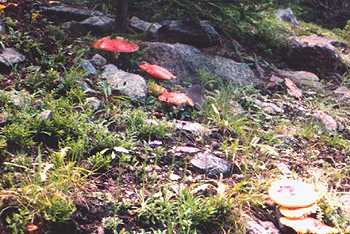 Cool bright maroonish-orange mushrooms dotted the trail...
| | |
| --- | --- |
| | |
| Near the top of Sawhill Gulch is another rocky section... | A steep climb up to the summit thru a small boulder field... |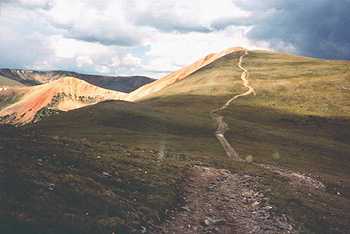 We make the final climb up to Red Cone as the dark clouds to our right hover...
We had a jeeper who had never been up, tag along with us as he was the first down the moguls. With a couple of photographers at the bottom we started down. Stopping half way down, Bill helps navigate the smoothest route. Seems people have created another route on the far left, which doesn't have the deep moguls in the center.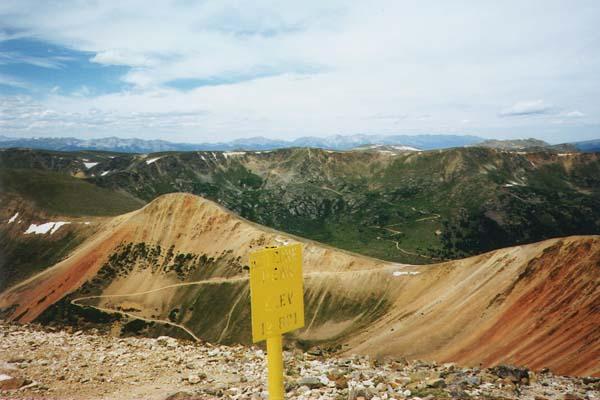 The top of Red Cone Peak with Webster Pass and Radical Hill Trails off in the distance...
My knees where shaking, when they weren't up in the steering wheel from the grade, and Bill laughing most of the way down. We made it down with a high 5, and Jed started his decent choosing a different path. Next came Eric with his friend enjoying the ride. Last but not least Drew with a big ole' grin.
RED CONE PEAK 12,801'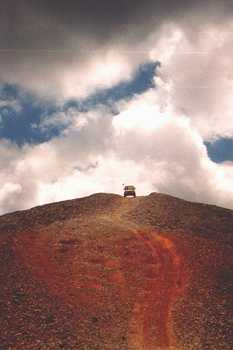 Bobbette ready's herself for the challenge, and conquers it!!

| | |
| --- | --- |
| | |
| Jed takes the hardest line right down the center... | Drew makes a 1st successful descent off Red Cone... |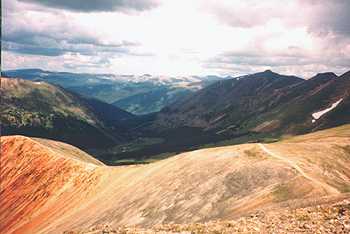 Views everywhere as you follow the ridgeline down to Webster Pass...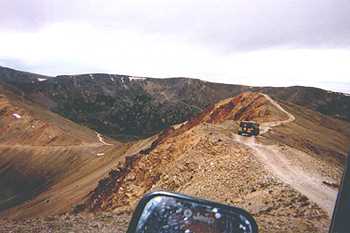 This photo from last year shows the 1500' or more drop off to the left...

We took a break to put up barricades along the way; didn't we do this last year? Seems some motorcycles cut off the trail on the west side of Webster Pass. Permanent barrier need to be in place. Still avoiding the rain, we had lunch in the meadow just below the Pass. A touch of rain came, so some put there tops up on there jeeps, all but Eric who got out the rain ponchos, he didn't have a top. Just in time for a good little shower.
RADICAL HILL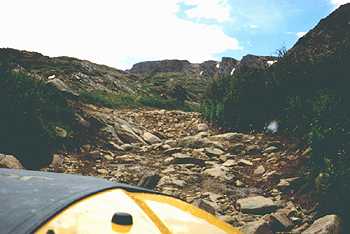 This obstacle has been known to take out TJ side-steps...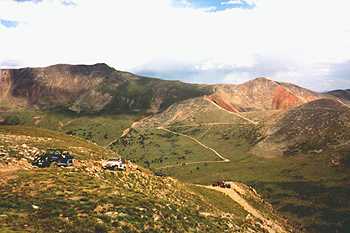 The last sharp turn on Radical Hill runs thru a loose rocky section...
Red Cone and Webster Pass is across the valley.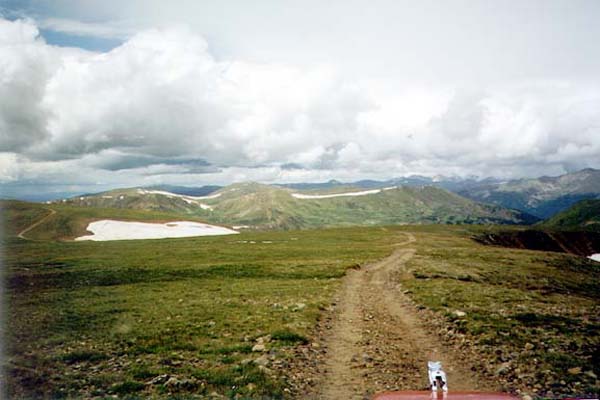 Now this is Colorado!!...
The tundra shelf road at over 11,500' above
Radical Hill (center right) offers 360 degree views!
(this is a shot from our 99' trip)
The trail up Radical Hill has a few tough spots and it was a steep climb up. There were a few people up top we had to maneuver around. The views of Summit County are always great! This area is the largest shelf (above tundra) trails closest to Denver. We drove down Swan Valley and back into the trees and stopped by an old cabin. We passed and 'passed' on SOB Hill this year, it's not going anywhere.....
SOB HILL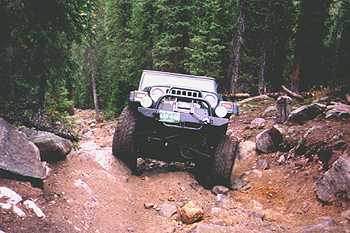 From last year at SOB Hill:
"Mad Max" climbing and negotiating...nice run Scott!

A look down S.O.B. Hill, steep and boulders everywhere...fun,fun,fun!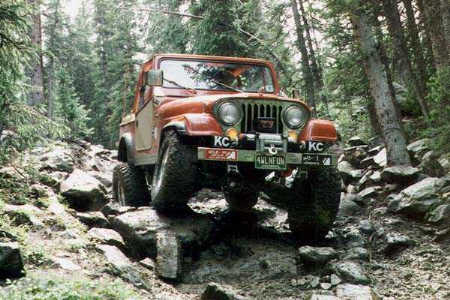 Here's a shot of Bill Hallinan coming down S.O.B. Hill
in the rain during All-4-Fun 99'...Wet, slick, and muddy.
The loop to get back to camp calls for us to head up Georgia Pass. The trail starts off misleadingly easy and goes into a few rough spots. Everyone made it up to the top where we then saw, regular vehicles? The trip down the other side is a maintained county and easy trip from there on into the little town of Jefferson.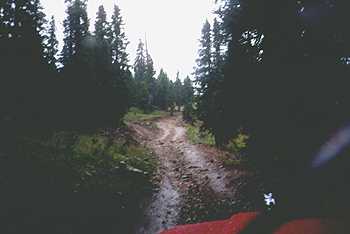 This is a photo from last year's run up Georgia Pass in the rain...
Jed and his friend Eric left for home while Drew and I (with my navigator Bill) went into Jefferson for gas and marshmallows. Gotta have those for the campfire ya know (even if they were overpriced!). The camp was pretty wet where it had rained in the afternoon. Again, we were fortunate on the trail with no problems, and all had a great time.
Bobbette "Smiley" Mathews HoboJeepers
One important sidenote: We were in the same area Mike Lane rolled his CJ7 and lost his life that day above the Middle Swan and Gibson Lake during this same week ONE YEAR AGO. Please be safe wherever to ride. ALWAYS STAY PERPENDICULAR TO THE SLOPE. Don't take chances with your life, say NO "it's not safe", if you have a choice, and YOU DO-your buddies will understand.
Here are some other Red Cone/Radical Hill/Swan/SOB Hill/Georgia Pass Trip Reports:
Red Cone/Radical Hill/Swan/SOB Hill/Glacier Ridge-All-4-Fun 99'-HoboJeepers
Red Cone Trail 99'-HoboJeepers
Red Cone Trail Map by 4x4trails.net
Co Sports.Com Webster Pass/Radical Hill
Georgia Pass/S.O.B. Hill by Flatlander
Red Cone Trail by MHJC Patrol 16
Big Horn Jeep Club Trip to Red Cone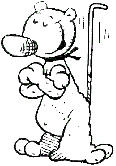 (c) Copyright 2001 MHJC Patrol One
Jeep is a registered trademark of DaimlerChrysler Corporation