ALL-4-FUN 2001
Salida, Colorado
Mt. Antero Trail
Near St. Elmo, Colorado

On Friday August 3rd, begins the last day of trails of a fun week of jeepin' :( . I (along with my jeepin-side kick Molly), led 22 rigs out of the staging area at 8:30am sharp on channel 28. The trip was headed up Chalk Creek, and on up a good 5000' climb to right below Mt. Antero at 13,800'. This is the highest trail of the week, and it's the most scenic with it's many switchbacks and views.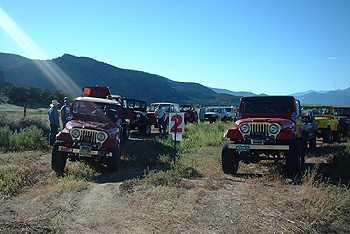 The last staging of the week for Mt. Antero...
The 22 Jeepers for the day included: Rick Fitzimmons (Bronco), Jeff Carr (CJ7), Bob Daniel (TJ), Scott Marshall (CJ7), Orim Einsdahn (TJ), Dave Bartunek (Bronco), Chari Ainsworte (XJ), Bob Daniel (TJ), Walt Maurer (CJ-6), Jeff Lind (CJ5), TJ Lend (TJ), Lee Daniels (Chevy), Tony Flatt (XJ), Jack & Sue Bushell (AJ), Jake DeRuter (CJ5), Bill Grant (CJ7), Phil Rhode TJ), Ernie Kerbs (CJ5), Tom Ellis (TJ), Steve Wagner (Bronco), Tim M. (CJ7), and finally Zack Willken (YJ).
We headed up Hwy 285 north out of camp a few miles to the St. Elmo turnoff (Chaffee County road 162), which leads west up the long incline to the mouth of Chalk Creek and the white Chalk Cliffs. We stopped and aired down, and took care of business at the trailhead. Ready, we headed up FR 277 on our way to a saddle at 13,800', just west of Mt. Antero.
The trail is a bit rocky as you climb steadily in the trees. Rounding the corner we reached clear Baldwin Creek as it cascades down the steep slope to our left. Remember we need to climb 5,000', so sitting back in your seat was an easy thing to do. Just like sitting in a tour jeep, but you have control...
| | |
| --- | --- |
| | |
| Baldwin Creek cascades along the trail... | A refreshing sound... |
We reached the intersection with Baldwin Lakes trail (to the right), and Mt. Antero (to our left). Here is a Topo of the area from Topozone: http://topozone.com/map.asp?z=13&n=4282013&e=389473&s=50&size=m. On to our left we forged Baldwin Creek as tree line around 11,000' approached us. We stopped for a 10-100 just before tree line and the switchbacks.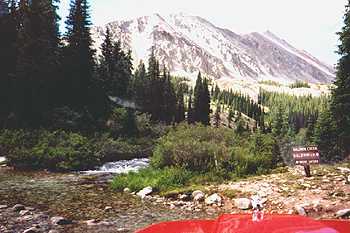 The turnoff to Mt. Antero to the left across Baldwin Creek...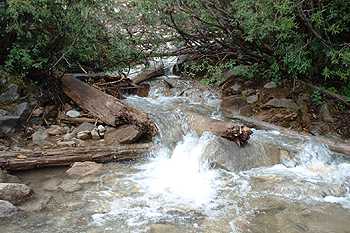 Small brooks like this one followed and crossed the trail...
| | |
| --- | --- |
| | |
| Our last break at treeline... | Starting up the 1st switchbacks... |
Once moving, we reached the base of the switchbacks and headed up. Up and up, we gained elevation and views. Coming up out of the Baldwin valley in the tundra, the surrounding Collegiate Range starts to surround us.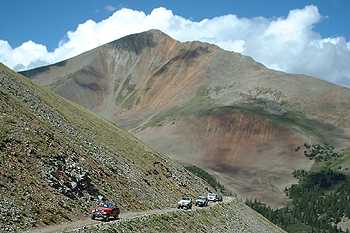 13,708' Grizzly Mountain towers over the opposite valley...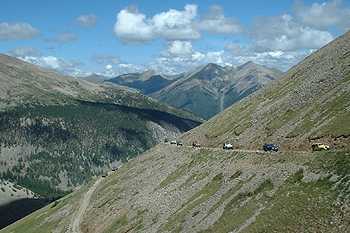 Baldwin Valley opens up the higher you climb...
Passing other vehicles, ATV's, and motorcycles becomes a challenge with 23 rigs. There are a few pull outs, as everyone made it by. Finally, we reached the ridgeline below our final accent and headed up FR 278 1a to the saddle for lunch. The switchbacks up the saddle were a little intimidating, as there were some loose rocks in places.
| | |
| --- | --- |
| | |
| Looking north, Jeeps work their way up the west side of Mt. Antero... | These last few switchbacks get tricky and loose... |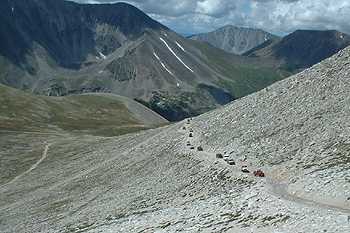 The group below is on the last leg to the top...
Ahhhhhh lunch with a view! We took in the sights of the surrounding peaks and valleys as puffy white clouds wizzzed by. Our lunch was timed just enough, as a nasty big dark cloud headed for us. We split up as some headed down the mountain, while I took a few over the valley to Mt. White. The rain started pretty heavy, and even my bikini and tonneau were no match.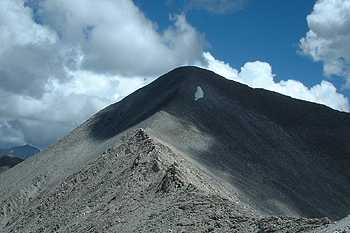 The summit of 14, 269' Mt. Antero is in a short walking distance...
Looking off to the west...

Looking off to the south, where we later travel up

the switchback over to Mt. White as storm clouds approach...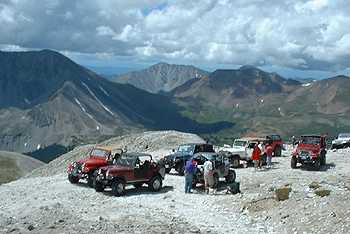 We have lunch at the 13, 800' saddle of Mt. Antero...
This is what it's all about...
All the way down it poured! Add bits of lightning, and you have some excitement! Seems when you are going downhill, everything goes downhill too, like water running off the tonneau cover straight into the Jeep. Molly was no dummy, she requested to get cut loose from her harness to head for cover in back.
Heading down, the Chevy truck had some tranny problems, and a TJ literally had it's wheel fall off! Yep, as we were about 2 miles from the trailhead, the left rear tire came off the drum and rolled past them. The right rear tire was also loose. Seems on Tuesday, they did a 'ride and drive' with BF Goodrich, and the nuts needed to be tightened more. It's a good thing it happened at a slow speed rather then the highway. With a hi-lift and some extra lugs, the TJ was ready to head down about an hour later. We waited along with other people because the TJ was in the road. I saw them back at camp at BF Goodrich while I was filling up with air. BF Goodrich planned to cover any repairs they had and make it right.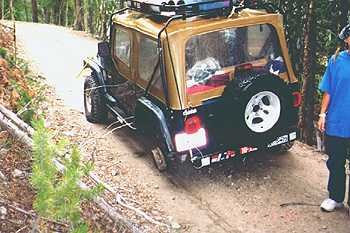 The wheel falls off, seems the lug nuts were too loose...
After we got down off the trail, some of us took a side trip over to the ghost town of St. Elmo to feed some chipmunks and take in some scenery before calling it a week and back to camp. There actually is a general store there now in St. Elmo, right where an old store used to be 100 years ago. Hummingbirds fly all around you as you enter. Another great day at All-4-Fun---time for some grub!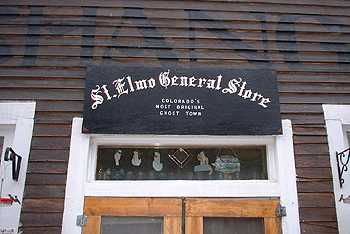 The St. Elmo General Store...
(note the hummingbirds on the left everywhere)
Well, well, well,,,,,,,,the trips are over. As I was airing up for the trip back to Denver, I noticed I only had 1 bolt holding my hub on! Yikes! What timing! At least I can get home to fix it now in 2WD. How ironic that I talked to Harold Ogden of Warn just before 'Warn Night' that night about my situation. He recommended the Warn hub conversion kit for CJ's. I have since had it installed, and I would recommend it to anyone with 'bolt' problems!.
Warn Night! The grand hurrah! What a week of jeepin' and friends! Around 6pm the burgers and dogs were ready, and the beer and soda was flowing. The country band from the past 2 years were there from 7-11pm for some great tunes! Harold handed out some nice Warn products, and I won a Jeep bumper! Warn and Harold gave me credit on the bumper for the Hub Conversion. It's installed now, and no more bolts! Ahhhhhh, time to leave Sat. Another great year, and I already have vacation plans in 2002!
Bill Hallinan HoboJeepers
Other All-4-Fun 2001 Trip Reports
Sun: Hancock/Tomichi Passes Mon: Toll Road Gulch/Clover Creek Tue: Spiral Mtn Trail
Wed: Manufacture Day Thur: Chinaman Gulch Fri: Mt. Antero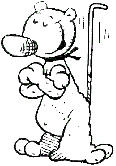 (c) Copyright 2001 MHJC Patrol One
Jeep is a registered trademark of DaimlerChrysler Corporation