PATROL ONE OUTINGS
ALL-4-FUN 2001
Salida, Colorado
Chinaman Gulch Trail
Near Buena Vista, Colorado

On Thursday August 2nd, everyone was well-rested from Manufacture's Day (well some), and at 8:30am lined up to do Chinaman Gulch Trail. Only a maximun of 25 vehicles are allowed to sign up for this trip, but somehow Kevin Carter had about 35 or so (no official count recorded) head north out of camp. I signed up to be tail-gunner for Kevin, so I (along with my jeepin-side kick Molly) along with Rick Fitzimmons (Bronco), and Jeff Carr (CJ7)--and passenger Scott Marshall (left his CJ7 in camp), spent most of the time waiting at the end of the pack. I don't have an official list of who was on this trip since I never got it from Kevin.
We 'all' pulled out of the staging area, and headed north up HWY 285 just past Nathrop. Since the original trailhead to Chinaman has been closed due to the landowner creating a pond, a new entrance was found thru county road 300, then north about 1 mile to a gate. Turn right, the follow the fence line all the way to the next gate. Take a left, and the trail (and the fun) begins.
| | |
| --- | --- |
| | |
| Exit,,,,,stage left... | Exit,,,,,stage right... |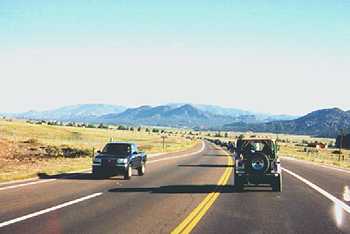 Some 35 rigs ahead of me wrap around the curve heading north on Hwy 285...
This section of the trail doesn't show up on a Forest Service map, but does on a topo map (here is a topo map and another trip reprt of the area: http://www.4x4trails.net/db_view_trail.asp?trailNum=113). We climbed up the 1st ridgeline thru some nice rocky sections, then headed north and into Chinaman Gulch. We lost a stock Dodge Dakota truck with steering problems, but that was all for 30+ rigs!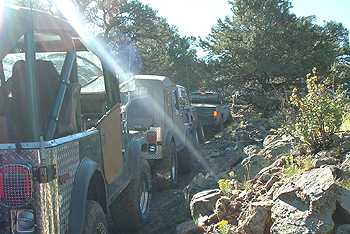 Hey look, were waiting again (we get used to it)...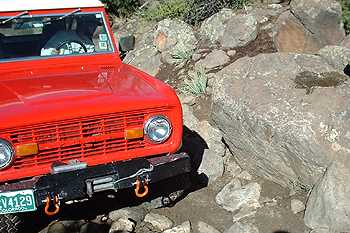 Rick Fitzimmon's Bronco just misses a 'kiss'...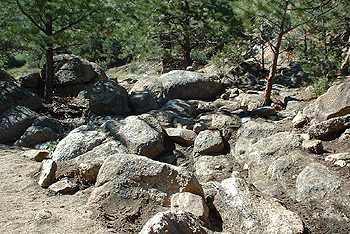 This small rock garden looks inviting...
Along the gulch there are some nice rocky side rocks to play on. One guy got hung up on one big rock, and had to winch himself over it. We finally reached (remember we are in the back) the main obstacle. Kevin had spotted most everyone over until we got there. Funny, we walked up to watch everyone, then we walked back to get our Jeeps and there was nobody there! So we conquered it ourselves and moved on up the gulch.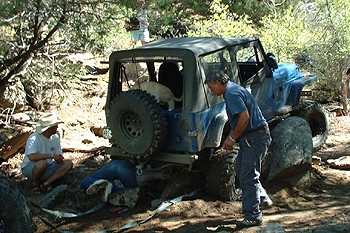 Stuck on the front passenger shackle, he winched himself forward eventually...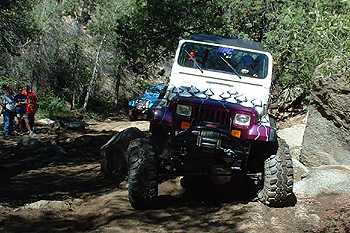 While others just go over the huge boulder in style...
| | |
| --- | --- |
| | |
| Seems it's all in the right line you take... | This guy never made it up, but made for some fun to watch... |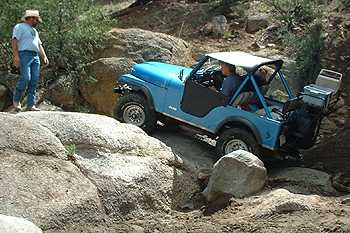 The easier way thru is the far right side...
| | |
| --- | --- |
| | |
| I took the middle line also... | Photos don't always show the true nature of obstacles... |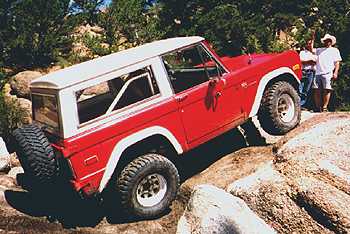 Rick makes it on up with no problems...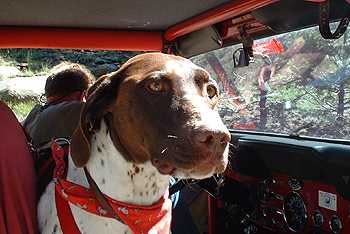 My Molly seems to enjoy the ride too...

We reached a turn to climb back up the ridge, and met up with the rest of the group on trail having lunch, so we did too. After a break for lunch, we followed the ridgeline around to the end of the pack at the next obstacle. We watch from afar (a rock outcrop a few hundred feet back), as everyone managed to get up and over it. Jeff and Rick made it also, as Rick stuffed his tire nice and good.
| | |
| --- | --- |
| | |
| Many more ledges and rocks lie within the gulch... | Hey dudes, waiting to move up?? |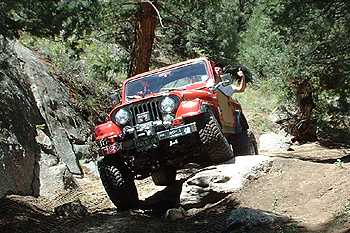 I just like to get 'jiggy with it' when I can...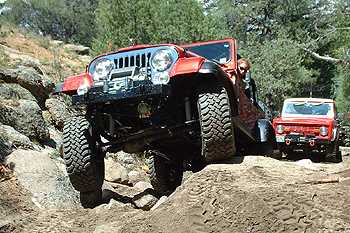 With the 360 and automatic, it's a 'walk in the park'...
| | |
| --- | --- |
| | |
| The Collegiate Range off to our west... | This requires a right then a quick left, then a quick right out... |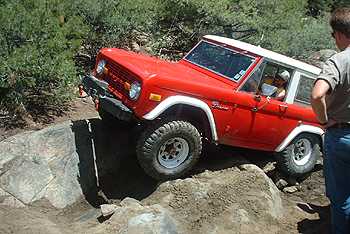 Rick's left rear gets crunched in the flexing...
Seems we got split up when Kevin took a group down to some obstacles in the lower gulch and we ended up heading back down the mountain to the entrance we came in. We re-organized and people headed back out to pavement once we reached the valley floor. Thanks to Kevin for a great day!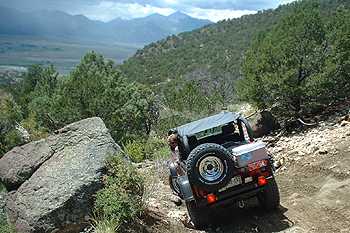 On our way back down...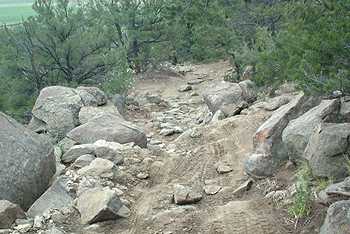 Back thru the squeeze again...
The big 'Door Prize night' awaits at 7pm, as you must be present to win! We had the Children's Hospital raffle (raised over $5500), at around midnight for some great stuff. The 'Jeep' plaque was also auctioned off for charity, and went this year to the 'HoooBs' for $625. They will bring it back at next All-4-Fun, and we do it all over again!!.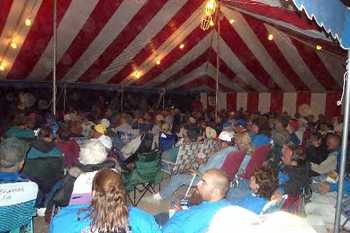 Boy was it crowded for Door Prize Night under the 'Big Top'!!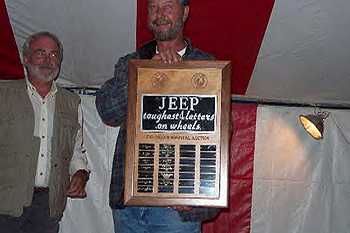 This year's Jeep Plaque goes to the HoooBs...

Bill Hallinan HoboJeepers
Other All-4-Fun 2001 Trip Reports
Sun: Hancock/Tomichi Passes Mon: Toll Road Gulch/Clover Creek Tue: Spiral Mtn Trail
Wed: Manufacture Day Thur: Chinaman Gulch Fri: Mt. Antero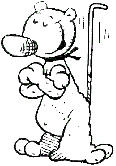 (c) Copyright 2001 MHJC Patrol One
Jeep is a registered trademark of DaimlerChrysler Corporation