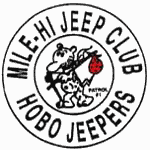 November 2001

Hobo articles
represent the previous month's activities, and are published in MHJC's "Jeepers In The New's"

November-Already??? Geeeeezzzzz, so much for that extra hour of sunlight after work. But hey, we have the Broncos, the Avs, and yes even the Nuggets in full swing! The white stuff covers the high country trails til next spring, as the ole' standby trails are still probably open if you get the itch (to Jeep that is) this winter. To name a few: Slaughterhouse, Longwater/Hackett, Castle Gulch/Left Hand Canyon (I hear you can go by tip-over rock, as it is gone), and some others you may know of, are still fun with a few inches of snow on them. Moab is a nice place for some 'Turkey'---on the rocks.
On Sunday September 23rd, the Hobos met up at the Morrison exit just off I-70 at 7:30am for a drive up to the Wheeler Lake trailhead just off Hoosier Pass. Hobos in attendance were along with myself (CJ--and my jeepin-sidekick Molly), were Paul " Weiszguy" Weisz (CJ7) with son Bret, Drew Middleton (TJ), Marc & Kristin Gilbertson (CJ7), Chris and Debbie Vieth (YJ), and Jason Brew (XY). I was the only one brave enough (or dumb enough) to go with the 'summer' look, as I got to enjoy some 60 MPH wind chills up to Frisco. We stopped at Frisco for some food and gas, then on past the Octoberfest in Breckenridge to the trailhead. Too early for brats and beer I think.
We aired down and did the 'disco', and Chris Veith lead us up the trail. Just past the mine is the 1st 'obstacle' to climb up and over. Chris had something wrong with his 4WD, as it would not engage. Upon a closer look; he had some piece of metal stuck in the linkage. While we were getting Chris in 4WD, some guys in a lifted (but beat up) Land Rover were behind us with no patience at all. They were from either Romania or Russia, either way they were rude. This idiot proceeds to try and go around us thru the woods to our right. Well, we all ventured over to where he was to tell him there was no way around, and there was no trail where he was. Of course he was sure that this was a trail too, and '100's'have been thru, so he can too.
We tried to diplomatically (and nicely) explain that this is how trails get closed, because people forge new trails around obstacles or people on the trail, then other people follow those tracks and 'think it's a trail'. So we took his license plate, and finally threatened to report him to the Forest Service to collect his $1000 fine in the mail. After he realized he couldn't get around us, he waited (5 minutes).
Well, about that time Chris was ready to go, so we all got thru the obstacle and pulled over to let him on his way (and out of our hair)! I know the Fugowies would not of appreciated this guy off the trail, as it is their Adopt-A-Trail. The story continues with this guy as he came to the end of the Oswego Jeepers ahead of us at the last obstacle. He told them he was in a hurry because his 'steak was getting warm'. Rude again, and now the Oswego's curious, the sheriff, and the Forest Service want the license number we have to talk to this guy.
Jason Brew gets some air! (left), I sure like my Skyjackers! (right)
After everyone ran up the first obstacle we came on the 2nd. With two choices again (like the 1st obstacle), you have a V-like ravine to the right, or a series of stair steps on the left. We each took turns. Paul decided to take the harder left line and as each tire was trying to climb the steps simultaneously, we all heard the 'pop' noise. Sure enough, the left front u-joint was toast. So, Paul got lifted out and proceeded the trip in 'three-wheel drive.
Paul Weisz goes thru the 'easier' last obstacle in 3WD (left), The trail heading east and down (right) The trail has many fun small to medium-sized rocks to venture over as you are accompanied with willows on each side of you. Climbing higher, we reached the bottom of the hill that climbs up to Wheeler Lake. There were the Oswego's ahead of us, and we all one by one climbed up a good-sized rock field to the last obstacle. It seems that someone has stacked rocks and somehow chipped away the obstacle to make it much more easier then before. Like Iron Chest, you can see how many of the larger rocks have been removed and placed along the trail. Without the difficulty, it was still a challenge for the open vehicles, as the made it thru cleanly. Those big rocks need to be back on the trail.
We made it up to Wheeler Lake where the Oswego Jeepers were already there. Everyone was parked high and on the area already worn from vehicles (off the tundra), while our Land Rover friend has to be 'cool' and park down by the lake on a rock (on the tundra), just great. Numerous great ideas arose to easily teach the guy a lesson, but all I did was take another photo for the Forest Service for proof. By the way, nobody saw the guy cook his steak, since him and his buddies must of hiked up to the upper lake.
After lunch, on a wind-free sunny day, we headed back down. On the last obstacle (1st one after lunch), Paul ended up busting his other u-joint on the driver side. So now he was in 2WD the rest of the way down. The obstacles and rocks were just as fun going down as they were going up. Some got some nice articulation of the last obstacle (1st going up), as we ended the trail at the mine again.
Marc Gilbertson's CJ gets 'twisted' (left), As does Drew Middleton's TJ (right) Remember, if you see someone off the trail, or doing something they not allowed too. Take photos, and get their license plate number and notify the local FS Ranger Station. They really do follow-up, and at least it's recorded.
Wheeler is a fun 'up and back' trail, and a definite 8 out of 10. It used to be rated 'Extreme' because of the last obstacle, and now it's 'Difficult'. We tried to get air from Paul's York compressor, but the casing had busted, so we headed on to Breckenridge and Frisco for some air. We stayed together all the way back to Denver to see that everyone made it home safe, and parted on the freeways after a great day in the mountains and on the Wheeler Lake Trail!!

When one thinks of Fall and the changing of seasons, one thinks of "Aspencades". Thanks to Tom Allen and Lavonne Brown, and Dennis Ervin for keeping this MHJC tradition alive this year. It's a lot of work, so some don't take it on, but they stepped up at the last minute. If you didn't make it up,,,,,, you should of, because you missed a fun time, either on the trail Saturday or in camp. It's also the only MHJC sponsored event left other then All-4-Fun to attend as a club. I hope more patrols begin new traditions in 2002 with new annual events to look forward too. We are still planning our 4th Annual Hobo Run in Mid-July. How bout' some 1st Annual events??
On Friday September 28th, Hobos Drew Middleton, Steve Gilbert, and myself (with my sidekick Molly), with prospective Hobo Jason Brew and family all headed up to the Pickle Gulch group campground north of Blackhawk. We had the whole campground to ourselves. There was plenty of room to RV or tent camp. The winds were silent (with the exception of a few gusts near 3am, nothing like 2 years ago), and the weather was nice (colder Sat night). Drew and I went down to Blackhawk and had a good $5 buffet at a casino, though mine ended up costing me an extra $20!
On Saturday September 29th, everyone was up about 7:30am to get ready for a 9am departure to hit the trails. As part of MHJC's Aspencades 2001, Tom Allen was leading a trip around Kingston Peak, while I would lead a trip up Pickle Gulch and Miner's Gulch Trails. The camp was alive with hissing sounds as everyone disconnected for Pickle Gulch (the trailhead was nearby). Tom's group (sorry if I missed one), consisted of Lavonne Brown P12 (CJ7), Bruce Boomer P4, John Davenport P13, Ken Munger P13, John Over P14, and Robert & Jill Schlegel (YJ).
At 9am, I (& my jeepin'-sidekick Molly) headed out of the campground with a fun group of Jeepers that included: Drew Middleton (TJ), Ken Kordes (61 Ford), Steve Gilbert (TJ), Don Deralth (XJ), Jason Brew (XJ), Dennis & Marci Ervin P14 (Toy), Todd Frick P11 (CJ), Steve Annis P3 (CJ7), Henry Pawak (YJ), Frank & Debbie Eichenlaub P14 (CJ7), Neil & Jill McCorrison P14 (TJ), Greg Lundeen (TJ) and friends, and Dirk Ballanger (CJ7) as Tailgunner.
The trailhead for the Pickle Gulch Trail was just a few hundred yards from camp so the wheelin' started right away. It's a fairly easy trail, but tight enough to warrant your attention. Up a few hundred yards is the one obstacle Pick Gulch has. It's a granite rock with 2 small ledges to climb up and over. We all took turns going up and over it, and gave an applause for each.
Climbing up Pickle Gulch past the aspens that peaked last week, we reached the ridgeline and stayed left to circle the south end of Oregon Hill. Just past the saddle the Front Range opened up and we headed down to Apex. Once in Apex, the county road becomes quite rough for a county road and wide on up to Elk Park. For a second there I thought I was in Arkansas, as a couple of 'yahoos' were doing long range 'shooting' practice with what sounded like ozzzies right near the road. We stopped to regroup at the intersection of the Tolland road.
The obstacle on Pickle has a few lines (left), Drew Middleton picks the far right line (right)
Ready for some jeeping, we headed down towards the Miner's Gulch trailhead. Miner's Gulch is a trail I stumbled on at All-4-Fun in Central City, and ended up leading 3 trips up and down it. It's named Miner's Gulch since the gulch has the same name. The HoboJeepers are attempting to adopt this Forest Service road, but some red tape and the city of Central City may see otherwise. Rumor has it, the want to close this fun rocky section since the come in from the Columbine campground. The drainage is also for their water system. So, I'm sure you will here more in the future.
Get in, strap down the kids and dogs, and have them get ready for some fun! It's a short section that takes you all the way up to the ridgeline road that then goes on to Yankee Hill to the west or Central City to the east. It's not maintained, so good-sized rocks and boulders along with water and logs tickle your jeeping senses. Everyone who was locked and open had fun climbing up the 1st section, and everyone made it thru the main rocky section (similar to Spring Creek's 'rock garden') higher up. Halfway thru, the area opens up to afford a lunch stop.
Lookout! Dennis Ervin's 'Toy' is coming! (left), Ken 'Toolman' Kordes gets the 61 Ford the 'rocks' (right) After lunch, the trail still dishes out some decent rocky sections as you climb up out of the gulch. After winding around trees, we reached to ridgeline. As it was only 1:30, we split up the group to people that wanted to head back down to camp, and those who I offered to take back down Miner's again (cause it was fun!). Drew, Jason, Greg, Dirk, followed me back down. Getting a different perspective of the trail going down, it's still best going up. We headed thru the same rocky sections we had just climbed up. We smiled all the way to the trailhead. Once thru, we headed back to camp with rumors of dinner being somewhere around 4-5pm.
Henry Pawak's YJ eases thru (left), Steve Gilbert near the upper section-steep here (right) Seems we started so early (like 4pm), most everyone ran dry in the 'refreshment department. Next year maybe we should call it 'Aspenkegs'? When it seemed like 11pm it was only 8. The few diehards and Henry Pawak (fire manager) threw the last 2x4's on the fire at 9:30pm, and the camp was soon quiet after that. Well, except for some stranger that wondered thru camp (most heard) at 1:30am.
Now that's flame-broiled!! (left), "OK, any good jokes? Another 2x4 Henry? (right) After a fun day on the trail, Tom and his group were 'cookin' up some great food before it got dark. We had hamburgers, hot dogs, and chicken 'flame-broiled' over an open fire. Tom handed out everyone a door prize, as I was awarded 5#'s of salted peanuts (running joke-hadta' be there), they should last me all winter.
Thanks again to Tom and Dennis for a fun Aspencades 2001! As we bid farewell to the golden aspens, and welcome in the winter snows. A chilly Sunday morning came as everyone seemed to 'sleep in' past 8:30am. Much to our surprise, Tom and Lavonne set out a wonderful continental breakfast for us at 9am! It consisted of fresh fruit (Yes, Lavonne actually cut up melons, and peeled the bananas!), huge muffins, donuts, bear claws, cookies, coffee, milk and OJ! Thanks again! We all took our time packing up and the Hobos ended up heading down Hwy 119 about 11am, and home by noon. Just in time to wash the Jeep, then sit back and watch the Broncos get trounced by Baltimore.

On Thursday October 4th, Drew M. hosted the October Hobo Meeting. Hobos in attendance were: myself and Drew, Ken "Toolman" Kordes, Marc Gilbertson, Jed McCleeland, and prospective Hobo Jason Brew. We watched some of Marc's video of the Wheeler Lake trip, and discussed MHJC and Hobo business.
On Saturday October 6th, Paul Weisz led a group up Bill Moore Lake and over to the Mill Creek obstacle. The day ended so soon, that some did Spring Creek 'on the way home'. I hear the rocks are 'growing' in the garden.
On Saturday October 27th, it seemed strange to wait to go jeepin', but around 5pm, we assembled at Hwy 6 and Hwy 93 west of Golden for a Pickle Gulch/Miner's Gulch/Yankee Hill 'NITE RUN'! Hobos in attendance were myself (CJ-with my jeepin' sidekick Molly), Paul 'Weiszguy' Weisz & son Brett (CJ7), Jed McClelland & son Micheal (renewed-CJ7), Jason Brew (XJ), Steve 'Moose' Gilbert & brother (TJ), and Drew Middleton (TJ). Guests included: Don Deralth (XJ), Greg Lundeen (TJ), and Mike (XJ). Only Mike and Greg (non MHJC members) had seen the trip posted on our Hobo website. Seems we were right when I posted the trip on MHJC, as nobody from MHJC came for the fun.
It seemed appropriate for Miner's Gulch being our Adopt-A-Trail, and that we have run it many times in daylight, so it was time to try it at night! The rocks looked bigger, and the touch of fresh snow made it much more fun! The 9 of us headed out west on HWY 6 along with the many gamblers on up to just past Blackhawk. We arrived at the Blackhawk Post Office with just enough light to air down and disconnect a little after 6:30pm.
We headed up to the Pickle Gulch trailhead with lights on and "Jeep,Jeep" anticipation ahead. Time to lock in at the trailhead, as we soon arrived at the small obstacle at Pickle Gulch. One by one we all went up and over. Seems strange not being able to see everything around you in the dark. You see what you need to do, and then you make a mental photo of what you need to do as your tires finally make contact.
Up to the meadow, I made a left and headed back down Silver Creek. This section doesn't get a lot of use, so small rocky sections were in order as we made our way down to the Apex Road. Don and Steve headed back to Denver, now we were 7 at 7:30pm. We soon arrived at the trailhead of Miner's Gulch ready for some fun! At nearly 9,800', and deep in the trees, last week's storm had coated most of the rocks with a dusting of 2 inches here and there. The snow was just enough to feel the bumps, but also just enough to slip off them at the steep grade.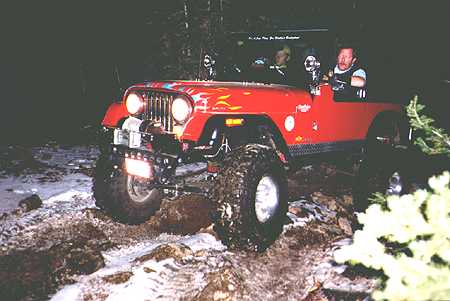 Paul picks his way thru the dark...
One by one, we crawled up the lower section til we reached the 'rocky playground'. We took turns climbing up, and sorta 'winging it' when it comes to knowing where you are. This was a different approach for me (nite-jeepin'), and a lot of fun (this was only my 2nd nite run). Pictures were hard to take as you can imagine, flashes went off, but it was pretty dark in the trees.
We all made it thru and took a break in the open are just up the trail around 9pm. The almost full moon shined on the open area, and soon our eyes adjusted to the 'daylight' surroundings. On up the 2nd half of Miner's, the trail becomes steep with snow and smaller rocky sections as we finally made it to the top of the ridge. Our next objective was Yankee Hill, so we headed west along FR 175. Up a few miles, we reached the base of Yankee Hill, where Mike and Greg headed back to Denver, now we were 5 (all Hobos).
We climbed Yankee Hill and parked on the saddle looking back down on the Denver lights to the east at 11,200'. We all donned our maximum wattage towards Denver (did you see us about 10pm?), as beacons of white light filled the sky. Soon winter snows will take over this area. The winds started howling (as they always do there), and the new snows off James Peak along the Front Range could be seen in the near cloudless night with almost a full moon. As the wind-chill increased, the 'quality time' was over, and we headed down Yankee Hill.
Instead of heading right down into Alice, I went down Washoe Gulch, which turns into Cumberland Gulch and finally meets up with the Fall River Road down from Alice. This trail would be best 'served' going up it verses down. It has a lot of small rocky sections and is steep. It also doesn't get much travel, so it's a bit ATV-like along some sections. As we were heading down, Paul's brake light goes on and he has very little brake pedal. We stopped, and he bled the brakes and found some air in one line. He had pedal pressure back, and we were on our way down. After a side trail (remember it's dark!), we made it down to the pavement of Fall River Road, and put on the disconnects.
We had been talking on the CB about Denny's for a while, so our next goal was Denny's at 6th and Simms for some 'Grand Slams'. We lost Jed when we hit town (now we were 4), and we arrived at Denny's at 12am. Happy Birthday Paul!! Being it was after midnight and Paul's birthday, we soon found out Denny's doesn't give out free food on your birthday anymore. We blended in with the after-bar crowd and finally headed home about 1am.
Wow, what a fun trip!! A different perspective on the trail and jeepin'! Hanging out with good friends also make for a great trip! Well, it's that time of year---the HOLIDAYS!! Just don't be the quirky neighbor that puts his Xmas lights up the week before Thanksgiving! Don't forget to tell everyone all the cool Jeep stuff you want for Xmas, as everyone shops early.

Have a safe and
Happy Hobo Thanksgiving!!
'This one seems especially more important then those in the past.'
See ya on the trail, "Jeep, Jeep"
Bill Hallinan HoboJeepers

UNITED WE STAND

September 11th, 2001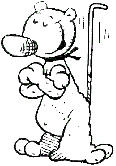 (c) Copyright 1999/2000/2001 MHJC Patrol One
Jeep is a registered trademark of Daimler Chrysler Corporation