PATROL ONE OUTINGS
Wheeler Lake Trail
South of Breckenridge, Colorado

*Please excuse the awful color on the photos, our scanner needs replaced...*
On Sunday, September 23rd 2001, we met up at the Morrison exit just off I-70 at 7:30am for a drive up to the Wheeler Lake trailhead just off Hoosier Pass. Hobos in attendance were Paul " Weiszguy" Weisz (CJ7) with son Bret, Drew "Drewby" Middleton (TJ), Marc and Kristin Gilbertson (CJ7), Chris and Debbie Vieth (YJ), Jason Brew (XY), and myself (CJ7) with my jeepin-sidekick Molly.
I was the only one brave enough (or dumb enough) to go with the 'summer' look, as I got to enjoy some 60 MPH wind chills up to Frisco. Molly's shorthair didn't help her much, so she needed blankets. We stopped at Frisco for some food and gas, then on past the Octoberfest in Breckenridge to the trailhead. We aired down and did the 'disco', and Chris Veith lead us up the trail. Just past the mine is the 1st 'obstacle' to climb up and over.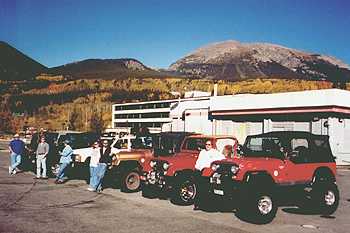 A break for food and gas in Frisco...
Chris had something wrong with his 4WD, as it would not engage. Upon a closer look; he had some piece of metal stuck in the linkage. While we were getting Chris in 4WD, some guys in a lifted (but beat up) Land Rover were behind us with no patience at all. They were from either Romania or Russia, either way they were rude. This 'idiot' proceeds to try and go around us thru the woods to our right. Well, we all ventured over to where he was to tell him there was no way around, and there was no trail where he was. Of course he was sure that this was a trail too, and '100's'have been thru, so he can too.
We tried to diplomatically (and nicely) explain that this is how trails get closed, because people forge new trails around obstacles or people on the trail, then other people follow those tracks and 'think it's a trail'. So we took his license plate, and finally threatened to report him to the Forest Service to collect his $1000 fine in the mail. After he realized he couldn't get around us, he waited (5 minutes).
TAA DAA, Mr. Land Rover, way off the trail...
Well, about that time Chris was ready to go, so we all got thru the obstacle and pulled over to let him on his way (and out of our hair)! I know the Fugowies would not of appreciated this guy off the trail, as it is their Adopt-A-Trail. The story continues with this guy as he came to the end of the Oswego Jeepers ahead of us at the last obstacle. He told them he was in a hurry because his 'steak was getting warm'. Rude again, and now the Oswego's curious, the sheriff, and the Forest Service want the license number we have to talk to this guy.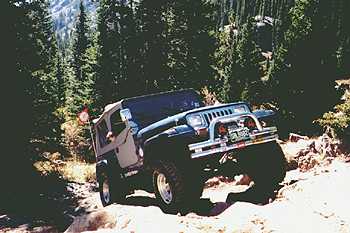 Chris Vieth takes the left line...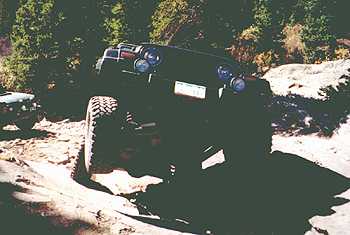 Drew gets some air...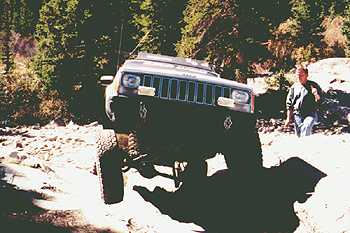 As does Jason's XJ...
After everyone ran up the first obstacle we came on the 2nd. With two choices again (like the 1st obstacle), you have a V-like ravine to the right, or a series of stair steps on the left. We each took turns. Paul decided to take the harder left line and as each tire was trying to climb the steps simultaneously, we all heard the 'pop' noise. Sure enough, the left front u-joint was toast. So, Paul got lifted out and proceeded the trip in 'three-wheel drive.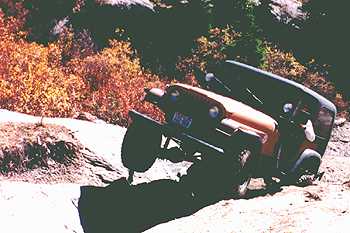 Marc approaches the V-obstacle on 2 wheeles...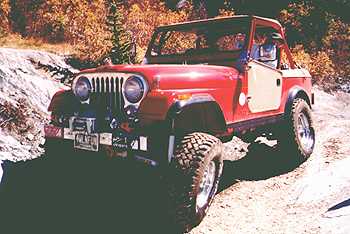 I get a little 'twisted'...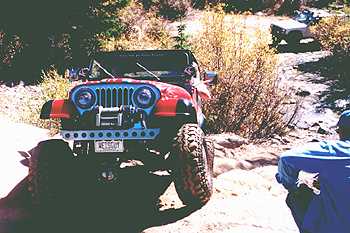 'Ping', did you hear that?? Now Paul is in 3WD...
The trail has many fun small to medium-sized rocks to venture over as you are accompanied with willows on each side of you. Climbing higher, we reached the bottom of the hill that climbs up to Wheeler Lake.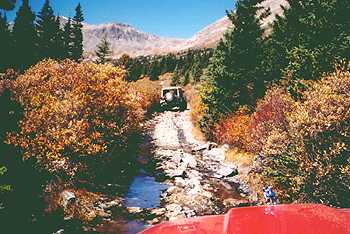 The trail is bordered by willows, and carpeted by rocks...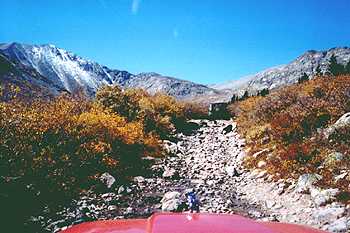 More willows and rocks as you climb above timebrline...
There were the Oswego's ahead of us, and we all one by one climbed up a good-sized rock field to the last obstacle. It seems that someone has stacked rocks and somehow chipped away the obstacle to make it much more easier then before. Like Iron Chest, you can see how many of the larger rocks have been removed and placed along the trail. Without the difficulty, it was still a challenge for the open vehicles, as the made it thru cleanly. Those big rocks need to be back on the trail.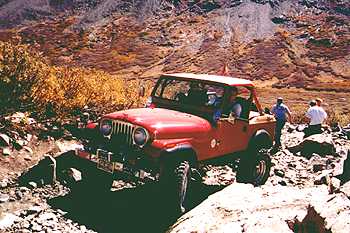 I wonder thru the last obstacle...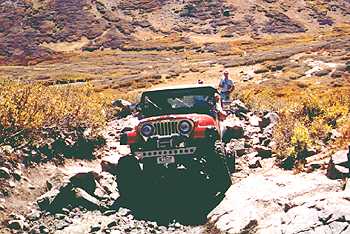 Paul gets thru after being 'between a rock and a hard place'...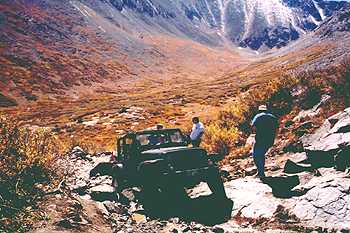 Drew climbs over the new rock we had to move to get Paul out...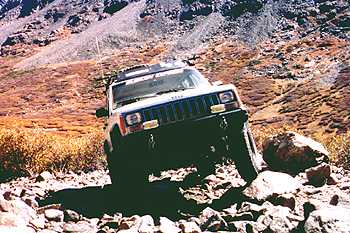 Jason, even open makes it thru nice and clean...
We made it up to Wheeler Lake where the Oswego Jeepers were already there. Everyone was parked high and on the area already worn from vehicles (off the tundra), while our Land Rover friend has to be 'cool' and park down by the lake on a rock (on the tundra), just great. Numerous great ideas arose to easily teach the guy a lesson, but all I did was take another photo for the Forest Service for proof. By the way, nobody saw the guy cook his steak, since him and his buddies must of hiked up to the upper lake.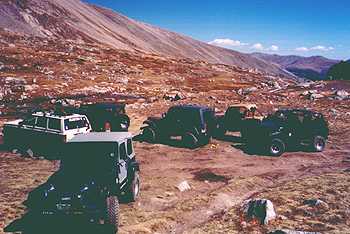 With the lake to the left, we stop for a nice lunch...
After lunch, on a wind-free sunny day, we headed back down. On the last obstacle (1st one after lunch), Paul ended up busting his other u-joint on the driver side. So now he was in 2WD the rest of the way down. The obstacles and rocks were just as fun going down as they were going up. Some got some nice articulation of the last obstacle (1st going up), as we ended the trail at the mine again.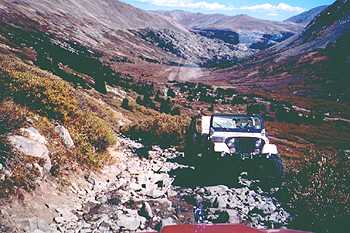 Coming down the last loose rocky hill we encounter traffic...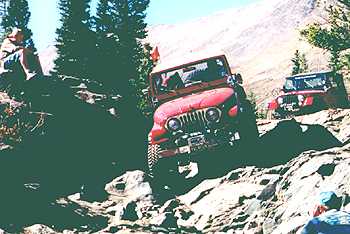 I play it safe and take the right obstacle down...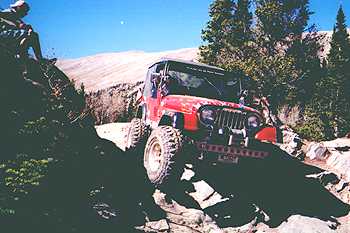 Paul follows, now in 2WD...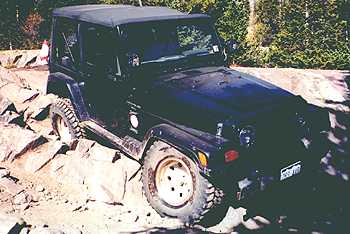 Drew's TJ get's a workout...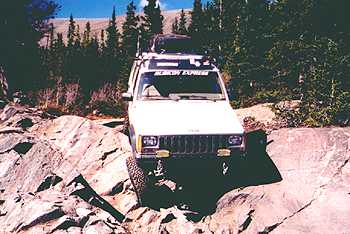 Jason's TJ coming back down...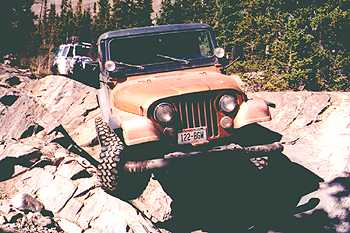 Marc's CJ7 with some nice flex...
Remember, if you see someone off the trail, or doing something they not allowed too. Take photos, and get their license plate number and notify the local FS Ranger Station. They really do follow-up, and at least it's recorded.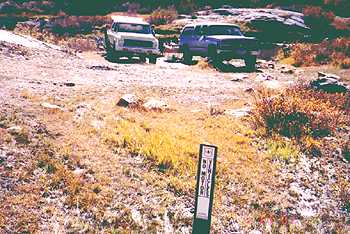 OK, what's wrong with this picture??
Wheeler is a fun 'up and back' trail, and a definite 8 out of 10. It used to be rated 'Extreme' because of the last obstacle, and now it's 'Difficult'. We tried to get air from Paul's York compressor, but the casing had busted, so we headed on to Breckenridge and Frisco for some air. We stayed together all the way back to Denver to see that everyone made it home safe, and parted on the freeways after a great day in the mountains and on the Wheeler Lake Trail!!
"Jeep,Jeep"
Bill Hallinan HOBOJEEPERS
*Photos provided by Drew Middleton and myself*
Other Wheeler Lake Trip Reports:
Wheeler Lake Trip Report by Patrol 14 Zane Znamenacek

Wheeler Lake Photos by Patrol 14 Dave Frazier
Wheeler Lake Trip Report by Durango Extreme
Wheeler Lake Trip Report by 4x4trails.net
Wheeler Lake Trip Report by Kevin Witt
Wheeler Lake Trip Report by off-road.com
Wheeler Lake Trip Report by HoboJeepers 6-99'
Wheeler Lake Trip Report by HoboJeepers 10-99'
Wheeler Lake Trip Report by Steve Cavender
Wheeler Lake Trail Report by Brad Lovell
Wheeler Lake Trail during ALL-4-FUN 99' by Flatlander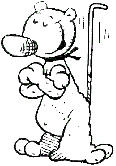 "Jeep, Jeep"

(c) Copyright 2001 MHJC Patrol One
Jeep is a registered trademark of Daimler Chrysler Corporation