PATROL ONE OUTINGS
Wheeler Lake Trail 1
During the All-4-Fun Scouting in Fairplay over the July 4th weekend, I met up with Paul Weisz and his son Brett along with Patrol 8's Heather Chryn and Kevin Carter at the trailhead to Wheeler Lake. After a quick air down, we encountered the 1st few SUV weedout obstacles. These were put in place to "scare" would-be SUV's into turning around. The guys all crawled up the right side of one obstacle with ease, and then Heather tried to one up us by going up it with only 3 tires on the ground. After a quick disconnect of a sway bar she maneuvered right on up like a pro! More obstacles were encountered and conquered, until we reached the end of the trail. Well, not exactly the end of the trail, a big snowbank kinda was in the road even before we reached the switchback up to the lake. There is an obstacle on the switckback that requires finess to avoid body damage to your right side. Wheeler Lake Trail sometimes can be run in June, but snowbanks usually prevent that.
Hobo Bill handles one of the many obstacles on Wheeler Lake Trail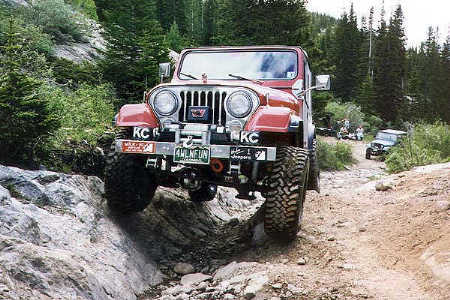 As this trail is an up and back trail, you may encounter traffic either way. If you get a late start, you'll be pullin over alot as everyone's coming back down. You'll definately get your money's worth with lockers at Wheeler Lake. We were entertained by some other 4-wheelers crossing, then getting sideways on the snowbank, and we then decided to try the Crystal Lake Trail SW of Breckenridge, Colorado. We got to the entrance to the trail and what did we find? You guessed it, a locked gate! We did see another way around, but soon found out that old Jeep trail had been converted to a hiking/bike trail. What's a lesson to be learned here? Stay informed on road closures, write letters, or else we'll be sharing more and more dusty county roads with SUV's.

Paul makes it look easy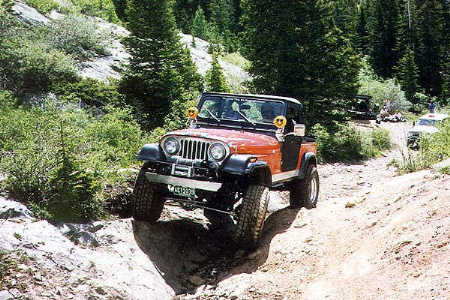 Stay tuned for our return trip to Wheeler Lake Sept 18th.
BILL HALLINAN
HoboJeepers
Here are some other Wheeler Lake Trip Reports:
Wheeler Lake Trip Report by Steve Cavender
Wheeler Lake Trail Report by Brad Lovell
COSPORTS.COM Wheeler Lake Trail Report
Wheeler Lake Trail during ALL-4-FUN 99' by Flatlander
Map is provided by Delorme Topo USA 2.0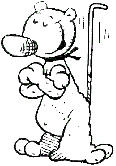 (c) Copyright 1999,2000 MHJC Patrol One
Jeep is a registered trademark of DaimlerChrysler Corporation