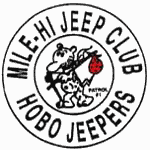 Dec 2K1/Jan 2K2

Hobo articles
represent the previous month's activities, and are published in MHJC's "Jeepers In The New's"

Happy Hobo New Year to ALL!!—-2K2,,,It's beginning to sound like a science-fiction novel with dates like 2002. Geez, I still have my recorded cassette tapes from the 80's! Should I finally break down and convert to CD's? Where did the 90's go? Well, the time is now,,,,the year 2002, so may you prosper and enjoy it! 2001 has been a great year on the trails! From the Ice Races to the Nite Run.....that's what it's all about!!
Well,,,,,,the Hobos haven't been Jeepin' since our Miner's Gulch Nite Run around Halloween, so no trip reports this month. We have been enjoying the holidays like you, with friends and family. Back on November 8th, we swore in our newest Hobo Jason "The Milkman" Brew at our November Hobo meeting. Jason drives an XJ that has seen many new mods just year, with plans for more in 2002. We look forward to many 'happy trails' with him this year. His nickname comes from the fact his XJ is white, and he uses it to also get groceries (and milk too). He has nicknamed his XJ the 'Badger'. Welcome aboard Jason, from all the Hobos!!
At our Xmas Hobo Meeting on December 6th at Jed "Clampett" McCleeland's house, we exchanged one gift by possession (9-tenths of the law). It was a great time to getogether before the hustle and bussle of the holidays. Thanks to all for coming to my last meeting as Patrol Leader for 2001.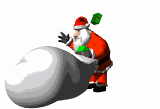 As we start 2002, step back a second and remember the great efforts of John Flesner (Thanks John!), and the rest of the MHJC Board. It's a lot more then meeting 2 or 3 times a month, it's about pride in MHJC. Great newsletter Lavonne Brown! Thanks to all who made All-4-Fun in Salida a success, and all the still dedicated MHJC members (we need more!) who make the club run. Congrats to Kevin 'never broke' Carter as 'Jeeper of the Year 2001'! Best of luck to Jeff Fish (our new 2K2 MHJC Commander), and to the rest of the new Board members in the coming year.
I will stay on as webmaster of this site, and try to keep it 'fresh' as I can, and also entertain you with informative and fun info and trip reports thru-out 2002. I will also be the Trip Planner again, and Scott "Mad Max" Maxwell is our new Treasurer for 2002. The Hobos are proud to have Ken 'The Toolman' Kordes represent us as our Patrol Leader for 2002! Thanks Ken!
Let's make 2K2 the year to step up and volunteer for stuff, get involved in MHJC! Let's have one or two trips offered on the MHJC website calendar every weekend of the 2002 trail season for MHJC and the public to enjoy. Organize an annual event as a Patrol, invite another Patrol, and lead a few trips for MHJC too. We (Patrol 1) are preparing another calendar for 2002, so all can plan family outings and vacations around our sport of 'Jeepin'. Get a list from every member of the trails (20) you would like to run. Then pull out a calendar and pick dates consistent with the trail openings, holidays, etc. Next, pick a few trips (or more) to lead from your '2002 Trail Wish List' that are on your calendar, and give them to Brian Hoag (our new Trip Planner for 2002). These can be posted on the MHJC calendar months ahead of the date for all to plan. Keep some just for your Patrol, but if every patrol offered at least 3-4 trips/events, we would have some great trips to plan for during the 2002 trail season. Which is why I believe this is why we invested some extra $ in our stock rigs, to enjoy the great outdoors with fellow Jeepers in MHJC.
The Hobos are still looking forward to the 4th Annual Hobo Run for 30 "Hobos for a day" on Saturday, July 13th.
See ya on the trail in 2K2, "Jeep, Jeep"
Bill Hallinan HoboJeepers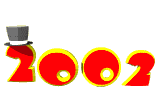 We hope you had a safe and
Happy Hobo Holiday Season!!


UNITED WE STAND

September 11th, 2001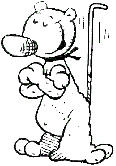 (c) Copyright 1999/2000/2001/2002 MHJC Patrol One
Jeep is a registered trademark of Daimler Chrysler Corporation