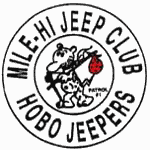 October 2002

Hobo articles
represent the previous month's activities, and are published in MHJC's "Jeepers In The New's"

October-is here already! Another quick summer has gone by. As the days get shorter, the mountain Aspens change to their Fall colors, and we scramble to get the high mountain trails in before the snow flies. This year's drought may put a damper on the Aspen's colors, but there are still many great fall drives this month to do. The HoboJeepers had a fun August/September, and have plans for 2 more trips in October. August Trails include: the end of All-4-Fun 2002 (3rd), Red Cone to Georgia Pass (10th), & Georgia Pass over to St. John's (25th). September trips include: The Tug Memorial Run (7th), & Wheeler Lake (15th). The time is now (before the 'snow flies') to---"Jeep,Jeep"!!

*This trip report of Red Cone to Georgia Pass Trails is written by Trip Leader Hobo Scott 'Mad Max' Maxwell:
On Saturday August 10th, Hobos Jed 'Clampett' McClelland and his daughter Ashley, Paul 'Weiszguy' Weisz and son Brett 'Weiszdude', and myself Scott Maxwell, hit the trail early with the hopes of staying ahead of the Go-fers group that we saw at the Fort. They were heading for the same place. We managed to stay a head of them and hit the trailhead before they did. The trip up Red Cone was really nice with a quick pit stop in the old growth trees right before you break out above timberline.
We stopped at the summit of Red Cone, watched a heard of mountain goats on the next ridge and enjoyed the scenery. It was a clear day and the views are awesome. There was a slight breeze blowing and it sure felt like a cool fall day. The down side of Redcone was it wasn't as mogully and pot marked as it was last year.
After a quick bite of lunch below Webster pass we headed up Radical Hill playing on a couple of obstacles along the way. Even thought Jed was in the middle of the group he somehow managed to get a little lost and wound up high centered on a big boulder just off the side of the road. His daughter got quite a chuckle out of this little mishap.
Scott got a little mixed up on top with all the roads going off in different directions. After a couple of group consultations with the maps and asking directions from some guy from Nebraska in an Expedition we managed to find the correct trail down off the top. Next stop was the turn off for SOB Hill. It's still in good shape (big huge loose rocks everywhere). Scott and Jed had a smooth run up. Paul opted for the most challenging lines and impressed the 33-inch on-lookers.
Once up the hill we took a little break and wandered down to a cool babbling steam to take off the shoes and cool the feet. Might be the start of a Hobo tradition here…. The water was incredibly cold for this time of year, but it sure felt good to stick the feet in for a while. From there we headed up over Georgia Pass and then back into town. Thanks Paul and Jed for another great day of Hobo Wheelin. Hobo Scott 'Mad Max' Maxwell

*This trip report of Georgia Pass to St. John's Trails is written by Trip Leader Hobo Drew 'Drewby Do' Middleton:
On Sunday, August 25th, Hobos Bill 'Hobo Willy' Hallinan and his Jeepin' sidekick Molly (CJ7), Chris 'Colonel' Potter and sons Jason, Michael and Scott (CJ7), and I (Drewby Dooby Doo-TJ) met at the Bugling Bulls restaurant in Conifer. Plans call for a trip up Georgia Pass to the Continental Divide, and to run GLACIER RIDGE/SWAN/WISE MTN/ST. JOHN'S TRAILS.
That is to say, we tried to meet at the Bugling Bulls. It turns out that the landmark restaurant is no longer in business; it's now the Elk Grove restaurant. Okay, whatever, it takes more than that to discourage Jeepers from heading into the mountains on a beautiful summer day. So we drove from Conifer to Jefferson, where we aired down and gassed up before turning west onto CR35. The blacktop quickly gave way to dirt, where I kindly reminded the rest of our group why it's so good to be the lead dog; if you're not, the view never changes. But we let ourselves get a little spread out, and the dust wasn't too bad.
Not long after beginning our ascent into the mountains, Bill found out the hard way that Molly REALLY had to go. But after a quick canine 10-100 later, we were on our way again. The eastern side of Georgia Pass is an easy drive, and we quickly reached the 11,585-foot top of the pass. There we stopped for some pictures and to talk to a couple of guys coming down off Glacier Ridge on their ATVs. One of the riders pulled up next to me and said, "Hey, how's it going?" I told him that we were having a good trip, to which he responded, "You don't have any idea who this is, do you?" Okay, the voice was familiar, but it wasn't until he took off his full-face helmet that I realized it was my friend and coworker, Ken Wahl, along with his son Kalen. The ATVs were Ken's newest toys, supplementing the personal watercraft and snow machines. Heck, if he sold them all, he could probably afford a nicely modified Jeep! Ken, Kalen, and their friends had ridden up the pass the day before and camped overnight. We chatted a little, took some more pictures, and then the ATVs headed down the pass while the Jeeps headed up the Glacier Ridge Trail.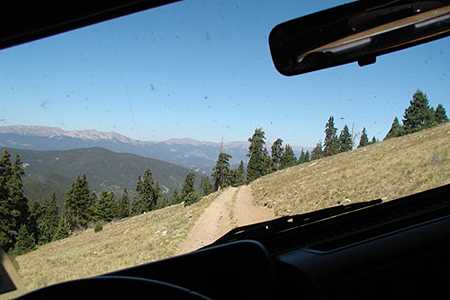 I'd never been up Glacier Ridge before, but Bill had warned me that it's known for being a little off-camber. He wasn't kidding. The conditions were perfect and traction wasn't a problem, but I'm not sure I'd want to run that trail after a good soaking rain. But after a while, you get used to being wedged against your driver-side door, and the outstanding views of Summit County and Breckenridge make it all worthwhile.
As they say, "What goes up must come down." That's true of airplanes, tech stocks, and Jeep roads. In our case, coming down could only mean one thing: SOB Hill. This short but steep section of trail descends a wooded hillside, and is strewn with boulders that rival the rock gardens of Spring Creek and Battlement Mesa. I'm not sure a vehicle could climb the hill with anything less than 35" tires (or a lot of rock stacking), but we suspected that we'd make it down okay with our lockers and 33s. Under the careful direction of Chris' spotting, I proceeded down. As I neared the bottom, I was overtaken by a group of dirt bikers. They were having a tougher time than I was, mainly because their bikes couldn't stay running due to the steepness of the descent. But they came down a makeshift go-around with their back wheels pretty much locked up and got by me without too much trouble. The go-around, while passable for now, will likely erode away in the not-too-distant future and become just as difficult as the original trail. This is no solution. Look, if the trail is too difficult, don't go around; go back. Driving off the trail and making your own path through the woods is a good way to get trails closed. Tread lightly--Please.
At any rate, I completed my descent without any major problems, thanks in large part to an excellent spotting job. The Colonel then guided Bill down, helping him get just tippy enough in one section for a great photo, but never putting him at any real risk of rolling. Bill then took his turn as spotter for Chris, while Jason and I recorded the moment on film. As usual, the pictures can't show the true steepness of SOB Hill. Believe me, it earns its name. But we all made it down successfully, with only the occasional sound of metal on rock.
Once out of the woods, so to speak, we continued down into the valley, and then began the ascent back up the other side. After a short time, we came to an old cabin that looked like it would be a great spot for lunch. Eating in the shade next to the cabin, we met several of the local residents. While Molly preferred chasing the squirrels, Scott and Michael decided that lunch was for the birds. The twins happily gave up cracker after cracker, much to the delight of the mountain jays.
After lunch, we headed up the opposite side of the valley we had just descended, and soon found ourselves above treeline again. We took a quick side trip up Wise Mountain, where a family of mountain goats was grazing. They were kind enough to pose for a few pictures before moving on. Then it was time for us to head back down. Our final descent brought us past the Wild Irishman mine at St. John's, and finally onto pavement in Montezuma, next to the River Run Gondola at Keystone. After getting some air and gas in Keystone, Bill headed west for a few days of camping. The Potters and I headed east over Loveland Pass and back to Denver, with memories of another great day of Jeeping in the Rockies. Hobo Drew 'Drewby Do' Middleton After getting some air and gas in Keystone, Bill headed west for a few days of camping near Fairplay. The Potters and I headed east over Loveland Pass and back to Denver, with memories of another great day of Jeeping in the Rockies.

On August 9th, we lost a great friend and wheeler in Jim Provence.
On Saturday September 7th, 22 fellow wheelers came together to honor him at the TUG MEMORIAL RUN over the Kingston Peak Loop Trail. The mood was somber, but it also celebratory of a man who affected so many. It was a way to get together and remember and honor Jim as he would want us to,,,,go Jeepin'.
The following wheelers attended the Tug Memorial Run: Robert Schlegel (Patrol 12-YJ), Don & Tess McDowell (Patrol 7-TJ), Norris & Linda Myers (CJ7), Nathan Myers (Toyota), Eric Smoutz (Ranger), Zane & Dale Znamenacek (Patrol 14-Scout), Matt & Lori Carson (Patrol 4-CJ7), John & Ester Davenport (Patrol 13-CJ7), Chevette Dillon (& family) & Darrel Louisone (Patrol 4-WJ), Sever KAZ Kazanowsky (& family) Patrol 12-WJ, Brent Highland (& friend) Patrol 14-YJ, Jon Reberry (& friend) -YJ, Jeff & Donna Carr (& dog Lola) Patrol 16-CJ7, Harry & Marian Hardman (Hooobs Chevy S-10), Rick Fitzsimmons (76 Bronco), Dan Cole (Scrambler), Kirk Zimmerman (Patrol 3-Toyota), & Tom Allen (Patrol 12-CJ7).
The following people donated to the run, but were unable to attend: Linda & Wayne Hammang (Patrol 7), Ken & Arlene McGuigan (Patrol 7), Nancy Clair (Patrol 3), Craig & Jean Eggerman, Bob & Lynn Van Nuise (Patrol 12), Brian & Margie Hoag (Patrol 12), Glen & Wilma Cameron (Hooobs), Willy & Kaye Poque (Hooobs), & Dwight W. Lien (Hooobs). Thanks to the following Hobos attending and helping me out: Paul 'Weiszguy' Wiesz-CJ7 & Brett 'Weiszdude'-ATV (& friend), Ken 'Toolman' Kordes-Ford F-100, & Drew 'Drewby Do' Middleton-TJ (with myself-Bill Hallinan as passenger). Thanks for the ride Drew, as my Jeep was sick that morning and would not start. The 1st trip my Jeepin' sidekick Molly has missed in years. Some met early for breakfast at IHOP at 6th & Simms, while others showed up around 8:15 for registration. After registration and selling some raffle tickets for ~$1700 of goodies, we had a driver meeting at 8:45am. After the quick meeting we were off with headlights on in Jim's memory up I-70. We picked up some more wheelers at the Fall River turnoff and headed up to Alice to air down. Though it could have been a lot more, it was nice to see all the rigs lined up on I-70 heading for a day of fun.
Everyone aired down, and we headed up the east side of Alice for a quick 10-100 (since there was none at air down). The route would be the same as the Hobo Run in July. Soon, we reached the base of Yankee Hill just above timberline. With Drew & I in the lead, I skipped the steep Yankee Hill, but decided to play on the small hill at the base. All made it thru ok except for tail gunner Paul Weisz and his restored CJ7.
As a few only saw it, Paul got sideways as he made the sharp turn back down and busted the bead on his 7lb superswampers and rolled it over passenger front 1st. It was a complete roll, landing on its wheels. More important then parts and steel, Paul and his friend were scraped up but not seriously hurt. Though slow, it still crunched the windshield frame & glass, the hood, KC Lites, a fender, and other minor areas. His rear contents spilled out, but despite not having a full cage (which he will now) both and his passenger remained intact. That's what is important I believe, the rest can always be fixed or replaced. We all came back to help retrieve spilled items, and winch back the windshield frame (now missing glass). Paul used his on-board air to reseat the tire back on the rim. Paul was up for the rest of the trip (as we just started), so he got organized and we headed on into the trees.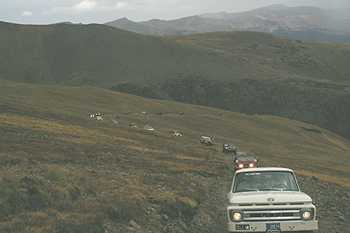 On the east side of Kingston Peak we stopped for another 10-100, then worked our way on up to the lunch area at 11,400'. Just below the open spaces below Kingston Peak, all settled down for lunch as I organized and gave out the raffle items. Thanks to Bestop, Clemson 4Wheel Center, MORE, Bushwacker Fender Flares, Tuffy Security Products, OffPavement.Com, High Country 4x4, Mile-Hi Jeep Rebuilders, Eric Smoutz, & Tom Allen for supporting the Tug Run.
After lunch, the weather turned ugly and it rained as we started up the north side of Kingston Peak. Other then a few who just had bikini tops on, Paul didn't have a windshield, so the rain was pretty wet for him. All turned on their headlights til the rock house in Jim's memory. The rains formed a beautiful rainbow in the valley below, as Tom Allen remarked that Jim knew we were Jeepin' with him a last time. Reaching the pass, we headed down the tundra section. Numerous braided roads show how people don't stay on the main rocky trail and look for the soft spongy tundra. Please for the sake of keeping the trail open, stay on the main rocky trail.
The hill north of the Rock House had been graded again, so it wasn't difficult at all. We all grouped up at the Rock House to sign the guest book, stack a rock for Jim, and take a group photo. As always it was pretty windy, but the Rock House affords shelter as another storm loomed off to the south heading for us.
We headed on down the hill down into the west side of Alice to air back up. The Hobos stayed around, as we went to get Paul's trailer for his ATV. We headed back home together and took the slower route thru Clear Creek Canyon because Paul had no windshield. No word on if any bugs were eaten at 40mph.
Thank you to the fellow wheelers who attended, I hope the trip was fun, and at times refreshing to remember Jim Provence and all that he did. From and idea to reality, it was all I could do to remember and honor a man who has done so much for MHJC and myself. Finally, we will miss you 'Tug'-rest in peace.

On Thursday September 12th, we had our September Hobo Meeting at Patrol Leader Ken Korde's home in Littleton. Ken and Nancy cooked up a great BBQ to celebrate the end of another fun Hobo Summer! Paul had to tell his 'roll story' a few times as we couldn't wait to hear it together. We pitched in some $ for his new roll bar coming soon from MORE. Great meeting as we also discussed MHJC & Hobo issues, thanks to the host Ken & Nancy! It's been a fun Summer, and soon the trails will be deep in snow for another season. Time to explore before the October snows. Let's hope this Winter we get a good snowpack, better to have snowy trails then another drought. Keep Jeepin' everyone!! As aspens drop their leaves and the white stuff falls, there are still some trails to be had! Keep safe, and Happy Hobo Halloween!
See ya on the trail, "Jeep, Jeep"
Bill Hallinan HoboJeepers

Happy Hobo Halloween!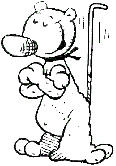 (c) Copyright 1999/2000/2001/2002 MHJC Patrol One
Jeep is a registered trademark of Daimler Chrysler Corporation