PATROL ONE 2002 OUTINGS
The
TUG MEMORIAL RUN
near Alice, Colorado

On August 9th, we lost a great friend and wheeler in Jim Provence.
On Saturday September 7th, fellow wheelers with 23 vehicles, came together to honor him at the TUG MEMORIAL RUN over the Kingston Peak Loop Trail. The mood was somber, but it also celebratory of a man who affected so many. It was a way to get together and remember and honor Jim as he would want us to,,,,go Jeepin'.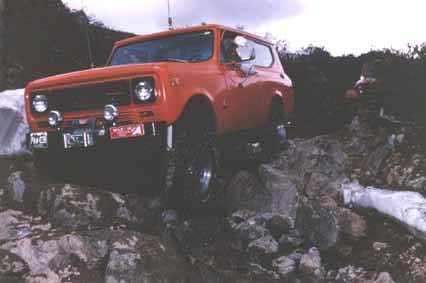 Jim Provence in his Orange Tug Scout, doing what he loved...
The following wheelers attended the Tug Memorial Run: Robert Schlegel (Patrol 12-YJ), Don & Tess McDowell (Patrol 7-TJ), Norris & Linda Myers (CJ7), Nathan Myers (Toyota), Eric Smoutz (Ranger), Zane & Dale Znamenacek (Patrol 14-Scout), Matt & Lori Carson (Patrol 4-CJ7), John & Ester Davenport (Patrol 13-CJ7), Chevette Dillon (& family) & Darrel Louisone (Patrol 4-WJ), Sever KAZ Kazanowsky (& family) Patrol 12-WJ, Brent Highland (& friend) Patrol 14-YJ, Kurt Sadler (Patrol 6-Toyota), Jon Reberry (& friend) -YJ, Jeff & Donna Carr (& dog Lola) Patrol 16-CJ7, Harry & Marian Hardman (Hooobs Chevy S-10), Rick Fitzsimmons (76 Bronco), Dan Cole (Scrambler), Kirk Zimmerman (Patrol 3-Toyota), & Tom Allen (Patrol 12-CJ7).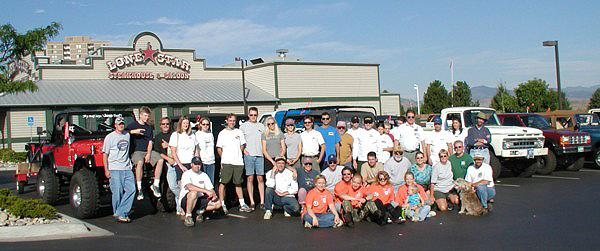 Fellow wheelers come together to honor Jim.…
The following people donated to the run, but were unable to attend: Linda & Wayne Hammang (Patrol 7), Ken & Arlene McGuigan (Patrol 7), Nancy Clair (Patrol 3), Craig & Jean Eggerman, Bob & Lynn Van Nuise (Patrol 12), Brian & Margie Hoag (Patrol 12), Glen & Wilma Cameron (Hooobs), Willy & Kaye Poque (Hooobs), & Dwight W. Lien (Hooobs).
Chevette Dillon (& family) & Darrel Louisone

of Patrol 4 wear special Tug Memorial shirts…

A view of the shirt up close…
Thanks to the following Hobos attending and helping me out: Paul 'Weiszguy' Wiesz-CJ7 & Brett 'Weiszdude'-ATV (& friend), Ken 'Toolman' Kordes-Ford F-100 (& his son-in-law), & Drew 'Drewby Do' Middleton-TJ (with myself-Bill Hallinan as passenger). Thanks for the ride Drew, as my Jeep was sick that morning and would not start. The 1st trip my Jeepin' sidekick Molly has missed in years.
Some met early for breakfast at IHOP at 6th & Simms, while others showed up around 8:15 for registration. After registration and selling some raffle tickets for ~$1700 of goodies, we had a driver meeting at 8:45am. After the quick meeting we were off with headlights on in Jim's memory up I-70. We picked up some more wheelers at the Fall River turnoff and headed up to Alice to air down. Though it could have been a lot more, it was nice to see all the rigs lined up on I-70 heading for a day of fun.
With the drought, aspens were already

turning above Fall River Road…

All had headlights on for the trip up…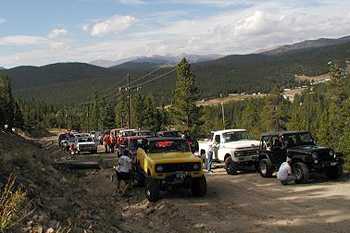 Airing down for a fun day…
| | |
| --- | --- |
| | |
| Jeff & Donna Carr's Lola was ready to go… | Some mingled while others aired down… |
After everyone aired down, we headed up the east side of Alice for a quick 10-100 (since there was none at air down). The route would be the same as the Hobo Run in July. Soon, we reached the base of Yankee Hill just above timberline. With Drew & I in the lead, I skipped the steep Yankee Hill, but decided to play on the small hill at the base. All made it thru ok except for tail gunner Paul Weisz and his restored CJ7.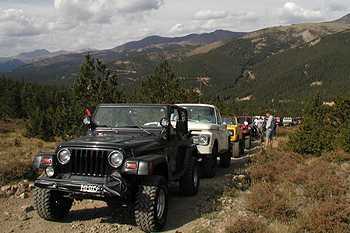 1st stop afford great views...
As a few only saw it, Paul got sideways as he made the sharp turn back down and busted the bead on his 7lb of pressure superswampers and rolled it over over the drivers front fender 1st. It was a complete roll, landing back on its wheels. No photos of the roll, just after as most everyone was on up the trail alittle. More important then parts and steel, Paul and his friend were scraped up but not seriously hurt.
The swampers popped off the bead,

windshield & KC Lites smashed…

Used winch to reset the windshield frame...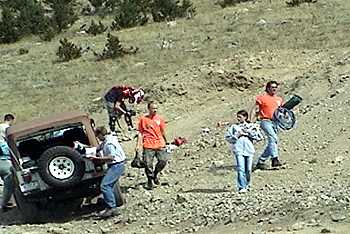 Lots of interior parts got spilled and all were picked up...
Though slow, it still crunched the windshield frame & glass, the hood, KC Lites, a fender, and other minor areas. His rear contents spilled out, but despite not having a full cage (which he will now) both and his passenger remained intact. That's what is important I believe, the rest can always be fixed or replaced. We all came back to help retrieve spilled items, and winch back the windshield frame (now missing glass). Paul used his on-board air to reseat the tire back on the rim. Paul was up for the rest of the trip (as we just started), so he got organized and we headed on into the trees.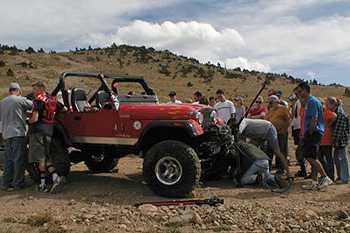 Paul used his air to pop the tire back on the bead...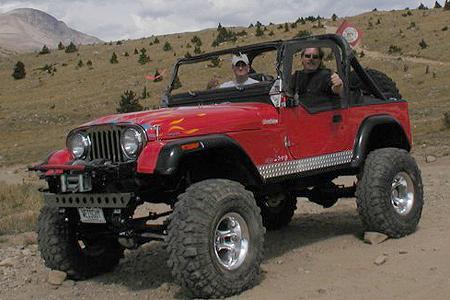 Despite the roll, Paul and his buddy are 'thumbs up' and ready to......ummm 'Jeep,Jeep'
(*note: avoided using the word 'roll' here)
On the east side of Kingston Peak we stopped for another 10-100, then worked our way on up to the lunch area at 11,400'. Just below the open spaces below Kingston Peak, all settled down for lunch as I organized and gave out the raffle items. Thanks to Bestop, Clemson 4Wheel Center, MORE, Bushwacker Fender Flares, Tuffy Security Products, OffPavement.Com, High Country 4x4, Mile-Hi Jeep Rebuilders, Eric Smoutz, & Tom Allen for supporting the Tug Run. All of the proceeds raised of the run went to Paula and the Children's Hospital in Jim's name. The Tug Run Flyer had the raffle items, links to our sponsors, and schedule info.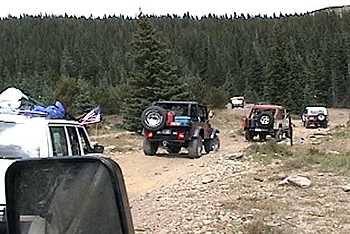 The trail is fairly easy but scenic and tight in places…
This section affords some off camber…

Raffle prizes were handed out

to lucky winners at lunch…
After lunch, the weather turned ugly and it rained as we started up the north side of Kingston Peak. Other then a few who just had bikini tops on, Paul didn't have a windshield, so the rain was pretty wet for him. All turned on their headlights til the rock house in Jim's memory. The rains formed a beautiful rainbow in the valley below, as Tom Allen remarked over the CB that Jim knew we were Jeepin' with him a last time.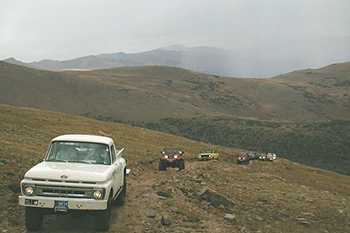 A brief shower added to the scenic beauty…
Reaching the pass, we headed down the tundra section. Numerous braided roads show how people don't stay on the main rocky trail and look for the soft spongy tundra. Please for the sake of keeping the trail open, stay on the main rocky trail.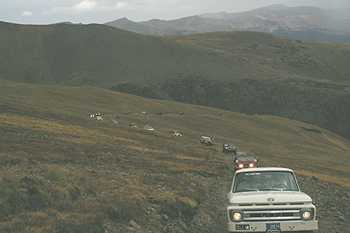 All ran their headlight to the Rock House in Jim's memory…
The hill north of the Rock House had been graded again, so it wasn't difficult at all. We all grouped up at the Rock House to sign the guest book, stack a rock for Jim, and take a group photo. As always it was pretty windy, but the Rock House affords shelter as another storm loomed off to the south heading for us.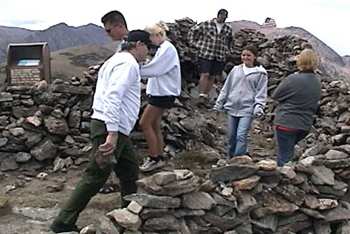 Everyone stacked a rock for Jim…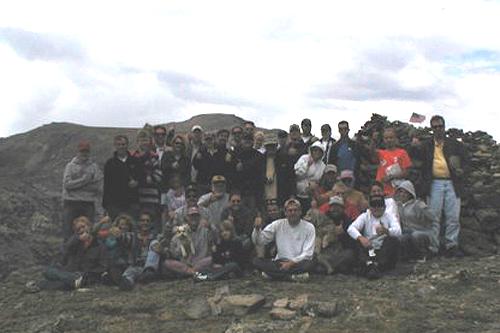 Group shot at the Rock House…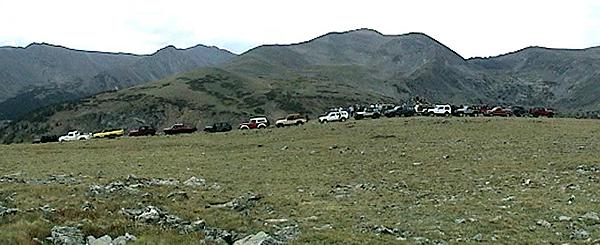 Some 20+ rigs with the Front Range Continental Divide as backdrop…
We headed on down the hill down into the west side of Alice to air back up. The Hobos stayed around, as we went to get Paul's trailer for his ATV. We headed back home together and took the slower route thru Clear Creek Canyon because Paul had no windshield. No word on if any bugs were eaten at 40mph.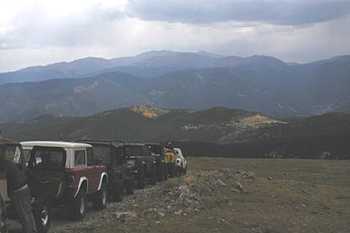 Looking South, we head back down to Alice to air up and head home…
Thank you to the fellow wheelers who attended, I hope the trip was fun but also at the same time refreshing to remember Jim Provence and all that he did. From and idea to reality, it was all I could do to remember and honor a man who has done so much for MHJC and myself.
Again, we will miss you 'Tug'------------------rest in peace.
"Jeep, Jeep,"
Bill 'Willy' Hallinan HoboJeepers
*Thanks to Drew Middleton & Jon Reberry for the photos...
Here are some other Kingston Peak/Hobo Run Trip Reports:
4th Annual Hobo Run-HoboJeepers
3rd Annual Hobo Run-HoboJeepers
2nd Annual Hobo Run-HoboJeepers
1st Annual Hobo Run-HoboJeepers
Kingston Peak Loop Trail 99'-HoboJeepers
Kingston Peak Loop Trail 00'-HoboJeepers
Kingston Peak by mountain bike
Kingston Peak Map & Trail Descriptions by 4x4trails.net
Kingston Peak Trail Report by TrailRidge Runners 4x4 Club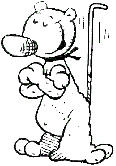 (c) Copyright 2002 MHJC Patrol One
Jeep is a registered trademark of Daimler Chrysler Corporation