PATROL ONE 2002 OUTINGS
RED CONE/
RADICAL HILL/
N. SWAN/S.O.B. HILL/
GEORGIA PASS
Webster to Jefferson, Colorado

*All photos posted are from other trips just to give you a visual of the trail scenery.
On Saturday August 10th, Hobos Jed 'Clampett' McClelland (CJ7) and his daughter Ashley, Paul 'Weiszguy' Weisz (CJ7) and son Brett 'Weiszdude', and myself Scott 'Mad Max' Maxwell (TJ), hit the trail early with the hopes of staying ahead of the Go-fers group that we saw at the Fort. They were heading for the same place. We managed to stay a head of them and hit the trailhead before they did. The trip up Red Cone was really nice with a quick pit stop in the old growth trees right before you break out above timberline.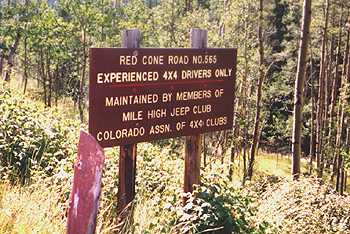 Red Cone is one of Mile-Hi's Adopt-A-Roads...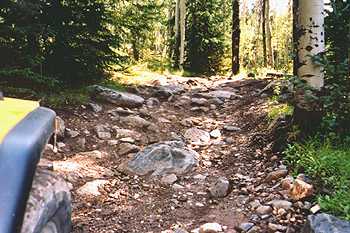 Nice rocky sections thru the aspens in the beginning...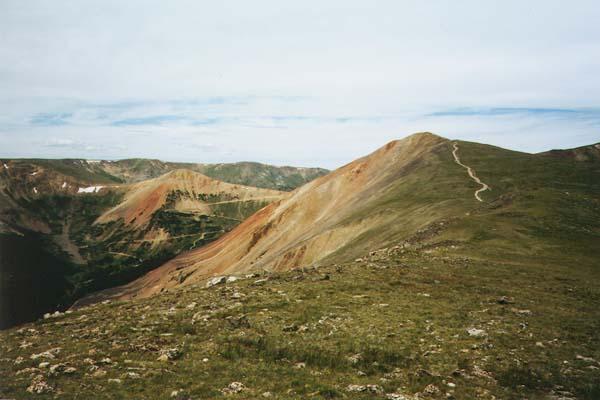 Red Cone Summit (upper right), with the switchbacks on Webster Pass (Lower left)...
We stopped at the summit of Red Cone, watched a heard of mountain goats on the next ridge and enjoyed the scenery. It was a clear day and the views are awesome. There was a slight breeze blowing and it sure felt like a cool fall day. The down side of Redcone was it wasn't as mogully and pot marked as it was last year.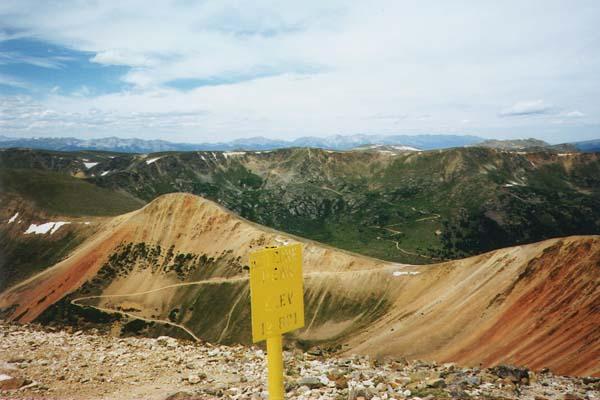 Red Cone Summit 12,821', Webster Pass (foreground), and Radical Hill (upper right)...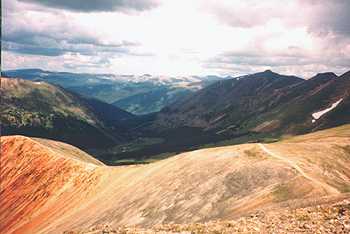 View off Red Cone North towards Montezuma...
Jed coming down Red Cone last year...
After a quick bite of lunch below Webster pass we headed up Radical Hill playing on a couple of obstacles along the way. Even thought Jed was in the middle of the group he somehow managed to get a little lost and wound up high centered on a big boulder just off the side of the road. His daughter got quite a chuckle out of this little mishap.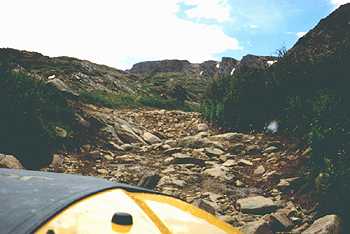 Some obstacles on Radical Hill...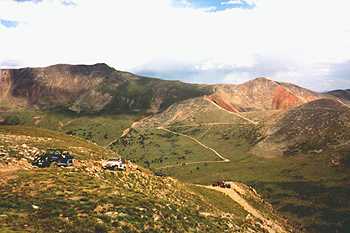 View off back towards Webster Pass and Red Cone from the top of Radical Hill...
Scott (I) got a little mixed up on top with all the roads going off in different directions. After a couple of group consultations with the maps and asking directions from some guy from Nebraska in an Expedition we managed to find the correct trail down off the top. Next stop was the turn off for SOB Hill. It's still in good shape (big huge loose rocks everywhere). Scott and Jed had a smooth run up. Paul opted for the most challenging lines and impressed the 33 inch on-lookers.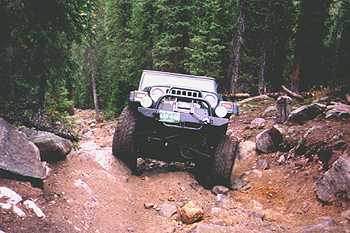 Scott climbing S.O.B. in 2000...
Once up the hill we took a little break and wandered down to a cool babbling steam to take off the shoes and cool the feet. Might be the start of a Hobo tradition here…. The water was incredibly cold for this time of year, but it sure felt good to stick the feet in for a while.
From there we headed up over Georgia Pass, down to Jefferson, and then back into town. Thanks Paul and Jed for another great day of Hobo Wheelin'.
"Jeep, Jeep,"
Storyline by Scott 'Mad Max' Maxwell HoboJeepers
*Web design by Hobo Willy
Here are some other Trip Reports in the area:
Georgia Pass to St. John 2002: The HoboJeepers
Red Cone to Georgia Pass 2001: The HoboJeepers
Red Cone to Georgia Pass 2000: The HoboJeepers
Red Cone/Radical Hill/Swan/SOB Hill/Glacier Ridge-All-4-Fun 99': The HoboJeepers
Red Cone Trail 99'-HoboJeepers
Red Cone Trail Map by 4x4trails.net
Co Sports.Com Webster Pass/Radical Hill
Georgia Pass/S.O.B. Hill by Flatlander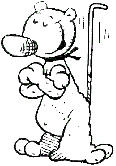 (c) Copyright 2002 MHJC Patrol One
Jeep is a registered trademark of Daimler Chrysler Corporation