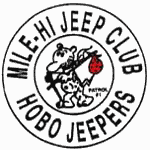 June/July 2003

Hobo articles
represent the previous month's activities, and are published in MHJC's "Jeepers In The New's"
SUMMER!!-Yea!! It's here! Take that hard top off, pull out your maps, change the oil, check your toolbox, tune your CB, check for missing bolts, wrestle up the dogs and kids, and get off the pavement!! Most trails should be open by July 4th, but call the local Forest District Office 1st the days before, they should know what's open. Check on MHJC's website (www.mhjc.org), and if you know of a trail you just did and it was closed or open---spread the good word! Ah, summer's here—enjoy it! No doubt, these articles will not get any shorter…
*4th Annual MEMORIAL MOAB 2003

Moab, Ahhhhhhhhhhh, Ahhhhh, Moab! Moab, Moab, Moab! MOAB, It's a place like no other! Slickrock jeepin' is quite different from any Colorado jeepin'. With 'sandpaper' like traction, only gravity is your enemy. The beautiful reds, whites, and peach colors of the rocks add to the scenery of every trail you challenge. We are so fortunate to be only 7 hours away here in Denver. If you go after Memorial Day and before Labor Day, it's a hot one, so prepare for it and bring lot's of water! Rafters, Hikers, Mountain Bikers, and Jeepers know the area for it's wonderful red rock scenery, and 'Moab Slickrock'. Many of you already know, as you have 'been there', it's a playground for grown-ups. No other place in the country comes close; Moab is 'Jeepin Heaven'!

The HoboJeepers met up early on Thursday May 22nd, and ventured west on I-70 towards the 'Slickrock Gods' for the long anticipated 2003 Memorial Day Weekend. With drive days on Thursday and Monday, it leaves 3 days of trails in Moab!! Driving over Vail Pass, you could see much more snow then last year. Then in Glenwood Canyon, the Colorado River was roaring! We stopped in Glenwood Springs to hook up with Jed's brother Jim, and the 4 of us headed to Moab!

The 2003 MEMORIAL MOAB group consisted of: Marc 'Nugget' Gilbertson & his wife Kristen (CJ7), Jed 'Clampett' McClelland (CJ7), and his brother Jim McClelland from Prescott, AZ (TJ), Scott 'Mad Max' Maxwell with Janet and the kids Tom & Pete (TJ), and myself (Bill "Willy" Hallinan-CJ7) and my jeepin' sidekick Molly. Scott and Janet arrived in Moab Friday night and stayed in a cushy Best Western. Jed and Marc both avoided the long 'jeep drive', and opted to tow instead. Jed and Marc were now pros to Moab this year, having been to Memorial Moab in 2002.

For the past few months we have anticipated this trip to MOAB! Before the trip, we all tightened a few bolts added upgrades and fixed leaks. I was fortunate to have a good friend who owns AAA Transmission Warehouse off Santa Fe and Union help me change my diff fluids. While there, he noticed that I had no engine mounts bolts on the driver side (hummm-need those?), and that my front diver side axle u-joint was ready to go. Good thing, because it would of gone on Hell's Revenge and probably messed up the spline too. He was able to fixed it and I was ready to wheel, Thanks John!

We arrived and set up camp about 2:30pm (6.5 hour trip) Thursday just north of Moab. The only problem on the trip over was Marc's new Ford truck leaking some diff fluid, and ongoing problem for Marc and his truck. I hear, a new deal for a different truck is in the works. He now owns a new CHEVY Truck! Since we had the afternoon off after setting up camp, we headed over to Arches National Park for some sightseeing. Then we headed into town for some groceries. Ready for a few fun filled days of slick rock and scenery, bring on Moab!

One warning for tent campers: for some reason, thousands of very small white larve (gnats maybe) were able to infiltrate my tent netting and invade my tent, what a feeling waking up to that! I was camped under a Tamarisk tree; I hear the larva come up from the moist saline soil once a year, and well thousands did Friday night!

There were a few 'camp fixes' for the weekend. On the 1st day-Friday, Jed busted his right hub on the 'Dump Bump' on Hell's Revenge, and Marc busted a front u-joint near Hell's Gate. That afternoon, after getting parts in Moab, Jed and Marc set up 'shop' in the shade at camp. Both were done by 5pm and ready for another day. On Saturday, after a hard trail ride on Pritchett Canyon, Jed's steering column housing broke leaving the CJ7 hard to steer and hard to start. Without a spare column, Jed was done for the weekend. Thanks to Jim for a great tasting fried turkey for potluck Saturday night! Ahhh, Moab!

The weather was hot (low to mid-90's), but it's almost summer in Moab. For 3 fun days, we followed 6 different trails up and over numerous obstacles, ledges, and fields of slickrock! From the difficult 4+ Hell's Revenge Trail to the 3.5-Sevenmile Rim Trail 'Night Run', on to Pritchett Canyon 4+, and finally building to the 6+ hour tour- Poison Spider thru Golden Spike to Gold Bar Rim Loop--from North to South, we certainly got our fill!! Aaahhhh-Moab!!

Here are trip reports of a fun-filled weekend!


Hell's Revenge Trail, Trip Leader and trip report author--Hobo Willy

On Friday May 23rd, we set out from camp towards Moab and City Market. For Memorial Day Weekend, it wasn't as crowded as I expected, in fact ALL day we never saw another 4x4 on Hell's. The temps were pleasant (though toasty low 90's mid-day), as we headed off to the trailhead. We aired down and disconnected for the weekend near Lion's Back. If there is one trail you ever do in Moab it has to be Hell's Revenge. It's what 'Slickrock Jeepin' in Moab' is all about. You climb on slickrock for most of the trail, and the scenery along the ridgeline is spectacular! After the Easter Jeep Safari's, and with Well's book, it's pretty hard to get lost on this trail these days. Also, with more tires on the trail these days, the slickrock is becoming more and more blacktop. Please try to eliminate excessive tire chirp around corners to help keep the slickrock cleaner.

I (with my jeepin-sidekick Molly) lead the way as Jed 'Clampett' McClelland (CJ7), Jim McClelland (TJ), Marc 'Nugget' & Kristen Gilbertson (CJ7) followed. We paid our fee at the gate ($5), and started the morning off on the mini lion's back fin, and back to the Dump Bump at the entrance to Hell's Revenge. If you ever get to Moab with your Jeep, don't leave until you do Hell's Revenge Trail! This is what Moab is all about 'Slickrock'!!

Jed and Jim took a shot at the Dump Bump; both never made it up though. Jed's misfortune started on the 1st obstacle of the 1st trip, of the whole weekend. He had his rear tires up and was bouncing up Dump Bump when a clicking noise came from his Jeep. Come to find out, the right hub somehow blew out, and he was in 3-wheel drive on Hell's. Thru semi-dry Lake Michigan and past the gate ledges, we made our way to the small tubs, and then the steep fun slickrock climbs of Hell's Revenge.

I headed NE along the sandy and easy stretch, working our way towards the Colorado overlook and lunch. A great view at the overlook for lunch with temps in the low 90's, and puffy clouds canvassed the red rock scenery----ahhhhh Moab!! Some 'yahoo' had driven his rig right to the edge, one wrong move and it's goodbye. Why do people insist going off established trails??

After a nice lunch, we took a look at Hell's Gate. Marc and Jim headed down the north gate. Marc came back up all smiles, and Jim came up the south gate nice and easy. Marc busted his passenger u-joint, and unlocked. He was now rear wheel drive (locker in rear-same as last year), as we moved on to the loop west towards and around the Black Hole (which is a small crescent-shaped cliff) and up to the higher ridgeline of slickrock. One turn above it is pretty intimidating, with a 200+ drop off. If your steering wheel devilishly turns left on you when you want to turn right, you'll be sucked down the 'Black Hole'. The climb was fun, as some steep slickrock climbs and turns kept you on your toes.

Once on the ridgeline there are a few depressions (tubs). We took on the easiest, and the other two (one called Mickey's Hot Tub) has a steep exit. All went in and out. One by one we entered and exited the tub, the slickrock traction makes the climbs effortless. There was about 6 inches of water in the bottom from all the recent rains. Cacti and other desert plant had nice flowers blooming.

Once you arrive on the top of the 'Giant SlickRock Dome', welcome again to Moab, and slickrock country!! Vast mounds of rock lie before you for the rest of the day. Steep hill climbs and descents are the order of the day! The trail is well marked with flames on the trail, though there are many spurs, stay on the flames, and get the full enjoyment of the loop.

We made it off the steep dome descent back into the small valley of sand, and on over to 'Tip Over' obstacle. Jim took a shot at it, and did great! With a series of ledges, and an off camber ledge near the top, tire placement is key. Jed wanted to try, but without a front locker played it safe.

Still early, around 2pm, we headed back out the tight leaning gulch and thru some wicked articulation spots on the sandy stretch to the highway. We headed up the hard rocky left to the ridgeline and off to descend to the backside of Lion's Back. Everyone negotiated the tippy lean spot and we stopped for some great articulation photos off the last obstacle. Through the sand and back on pavement…. Hell's Revenge is all that!!

Jed and Marc needed to hit the auto parts store on Friday for parts. They wanted to get fixed for our 'Nite Run' over Sevenmile Rim. We all headed back into Moab for provisions and back to camp. They set up the 'Hobo Garage' next to each other under our camp shade tree. Jed got some overpriced Superwinch Hubs, and replaced them, and Marc tore down his right axle with hand tools. Both finished by 5pm and were ready to run!


Sevenmile Rim Trail 'Nite Run', Trip Leader and trip report author--Hobo Willy

On an early Friday evening around 6:30pm May 23rd, we set out from camp and headed north on Hwy 191. Up a few miles, the Mill Canyon Road exits west. It's a 2wd road that took us to the Tusher Wash and south towards the Sevenmile Rim trailhead. This was a new trail for me, and when it gets dark, was a challenge to explore. Jed and Marc were fresh off their camp repairs and ready for a fun trip. I had my trusty 'Wells' Moab book, and was following the turns every way. Only problem was, I was doing the trip backwards from the book, so a bit tricky. I wanted to run it this way to be able to see a lot of the turns and the many scenic Buttes and Towers of this farthest most northern of Moab trails.

Again, we had the same group as Hell's Revenge. With myself (& Molly), Jed (CJ7), Jim (TJ), & Marc & Kristen (CJ7). Heading down Tusher Wash, the book's map shows us heading south. For some reason, there was a trail sign that said Sevenmile Rim heading west, so I followed it. But, after a couple of miles, it was clear we still needed to stay in the Tusher Wash and stay heading south. The scenery around there was beautiful! With sunset at 8:30pm, the low sunlight was shining off the sandstone cliffs.

I followed a trail they (BLM) were calling Merrimac & Monitor Buttes Trail. It was taking us south towards them, so I stayed on it. Turns out it was the right trail, and led up to Determination Towers for a break. You could see where climbers had traversed the sheer cliffs towering above. The sun angle was low, and the buttes were turning golden.

Now on track (Sevenmile Rim Trail-with painted strip), we headed south towards the western edge of Merrimac Butte. Named that because it looks like the Civil War ship from the trail. On to the 'Wipe Out Hill' obstacle, as Jed and Jim went down and up the eastern obstacle, one word: STEEP! Just a hundred yards east, we traversed along Merrimac Butte on some off-camber (about 25 degrees) slickrock.

With the sunlight gone and dusk fading, the lights went on. I was able to get around Monitor Butte, and find the Rim trail to follow it to the edge with a great view of Hwy 191 & 313 below. We lined up, and shined all of our lights out to the highway. Even the campers some 500' below us shined flashlights back at us. With a nice cool breeze (remember, the days are toasty 90's), we moved on along the rim. Now the 'nite run' navigation skills (or lack of) kicked in.

The Sevenmile Rim Trail in the book looked pretty simple once we hit the rim. Just follow it and head north. Except, there were many side roads to viewpoints. So the key was to look for the painted strips. Once on them, we knew we were on the main trail. But just as quickly, they disappear, and a rock cairn leads you down the wrong path. Somehow we arrived at the Uranium Arch. Going off a rough map from the 'Wells' Moab book, we tried many trails to try to stay north.

Finally, we found some sandy roads off the rim that headed north and eventually found the Sevenmile slickrock rim trail again. Soon, we were coming off the mesa, and on to a 2wd road back to Hwy 191. We got back to camp a few minutes before midnight! A fun 'nite run'! The trail was challenging, the temps cool, and the views spectacular! Great trip with great friends is what it's all about! Next trail in 8 hours??---ahhhh, Moab!!



Pritchett Canyon Trail, Trip Leader and trip report author--Hobo Scott 'Mad Max' Maxwell

On Saturday May 24th, the Hobos set out from camp for the 4+ rated Pritchett Canyon SW of Moab. Touted as one of the harder trails in Moab (Rated 4+), it has lots of fun obstacles, and great scenery. Along for today's trip were Jed 'Clampett' McClelland (CJ7), fresh off his Superwinch Hub replacement, his brother Jim McClelland (TJ), Marc 'Nugget' & Kristen Gilbertson (CJ7), fresh of his camp front u-joint camp repair, and myself 'MadMax' and my son Tom. Hobo Willy passed on the trail, and had issues with thousands of mill worms in his tent to DE-contaminate, then he played tourist at Canyonlands Park.

After a right at McDonald's, the trailhead starts south of the Colorado River, past the Moab Rim trailhead, and before the Kane Creek trailhead. A small fee to pass thru private property is given, and we were on our way. We were delayed a little at the first shelf that drops you down into the canyon floor. The group in front of us had a high spring over that rolled while dropping off the first ledge. Once he was OK and out of the way, we proceeded on. Jim was our trip leader, as he had done the trail before, so he led the group on up.

Pritchett Canyon is a super trail with loads of fun obstacles along the way. The Hobos 'rolled' along enjoying the sights, ledges, and slick rock. There is one obstacle (I'll call it the squeeze, but I'm sure it has a real name) that offered some good boulders to crawl over. There were some large rocks on the sides to keep the side panels in play, while the lower boulders are looking to scratch their marks into any slightly misplaced wheel. All made it through with nary a scratch.

The next stop was Rocker Knocker. We watched several people attempt this one, but to no avail. One pretty radical rock buggy couldn't quite get the line after multiple attempts. This is a really cool obstacle. It's a little like double whammy.

You approach the double ledge on the very far right side. This allows you to get the back tires up the first ledge with the fronts up against the wall at the top of the second ledge. Then you just spin away. As the tires spin you slip horizontally along the ledges for about fifteen feet to a point where if you're lucky and have great skill, the front tires can make it up the second ledge and get enough traction to pull you up before you slide all the way over to the huge boulders on the left (a.k.a. the rocker knocker). If you don't get those front tires up in exactly the right spot you back down, and give it another run.

Jim had seen this one done the year before and gave it a run. He was the only one in our group to attempt this one, and made it up just fine (yikes! No Photos! Everyone was too focused on watching him...). Great job Jim. Made the guy in the radical rock buggy look a little silly.

Just as we were approaching the ledges and shelves that lead up to the Rock Pile obstacle, we got a brief but fairly heavy rain. It made the ledges really slick, but cooled things down nicely, while making the canyon walls and slick rock beautiful. I 'MadMax' tried the go around on this one, and couldn't clear the ledge after several attempts and some awesome rock stacking by Jed and Marc. Meanwhile, Jed used his head and winched up the face of the rock pile. We were then able to strap the rest of the gang up and over. Next time we'll know to just hook up the winch from the get go.

Once over the top of Pritchett Canyon, we headed for the sand dunes. Marc and Kristin were the masters of aerial delights here with a couple of speed runs that launched the 'Nugget' (Marc's Jeep) off all 4 wheels! Why waste time getting articulation shots with one wheel in the air when you can just get the whole Jeep airborne!!

The desert was really pretty this year, and we noticed that with a little more moisture than they've had in the last couple of years that things were really green. The cacti were in full bloom, which was awesome.

After the dunes, we headed to the highway, and back up to Moab late in the afternoon. Thanks for leading all the Hobos through this one Jim. I'm sure we'll visit this trail again in years to come. When Jim arrived back at camp he heated up his oil fryer and fried a 14# Turkey for us for dinner, it was great!! Just another day in aaaahhhh, Moab!



Poison Spider/Golden Spike/Gold Bar Rim Trails
'North to South in 6 hours', Trip Leader and trip report author--Hobo Willy

On Sunday May 25th, the game plan for the Hobos included running the Poison Spider to Gold Bar Loop backwards this year. Let's see, you are in Moab, you have your Jeep with ya, and your looking for about 10 hours to kill. Well, you've come to the right trail (trails)! In previous Memorial Moab's, we always finish off a great weekend with a the marathon of trails and jeeping. That way--after 8-10 hours of solid jeepin', your ready to pack up and head home the next day. Having always gone south to north, we thought we would try the ledges 180 degrees. I think I enjoyed the trip this way! Though there was a lot more sun for the driver, and some sun glare driving south into the sun. Nice challenges awaited us, all backwards!

The Pritchett Canyon trail took a toll on Jed's tilt steering column on Saturday, it was broke in the housing, so he opted to head back to Denver early. So, those along for the trail included Jim McClelland (TJ), Marc & Kristen Gilbertson (CJ), Scott Maxwell & his son Peter-with their dog Jessie (TJ), and myself Bill Hallinan and my jeepin sidekick Molly (CJ7). We left camp early to met Scott who was staying in town at 7:30am at the Texaco north of Moab. We headed up the dusty trail along the cliff above Hwy 191 and on past the Gooney Bird to the trailhead of Gold Bar Rim Trail to lock in.

We soon encountered some obstacles we were used to seeing at the end of a long day, and coming from the other direction. Climbing up past many small ledges and rocky passages, we reached the top of Gold Bar Canyon.

With only 4 Jeeps, we were able to make good time if we wanted spotting of photo ops. Some obstacles would be better done the other way, but many going heading south were much more fun climbing then going down.

Soon, we arrived at the start of Golden Spike Trail. The sign says you need to have approx. 8 hours to complete the trail, well, that depends on how well your day is going, and the amount of rigs. More obstacles like the 'Golden Stairs', which are a series of rock ledges in which CJ7's hit both tires at the same time, were passed heading towards the 'Golden Crack'.

We finally reached the infamous "Golden Crack". Or as Scott Maxwell's son Pete would say, "Moab's Buttcrack". One by one, the Hobos crossed the Crack with some articulation and a few bumper scrapes (that's what they are for right?). We took a look and one by one, each of us crossed the crack. A bit different from the crossings in the past.

Past the crack we climbed ledge after ledge to reach the rim line and views of the Arches National Park entrance, and the valley below. At this point in the trip we were only about 3 hours in, but still not the place to "have problems". The sun was out by now, and water was a good thing to drink, especially for the dogs! After a nice break, our next objective was the nice cool shady spot in the canyon for lunch.

Views of the rim included the town of Moab to the SE, Arches National Park to the East, and the north end of Gold Bar Rim and Sevenmile Rims to the North. Great views and shade trees too!!

Now we were heading down the many ledges on the white slickrock. This time though we climbing ones that even looked tough to come down off of. With the right lines, one by one we traversed all of them. Way to many to count! Tall, to small, and each one deserved your attention, or it was 'smash'. A 'Narrow Ravine' and some tight creek bed Jeepin', and a steep 1-2' ledge just above the creek we all negotiated with different lines. Then just ahead, was a small deep tub that was fairly dry this year. Soon, we reached the canyon wall shady spot around 11am for an early lunch.

After a NICE cool break in the shade, we headed right up the slick rock as we reached the 'Skyline Drive', and drove up it on the downward drive. This is a long steep climb, to some great 360-degree views of where we were and where we were going. We soon came across the "Launch Pad", which is a steep ramp that tests most carbs (of those who still have them!).

Trekking southeast, we came off the mesa to a sandy area. We headed south along the Golden Spike Trail following the white spikes on the trail, and the faint black tire tracks, the trail was pretty easy to stay on. We pressed on to a series of FUN obstacles awaited us, as one is called "The Wedgy". One by one we passed, with driver side tires high on the wall of the v-shaped wedge.

With everyone walking through, we were soon up on Poison Spider Mesa. Through the "Whoop-ti-dos" (a series of high bank sandy turns), the flat easy mesa turns up the A/C as airflow is increased. We stopped at the grave marker where the Mesa was named. The story has it, that a poison spider bit a little girl while they were traveling, died from it and was buried there. Then it was back on the tan-colored slickrock of the Poison Spider Trail, and more obstacles.

We climbed down some obstacles that are best run up, and down "The Waterfall". It's actually a set of ledges before it on a tight curve that are challenging. Then the waterfall is a 6-foot sloping wall to climb. Everyone climbed down just fine. On thru a sandy wash, and on to the switchbacks which are the beginnings of the Poison Spider Trail.

Yea-----Finally, back to civilization, and in record time! I had to look twice at my watch, but it showed 1:45pm! So we did the whole in 6 hours! We all had planned on a minimum 9 to 11 hour day. So now what do we do?? Well, some ran to the auto parts store and we all met up at Potato Salad Hill. It was only 3pm, and nobody was challenging the hill. There were a lot of people enjoying the cool creek below. Just up a mile, some guy jumped in head 1st, and hit his head hard. Broke his neck and bones, and had to be helicopter out to Moab, then Grand Junction. Around 5pm, we headed into town for some ice cream and to air up. Soon, time to head home, another fun Memorial Moab!!

The 16-mile Poison to Gold Bar Loop is a combination of the previous days trails in Moab. With numerous rock ledges, obstacles, and of course slickrock it's a day of endurance for both driver and Jeep. At last year's Memorial Moab, we did the Poison Spider to Gold Bar Rim trails on the last day with 4 Jeeps and it took us with no breakdowns about 9+ hours. This year with 4 Jeeps, we were able to keep moving and take a few more breaks from the heat and do it in 6+ hours! The nice stat is---------NO breakdowns!

We saw some separate people running alone on this trail again this year, not a good idea. DO NOT RUN ALONE on this long trail! Too many things can happen, and you are to far in to hike out. Don't rely on other people to bail you out. Also, don't rely on your cell phone either, as we sometimes couldn't get out there. If you breakdown here, you are a few hours by jeep going out either way with many numerous obstacles to still limp over. Prepare for the worst and bring spare parts, water, fluids, sleeping bag, food, etc… Once back at camp, no night runs were planned. We all sat back and relished the day, while trying to remember the many obstacles and challenges throughout the day! Another great trail with great friends! Moab-it's all that and MORE--aaaaahhh, Moab!! "The end of the trail, and the end to a 'Memorable' Memorial weekend in Moab with great friends and fun trails!!! "
"Got Moab???"


See ya on the trail, "Jeep, Jeep"
Bill Hallinan HoboJeepers
Happy Father's Day
June 15th, 2003!!
From Eugene the Jeep and the HoboJeepers...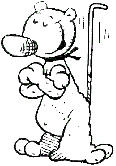 (c) Copyright 1999/2000/2001/2002/2003 MHJC Patrol One
Jeep is a registered trademark of Daimler Chrysler Corporation