PATROL ONE OUTINGS
4th Annual
MEMORIAL MOAB
2003

Moab, Utah


Moab, Ahhhhhhhhhhh, Ahhhhh, Moab! Moab, Moab, Moab! MOAB, It's a place like no other! Slickrock jeepin' is quite different from any Colorado jeepin'. With 'sandpaper' like traction, only gravity is your enemy. The beautiful reds, whites, and peach colors of the rocks add to the scenery of every trail you challenge. We are so fortunate to be only 7 hours away here in Denver. If you go after Memorial Day and before Labor Day, it's a hot one, so prepare for it and bring lot's of water! Rafters, Hikers, Mountain Bikers, and Jeepers know the area for it's wonderful red rock scenery, and 'Moab Slickrock'. Many of you already know, as you have 'been there', it's a playground for grown-ups. No other place in the country comes close; Moab is 'Jeepin Heaven'!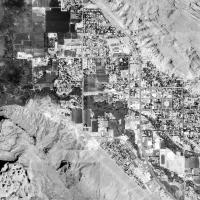 Click above for a 'cool' air photo of Moab!!
The HoboJeepers met up early on Thursday May 22nd, and ventured west on I-70 towards the 'Slickrock Gods' for the long anticipated 2003 Memorial Day Weekend. With drive days on Thursday and Monday, it leaves 3 days of trails in Moab!! Driving over Vail Pass, you could see much more snow then last year. Then in Glenwood Canyon, the Colorado River was roaring! We stopped in Glenwood Springs to hook up with Jed's brother Jim, and the 4 of us headed to Moab!
The 2003 MEMORIAL MOAB group consisted of: Marc 'Nugget' Gilbertson & his wife Kristen (CJ7), Jed 'Clampett' McClelland (CJ7), and his brother Jim McClelland from Prescott, AZ (TJ), Scott 'Mad Max' Maxwell with Janet and the kids Tom & Pete (TJ), and myself (Bill "Willy" Hallinan-CJ7) and my jeepin' sidekick Molly. Scott and Janet arrived in Moab Friday night and stayed in a cushy Best Western. Jed and Marc both avoided the long 'jeep drive', and opted to tow instead. Jed and Marc were now pros to Moab this year, having been to Memorial Moab in 2002.

Ahhhhhh......Slickrock paradise!!!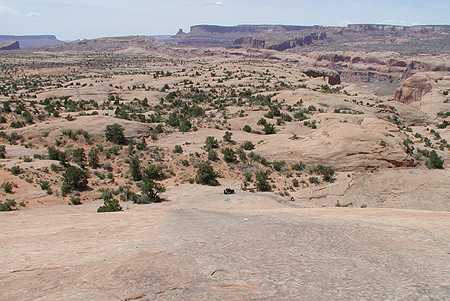 Slickrock and views everywhere...
For the past few months we have anticipated this trip to MOAB! Before the trip, we all tightened a few bolts added upgrades and fixed leaks. I was fortunate to have a good friend who owns AAA Transmission Warehouse off Santa Fe and Union help me change my diff fluids. While there, he noticed that I had no engine mounts bolts on the driver side (hummm-need those?), and that my front diver side axle u-joint was ready to go. Good thing, because it would of gone on Hell's Revenge and probably messed up the spline too. He was able to fixed it and I was ready to wheel, Thanks John!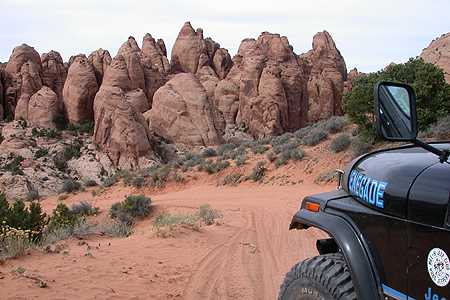 Unique rock formations...
We arrived and set up camp about 2:30pm (6.5 hour trip) Thursday just north of Moab. The only problem on the trip over was Marc's new Ford truck leaking some diff fluid, and ongoing problem for Marc and his truck. I hear, a new deal for a different truck is in the works. He now owns a new CHEVY Truck! Since we had the afternoon off after setting up camp, we headed over to Arches National Park for some sightseeing. Then we headed into town for some groceries. Ready for a few fun filled days of slick rock and scenery, bring on Moab!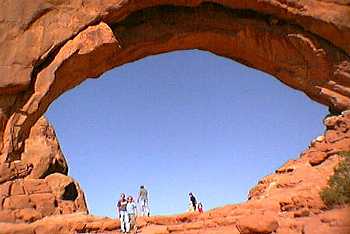 North Window Arch @ Arches...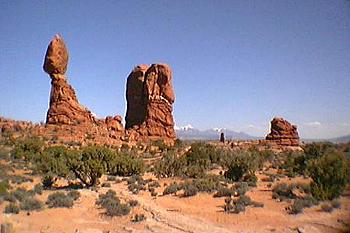 Balance Rock, with La Sal Mountains in the background...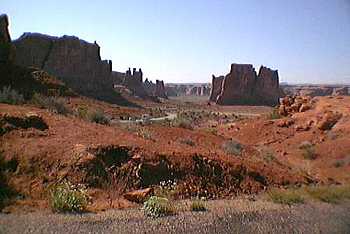 Courthouse Towers in Arches National Park a few miles North of Moab...
One warning for tent campers: for some reason, thousands of very small white larve (gnats maybe) were able to infiltrate my tent netting and invade my tent, what a feeling waking up to that! I was camped under a Tamarisk tree, I hear the larva come up from the moist saline soil once a year, well thousands did Friday night!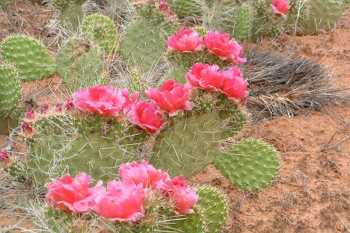 Cacti in full bloom...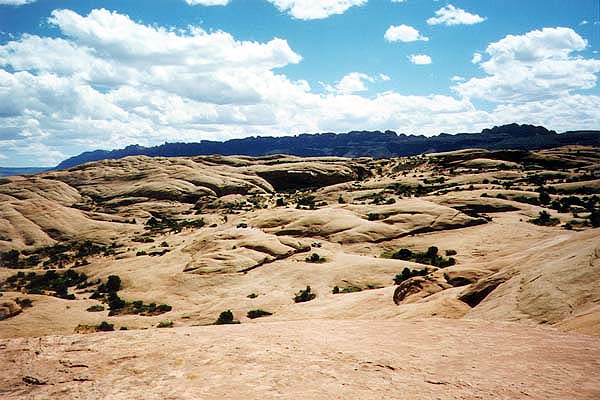 I did mention the beautiful slickrock right????
There were a few 'camp fixes' for the weekend. On the 1st day-Friday, Jed busted his right hub on the 'Dump Bump' on Hell's Revenge, and Marc busted a front u-joint near Hell's Gate. That afternoon, after getting parts in Moab, Jed and Marc set up 'shop' in the shade at camp. Both were done by 5pm and ready for another day. On Saturday, after a hard trail ride on Pritchett Canyon, Jed's steering column housing broke leaving the CJ7 hard to steer and hard to start. Without a spare column, Jed was done for the weekend. Thanks to Jim for a great tasting fried turkey for potluck Saturday night! Ahhh, Moab!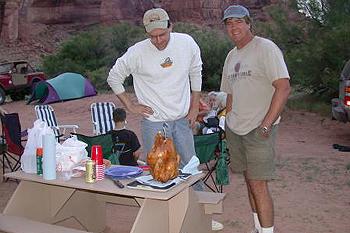 How bout' a 14lb fried turkey for dinner?!?!...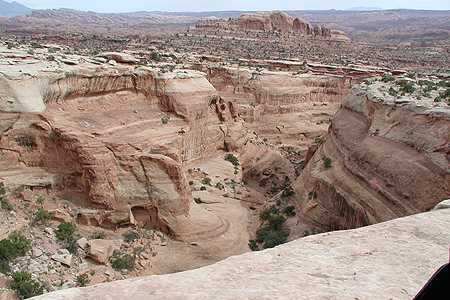 Gold Bar Canyon on the Gold Bar Rim Trail...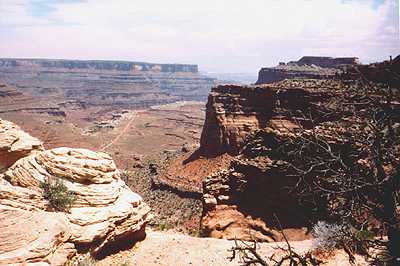 Canyonlands National Park just NW of Moab...

The weather was hot (low to mid-90's), but it's almost summer in Moab. For 3 fun days, we followed 6 different trails up and over numerous obstacles, ledges, and fields of slickrock! From the difficult 4+ Hell's Revenge Trail to the 3.5-Sevenmile Rim Trail 'Night Run', on to Pritchett Canyon 4+, and finally building to the 6+ hour tour- Poison Spider thru Golden Spike to Gold Bar Rim Loop--from North to South, we certainly got our fill!! Aaahhhh-Moab!!
Click on a link below to a trip report from the
Memorial Moab Run 2003...
Friday, May 23rd-Day 1
Friday 'Night' May 23rd-Day 1
SEVENMILE RIM TRAIL-'Night Run'
Saturday, May 24th-Day 2
Sunday, May 25th-Day3
POISON SPIDER/ GOLDEN SPIKE/ GOLD BAR RIM TRAILS
'From North to South'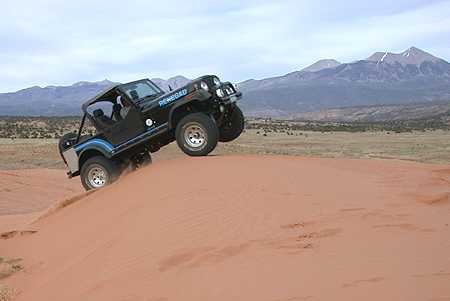 There are even sand dunes to play on...
"Moab, A jeepers paradise"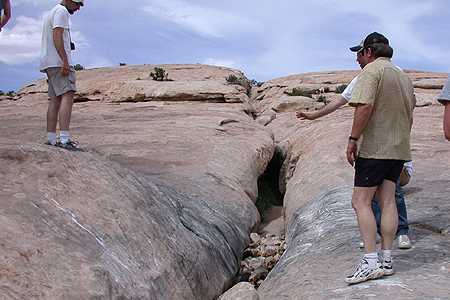 "One endeavors to do 'The Crack'...
FYI: Oh--by they way, there were no rocks in the 'crack' when we visited

...
Storylines, captions, and website construction by:
BILL HALLINAN HoboJeepers
2003 digital photos provided by:
Marc & Kristen Gilbertson, Scott Maxwell, myself, & Jed McClelland--Thanks!
Need More Moab?!?!?!?
\/
\/
\/
\/

Click on a link below to a trip report from the
Memorial Moab Run 2002...
Friday, Day 1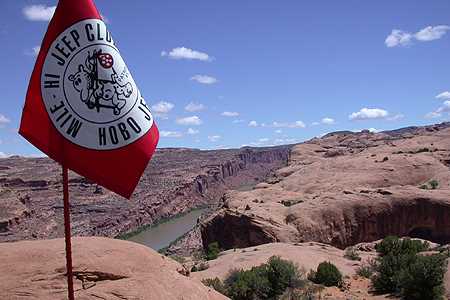 Saturday, Day 2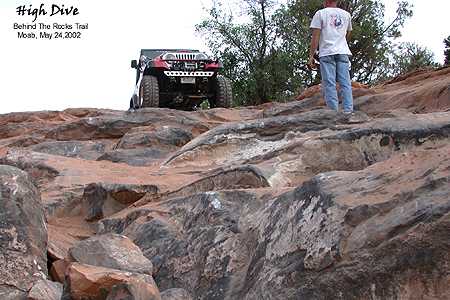 Sunday, Day3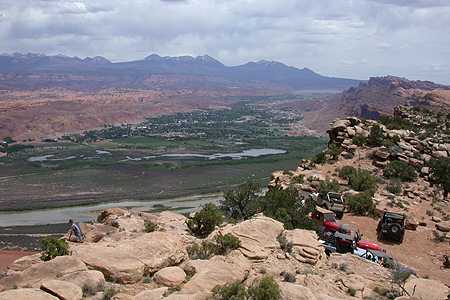 POISON SPIDER/ GOLDEN SPIKE/ GOLD BAR RIM

click on link below to a trip report from the
Friday, Day 1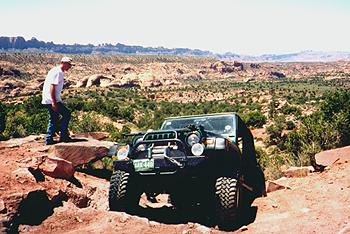 Saturday, Day 2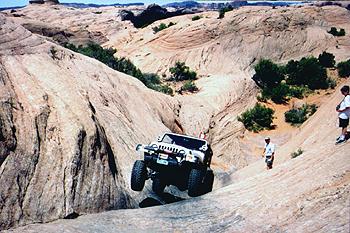 Sunday, Day3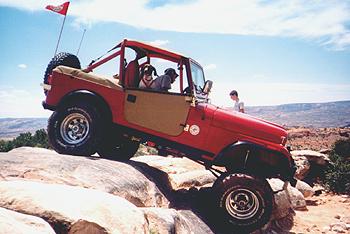 POISON SPIDER LOOP/ GOLDEN SPIKE/ GOLD BAR RIM

click on link below to a trip report from the
Friday, Day 1

FINS AND THINGS/HELL'S REVENGE
Saturday, Day 2

Sunday, Day3

POISON SPIDER LOOP/ GOLDEN SPIKE/ GOLD BAR RIM

click on link below to a trip report from the
Sept 99 Moab Run...
POISON SPIDER/ GOLDEN SPIKE/ GOLD BAR RIM

Here are some other Moab/ESJ Reports:
*Easter Jeep Safari's Previously:
OutdoorWire.Com's ESJ 2000: http://www.outdoorwire.com/4x4/trail/report/ut/moab00/
Off-Road.Com's ESJ 2000: http://www.off-road.com/toyota/trips/moab2000/
Dirtroad.Com Easter Safari 99':http://www.dirtroad.com/ejs.htm
33rd Annual Easter Jeep Safari by Flatlander: http://www.4x4now.com/33js.htm
Moab Off-Road.Com EJS 99': http://www.moab-offroad.com/EJS99/
1998 Easter Jeep Safari by Rockcrawler.Com: http://www.rockcrawler.com/trailreports/moab98/index.htm
32nd Annual Easter Jeep Safari by Flatlander: http://www.4x4now.com/32js.htm
31st Annual Easter Jeep Safari by Flatlander: http://www.4x4now.com/31js.htm
30th Annual Easter Jeep Safari by Flatlander: http://www.4x4now.com/30js.htm
*Moab Trail Lists:
4x4Now Moab Trail Reports: http://www.4x4now.com/mu4wd.htm
4Wheel of Moab Trail Listings: http://www.4wheelofmoab.com/index.html
Moab 4x4.Com Moab Trail Index: http://www.moab4x4.com/jeeptrails.htm
Moab Trails by Number: http://www.4x44u.com/pub/k2/am4x44u/trails/moab/moab001.htm
Moab Trail Difficulty Ratings: http://www.4x4now.com/tr.htm
Moab Trail Photos: http://www.jeeps.org/
*Hobo Moab Trip Reports:

Memorial MOAB 2001- HoboJeepers

Memorial MOAB 2000- HoboJeepers

Labor Day MOAB 1999- HoboJeepers
*Moab Driving Tips:
*How to drive Moab Slickrock by Bill Burke: http://4x4now.com/bb0797.htm

*To HOBOJEEPERS HOMEPAGE w/frames*
To HOBOJEEPERS HOMEPAGE without frames
(c) Copyright 1999,2000, 2001,2002,2003 MHJC Patrol One
Jeep is a registered trademark of Daimler Chrysler Corporation