MEMORIAL MOAB 2003
Sevenmile Rim Trail

'Nite Run'

NW of Moab, Utah

On an early Friday evening around 6:30pm May 23rd, we set out from camp and headed north on Hwy 191. Up a few miles, the Mill Canyon Road exits west. It's a 2wd road that took us to the Tusher Wash and south towards the Sevenmile Rim trailhead. This was a new trail for me, and when it gets dark, was a challenge to explore. Jed and Marc were fresh off their camp repairs and ready for a fun trip. I had my trusty 'Wells' Moab book, and was following the turns every way. Only problem was, I was doing the trip backwards from the book, so a bit tricky. I wanted to run it this way to be able to see a lot of the turns and the many scenic Buttes and Towers of this farthest most northern of Moab trails.
Again, we had the same group as Hell's Revenge. With myself (& Molly), Jed (CJ7), Jim (TJ), & Marc & Kristen (CJ7). Heading down Tusher Wash, the book's map shows us heading south. For some reason, there was a trail sign that said Sevenmile Rim heading west, so I followed it. But, after a couple of miles, it was clear we still needed to stay in the Tusher Wash and stay heading south. The scenery around there was beautiful! With sunset at 8:30pm, the low sunlight was shining off the sandstone cliffs.
I followed a trail they (BLM) were calling Merrimac & Monitor Buttes Trail. It was taking us south towards them, so I stayed on it. Turns out it was the right trail, and led up to Determination Towers for a break. You could see where climbers had traversed the sheer cliffs towering above. The sun angle was low, and the buttes were turning golden.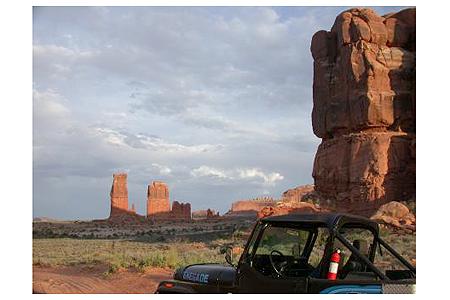 Determination Towers just ahead...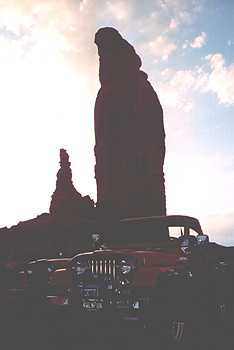 As darkness approaches, the towers silhouette the sunset...
Now on track (Sevenmile Rim Trail-with painted strip), we headed south towards the western edge of Merrimac Butte. Named that because it looks like the Civil War ship from the trail. On to the 'Wipe Out Hill' obstacle, as Jed and Jim went down and up the eastern obstacle, one word: STEEP! Just a hundred yards east, we traversed along Merrimac Butte on some off-camber (about 25 degrees) slickrock.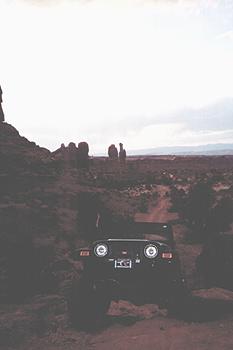 Near Merrimac Butte, Jim comes up a small obstacle, with great views all around...
With the sunlight gone and dusk fading, the lights went on. I was able to get around Monitor Butte, and find the Rim trail to follow it to the edge with a great view of Hwy 191 & 313 below. We lined up, and shined all of our lights out to the highway. Even the campers some 500' below us shined flashlights back at us. With a nice cool breeze (remember, the days are toasty 90's), we moved on along the rim. Now the 'nite run' navigation skills (or lack of) kicked in.
The Sevenmile Rim Trail in the book looked pretty simple once we hit the rim. Just follow it and head north. Except, there were many side roads to viewpoints. So the key was to look for the painted strips. Once on them, we knew we were on the main trail. But just as quickly, they disappear, and a rock cairn leads you down the wrong path. Somehow we arrived at the Uranium Arch. Going off a rough map from the 'Wells' Moab book, we tried many trails to try to stay north.
Finally, we found some sandy roads off the rim that headed north and eventually found the Sevenmile slickrock rim trail again. Soon, we were coming off the mesa, and on to a 2wd road back to Hwy 191. We got back to camp a few minutes before midnight! A fun 'nite run'! The trail was challenging, the temps cool, and the views spectacular! Great trip with great friends is what it's all about! Next trail in 8 hours??---ahhhh, Moab!!
Storyline, web design, and captions by:
Bill Hallinan HoboJeepers

Here are some other Sevenmile Rim Trip reports:
Sevenmile Rim Trail by Flatlander:
http://www.4x4now.com/mtsmr.htm
Sevenmile Rim Trail by Red Rock 4Wheelers:
http://www.utah.com/offroad/sevenmile_rim.htm
Sevenmile Rim Trail by 4x4u.com:
http://www.4x44u.com/pub/k2/am4x44u/trails/moab/mt005.htm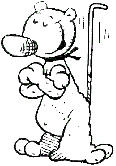 (c) Copyright 1999,2000, 2001,2002,2003 MHJC Patrol One
Jeep is a registered trademark of Daimler Chrysler Corporation