PATROL ONE OUTINGS
MEMORIAL MOAB 2002
Flat Iron Mesa/
E. Behind the Rocks Trails
South of Moab, Utah

On Saturday May 25th, the morning sun shined on the slickrock cliffs above camp as we set out camp towards Moab and City Market to meet MHJC Patrol 11 to run Flat Iron Mesa together as planned. After waiting awhile, we finally got word they were running Hell's Revenge instead, so we headed for Flat Iron Mesa ourselves. We headed on Hwy 191 some 20 miles south of Moab. Even though I hadn't run it before, I took my trusty Well's book out and lead the way. With just 5 of us, we were able to make more ground and even throw in part of Behind the Rocks trail in the afternoon.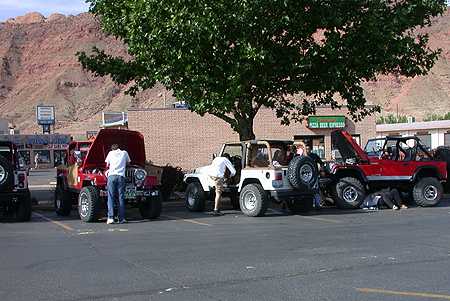 As we wait at City Market, (from left to right) I check my oil,
Steve ties his shoes, and Paul changes his oil filter...
Arriving at the NE Flat Iron Mesa trailhead just off Hwy 191, we locked in and set odometers to go where the trail took us. It was nice to see some different country. The trails to the south do not have as much slickrock, but afford some challenging obstacles. I hit the 1st written about obstacle, so I knew I was on track. We all made it thru, and down a steep loose hill towards the Red Brick Road. Once I found the easy road, and after finding the right turns, I took us over to the NW part of the trail and the edge of Hatch Wash.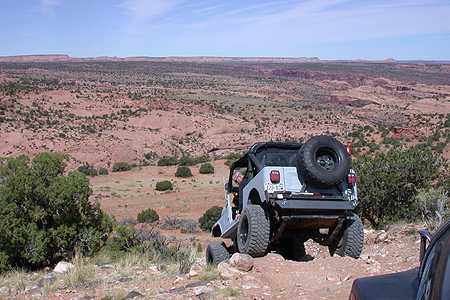 Marc starts down the steep loose rocky hill looking off NW towards Canyonlands,
it was nice to see some new country south of Moab...
This section of trail ran along Hatch Wash heading SE and away from Flat Iron Mesa. Numerous small ledges and slickrock climbs kept us smiling. One in particular is called 'Tilt-a-Whirl'. Unless you hit this one coming down just right, you could go end over end. Spotting everyone, we made it thru with some nice articulation.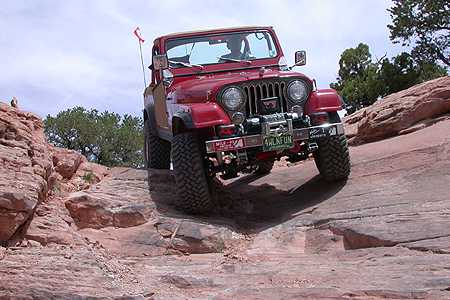 Here at 'Tilt-A-Whirl', a good spotter keeps you perpendicular and safe...
As you go down and right thru a few ledges...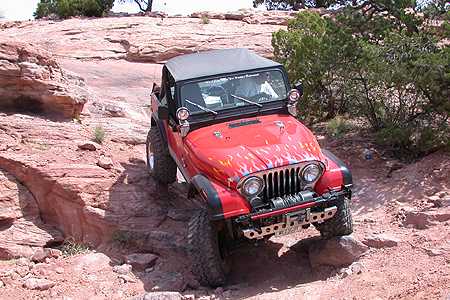 Paul near the bottom gets some tire flex...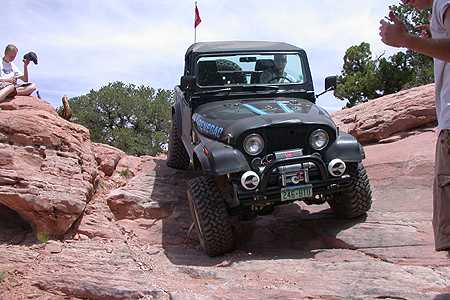 Jed takes direction from his spotter safely down...
We reached along the rim to a nice overlook and had lunch with a great view of the canyon 500' below. The sun was a little warmer today, as it was in the mid 80's. Once we filled our stomachs, and some put on some sunscreen to prevent 'lobster legs', we forged on.
Lunchtime with spectacular Hatch Wash over 500' below (Molly had her leash on here!)...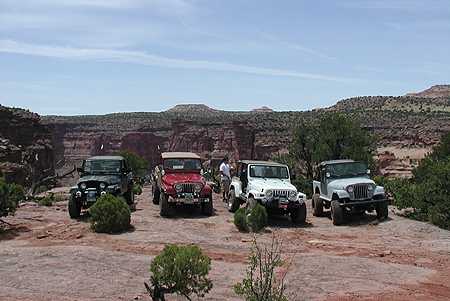 Nice and quiet, we never saw anyone all day on the trail...
The next leg of our journey was going to be around Hammerhead Rock and finding 'Easter Egg Hill, and the narrow ledge that dropped off 200'. Soon I was at the Easter Egg, and we spotted each other past it without 'coloring' it. It's quite intimidating to go thru without a spotter to tell you 'you have plenty of room'. Hummm, that could be anywhere from a foot to 1 inch of 'room'.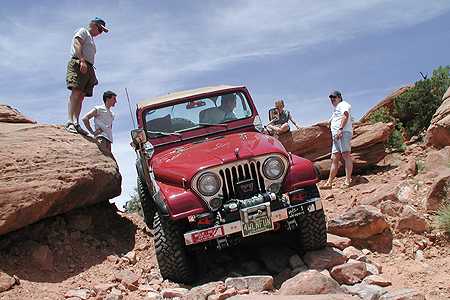 The 'Easter Egg' (left) tested us all (it really did have numerous colors on it)...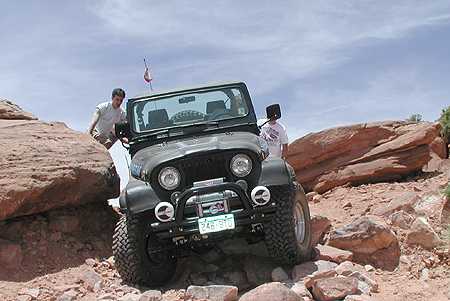 With a big rock right in line with your front diff, maneuvering was tricky...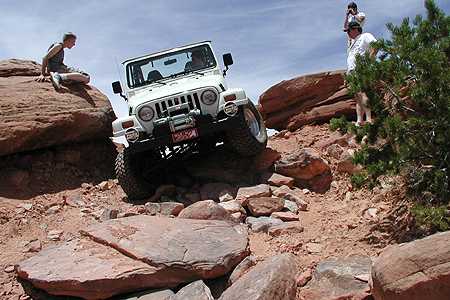 Looking over at your right rear, you would swear it was inches not feet from your fender...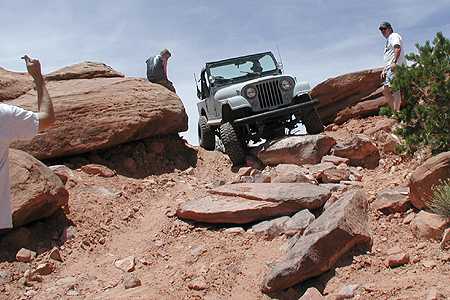 Spotting helps a lot, as you can't see over your hood...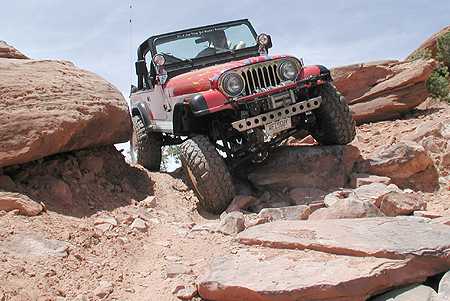 Nice line....no scratches.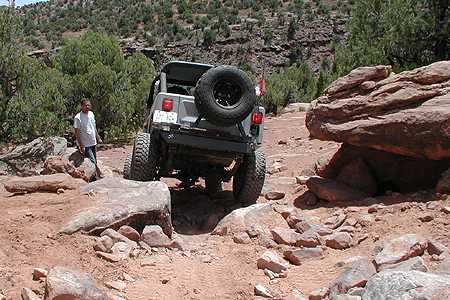 Another tight squeeze below Easter Egg, or up and over the big rock...
Just some hundred yards later we came across a big rock that only afforded one little room for error. That error is in the form of a 200' drop into Coyote Canyon. This is very intimidating when you're driving, as you can't see the ground out your passenger door. We took our time with safety in mind, and got everyone by nice and easy. I had to make Paul do 2 three point turns as his right front was heading for slippage down the cliff face.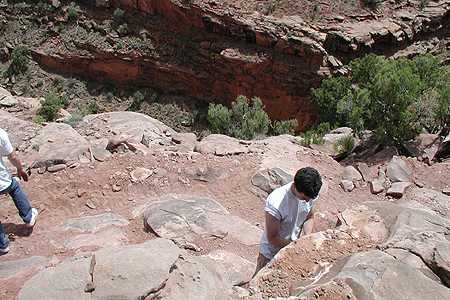 No go-arounds here, not a place for a wide axle buggy either...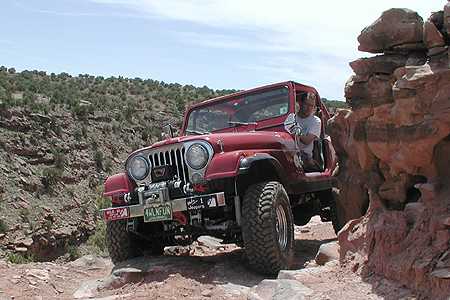 I'm 1st, thanks Jed for spotting, door off for quick exiting...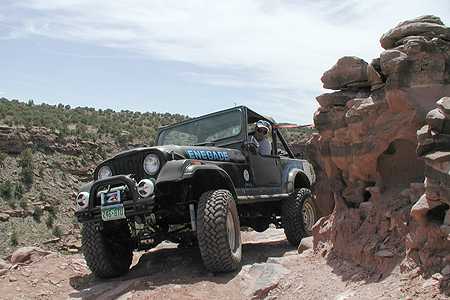 Jed, don't look---it's strange not seeing any ground on your right...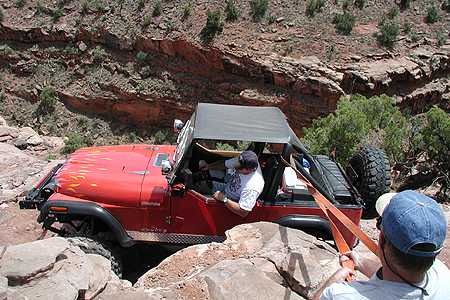 Paul had to do a couple of 3-point turns as the 35's were a bit to close,
you can never have enough safety...
Once we got ourselves together and our heart rates down, I lead everyone on out some easy trails to the main county road, and SE to Hwy 191. With some time to spare, we stopped at the rest area north of the Hole in the Rock Museum for some cold 'Dew' from Steve, with some cool shade and green grass for a well-deserved break.
Being about 3pm, we decided to do the Eastern leg of Behind the Rocks Trail starting just north of us off Hwy 191. With Well's book by my side I found the turn and we locked in. The 1st hill (seen from Hwy 191) has a series of ledges as it climbs out of the valley. Another fun obstacle just above that was just as fun.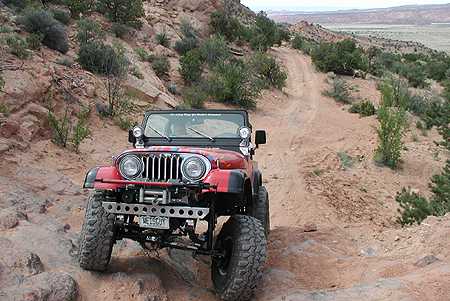 This second obstacle has many irregular ledges...
Once on the ridge, we passed the beautiful scenery of numerous slickrock domes to our north in a wilderness study area. Passing along smaller obstacles, we came across the 'High Dive' and 'Upchuck' obstacles.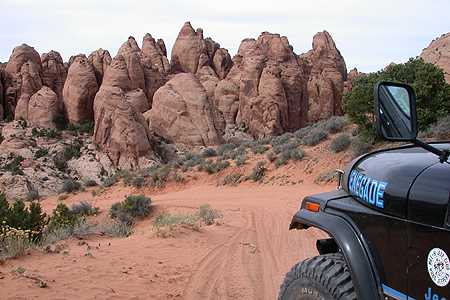 These slickrock mounds reside in the Behind The Rocks Wilderness...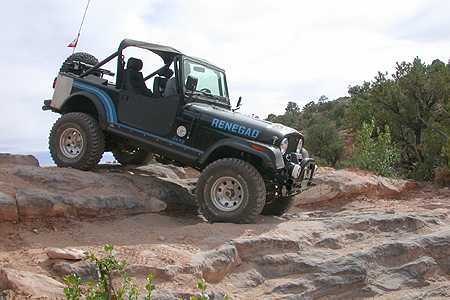 Jed descends another fun obstacle on Behind The Rocks Trail...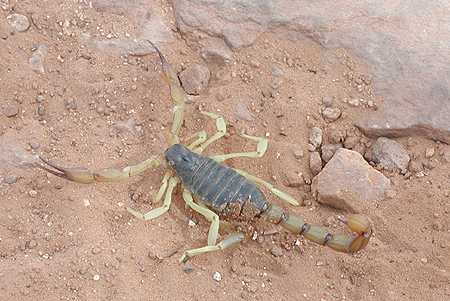 Steve found this huge scorpion (about 4.5 inches long), we let it go...
Paul was the only one brave enough to try going down this steep sandy/ledgey drop. He made it down til the last ledge and bound up his right front tire. Trying to reverse out since he couldn't turn, he snapped his front u-joint (and yoke). Now in 3WD, he unlocked the hub.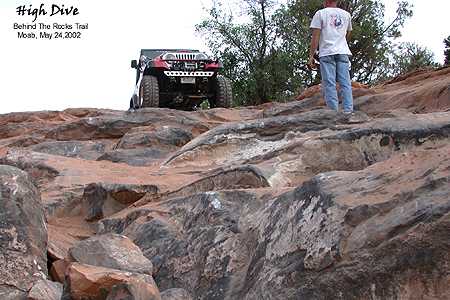 'Weiszguy' is the only one to descend the 'High Dive'...
working down the left side...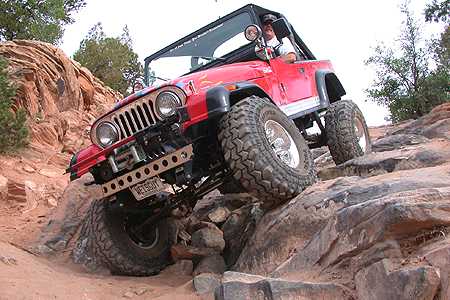 down near the bottom, then turned right and got the right front wheel
jammed up and trying to back out and straighten up busted the u-joint (pop)...
The trail got easy and sandy, so we headed out to the county road towards Hwy 191. We stopped at the sand dunes for some fun. I was already running low on fuel, and was reminded as I was tooling up and down the dunes. Jed got some good air off the dunes.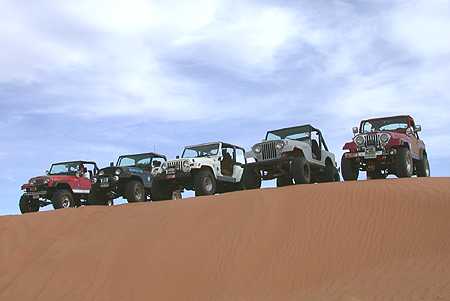 The sand dunes south of the trail on out to Hwy 191...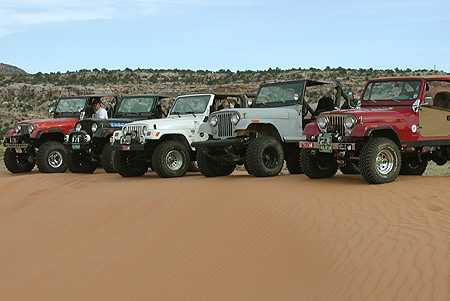 Group shot before we played some more...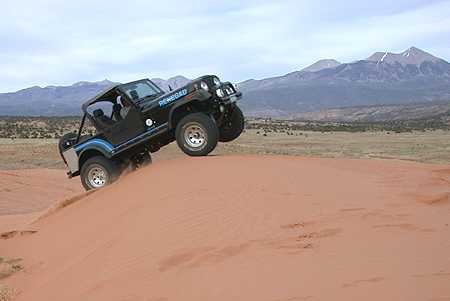 like Jed catching some air...
All played out, we headed towards Hwy 191 and Moab for gas and food for Sunday's long Poison to Gold Bar trip. Back at camp, since there was an open fire ban, we all huddled around Paul's Jeep as he changed out his right front axle. He finished about 11:30pm, and we headed off to dream out tomorrow's 9-hour ride.
Bill Hallinan HoboJeepers

Here are some other Flat Iron Mesa/Behind the Rocks Trip reports:
Flat Iron Mesa Trail by Flatlander: http://www.4x4now.com/fim.htm
Flat Iron Mesa Trail by John Nutter: http://www.4x4wire.com/trail/report/ut/moab01/fim/fim.htm
Flat Iron Mesa Trail by Jay McMullan: http://www.utahwest.com/flat.htm
Flat Iron Mesa Trail by 4x4Trails.net: http://www.4x4trails.net/db_view_trail.asp?trailNum=334
Behind the Rocks Trail by Flatlander: http://www.4x4now.com/32jsbtr.htm
Behind the Rocks Trail by 4x4Trails.net: http://www.4x4trails.net/db_view_trail.asp?trailNum=348
Behind the Rocks Trail by Bighorn4x4 02': http://www.bighorn4x4.com/trails/moab/1002/day_1/moab_1002_01.shtml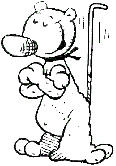 (c) Copyright 1999,2000, 2001,2002 MHJC Patrol One
Jeep is a registered trademark of Daimler Chrysler Corporation