PATROL ONE OUTINGS
MEMORIAL MOAB
2002
Moab, Utah

Moab, Ahhhhhhhhhhh, Ahhhhh, Moab! Moab, Moab, Moab! MOAB, It's a place like no other! Slickrock jeepin' is quite different from any Colorado jeepin'. With 'sandpaper' like traction, only gravity is your enemy. The beautiful reds, whites, and peach colors of the rocks add to the scenery of every trail you challenge. We are so fortunate to be only 7 hours away here in Denver. If you go after Memorial Day and before Labor Day, it's a hot one, so prepare for it and bring lot's of water! Rafters, Hikers, Mountain Bikers, and Jeepers know the area for it's wonderful red rock scenery, and 'Moab Slickrock'. Many of you already know, as you have 'been there', it's a playground for grown-ups. No other place in the country comes close; Moab is 'Jeepin Heaven'!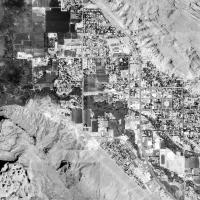 Click above for a 'cool' air photo of Moab!!
The HoboJeepers met early on Thursday May 23rd and ventured west on I-70 towards the Slickrock Gods for the long anticipated 2002 Memorial Day Weekend. With drive days on Thursday and Monday, it leaves 3 days of trails in Moab!! Leaving in the smoke of the Schoonover Fire behind, it reminds one of the fire danger. 'BE CAREFUL WITH FIRES'. Though I heard that night Denver got a couple of inches of snow! Colorado's crazy weather!!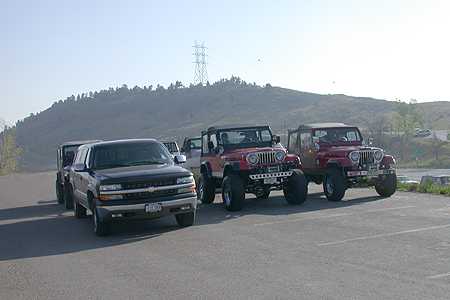 Meeting at the Morrison Exit off I-70...Moab or ummmm Bust!!
The 2002 MEMORIAL MOAB group consisted of: Paul 'Weiszguy" Weisz (CJ7) and his son Brett "Weisdude", Marc 'Nugget" Gilbertson (CJ7), Jed "Clampett" McClelland (CJ7), Steve "Moose" Gilbert (TJ) and his bro Jon, and myself (Bill "Willy" Hallinan-CJ7) and my jeepin' sidekick Molly. Jed and Marc both avoided the long 'jeep drive', and opted to tow instead. Jed and Marc were the 'newbies' to Moab this year, and they are pros now.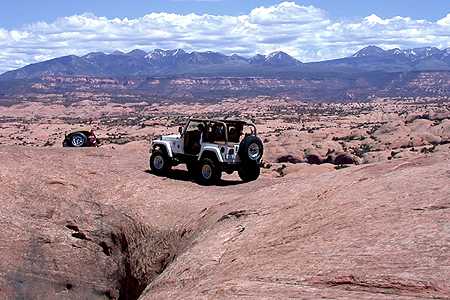 Ahhhhhh......Slickrock paradise!!!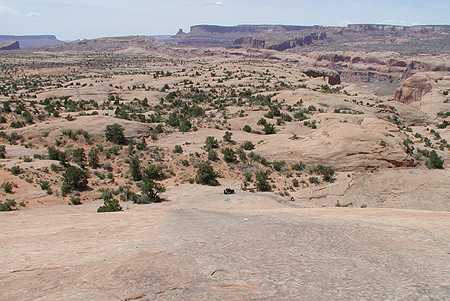 Slickrock and views everywhere...
For the past few months we have anticipated this trip to MOAB! Before the trip, we all tightened a few bolts added upgrades and fixed leaks. Though one cannot predict misfortunes, it comes with the territory. One of my upgrades, was to get rid of my plastic valve cover. Thanks to Hobo Ken Kordes one Saturday we replaced it with aluminum one. Well, on our 1st gas stop in Rifle, and to do a quick check to see if the valve cove is leaking, ummm-it's not, but there is oil everywhere (oil was being sucked up into the air cleaner)! Thinking that is was just plugged PVC, I get a new one, a new air filter, and some oil at a Napa in Rifle. Off we go. Next stop was the campsite north of Moab.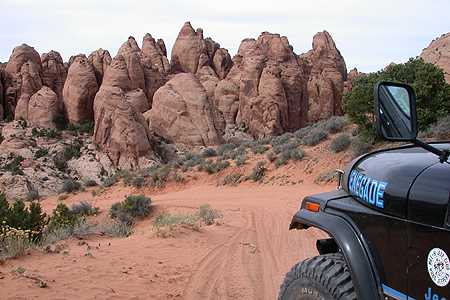 Unique rock formations...
We arrive and set up camp. I check the air cleaner only to discover it's caked in oil again! Hummmmm. I was amazed it even ran with hardly any air, and the oil being sucked into the carb. Well, I went into Moab, stopped by to ask Dennis Ervin and Ernie Krebs of MHJC (in Moab for the weekend). Ernie followed me into Moab to search for an answer. Ernie sees that the hose from my carb to the PVC is pinched off from the air cleaner container. Yea!! We get some new hose and another air filter and problem solved. Thanks Ernie! I promptly spend about $6 at the car wash degreasing the engine (which would attract way too much Moab sand). So if anyone ever has a similar problem, check the hoses, as they can create a nasty backpressure.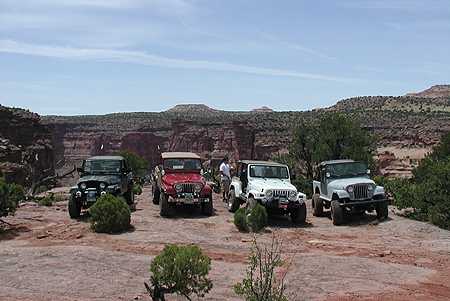 Hanging with good friends...
There were just a few more 'camp fixes' for the weekend. Paul had some pressure problems with a bad Napa oil filter, and provided Friday night's camp entertainment as he replaced his right front u-joint on his CJ7. Marc took a cordless saw-zaw to his newly installed rock guards to prevent tire rub. I also replaced my fuel pump, as it was leaking some oil off the gasket. Nothing can stop the lure of the Slickrock Gods.....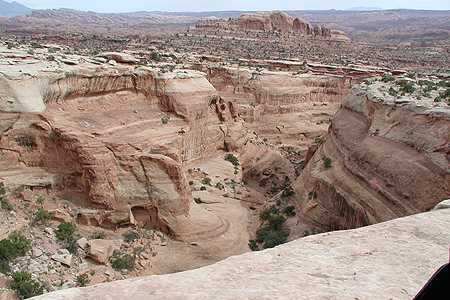 Gold Bar Canyon on the Gold Bar Rim Trail...

Click on a link below to a trip report
from the Memorial Moab Run 2002...
Day 1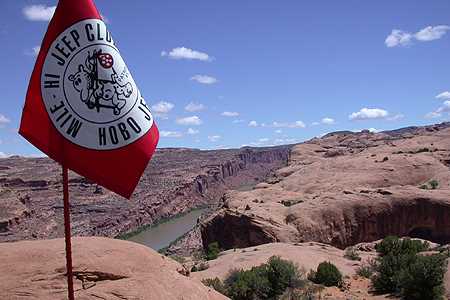 Day 2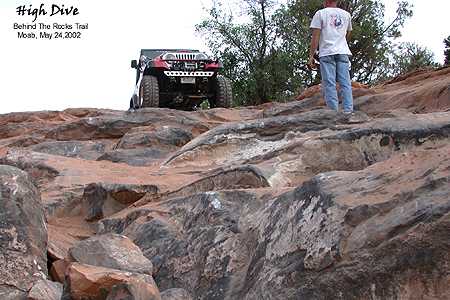 Day3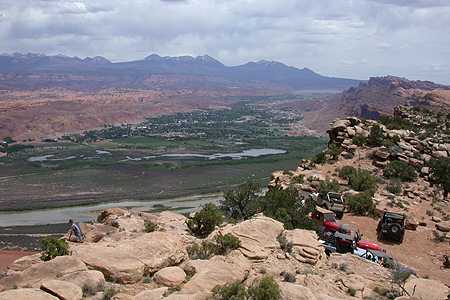 POISON SPIDER/ GOLDEN SPIKE/ GOLD BAR RIM

For 3 fun days, we followed 6 different trails up and over numerous obstacles, ledges, and fields of slickrock! We had our only fire of the weekend the 1st night Thursday night, since the whole area was under an open fire ban as of midnight. Jed had brought a lot of wood, oh well. Paul switched out his tires with his onboard air, and we all were psyched and ready to hit the first trail--the famous 'slickrock' 4+ Hell's Revenge in the morning! Each trip was planned to introduce the 'newbies' Jed and Marc to Moab. From the moderate Flat Iron Mesa/E. Behind The Rocks, on to Hell's Revenge 4+, and finally building to the 9 hour + Poison Spider thru Golden Spike to Gold Bar Rim Loop, we certainly got our fill!! Ahhhh-Moab!!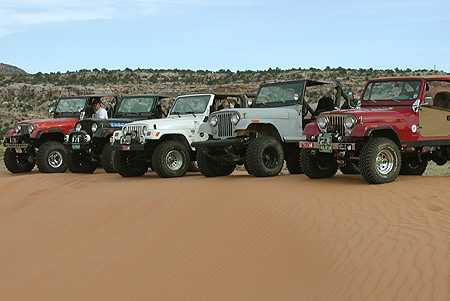 Even sand dunes to play on...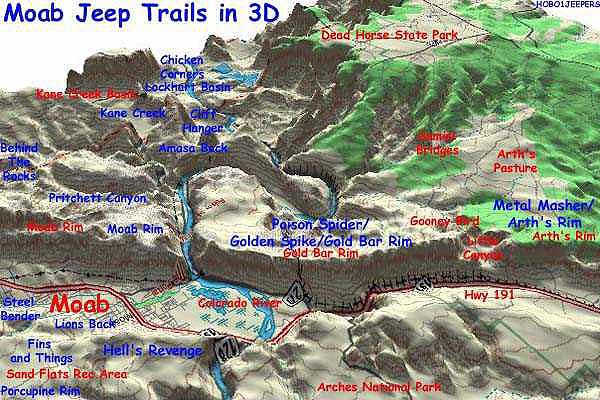 "Moab, A jeepers paradise"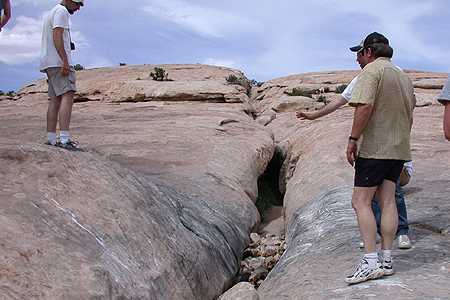 "One endeavors to do 'The Crack'...
Storylines, captions, and website construction by:
BILL HALLINAN HoboJeepers
2002 digital photos provided by: Marc Gilbertson & Jed McClelland

click on link below to a trip report from the Memorial Moab Run 2001...
Day 1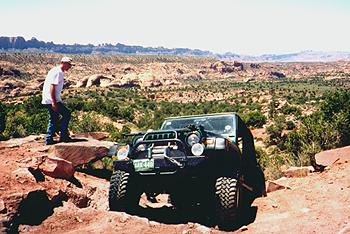 Day 2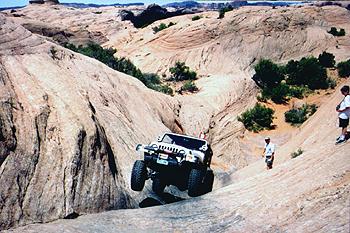 Day3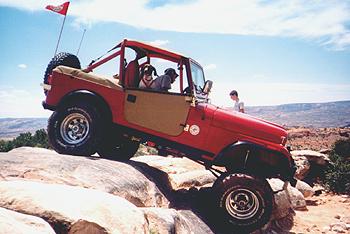 POISON SPIDER LOOP/ GOLDEN SPIKE/ GOLD BAR RIM

click on link below to a trip report from the Memorial Moab Run 2000...
Day 1

FINS AND THINGS/HELL'S REVENGE
Day 2

Day3

POISON SPIDER LOOP/ GOLDEN SPIKE/ GOLD BAR RIM

click on link below to a trip report from the Sept 99 Moab Run...
POISON SPIDER/ GOLDEN SPIKE/ GOLD BAR RIM

Here are some other Moab/ESJ Reports:
*Easter Jeep Safari's Previously:
OutdoorWire.Com's ESJ 2000: http://www.outdoorwire.com/4x4/trail/report/ut/moab00/
Off-Road.Com's ESJ 2000: http://www.off-road.com/toyota/trips/moab2000/
Dirtroad.Com Easter Safari 99':http://www.dirtroad.com/ejs.htm
33rd Annual Easter Jeep Safari by Flatlander: http://www.4x4now.com/33js.htm
Moab Off-Road.Com EJS 99': http://www.moab-offroad.com/EJS99/
1998 Easter Jeep Safari by Rockcrawler.Com: http://www.rockcrawler.com/trailreports/moab98/index.htm
32nd Annual Easter Jeep Safari by Flatlander: http://www.4x4now.com/32js.htm
31st Annual Easter Jeep Safari by Flatlander: http://www.4x4now.com/31js.htm
30th Annual Easter Jeep Safari by Flatlander: http://www.4x4now.com/30js.htm
*Moab Trail Lists:
4x4Now Moab Trail Reports: http://www.4x4now.com/mu4wd.htm
4Wheel of Moab Trail Listings: http://www.4wheelofmoab.com/index.html
Moab 4x4.Com Moab Trail Index: http://www.moab4x4.com/jeeptrails.htm
Moab Trails by Number: http://www.4x44u.com/pub/k2/am4x44u/trails/moab/moab001.htm
Moab Trail Difficulty Ratings: http://www.4x4now.com/tr.htm
Moab Trail Photos: http://www.jeeps.org/
*Hobo Moab Trip Reports:

Memorial MOAB 2001- HoboJeepers

Memorial MOAB 2000- HoboJeepers

Labor Day MOAB 1999- HoboJeepers
*Moab Driving Tips:
*How to drive Moab Slickrock by Bill Burke: http://4x4now.com/bb0797.htm

*To HOBOJEEPERS HOMEPAGE w/frames*
To HOBOJEEPERS HOMEPAGE without frames
(c) Copyright 1999,2000, 2001,2002 MHJC Patrol One
Jeep is a registered trademark of Daimler Chrysler Corporation