On Saturday July 17th, 2010, the HoboJeepers hosted the 12th Annual Hobo Run for 12 "Hobos for a Day" over the Kingston Peak Loop Trail. "As real hobos ride the rails, we too ride the trails in that same traveling spirit". A hobo needs to muster up needed supplies in order to survive on the trail.
Eugene the Jeep (our little mascot), was also there is spirit, keeping watch over everyone and keeping them safe. This year once again an item collected and stored in the souvenir traveling bandana was a fresh egg. At the timberline lunch spot, all the points were totaled up and trophies, along with some other prizes were handed out. This year, we had our 4th Annual Egg Toss with all the unbroken fresh eggs! It was a hit once again!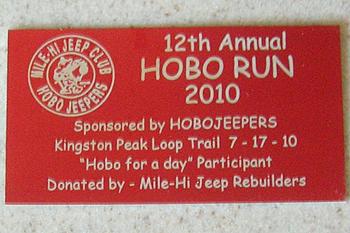 The Hobo Run 2010 dash plaque donated by Mile-Hi Jeep Rebuilders was handed out to each participant...
Thanks to Steve and 4Wheel Parts who helped with some gift cards, Jim at Mile-Hi Jeep Rebuilders for donating the trophies and dash plaques, Bestop for the Bikini Top, and Mike from Choice Image who donated the bandanas!
The trail actually started at the Denny's at 6th and Simms in Lakewood, Colorado at 8:00-8:30am with registration for the run. Thanks to all of you ("Hobos for a Day") who supported us in this year's run. Please support our local Hobo Run sponsors 4wheel Parts, Mile-Hi Jeep Rebuilders, Bestop, and Choice Image with a 'Thanks' the next time you see them.

The 12"Hobos for a Day" for 2010 included:
DAVID S, CHERYL L, GUY B, MARK G, ANDY H, WES T,
KATIE K, KARL K, CORBIN U, JOHN C, JOHN L, and CHRIS P. and his son Christopher.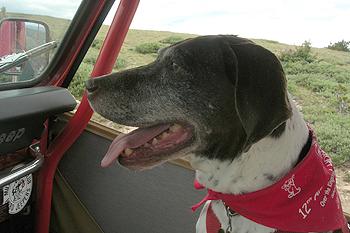 My jeepin sidekick Molly made it this year--it was her 11th year!
At 8:45am, I had a short Driver Meeting and swear in. Instructions on how the day would go, directions and generals on the trip up I-70 to Alice, and other items were discussed. Hobos were given an instruction sheet which covered the rules to read on the way up to the trailhead. Also, each Hobo started collecting survival items and stored them in their survival bandana. The 1st item handed out at registration was an (3-day old left in the sun) egg. Each survival item has point values in 10 increments from 10-100.
Once the business was done, I officially swore all 12 'Hobos for a day' in with an official oath as follows:
*Hobos raise your right hand, place your left hand on your nut (oh yea, that's the necklace in the goodie bag--with a nut on it) and repeat after me, except state YOUR first name:

"I Hobo- (state your first name)…….Do solemnly swear sometimes…… To uphold the spirit of a Hobo……..in mind and while on the trail……..To always tread lightly………and stay on the trail…..To not put more than 10% of my income…..into my Jeep in any one year…….. Zip-bop-beep-bop…..I feel good!…..And to dog-gone it I promise……..to have a really really……..Really really…….. Fun time today!……
JEEP JEEP!!!………JEEP JEEP!!!!"
After a joyous swear in, everyone loaded up in their individual vehicles (railcars), and tuned their CB to channel 13, and we all headed west on 6th Ave. Freeway, as the Hobo Train pulled out of the parking lot. The Hobo train had 14 good-lookin' 4x4's running up I-70 all with their lights on in line. We managed to stay within about a 1-mile stretch of each other too, and nobody broke down (YET)! We chugged on by Idaho Springs on I-70 in procession and turned off at Fall River Road exit 238.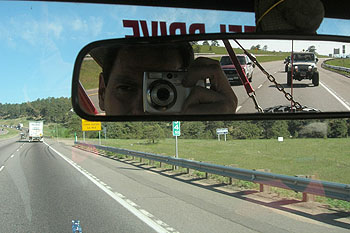 On I-70 headed West towards the trailhead...
Once off I-70, we headed up the more peaceful & cool Fall River Road. We worked our way up to the trailhead of Cumberland Gulch Traile at about 10,000' in elevation to the air-down spot. Hobo Dave helped hand out survival item #2 (candy) and card #2. All Aboard! One by one the train of hobos chugged/jeeped up the hill towards Yankee Hill at 11,200' (with some pretty rocky stuff), as each hobo followed the trail in the spirit of the 'Hobo' to places unknown and a fun day. We had our first 'break down' in many years when Corbin U's yellow TJ's clutch was burning, and then wouldn't start. He jumped in with John C, as we planned to come back and get his Jeep after the run. We did come upon an abandoned campsite that had an active (flames!!) fire going! We stopped, and with all the water we had we put it out.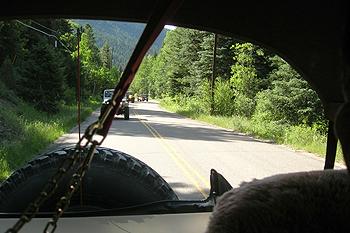 Looking back as the train makes it's way up Fall River Road...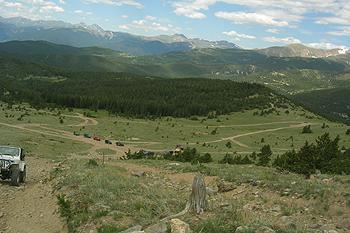 Looking SW towards Alice, the train chugs up the base of Yankee Hill...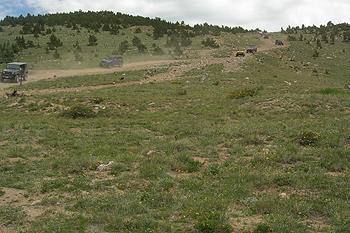 ....then the train chugs down Yankee Hill.

Hobo Run Map
(Actual GPS Map of the Run on July 16th, 2005 Run)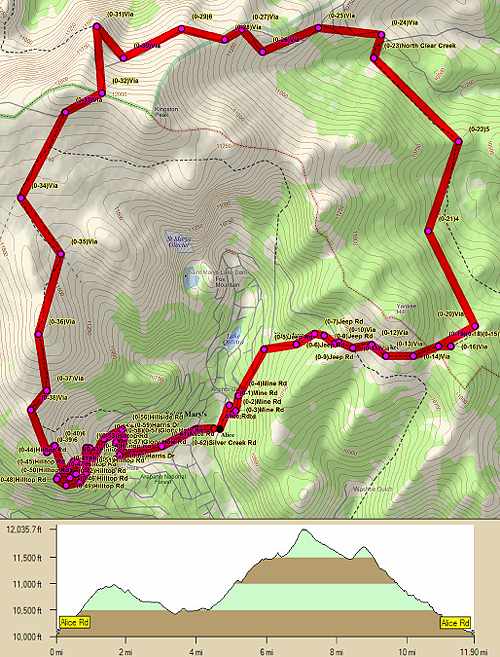 Thanks to Bob D. for the GPS Map!!!

We all climbed Cumberland Gulch to the base of Yankee Hill. Fellow Hobo Dave was there at checkpoint 3 to greet everyone and hand out survival item #3 (a Q-Tip) and card #3. Since we were a small group, we could go up Yankee Hill, which we did. We stopped for a photo op at the top of Yankee Hill. The 180 degree views off to South were spectacular! We could look off to the West and see where we would end up at the end of the Run as we made a loop around Kingston Peak. The train started up again (well my Jeep was running it's worst--clogged idle jets), as we all headed down Yankee Hill, and into the tight-tree lined trail along the east-side of Kingston Peak.
Then the 'Hobo Train' passed along the East-side o Kingston Peak. We stopped for a 10-100 on the east side of Kingston Peak in the trees. This was also checkpoint #4, in which the Hobos were handed out survival item #4 (1 toliet paper square...lol) and card #4.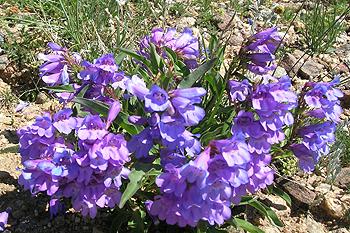 Nice wildflowers were everywhere (09')...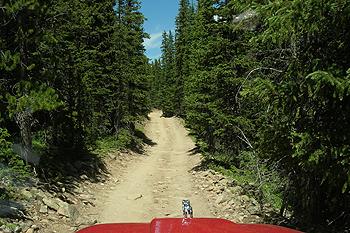 The Eastern side of Kingston Peak affords a nice tight tree-lined trail (07')...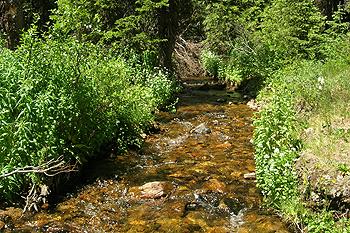 We crossed the headwaters of Clear Creek (09')...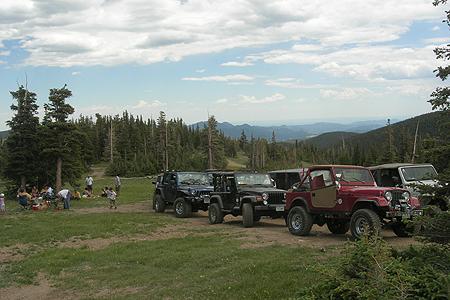 Lunchtime at 11.5k feet!
Once up at the tree-line lunch spot (tree line--about 11,400'), each Hobo brought up their fresh unbroken/cracked egg to be eligaible for a drawing to determine the top three Hobos. Well, we had some eggs, and we are at 11,000+ feet above sea level, how bout' an egg toss?? We started of with about 10 teams of two, each ready to go. If you dropped the egg, you were out. During the awards and point totalling, David S had the largest nut (extra 50 pts), and Chris P had the highest poker hand (3 Queens).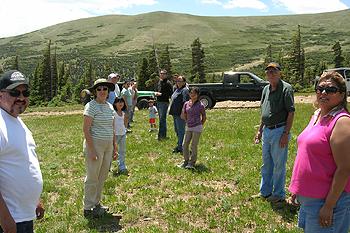 Everyone had fun with the egg toss at 11,400' (09')...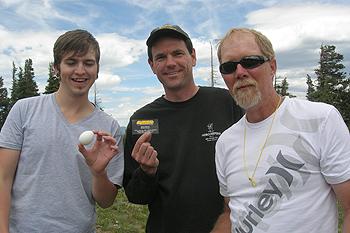 1st place in the egg toss--They won a $100 Bestop Bikini Top!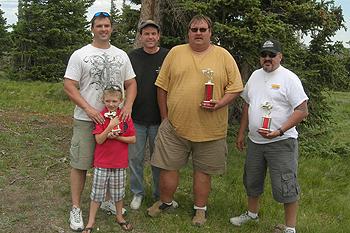 Top Hobo--
John C (with 330 pts-middle), along with
2nd place David S (with 310 pts-right), and Chris P (with 290 pts-left)...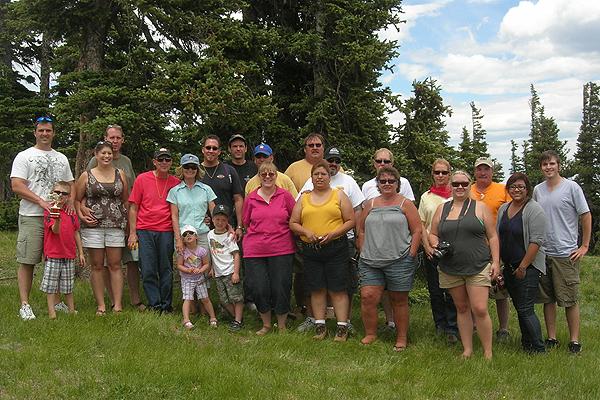 'Hobos for a Day' 2010 Group Photo!
From left to right: Well---Just about everyone there!!!

The weather down in Denver had been hot all week--mid 90's. All we had was sunshine and a few clouds up at 12,000'--oh, and nice and cool. We had a cloud-free run over the tundra section to the Rock House. We usually have to dodge rain and lightning bolts about this time of day. The views of the Front Range were great this year, compared to 2004, when you couldn't see more then 100 yards or less in pea fog. The Hobo Train started up and up into the fragile tundra above 11,500'. We all headed along the 1st switchback with views of Longs Peak way to the north. With a snowy winter, it took awhile for the snow to melt this year.
BUT! As the train got started Chris P had alittle issue with moving forward. Come to find out, his clutch was toast! No clutch at all, the rod had pushed thru the slave cylinder. Now, up at 11,400' you can get cell service, but you can't get a tow! Mark G, offered an escort to help Chris P back all the way down to Blackhawk. They waited for 2+ hours and finally got a tow back to Denver. Thanks Mark!!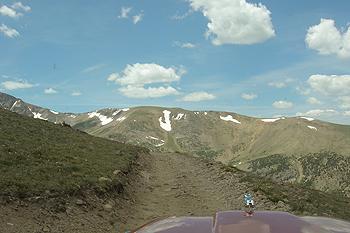 Looking East just out of the trees (09')...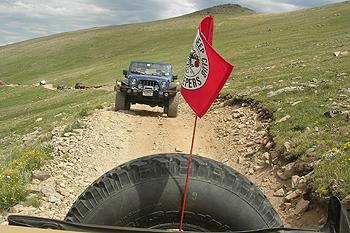 Looking East just out of the trees (09')...
As we crested Hobo Pass at 12,037.5', the views were great! We stayed on the main path, avoiding any grass of the tundra. Please take the rocky section of this trail, and stay off the fragile tundra. All one can do is try to educate, as with biotic crypto soil in Moab, the tundra also takes many years to recover (only a 3 month growing season).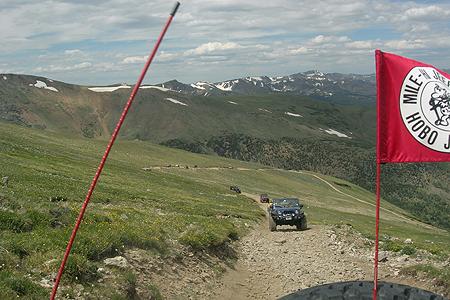 Heading up the Pass looking North...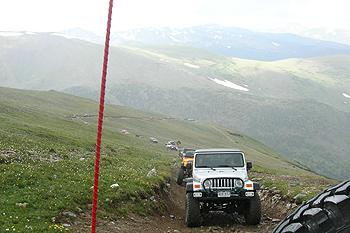 Heading up the Pass in a driving rain in 2007...
Everyone made it up both steep hills, as the second hill must of been graded for SUV's as it was not difficult at all. The left side is being reclaimed and closed. With NO nasty weather and a smaller group, we stopped at the Rock House and stacked a rock and a Kodak moment. We then headed down to the trees and a 10-100.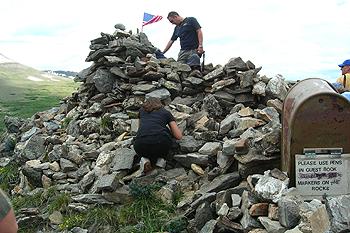 The 'Rock House'...

Stack a rock, sign the guest book,

get some fresh COOL air, and take in some views!
Everyone takes in the scenery at the rock house...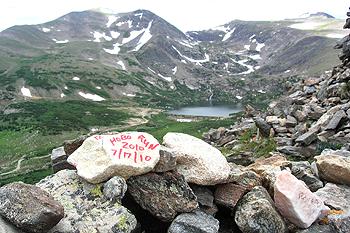 ...while others stacked a rock.


After our last stop, we headed on down off the mountain safe. Views off to the south offered up Georgetown and I-70 to Loch Lomand Lake to the west. We stopped for a 10-100 along the saddle. The trail finally reaches back down to the Alice summer homes, and the graded (but ROCKY) switchback sections begin. Once down off the switchbacks, we all met up again at the official end of the run. Some aired up, while others headed down to Idaho Springs for some air. John C, Hobo Dave, and myself headed back up Cumberland Gulch Tril to get Corbin's Jeep. Once we arrived, it started right up, and we all headed to Idaho Springs to air up. Yea!! A great day for all, and everyone was a winner. The spirit of the Hobo lives on to the next trail...and next year!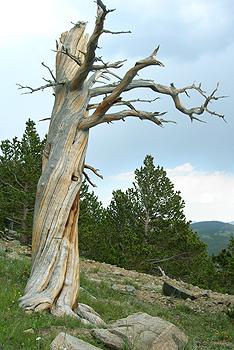 Along with old Bristle Cone Pines (07')....

CONGRATS from the HoboJeepers to-
John C !
the 12th Annual Hobo Run 2010
Top Hobo'

Thanks again to the "Hobos for a Day" for your support (you know who you are), hope you had as much fun as we did, and we look forward to seeing you next year on July 16th for the 13th Annual Hobo Run 2011!!
'See ya on the trail!!'
MHJC Patrol 1 HoboJeepers
"JEEP, JEEP!!"

*Here are some other Hobo Run/Kingston Peak Trip Reports:

11th Annual Hobo Run 2009-HoboJeepers

10th Annual Hobo Run 2008-HoboJeepers

9th Annual Hobo Run 2007-HoboJeepers

7th Annual Hobo Run 2005-HoboJeepers

6th Annual Hobo Run 2004-HoboJeepers

5th Annual Hobo Run 2003-HoboJeepers

4th Annual Hobo Run 2002-HoboJeepers

3rd Annual Hobo Run 2001-HoboJeepers

2nd Annual Hobo Run 2000-HoboJeepers

1st Annual Hobo Run 1999-HoboJeepers
*Kingston Peak Loop Trail 99'-HoboJeepers
*Kingston Peak Loop Trail 00'-HoboJeepers
*Kingston Peak by mountain bike
*Kingston Peak Map & Trail Descriptions by 4x4trails.net
*Kingston Peak Trail Report by TrailRidge Runners 4x4 Club

"JEEP, JEEP!!"

back to the HoboJeepers OUTINGS page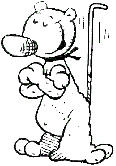 *To HOBOJEEPERS HOMEPAGE w/frames*
(c) Copyright 1999,2000,2001,2002,2003,2004,2005,2006,2007,2008,2009,2010 MHJC Patrol One
Jeep is a registered trademark of Daimler Chrysler Corporation